Bucharest,
Romania ~
Although there isn't official data about the number of ads we are exposed to daily, marketing experts believe we witness somewhere between 4K-10K campaigns per day. That's a lot of work for AD blockers out there.
Curious to find out how tech startups use social media in this competitive market, I surveyed a few communication experts. We discussed the importance of promotion and a few examples of inspiring social media campaigns that stuck out to them if you are an early-stage founder or tech marketer looking for inspiration.
How to use social media
"There are over 4B social media users around the world. Chances are that a brand's clients are among these people so, yes, I think that social media presence is important," shares PR Oana Groza bluntly.
But let's dive a little deeper into it. Robert Katai, a product marketer at Creatopy, shared in his How to Web presentation something that I keep repeating in my mind: people don't need products or services, they need solutions to their problems. Here is where storytelling and campaigns play an important role.
This is also what Diana Iosu, founder of DiFine PR, a corporate communication agency, believes:
"When you have a startup, one of the key things you need to do is to start educating your audience about your product or service. Not through aggressive promotion, but with valuable and relevant content, meant to 'translate' your product for your user to differentiate and raise attention in such a huge digital world."
Oana shares one key pillar of an inspiring social media campaign: "you don't have to use ALL the channels from the beginning, only those where your community might be". So, choose wisely from Facebook, Instagram, YouTube, LinkedIn, and TikTok, to name a few based on whether you want to attract B2B or B2C clients.
While marketing specialist Adriana Spulber raises another interesting fact to take into account when building a social media strategy:
"You might be surprised to see the user's social media behavior shifted in the last few years. Reddit is not only for tech geeks, and TikTok is not limited to teenagers. You must have a curated and trustworthy social media presence for your potential partners. This can make or break deals."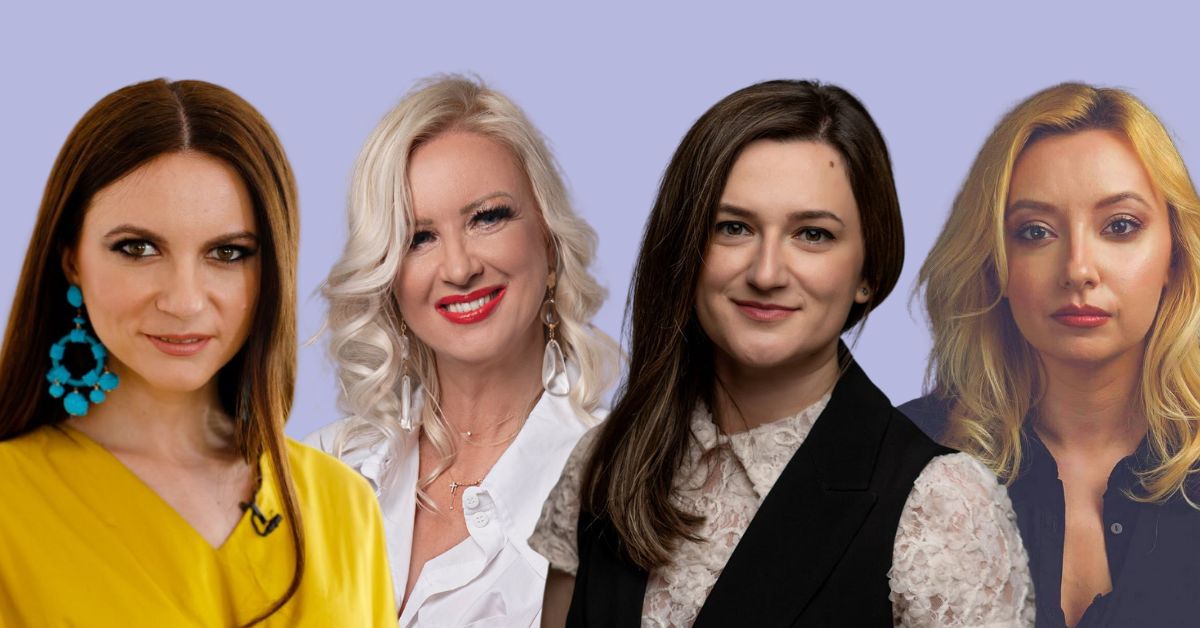 Left-right: Andreea Retea, Diana Iosu, Oana Groza, Adriana Spulber
How to start with social media
So, social media is still an important part of building a tech startup's awareness. If the solution you are building or promoting is targeting B2C, you have to reach your community creatively, and if you are addressing B2B, chances are you still need the same platforms, maybe also LinkedIn as your future partners could be scrolling there.
In conclusion, you don't have to be present everywhere in the beginning, you can choose one or two and grow those first. Promotion on each platform has to be backed by the right content and personalized KPIs:
Are you looking to use content to create employer branding to hire rockstars?
Do you want to grow brand awareness to get more leads?
Or maybe you are interested in growing your personal brand, instead of the company's, with thought leadership content to raise trust levels?
These are all a few questions to ask yourself when building an inspiring social media campaign. Then, it's all about the right content.
Let's take a look at some of the social media campaigns these professionals share as examples.
Tech startups' social media campaign ideas for inspiration
#1 Flip.ro
The inspiration behind this piece was ignited when two tech startups with Romanian DNA collaborated on a campaign – Flip and Blindspot. Blindspot, an AdTech offering billboards as tools in the U.S., aided the circular economy second-hand mobile provider with their "New is for the moment. Smart is permanent" campaign.
On the 7th of September, in Apple Park, California, a truck with messages appeared congratulating Apple for their latest launch and promoting why it's important to invest in refurbished phones. Then, the Flip team also used billboards in Times Square, New York, to promote the brand and its products. And the campaign continues now on social media.
This is also what Diana Iosu shares as one of the campaigns that attracted her attention this year. "What does a refurbished phone brand do when the iPhone launches, with fanfare, the new model? Something with a smart twist: it celebrates the previous models getting cheaper."
Diana goes on to share about Soleadify, a startup that provides business data enrichment with coverage of SMEs. They have an educational LinkedIn campaign, supported by a podcast. In their posts, they offer a data dictionary to answer business questions. For example:
"What is data enrichment? Data enrichment is the process of adding value to data by incorporating information from other sources. This can be done manually, by adding data from external sources to a database, or automatically, by using algorithms to identify and incorporate related data."
The content is valuable for early entrepreneurs, and it's supportive of the product they are offering. Information is key as long as you know how to use it. The content is also SEO so it gets picked up by algorithms.
The last one on Diana's list is Deepstash, an app that makes it easy to learn something new in five minutes via bite-sized knowledge from books, articles, videos, and podcasts. This model also translated into their inspiring social media campaigns, where they communicate inspirational quotes, book recommendations, and other insights, like:
"Just starting a project will get you closer to finishing it.
Here are 5 tools for Setting & Achieving your goals from Andrew Huberman's Podcast. ↓
Set goals that are challenging but not impossible.
Visualize your goals.
Make a routine and put visualization into action:
Narrowing your focus will help allocate resources in the right direction.
When achieving Cognitive/Non-Physical Goals don't count on your memory alone."
Social media can seem overwhelming sometimes. So, having a trusted source that shares compacted and vetted information is essential nowadays. Repurposing content in a smart way is always a good idea.
#4 The Outfit
Communication consultant Andreea Retea shares that The Outfit's social media campaign showed a good understanding of each platform's specific tone. The fashion startup is targeting the young generation, more specifically women, so:
"Their campaign looked authentic, using different influencers to give useful tips, and explain the shopping process by trying on clothes. I noticed that they had different content on TikTok, Facebook, Instagram, and Youtube, which was a good idea since our expectations are different from one platform to another."
Going for a friendly campaign to create awareness of how easy it is to use a solution, and taking advantage of video content is a good example of what any early-stage founder or marketer should take into account for 2023 campaigns.
#5 GetYourGuide
Oana Groza recommends the campaign "The world at home" by Berlin-based tech travel startup GetYourGuide as inspiration. The series of videos takes you around the world from the comfort of the couch, and it was created when travel wasn't possible because of the pandemic.
The content is created by people from the travel community, each with its posse, and it kept the brand visible when people couldn't use their platform. This is an evergreen campaign that you can reuse, cut into smaller pieces of content, and share again from time to time. It's also SEO.
#6 Transferwise to Wise
Last, but not least, Adriana shares that she appreciated the rebranding of UK-based Fintech Transferwise to Wise, as it wasn't an easy task. What's more, she encourages tech startups to use it as a case study of brand repositioning.
"I loved the execution of the communication campaign: they were direct and explicative with their message that had no fluff about company values. They did it by announcing the change a few months before the change was enforced and they kept even to this day the old name in some of the communication, like their Twitter handle."
If you have a campaign you would like to share with us, let us know at [email protected]