As 2021 draws to a close, progress on the UN 2030 Agenda for sustainable development reveals that we are still off track. Under the COVID-19 pandemic, the gap grew further. In some vital areas such as inequality, climate action, education, and sustainable consumption and production progress either stalled or was reversed. The fight against sustainability challenges goes on.
We are at a critical time in the pursuit of sustainability goals. Scientists warn that we will soon reach a point beyond which it becomes impossible to keep global surface temperature increase below the 2°C limit set by the Paris Agreement.
Getting to net zero emissions would also not be possible without a balanced development approach, which is why raising vulnerable communities out of poverty, reducing inequality, and adopting resilient economic models is just as important as limiting the carbon footprint.
That said, The Recursive took a look at key development challenges we will carry on in 2022.
Key sustainability challenges for 2022
Spotlight on Eastern Europe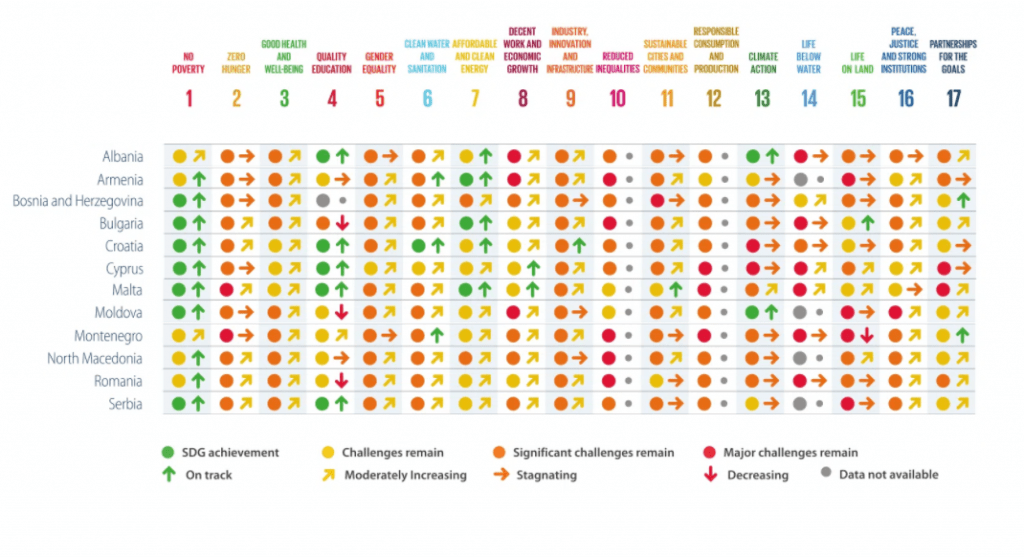 Consistent with other parts of the world, countries in Eastern Europe reported limited progress on mitigating climate change and protecting biodiversity (SDGs 12-15). Both require urgent policy attention.
In comparison to other regions, two key problematic areas are moving towards zero hunger (SDG 2), hindered by unsustainable agricultural practices, and developing peace, justice, and strong institutions (SDG 16), due largely to high levels of perceived corruption.
Although moderately increasing, significant challenges remain in gender equality, and major roadblocks in reducing overall inequalities.
In Bulgaria and Romania, compared to other states in the region, quality education is another significant challenge, with performance actually decreasing in the past year.
On average, countries in Eastern Europe are closest to achieving no poverty goals (SDG 1), while access to clean water, sanitation( SDG 6) and affordable and clean energy (SDG 7) have improved fast.
By improving employability, innovation, and competitiveness, education is a key driver of economic and social prosperity.
In just two years, COVID-19 removed 20 years of progress on education. The percentage of children in grades 1 through 8 who don't have minimum reading proficiency is projected to increase with 9%, reaching 55% in total. Underachievement in reading, mathematics, and science has moved away from the EU target in the past 5 years.
The temporary shift to remote learning during the pandemic left children from vulnerable households less equipped to participate, as well as more likely to drop out. Moreover, young children were entirely reliant on parents and caregivers at home for extended periods, lowering their learning opportunities.
Finally, the digital skills gap remains a critical challenge. The share of adults (people aged 16 to 74) with minimum basic digital skills is unlikely to meet the 70% target by 2025, having increased only to 56% in 2019.
Overall, the pandemic exposed and intensified inequalities among communities and countries. People in underdeveloped areas have a greater risk of infection, of not receiving proper health care, and of suffering the consequences of economic downturn.
The equal participation of women in decision-making is deemed crucial for pandemic response and economic recovery. Yet, while they make up 75% of the health workforce, only 28% of health executives are women. Across sectors, women represent only 25.6% in national parliaments, 36.3% in local government, and 28.2% in managerial positions.
In the job market, women suffered steeper losses compared to men since the pandemic started, threatening the progress made in the past two decades to improve women's opportunities for economic and political participation. By Q4 2020, the number of young women not in education, employment or training had increased in 28 of 48 countries year-over-year.
The employment gap is mirrored in the gender pay gap. On the positive side, between 2014 and 2020, this gap narrowed in the EU by 1.6 percentage points. Yet, gross hourly earnings were still ~14% lower for women than for men.
Instead, women continue to be over-represented in lower paid professions and sectors. The main driving factor continues to be the inactivity caused by caring responsibilities, in the lack of quality formal care services.
We are nowhere close to the goals we set to limit global warming and thus mitigate some of the effects of the climate crisis. Major greenhouse gases continue to accumulate in the atmosphere, even despite a temporary reduction in economic activity and mobility during recent lockdowns. Amid sustainability challenges, climate change is the most urgent.
The COP26 conference in Glasgow closed with mixed feelings about the progress achieved and the ground laid forward.
On the bright side, climate finance, which had already increased by 10% from 2015–2016 to 2017–2018, saw new commitments of up to $130 trillion from financial institutions around the world. Moreover, 100 countries signed the Global Methane Pledge to cut methane emissions by 30% by 2030.
On the other hand, issues such as protecting ocean biodiversity and increasing food security, which are threatened by climate change, were largely neglected.
The current economic trajectory will likely get us to 60 billion tonnes of GHG emissions by 2030, making the Earth 3°C to 6°C warmer by 2050. Even with the fulfillment of the Nationally Determined Contributions adopted within the Paris Agreement, we will still reach 56 billion tonnes by 2030, leading to a 2–3°C rise in temperatures.
To reach net zero by 2044 and limit global warming, experts from Circle Economy suggest the need to add global circular economy interventions to the mix.
Enabling the circular economy
Sustainability challenges also include the way we consume resources. Our global material footprint increased by 70% between 2000 and 2017. Currently, the world continues to consume more than 100 billion tonnes of materials per year.
A lot of this consumption generates waste. In 2018, the EU generated 812 million tonnes of waste, or 1,818 kilograms per inhabitant. By other accounts, 99% of the things we buy end up in the trash within just 6 months. The linear model does not only waste resources, but generates pollution and greenhouse gas emissions.
Waste should be seen as a resource. Recycling would keep materials in the economy, preserving their value. Reusing would prevent most waste altogether. That is the proposition offered by the circular economy.
So, what have we achieved in this direction so far? Only 8.6% of the global economy is circular. Back in 2019, the circular material use rate was improving and reached 9.1%. In the last two years that progress was lost.
Reducing the gap by a further 8.4% – so doubling current achievements – could help close the emissions gap and keep temperature increase below 2°C by 2032.