Sofia,
Bulgaria ~
With urban mobility accounting for 40% of CO2 emissions in the road transport sector, as well as 25% of total GHG emissions in the EU, e-mobility solutions have a substantial impact on making cities more resilient to climate change. Electric vehicles can be key enablers of the green energy and mobility transition when fuelled by clean energy sources. In the SEE, one of the main roadblocks to making EVs more attractive to potential customers is the lack of an EV charging infrastructure that would make intercity travel accessible.
The Recursive discusses this issue and other dynamics of e-mobility in an interview with Orlin Radev, co-founder and CEO of AMPECO, a software company offering a white label solution for EV charging and energy management to businesses in the industry. We previously introduced you to AMPECO in a story mapping the SEE trends and players in sustainable urban mobility.
The Recursive: How does AMPECO support the mobility ecosystems and the transition to sustainable transportation?
Orlin Radev: Our entire model is such that we are the solution provider for other companies to do business in the е-mobility industry in the shared mobility sector. We provide them with software which we offer аs a white label (it ис under their brand). A software that is often the backbone of the business that we are supplying.
Some of our customers are companies that provide shared mobility services, such as ShareaScoot in Sofia, which offers shared electric scooters like mopeds. For them to be able to do their business, they need to have scooters, which is the hardware, but also the software to run the service for their users to find the scooter, book it, and pay for it, among others. And then they also need the back-end for operators to see the scooters that are in use, need their battery recharged, or need to be repositioned. We give them the software part, they buy the scooters, they connect them to our back end, we publish the app for them under their own brand, and people sign up for their service and start using it.
We do the same with EV charging, where we supply the software for EV charging operators to control a network of charging stations. In turn, they will offer this service to EV drivers. So, when a driver uses the charging network of, for example, EV Point, an operator in Bulgaria, they will download the app, see a map of the available charges, they will see which ones are available, and they can start the charging from their app.
So we are in the background, supporting shared and electric mobility companies to do their businesses and service the end-users.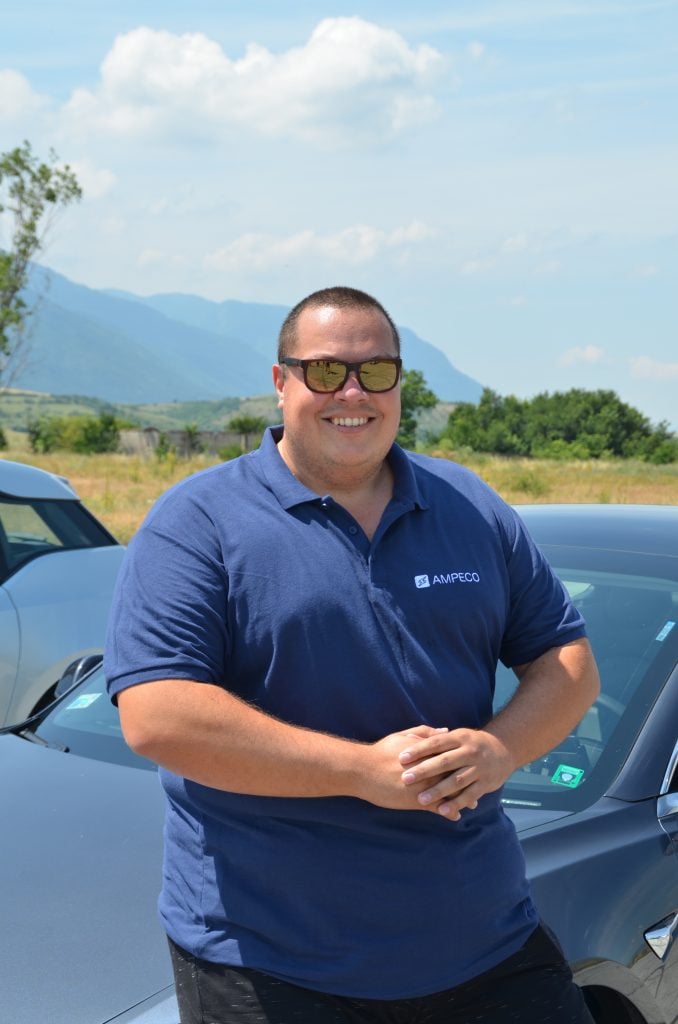 What were the first steps in AMPECO's journey?
Initially, we wanted to start a car-sharing and EV charging infrastructure network. We researched the different pieces of the puzzle needed to offer these types of services. Obviously, some of the essential elements for shared mobility are the vehicles – electric cars and mopeds, and the EV charging infrastructure elements, the stations. But we also figured out there is a need for smart software that will enable these services to be operated.
We looked into existing solutions back in 2018 and found that none of them really matched our expectations. Since my co-founders and I had backgrounds in software development, we decided to build an improved, alternative software solution to what was already on the market and to be the best in kind for EV charging and shared mobility.
This is what we have been working on in the past three years. We developed a solution that wins us deals all over the world. We have over 60 customers worldwide. A third of that is in the UK – our first and strongest market so far, while other markets are The Netherlands, Scandinavian countries, Italy, Spain, Slovenia, Romania, Greece, Bulgaria but also Australia, Singapore, India, Hong Kong, Middle East and the Americas.
You have expanded very quickly since your launch in 2018. How did the company grow?
We started in October 2018 with six co-founders. It was an unusually big number of co-founders, but we really needed a strong team to develop an enterprise-grade solution and bring it to the market. We were six people up until the beginning of 2020, just before the COVID pandemic spread globally. During the lockdown, we grew to 12 people. Today we are 30. So, we experienced very rapid growth in terms of team size.
Another important thing to share is that we haven't closed a VC funding round yet. We've funded the business with an angel investment, and reinvestments of our cash flow from sales. So our sales have been very successful. We are not profitable yet, but we got to the point where we are cash positive, due to our business model, which is based on getting prepayment for our services. This allowed us to sustain our growth without further investment so far. Our plan is to get to 50 people by the end of the year and double this again next year.
How do you plan to finance the business in the future?
We think there is enormous potential in what we are doing. And even though we were able to sustain this growth so far with our own income, we are going to look for VC funding so that we can be even more aggressive. A VC round will propel us and help us enter the US market. We already have some presence in the US, but this is the market we see as the biggest one for EV charging. So, we're going to start fundraising at the end of the year so that we can close early next year and be able to continue on our growth path. For a company like ours, we see a clear path to becoming a unicorn. The market can sustain it, the time is right. And we believe that we have the execution track record and the capability to achieve this goal.
Being present in over 30 markets has given you great visibility into best practices for accelerating mobility and EV charging infrastructure. Can you name the key ones?
We see different successful business models and use cases across markets. For example, in developing markets we see that fast EV charging infrastructure is what comes first in terms of EV charging. Companies are usually investing in highway charging stations or other places where you can locate fast chargers. And they come as prerequisites for the markets to start adopting electric cars.
By contrast, in more developed markets like the Netherlands, Scandinavian markets and the UK, we see that home charging is the biggest market segment for EV charging. Companies are focusing on home charging because this is where most of the charging of electric cars happen.
We try to get experienced with successful models from all these markets and build a product that allows our customers to pick the right model for them while benefiting from best practices and proven models.
In mobility today, one thing is clear, electric cars are the future. This was a question five years ago, but not anymore. It's now a race to conquer the market. And this means that millions of charging stations will be sold and they will be managed in a smart way. For instance, when the charging takes place, it must be managed so as not to put too much strain on the grid. Electric cars can be a way to elevate stress from the grid in a way that was not possible before.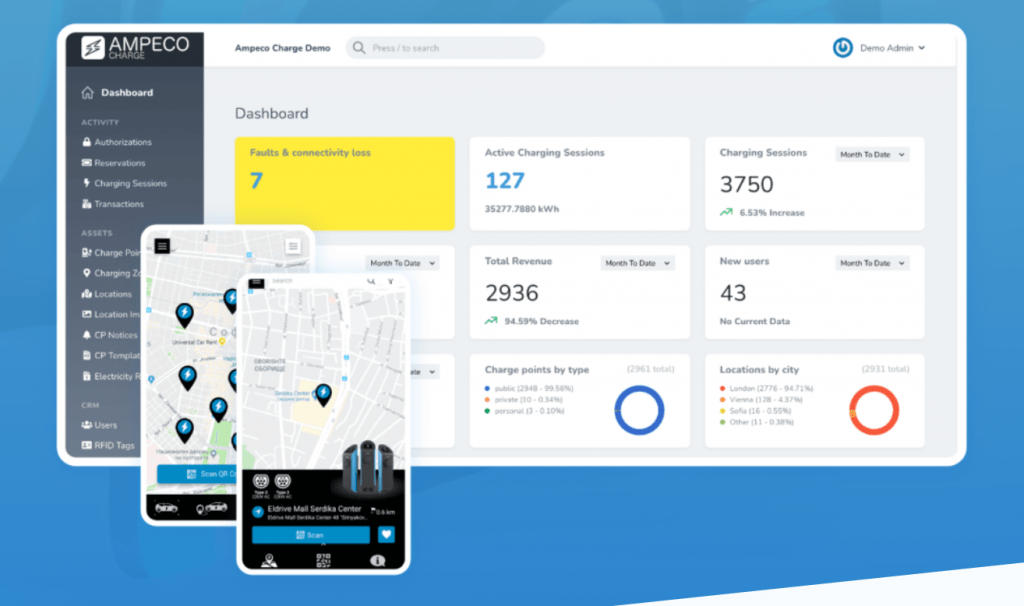 What are we lacking in the SEE to accelerate the e-mobility market?
The policies that were successful in Western countries, such as Scandinavian countries, have targeted the purchase of electric cars, while businesses were the ones investing in EV charging infrastructure to make EVs accessible to customers. I don't think this is applicable in the SEE because this is applicable when you have a few EV models, expensive ones, and you need to offset the price.
Some European projects have aimed to subsidise the building of infrastructure. We need these to build the backbone of fast-charging infrastructure to allow people to travel. Because it is one of the major objections when you think about switching to electric charging. The key question is: how will you travel between cities? So, the projects that the EU has financed and have been very successful, were the ones where they subsidized and encouraged the building up of fast charging infrastructures to cover the intercity travels.
And we are lacking that in the SEE. There have been no such and such projects here. And now it's a good time to start this with the Green Deal, there will be money to spend, and we need to spend it in a smart way. Investing in infrastructure is good because it doesn't serve only one customer, it serves all potential customers. It has a long term effect. You install one fast charger, and it will be used in the next 20 years.
How have you experienced the pandemic period as a new business?
It was a shock because even though it was easy for us, as a software company, to go and work from home, our customers that needed to install charges saw their businesses paused. We needed to reevaluate our projections, to give discounts, and to find a way to stay on track, at least in the first month or two, when there was no clear idea of what's going to happen.
Also, we were at the time just trying to raise the seed round, which could not happen anymore. So we decided to fake it. We thought about what we would do if we had the money and did just that. We hired more people, we became more aggressive in our sales and marketing efforts. We said, "Let's do it, spend what we can fast and if we're going to fail, let's fail fast". And well, we didn't fail. We got an influx of fresh cash from new customers. To some degree, I would say the lockdown was beneficial for the way it accelerated our business.
And this is something that I've seen not only with us but also with many other companies. When you had to do meetings in person, you could maybe fit four meetings in a day, yet when working from home, you could fit 10. Obviously, you would also be more stressed out. But it is a twice faster way of doing business. And when you're doing sales, you need to have more beat, to meet more people, to reach more.
This acceleration also helped us to level the playing field. Suddenly, it didn't matter if our potential customer had an office in London where our competitor had an on-site team already. They would connect with any of our competitors in the same way – with a video call. And if our product was better, we would win the deal.
What lessons have you learned during your 10 years as an entrepreneur that you would like to share with entrepreneurs from the SEE?
A lesson that I've been learning and that I try to iterate is that when you're in a startup or an intrapreneur, although you need to persevere through the tough times, you shouldn't mistake failure for the tough times. You need to recognize when failure happens, stop what you're doing, fail fast, recover, and move on to the next thing. Time is our most expensive resource. So, finding the line between tough times and failures is very important for an entrepreneur. We must be able to say goodbye if necessary.