Sofia,
Bulgaria ~
Designing, creating, and building have been in the human DNA ever since we were making tools to improve our chances of survival. Design for sustainability, without a negative impact on the interwoven systems of our world, has only become a real challenge in the late 20th century.
If in the 1900s human-induced climate change observations were reserved to a few scientists, in the past 20 years, we started to perceive the negative impacts of our unsustainable economic system at a societal scale. Increasing consumer awareness for the waste and pollution we put in our oceans and landfills are a key driver for improving our collective impact. In parallel, governments have begun to respond to society's outcry and use legislation and policies to minimize the impact of national economies on the surrounding environment.
The new framing of economic development that many countries and international organizations put forward is one of a sustainable, circular economy. In this view, the products we create to meet our needs are designed to sustain all our systems, keeping materials in circulation without creating waste, and offering more than they take.
Considering that the design stage is responsible for 80% of the environmental impact of a product, a key first step in successfully building such an economy is designing goods and services with sustainability in mind. Much of the impact is embedded in the product by the designer, making the design decision-making stage crucial, explains Dr. Leyla Acaroglu, UNEP Champion of the Earth and creator of the Disruptive Design Method.
So, which designers are taking on the challenge of changing the status quo of an economy addicted to fast-moving, mass-produced, and disposable goods? Today, The Recursive talks to Atanas Enev, founder and Managing Partner of Biomyc, a young Bulgarian company for sustainable product design, which develops and creates environmentally friendly and socially responsible products from innovative and eco materials. Atanas guides us through his sustainable design philosophy, Biomyc's business model, and his advice for entrepreneurs looking to change the status quo in the biotech industry.
The Recursive: What does design for sustainability mean in Biomyc's vision?
Atanas Enev: Biomyc ltd. is an eco-design company that specializes in innovative materials and sustainable product design. The company's main expertise is in mushroom technology, additive manufacturing and simulation and sustainable product design. By combining these Biomyc brings sustainable technologies and materials to market now and not in 50 to 100 years.
The big problem is that despite the availability of many sustainable materials, either they can't be mass produced to meet market demand, or they're too expensive. If you take a design perspective, combining the right technologies that are currently on the market, for example, mushroom with paper, then you can get something that's economically viable, innovative, and with a lower carbon footprint than anything else.
Moreover, when you design for sustainability, you design mainly for the system where the product will be used. That's how you pick the best materials. As a quick example, mushroom materials are very good for Bulgaria, because Bulgaria's recycling system is still developing. So, if you have something that's garden compostable, that you can throw away and know it will quickly turn into nutrients, then it works like magic. As a side bar, for composting or biodegradation to be effective in mitigating emissions and the waste problem today, it needs to be fast. So, the time it takes for materials to decompose into small enough particles is of the essence.
I'll give you a different example. In Germany, we did a couple of projects with the Assembly Planning at Mercedes Benz, printing with plant-based plastic – modified polylactic acid that is optimized to behave as an engineering grade material and is made out of 40% recycled content. This is because they have a good recycling and composting system that can handle the waste more effectively. Of course, recycling isn't always the best option, but when true sustainability is the goal it is always a balancing act between performance, the best end of life solution and environmental impact.
The most important thing is to measure how much better the current solution is compared to the previous one. This is because long term sustainability is an iteration cycle where one must strive to outperform the last solution while trying to reach a perfect outcome.
In a nutshell, what are Biomyc's key offerings?
So, we specialize in three things. First, there is mushroom technology. This is a bio composite material that's made out of mushroom and agricultural waste. The second is 3D printing – more of a technology than a material. We specialize in this because it allows us to do very quick prototyping and small series with materials, without conforming to the limitations of traditional production. And the third thing is sustainable design. Here we have our own methods of analyzing where design is needed, choosing the best material, and choosing the best end of life solution. At the end, we do an evaluation of how much better our solution is compared to the client's previous product.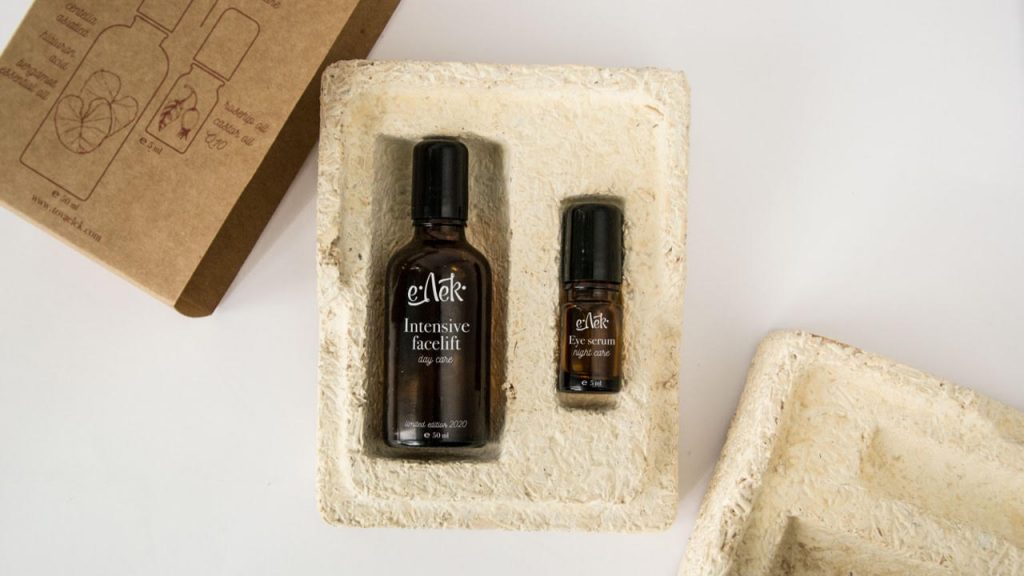 What other factors do you take into account when choosing sustainable materials?
So, besides analyzing the limitations of the waste stream in the locations where the product would be used, we look at some other things. One important factor is the utility of the material. If the application is packaging, the material needs to offer protection or thermal insulation. So, we're going to choose something like mushroom material that replaces plastic foam alternatives, such as expanded polystyrene (EPS).
Then paper is a very interesting option, because even though it's a bit more common, when you combine it with something more innovative, it can be used very well, especially if you don't use any type of plastic coatings. Even biodegradable foils – if they're not at a certain thickness and are not taken care of properly, have a very tough and long time biodegrading. And when you say biodegradable, the first question should always be "After what time exactly will it biodegrade completely? Does it need special treatment to do so? If yes, is it available locally?". And this is not very well known. We live in a very interesting world where everybody's fighting for sustainability, but there's no clear and unified definition of sustainability, that is why we believe that a holistic approach that takes care of multiple variables is the best option.
Tell us a bit more about your business model.
We are a sustainable design company with an R&D department. For the production part of the value chain, we work with production partners. So, we work with Grown.bio, a mushroom material biotechnology company from the Netherlands that is the largest producer of its type.
With mushroom production, it's a very tied network and we have access to all the players. For other productions, for example for 3D printing in Europe, we're working with B2N Bulgaria, one of the biggest distributors of 3D printing machines in the Balkans. This gives us access to almost every piece of tech that you can think of as far as 3D printing is concerned.
Working with partners allows us to be very flexible. We received interest from different parts of the world. And if you're producing for Europe, it makes sense for the producer to be based in Europe, but if you're producing for Asia, you need a local partner there. This is because shipping makes the process less sustainable and carbon offsetting practices must be implemented to reach a net zero outcome.
Can you guide us through the process of working with a client?
Let's take the Mercedes Benz project as an example. We substituted a part that was used in car assembly. This part was made with thermoforming (i.e. heating plastic sheets to pliable forming temperatures) with a very standard plastic. So, we analyzed the carbon impact of this process and the end-of-life of the materials and products.
After this, we did another analysis to select alternative materials that can recreate the specific part. At the beginning, we chose six material alternatives. After that, we did testing and then we created the design. The result was a design that enabled reusability. So, if beforehand Mercedes had to make a separate part for each vehicle, with the new part we designed together, they could reuse it for six vehicles. And this required a very simple design modification. If you redesign for multiuse, then you can get something that's more sustainable and more economically efficient, even when you use expensive production technology like 3D printing.
To top it all, we chose materials that have a lower carbon footprint compared to what they were using. So, not only is the material more sustainable and fits their system, but also the design for sustainability helped them achieve economic savings.
How did you fund the business?
In the beginning, we received funding from Climate-KIC and we had local partners from Cleantech Bulgaria. They funded the initial work on the project.
At first, we wanted to create the technology in Bulgaria and we pushed through all the phases, until the end of the laboratory stage. Usually, when you build a technology, first you have a lab stage, then you take it out of the laboratory and into the production stage. Right at the end of the lab stage, we met our current production partners and we shifted the focus of our R&D. Instead of trying to recreate what already was on the market, we started focusing on what was not there yet: local feedstock that nobody uses and R&D for very specific products.
So, after being funded by Climate-KIC for these first stages, we bootstrapped with our own finances and we also started getting clients. That was until last year. Starting this year, we have become self-sustaining and are building on this by expanding our customer base and team.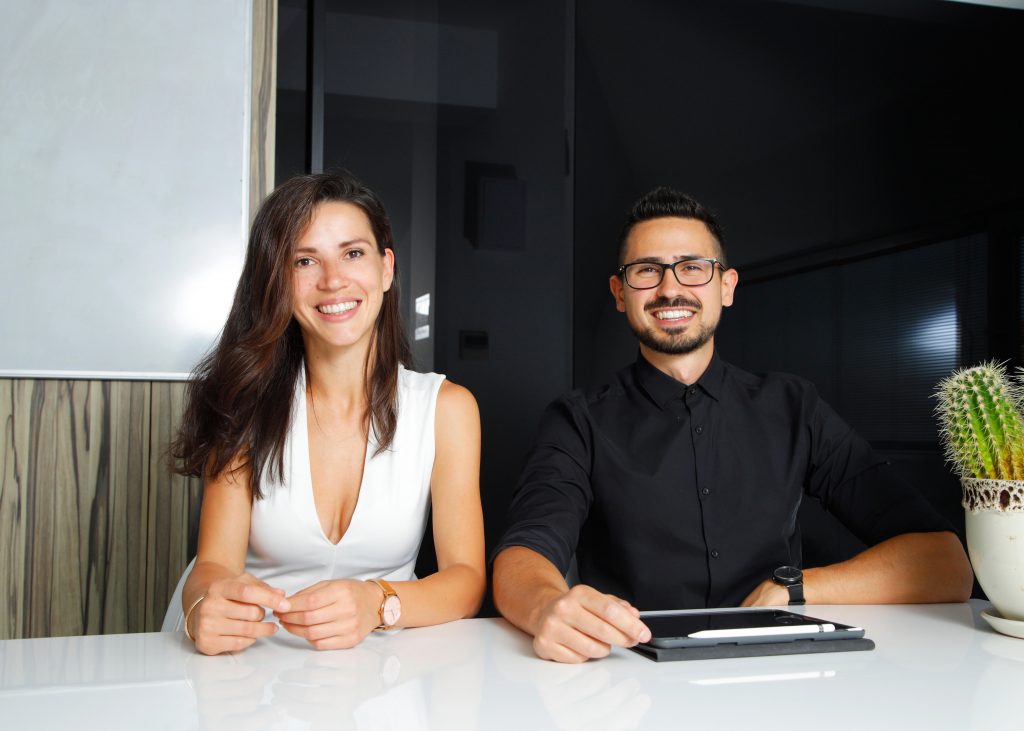 What are your growth plans, including in the CEE region?
Now we are in the process of scaling. We plan to further expand the customer portfolio. Up until this point, most of the interest came from the West, where countries are leading the race on sustainability. However, the main plan is to help develop the sustainable product and packaging market by designing more with mushroom material to help develop the CEE region.
There is a lot of interest in CEE markets, especially in Romania, Greece and other countries around Bulgaria. The challenge ahead will be to find those initial customers that will be able to start developing the market and our parts of the world.
What did you love most about your entrepreneurial journey?
The first thing that comes to mind is that it's amazingly fun. If you want a life where you face challenges that you need to solve every day and where you are able to say that you have done personally fulfilling work, entrepreneurship is definitely the best way to achieve it.
The second thing that I love about it is that it gave me quite a bit of independence. By that, I mean not only having control over one's own time, because there are a lot of workplaces that can provide that today, but also on the direction of the company. Right now, Biomyc is doing what myself and the team believe to be the best next step for the company and how it impacts society.
Lastly, and here I am also speaking for the team, we always go the extra mile and put a lot of effort in our work. So, one of the most impactful things for us is when we realized that this led to a lot of appreciation from the companies and people we are having the pleasure to work with. Direct appreciation of our efforts is perhaps one of the most rewarding aspects of entrepreneurship. It is very challenging to tackle something that has not yet been done, but working with people that value you and your organization for this is exponentially more rewarding for us than anything else.
What piece of advice would you give entrepreneurs who want to create value both for their business and for the environment?
It's very hard to synthesize specific cookie cutter advice for entrepreneurs, because good advice is always case based. What I can say is find a very suitable niche and start selling, and then sell better every time. By doing this you can make a difference on the market.
For entrepreneurs that are biotech engineers, explore more verticals and innovation during your PhDs and then attract talented business dev people that are passionate about what you do.. And for business people, look for and find the best biotech team, because what we see in the country is that there are a lot of interesting biotech ideas that are not being brought to market, so this synergy is paramount.
I'm very big on actionable advice and I think that future entrepreneurs need this a lot right now. There is a lot of ok general advice out there that is very dangerous for inexperienced entrepreneurs as it is so general that it can sound right when it is actually not and it complicates an otherwise very pragmatic and simple subject matter. With Biomyc we participate in various events where we talk about entrepreneurship with young people from schools and universities. We deromanticize entrepreneurship and teach them more about the challenges they should expect and what to do to overcome them. That way we can help the next generation of entrepreneurs while we strive to make a difference at Biomyc.