Bulgaria ~
Picking ugly food, buying only what we need, storing food wisely – we hear these guidelines more and more, as efforts to reverse the food waste habit increase. Preventing food waste is not a standalone challenge: it's a global and systemic one, which leads to economic losses, CO2 emissions, and food insecurity.
Humanity wastes around 2.5 billion tons of food each year, or 40% of food produced worldwide. A substantial part – up to 37% – comes from consumers, retail, and food services. The European HoReCa sector alone wastes 12 million tons of food, or 20 kg per capita. Out of total EU food production, food waste from businesses and households account for a fifth. On top of all that, food waste generates 10% of all CO2 emissions.
As such, preventing food waste and loss has been established by the UN's Agenda 2030 as a key contributor to more responsible consumption and production systems. The end target? Halving per capita global food waste at the retail and consumer levels by 2030 vs. 2016. At the recently concluded COP26 summit, Hellman, a Unilever company, placed the spotlight on food waste through an installation featuring over 400 food item replicas, representing 117 kg of waste the average UK family generates every six months.
So, how can businesses and consumers come together to effectively prevent food waste and loss? One type of solution that is gaining interest from the market are mobile apps that serve as platforms for consumers and businesses to exchange quality food products that would otherwise go to waste.
Helping local restaurants and shops sell surplus food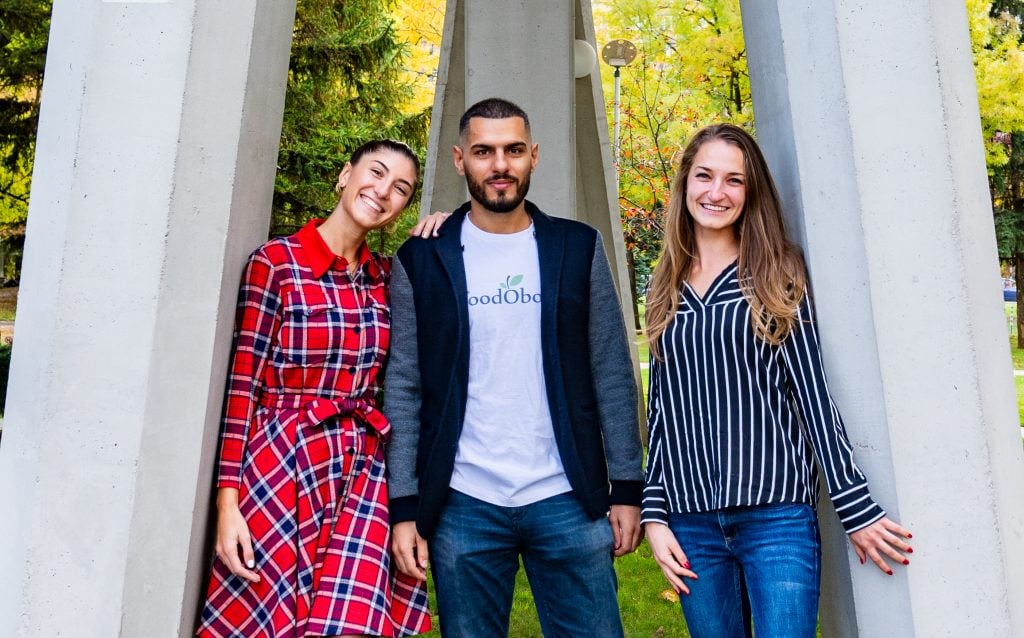 FoodObox, for instance, is one of the first mobile applications in Bulgaria that connects environmentally conscious foodies with local restaurants and shops that have meal surplus. The startup already intermediates 100 businesses and 4000 clients.
"We offer clients an opportunity to be a hero and rescue perfectly good food from being thrown out at a price with at least 40% discount. The clients can use the FoodОbox app to check where they can receive a surprise box filled with delicious treats from restaurants, salad bars, bakeries etc. and after they place the order they can go and obtain the food from the venue," FoodObox founder Jane Dimitrova tells us.
Market-based solutions such as this are a great way to support local food business, especially after a downturn period. Changing regulations for the food sector following the pandemic forced HoReCa businesses to shrink, and made it difficult for them to predict demand, and to compete for new customers without expensive marketing campaigns. Jane Dimitrova further explains:
"We wanted to help businesses at least recover some of their financial investments, give them a chance to attract young and hungry-for-change customers, while also building an image of an environmentally friendly restaurant."
Another similar project in Bulgaria is Sofia2Go, whose story begins in 2016 when the founder sisters returned to Bulgaria after living in Portugal. Sofia2go also aims to reduce food waste by offering a marketplace where restaurants, hotels, and cafes can sell food that has not been sold during peak hours. The startup was recently recognized by the European Social Innovation Competition as one of the 30 semi-finalists, further validating the potential of food waste prevention apps to take off.
Using food waste reduction platforms helps restaurants monetize meals that would otherwise get wasted, but also receive more exposure to new consumers, and further position as sustainable businesses, Sofia2Go founder Sisi Simeonova told The Recursive.
Elsewhere in Romania, bonapp.eco recently launched a mobile app that allows consumers to purchase food close to expiration date from a variety of businesses, including shops, restaurants, cafes, bakeries, and hotels. The company plans to sign up 5000 locations and sell more than 30 million meals by 2023, as well as expand to other Eastern European markets.
Helping users improve their environmental footprint
Increasingly eco-conscious consumers are always scouting for new ways to implement easy changes in their daily lives that would help improve their environmental footprint. And using food waste prevention apps can be both simple and impactful:
"We calculated that by each box that is sold on our platform, we reduce carbon emissions by 2,5 kg. Currently we have over 500 sold boxes, which means 1250 CO2 less emissions. We want to go even further, and ensure that not only food is rescued, but also it is done in an ecological manner, for example by reducing single use plastic," Jane Dimitrova from FoodObox reveals.
Nevertheless, educating consumers on how they contribute to food waste, the impact of their habits, and the need to participate in the change is still required. To that end, most food waste prevention companies also organize awareness campaigns. FoodOBox, for instance, partnered with Bosch to collect over 500kg of food from 36 Bulgarian towns, from which they then prepared 2000 warm meals for "Maria's world" foundation for people with disabilities.
In the case of FoodObox, there's also an element of surprise: the startup packs meals in boxes without revealing the content:
"One of the benefit for users is that they can satisfy their craving both for food and adventure and try new things with our surprise boxes. The app has a function that lets clients filter what they prefer to eat: a good old Bulgarian meal, something fast and tasty like a burger or pizza, sweet treats or vegan food. No matter what they select, they receive something that always surprises them."
Going further, it will be interesting to see how these young startups evolve, from adding more functionalities, to becoming more tech-oriented, and tending to more and more consumer tastes.