One year ago today, our founders Irina Obushtarova (CEO) and Etien Yovchev (Chief Growth Officer) launched The Recursive website. They launched it with the main goal to support Southeast Europe, our home, in becoming an innovation destination, as well as with the strong belief that the stories we read and tell ourselves are the ones that shape our environment and mindset. Etien shares more about this vision:
"Our core belief was (and still is) that for the tech ecosystem in Southeast Europe to grow, it needs way more storytelling. You know, innovation needs good stories to reach society, founders need good stories to capture the attention of international customers and investors, and the next generation of entrepreneurs in the region needs to see the success stories, to see that it's possible to build a world-class technology company in the Balkans.

One year later, I am so proud of the team of people we managed to build. It's also incredible to have seen first hand that there are more and more ecosystem players who believe in our vision - especially the regional aspect. Our region has been disconnected on a political level for so long but if we want to reach the next level, we'd need to join forces and create better opportunities for all of us".
In our first year, The Recursive established itself as one of the most prominent and trustworthy media brands in Southeast Europe. We produced more than 800 stories, covering technological and impact innovations in Southeast Europe. Yet we couldn't have achieved anything without you, our readers. With your help, after one year in the market, we grew to more than 200K visitors and more than 7,000 social media followers.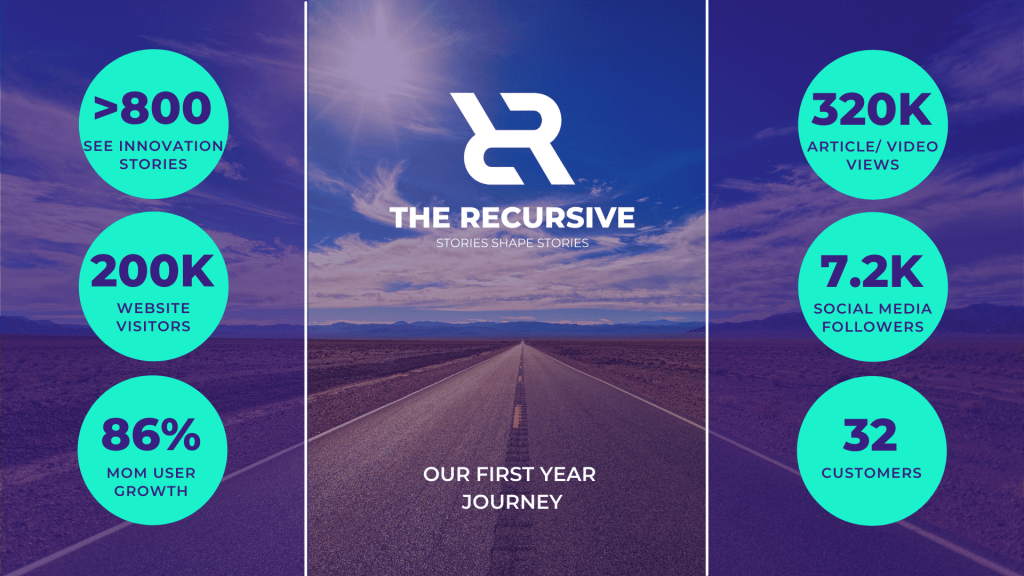 Our editorial team has been striving to offer unique insights into the minds and hearts of founders and tech leaders, as well as bring visibility to startups on their growth journeys. We told the stories of key ecosystem actors in Southeast Europe, and mapped key stakeholders, resources, and verticals. We further wandered in the minds of innovation leaders in Southeast Europe with our weekly podcast.
In 2021, we have also made our first steps towards building a self-sustainable and scalable business model. We gained the trust of 32 customers throughout the year. And we found new like minded partners in the ecosystem who share our passion for supporting tech leaders and entrepreneurs in their mission to transform entire industries and societies.
Through Growth Club, launched in MVP beta version in November, we want to scale everything we do, and become the main platform for PR, targeted communications, and matchmaking to the regional tech community.
Finally, we have been growing the team, welcoming new members across our editorial, digital marketing, and sales teams, in order to strengthen our capacity to provide coverage of the dynamic entrepreneurial landscape in SEE, as well as support our customers. In 2022, we are looking to further expand our coverage of the Greek ecosystem by hiring local journalists and onboarding our first local customers. We have also launched applications for the first cohort of The Recursive Academy, where we will help the young community of aspiring storytellers hone their communication skills.
How did 2021 go the ecosystem
In just one year, we saw the regional startup ecosystem grow exponentially, in line with the European trend. Local success stories and tech talent continue to attract more and more regional and international investors, which in turn empower startups at all stages.
In 2021, Southeast European startups and scaleups raised $2.5+ billion in total. Romania-based startups raised three times more capital in 2021, going from €30M to more than €116M. Meanwhile, Greek startups raised €500M in funding and had 6 exits in 2021.
The first unicorn emerged from Greece after the acquisition of education management startup PeopleCert by AXELOS. Bulgaria also got closer than ever to producing its first unicorn after fintech startup Payhawk became the fastest company in CEE to reach Series B and pass $100M in VC funding and Gtmhub raised the largest funding round in the OKR software space.
13 fast-growth companies emerged from Southeast Europe, with Bulgaria's OfficeRnd in top 10 and Slovakia with the largest presence.
And new regional funds were launched by investors such as VentureFriends, LAUNCHub Ventures, Marathon Venture Capital, Eleven Ventures, PropTech1 Ventures, Czech Rockaway Ventures, together with many others.
Our goals and wishes for 2022
Just before the holidays, we asked investors to share their lessons learned in 2021, founders to predict the tech trends of 2022, and we looked at the biggest sustainability challenges we'll need to tackle this year.
After having dipped our toes into the waters of 2022, and reflected on our vision and progress, we are also ready to share our predictions and goals for this year. For our second year in the market, we have even bigger ambitions, and we hope that by our next birthday, we'd have been able to create value for a much bigger and wider audience.
The Recursive editorial team further shares the stories they are aching to write in 2022
"In 2022, I am excited to witness firsthand Southeast Europe's leapfrog of confidence and dare driven by the vision and leadership of its tech innovators. And in the years to come I really wish to report on the tech ecosystem spillover effect spreading and positively affecting our societies on a larger scale. People need that glimpse of hope but more importantly they need to be infected with this "can do" mentality that can empower them to strive for more.

I wish to see countries in our region strengthening their cultural, business and political bonds based on shared goals and mindset. Because we are stronger together. I see it with the diverse Recursive team I have the honor to work with that we have a future to share. "
"2022 sounds like a special year, and I truly hope that in the next 12 months we will witness how the growth momentum of the regional innovation ecosystems doubles its speed. It brings me a great sense of inspiration to hear the stories and perspectives and feel the energy of the people who drive our ecosystem forward. My goal this year will be to pay that inspiration forward to our readers.

I believe that in order for innovation to scale, there is a need not only for visibility but also for education and quality explanation of the "magic" that happens in the most disruptive verticals. That is why among others, the trends I want to focus on are Web 3.0, Fintech, and Blockchain."
"In 2022, I'd like to tell those stories that are able to change perceptions about what it takes to make it in the Western Balkans. Stories that inspire and give hope that everything is possible and stories that can inspire those with incredible ideas to keep pursuing them and not give up.

I believe that what we do at The Recursive can serve the cause of inspiring people in the region to strive to do more and achieve the best possible results – since this is the purest way to achieving transformation and economic prosperity for the region and its people."
"I feel 2022 is going to be a year of blossoming for the SEE ecosystem. Like peeling the layers of an onion, I cannot wait to see how tech entrepreneurs will top last year, which was a good one.

Having said this, I believe in The Recursive editorial team we are glittering with excitement to see who is going to cover the next tech unicorn from SEE. I do hope it's me because I am a firm believer it is the right time for the "Women in Tech" to rise to this challenge. Also, I want to dive a little bit deeper into cybersecurity and ride the wave of the next potential threat."
"A journey of a thousand miles begins with a single step. The journey of the SEE innovation ecosystem will continue unabated in 2022, as the seeds of growth have been already planted: record levels of funding, the launch of new regional funds, product development and expansion plans, and the contributions of ecosystem support networks.

That said, one of our goals in The Recursive editorial team is to tell the hero stories that will impact the ecosystem, now and in the future. In 2022, I hope to see cleantech, deep tech, and social impact innovations build on the momentum created in the past year, and be lucky enough to unveil the stories of their visionary founders."