Sofia,
Bulgaria ~
Cultivating talent is the best solution to the current situation of the tech labor market worldwide
How do you bridge the gap between a traditional field of study at university and a career in the field of bleeding-edge technology? This is the question that both people aspiring to work in the automation high-tech sector and employers who are searching for talent with forward thinking keep asking themselves. Of course, self-education, reading books, and taking various tech and engineering courses might do the job of preparing the candidates for getting themselves to the junior interview stage, but there is an alternative way that brings additional value to both sides. Over the years company bootcamps have become an increasingly popular training option due to the fact that they provide tech talents with a fast track to success, connect companies with prospective employees and test whether there is a culture fit between the young professionals and the company.

This September the Sofia development center of Ocado Technology opens the doors of its first Ocado Technology Bootcamp, powered by x8academy, a Bulgarian software engineering academy. Ocado Technology is a global tech company that develops automation solutions for grocery e-commerce businesses. In short, they build the technology that is changing the way the world shops by providing supermarkets with an end-to-end modular software and hardware platform that optimizes their online grocery delivery process. The 15-week-long intensive learning program will offer driven university students and young professionals an opportunity to receive free personal training in:
Software development,

Microservices,

Data science,

DevOps,

Team practices and Development methodologies

Serverless computing,

Robotics innovation,

AI

Soft skills.
The Ocado Technology Bootcamp will bring participants shoulder to shoulder with the tech gurus from Ocado Technology Sofia who will step into the shoes of mentors. Combining 10 weeks of high-impact learning, and 5 weeks of collaborative work on an assigned project, the bootcamp will allow participants to practically test the newly acquired knowledge and skills. Aspiring professionals and students who want to be part of the future innovators of the global distribution channels can apply online until the 20th of August.
Stanimir Hadzhiev, Head of Ocado Technology Sofia, whose passions are Organizational Leadership, Global Mobility, and People Management, talked with our team about the value of company boot camps for talent development, what benefits the Ocado Technology Bootcamp will offer to its participants and why should companies pay it forward and "feed" the ecosystem with tech talent.
"Professional realization is one of the main pillars in our lives and software engineering bootcamps give talents the opportunity to find an environment that they feel comfortable at and potentially stay to work in the company," Hadzhiev points out. At the end of the program, some of the best-performing participants might be offered an opportunity to join the 150-member team of Ocado Technology Sofia.
A safe environment for learning
"When talking about talent development, we first need to think about what the definition of talent is. For me it is the final result of one simple equation made up of three components – experience x competence x attitude = talent," Hadzhiev explains. "At the Ocado Technology Bootcamp, powered by x8academy, we will focus on growing the participants in all three components. The program is ambitious and anyone can review it online or join us to discuss more about the training. For example, in the 'competencies' component alone, we will build on hard skills, emphasize on teamwork, and on adaptive communication. Adaptive communication is a competence which is key to our culture at Ocado Technology – everyone has got to have the skills to explain what they do and why they do it to a 6-year-old child," he adds.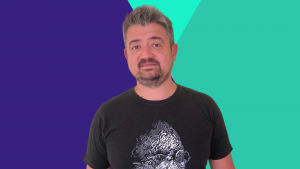 Stanimir notes that the Bootcamp will serve a greater purpose than developing talents. "This space, which we will be creating with the participants and mentors, the space where we will be sharing knowledge and energy, is going to serve as a safe zone for the software engineers to get to know Ocado Technology fully. We will be with them every day, being ourselves, showing our company culture and our personalities, what our technology is capable of achieving, how far our tech capabilities stretch. We will be 100% authentic." he highlights.
All of that will provide a safe ground for the Bootcampers to experience whether Ocado Technology is "a good match", and whether they would like to join the Sofia team at the end of the training. The same goes for the team of Ocado Technology as well.
The learning pyramid elements
"The learning pyramid explains how people learn. Books and articles give us only about 10% of the knowledge we gain, while around 80-90% come from the process of practicing and teaching others. If you share your knowledge with others, you listen to someone sharing knowledge, or when you are in a roundtable situation, you can absorb up to 50% of the new knowledge," he shares. "Isn't this amazing – teaching, passing knowledge, is one of the best ways to learn! This, namely, is the goal of our Bootcamp as we want to create a continuous circle of knowledge-sharing and learning between our mentors and the bootcampers. In addition, our plans are to turn the Bootcamp into an annual event and those, who receive knowledge and know-how today, will one day give it back to the new generation as mentors," Stanimir explains.
When it comes to the expectation that the team of Ocado Technology has for the applicants, Stanimir shares that the main thing they will be searching for is a big dose of enthusiasm and clarity of ideas. "We want to work with people who are ready to commit themselves and enter into the tech development flow. We expect that the participants would be ready to connect mentally with the program and show passion and enthusiasm about their professional development in a bleeding-edge tech company".
The people Ocado Technology expects to join the Bootcamp are those who think two moves ahead in their strategy for professional growth.
Making 1+1 = 3
The difference between good and great engineers falls down to soft skills. This includes having self-awareness, being humble, and knowing that you have a lot of space for development and that you can achieve everything by having a can-do attitude. Because of that, the culture of Ocado Technology is based on collaboration and trust, respect for others, and knowledge-sharing. "When everyone brings their best to the table, when we collaborate and enrich each other, our collective power is more than the sum of us, as individuals. 1+1 can make 3 when we are in it together," notes Stanimir.
"Physical interaction plays a key role in the knowledge-sharing and that is why we envisioned the bootcamp to happen in-person. We have provided for an entire floor of our office to be used as a creative environment for the bootcamp, but after all, the situation is unforeseeable, and we are led by the restrictions introduced by the government," he explains. Even though it is expected that the event will occur in an online format, during the first two weeks the participants and the mentors will be brought together on-site to encourage the creation of a cultural fit.
Throughout the bootcamp, the students will be mentored by the Ocado tech pioneers and one of the most experienced trainers in Bulgaria, Philip Yankov. Yankov is a NASA Space Apps Challenge Global winner, CEO of x8academy, and a patent holder. The mentors include software engineers, product managers, a UX Designer, and leaders, such as Desislav Kamenov, who is Head of Engineering at Ocado Technology and is also the co-founder and CTO of the social platforms KindLink and Transformify.