Sofia,
Bulgaria ~
Have you ever wanted to learn more about Cyber Security related concepts? It might be the right time for that, as the first-ever BSides conference in Sofia is just around the corner. BSides gatherings (initially inspired by DefCon) are events where cybersecurity experts and aficionados alike come together. It's an opportunity for students and novices in the field to connect with Cyber Security experts and learn more about different topics related to Information Security (ranging from computer forensics to IoT security).
Sofia-based BSides conference will take place on April 15th, 2022, at the University of National and World Economy. You can register (admission is FREE) for the event here.
The Recursive talked to Miglen Evlogiev, Director of Information Security at Payhawk and a Chairman of the Bulgarian Cybersecurity Association, to get the insights. He co-organizes the event alongside CENTIO & BaseLine. Miglen has attended and spoken at other BSides conferences in Dublin and Belfast.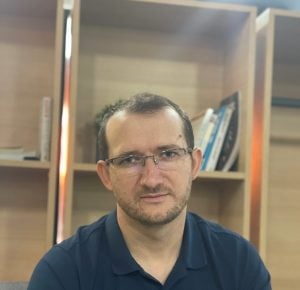 The Director of InfoSec at Payhawk explained that the cyber security community in Bulgaria was a little scattered since "there are a lot of professionals but they are not collaborating enough." So, the event's goal would be to bring together professionals and enthusiasts and "to start this tradition and the community around the conference." The event will be open to newcomers and anyone interested in information security. Miglen Evlogiev also shared that since he has been involved in Cyber Security from an early age, he would like this conference to help young people "responsibly identify vulnerabilities and report them to either authorities, businesses, etc."
From Cybersecurity Vulnerabilities to IPTV
The conference will start with Bozhidar Bozhanov, Bulgarian Minister of e-Government, who will share more about the cybersecurity efforts of the e-Government. It will be followed by a discussion on reporting cyber security flaws presented by the CEO of school management platform Shkolo.bg, Lyubomir Banyov. During this discussion, the Head of the Bulgarian CyberCrime Unit, Vladimir Dimitrov, will tackle different strategies for addressing and dealing with cyber security vulnerabilities and the overall impact of vulnerability disclosures on businesses and institutions. The schedule will also include a presentation by Anton Sankov, Senior Member of Technical Staff at VMware Carbon Black on Kubernetes Admission Control and OPA.
During the second half of the event, Radostina Kondakova, Lead of the Cyber Security Business Line and the CyberSec Team at Scalefocus, will present a talk on the Secure Software Development Life Cycle (SDLC).
The schedule will also include talks about blockchain consensus algorithms and efficient deep fake detector design. You can find the complete program of the conference here.
Put Your Skills to the Test with Capture The Flag Competition
The conference will also host Capture The Flag (CTF) challenge aimed at cyber security professionals interested in putting their skills to the test. As Miglen Evlogiev explains, CTF is like a competition "where you have a vulnerable on purpose system, and inside of it you have a flag, a string of characters that you can recognize and submit to earn some points in this game." It is a team game where the CTF players can come together to find the hidden string of characters (the flags) and collect points. The tasks to be solved are based on actual cybersecurity concepts and can range from cryptography to reverse engineering.
CTF is part of the BSides Sofia conference but will happen on April 16th, 2022.
If you feel up for the challenge and want to participate in the CTF, you can register here.