Bulgaria, Poland, Sweden, Ukraine ~
On September 16, impact-first tech ecosystem Beetroot, which entered the Bulgarian market earlier this year, is celebrating its 10th anniversary.
So how did a scholarly project of two Swedish students grow into an international tech ecosystem with offices in Bulgaria? What enables the team to stay resilient even in the toughest of times? And finally, why so social? Find these answers and more in this Recursive overview.
Beetroot first saw the light of day in 2012, when Andreas Flodström and Gustav Henman arrived in Ukraine in an old, rusty Lada. At the time, Andreas was working on his master thesis for Chalmers School of Entrepreneurship, dedicated to social entrepreneurship in the CIS. After traveling a lot around Ukraine, Moldova, and other post-soviet countries, the entrepreneurs finally anchored in Odesa, Ukraine, and started to build their first dedicated tech teams for Swedish clients.
In ten years, the company has evolved into a mission-driven tech ecosystem with:
600+ people on board in Sweden, Bulgaria, Ukraine, and Poland
Nearly $50 Million of total economic impact in Ukraine in 2021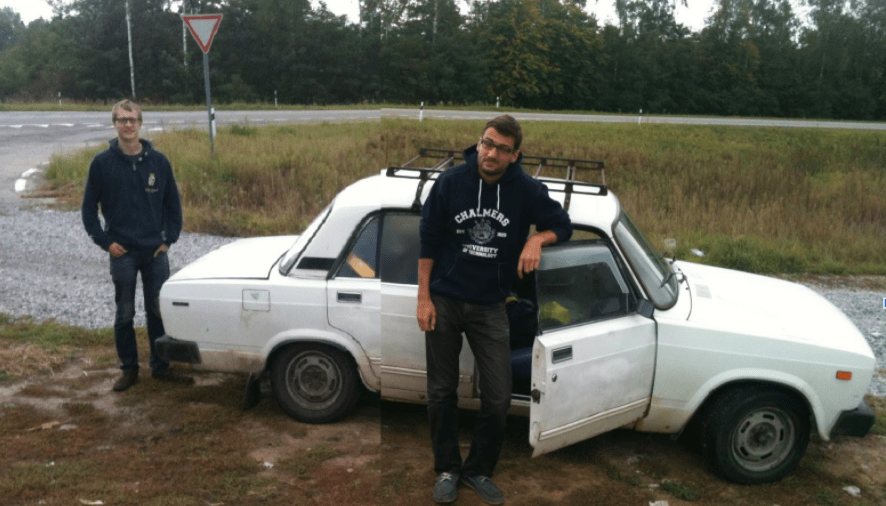 Andreas Flodström and Gustav Henman arrived in Ukraine in an old, rusty Lada
Social enterprise from day one
Beetroot has been a social enterprise from the very beginning. Even in the early days, when the company's office was in a basement apartment near the Kyiv railway station, an ambition for positive impact was at its heart.
"When you're just starting, you naturally focus on rowing your boat and growing. Still, I've always believed that money is not a strong enough reason to enjoy going to work every day. My motivation came from seeing that our work was changing people's lives for real. We had a new approach to work and we were helping create a new economic middle-class. It was clear that we had a positive impact", emphasizes Andreas Flodström, Co-Founder and CEO of Beetroot.
The ecosystem expanded by leaps and bounds over the following years. Beetroot Academy, a non-profit EdTech company, emerged in 2014 to help improve the accessibility of tech education and enable more people to start a career in the digital economy. Beetroot Academy has educated over 7,000 tech specialists since then, with an employment rate of 70%.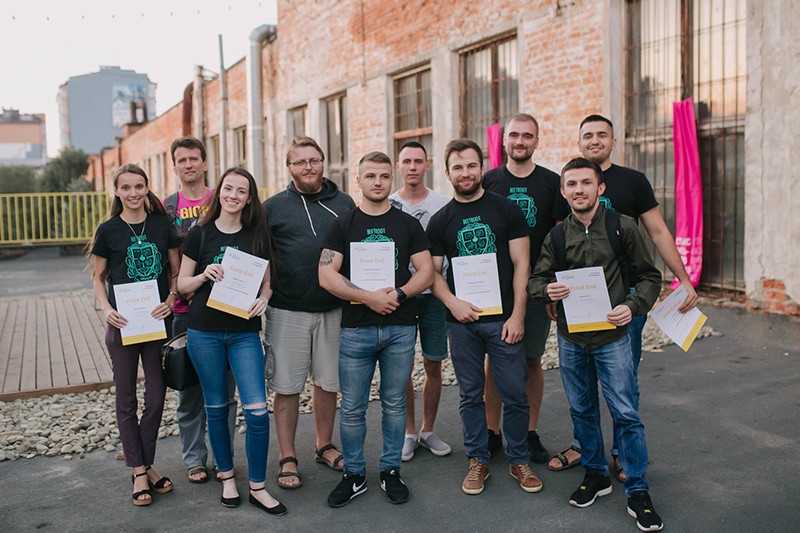 Graduates from the Beetroot Academy
Team sustainability as a growth mechanism
According to the founders, the concentration on individual and team sustainability laid the foundation for this growth.
At Beetroot, a sustainable team is one where people think long-term in their work and truly take care of themselves, society, and the environment. As the company's CEO explains further: "The digital economy brings us more opportunities than ever, but to use them, we need to keep our minds in a 'Lagom' state as we say in Sweden – moving forward with the right balance, avoiding extremes."
Mission & Values
The ecosystem's organizational culture nurturing this attitude is based on six essential values:
Trust
Responsibility
Transparency
Equality
Wholeness
Sustainability
Values illustration from the Sustainability report 2022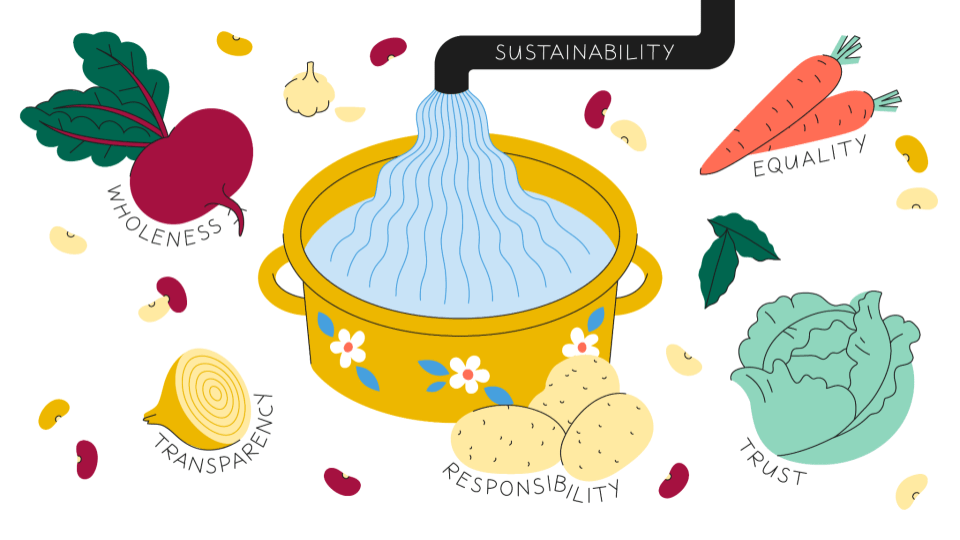 Beetroot's Core Values
"I love how Beetroot culture celebrates our differences along with our freedoms. It is about conscious responsibility, trust in your teammate's potential, and genuine interest in each other", points out Hanna Kibiakova, HR & Account Manager at Beetroot.
Gustav Henman considers the focus on a human-centered, empowering environment a key factor in Beetroot's ability to navigate challenges resiliently.
"Ukraine has been home to the majority of Beets, so when Russia started a full-scale war, it was easy to feel helpless and weak. And probably everyone did feel that way, but it didn't stop us from taking action. We established the Aid for Ukraine fund together with the Swedish foundation 'Ioca Arma Nostra' to help those hit hardest – vulnerable families, children, and senior citizens", explains Gustav Henman, Co-Founder of Beetroot.
Impact areas
Business-wise, sustainable impact is reflected in Beetroot's strategic focus on working with companies sharing their vision for doing constructive things for the world. In 10 years, Beetroot has helped several customers scale from a startup to a unicorn or near-unicorn. Its current client network surpassed 220 companies worldwide in 2021 and included such notable GreenTech and HealthTech brands as Svea Solar and Abilia.

Impact areas of Beetroot's clients
Kamen Bochev, CEO of Beetroot Bulgaria, points out the difference between Beetroot's service model and conventional IT outsourcing: "As opposed to a common outsourcing vendor, we act as a strategic tech partner that provides expertise and teams for the long run. We are there when the client is getting started when it needs to scale, and when it raises funds; thanks to our sustainable teams mindset, we are also there when the client is looking for more stability down the line. We are not an in-and-out kind of operation."
"In addition to software engineering, Beetroot provides added value in product guidance and domain knowledge. Generally, when a HealthTech or EdTech company contacts us, our experts are able to quickly identify and implement the most effective solutions based on real experience", explains Rana Ersgard, VD/CEO of Beetroot Sweden.
Beetroot has come a long way over the past decade. The company's 2021 Sustainability Report recaps the latest achievements, including the following:
220+ current clients in 25 countries worldwide
7,000+ people educated to start a career in Tech (51% women)
70% of Beetroot Academy graduates are successfully employed in IT
60% of team coordinators at Beetroot are women
"Beetroot went through a lot evolving from a couple of Swedes' backpack startup to a global tech ecosystem. But our dedication to creating a positive difference in the world has remained a red thread for us.
We feel strong, and our sights are set on further achievements and sustainable growth. And, of course, this is only possible thanks to all the fantastic people that choose to join Beetroot in this journey as team members, clients, partners, and friends", Flodström emphasizes.
Beetroot aims to grow fast in Bulgaria, focusing on gathering people who want to make the world a better place. Learning & Development and more sustainability projects are focus areas.
Last but not least, Beetroot is hiring in Bulgaria. So if you're a Middle+ Software Engineer and feel like joining this purposeful team to build impactful tech products, be sure to check the company's job openings.