Sofia,
Bulgaria ~
How does product-team-as-a-service add value to startups and scaleups? How can such teams help scale tech companies with their product ownership, MVP definition, and engineering deliverables?
In early March 2022, the Bulgaria-based IT company South Gate Tech became part of Beetroot, an international tech company with roots in Sweden. Being a people-centered enterprise in the first place, Beetroot is committed to creating a positive difference in society as a tech ecosystem. Joining forces with South Gate Tech starts a new chapter in the company's journey to expand its sustainable impact and help more startups build scalable products.
The Recursive met with Kamen Bochev (Founder of South Gate Tech and CEO of Beetroot Bulgaria) and Andreas Flodström (Co-Founder and CEO of Beetroot) to find out more. Check out the story behind the synergy and learn more about Beetroot's unique focus to get a picture of what it feels like to be part of a sustainable software development company.
How did Beetroot come to Bulgaria?
South Gate Tech was founded in 2018 by Kamen Bochev. Coming with a 10-year corporate career background, Bochev stumbled across an opportunity to become part of a contractor product development team for a startup and took the chance to break the corporate mold. Starting off with a team of 3, with Bochev being the Scrum Master, the small squad quickly got their first client. But then they realized that the real problem they would have to face was building their product team. "That was the problem that I solved – helping my startup client find the right people they had been seeking for over a year through their HR and marketing machines. That's where my powers of thinking outside of the box and having a good network came in handy," Bochev explains.
Fast forward 4 years, in 2021, their team consisted of 36 engineers working with high-profile clients such as The New York Times and The Financial Times. By working with such big companies, the data engineers of South Gate Tech had access to the latest data stack and attracted many exciting projects.
However, the company's primary clients were early-stage startups, which South Gate Tech helped to grow all the way to Series B and Series C.
Beetroot, in its turn, started in 2012 as the master thesis project of Andreas Flodström. It was a social enterprise from Day 1, committed to using commercial tools to make a positive difference. "Our mission ever since the beginning was to create social impact and focus on impactful tech industries. That's why in 2014, we started Beetroot Academy, an efficient semi-automated programming bootcamp," Flodström explains. He highlights that he likes to think of Beetroot as an ecosystem, consisting of the Beetroot Consultancy for helping product companies scale and the Academy for teaching the next-generation tech specialists.
With a strong presence in Ukraine, Beetroot Academy had 19 bootcamps in the country before Covid started. Last year, through their 4-month program, the academy educated about 3000 people in Ukraine, which is approximately 5% of all new tech specialists in the country. In addition, 60% of them are women and 65% live in small and midsize cities instead of large tech hubs. That is because part of Beetroot's mission is to be a catalyst for the local tech industry.
"This is one of the things that brought us together. Even before Covid, we at South Gate Tech were a remote-first company. I aimed to find great engineers outside Sofia who are talented but don't have access to exciting tech projects. Most of our ambitious engineers are located in Yambol, Krumovgrad, and Asenovgrad. I wanted to push this talent from the smaller towns forward but lacked the resources for training and coaching. That is where Beetroot came to help us fulfill this mission," Bochev points out.
From the perspective of Beetroot, by joining forces with South Gate Tech, the Swedish company with a development network in Ukraine and clients from over 25 countries, was able to fulfill its vision to become a multinational company and provide some security for its Ukrainian engineers.
You may ask what the value-added for the two companies, their clients, and engineers the synergy brings. As the two executives explain, Beetroot and South Gate Tech had a similar mission, and they were not overlapping in their competence sets. Therefore, by combining the tech stack of Beetroot in mobile development and e-commerce and the experience of South Gate Tech developers in data engineering and data science, they now have a full-stack product development capability. For employees, the merger means that they are part of an international team, have access to tons of educational resources, and can choose from a greater variety of projects.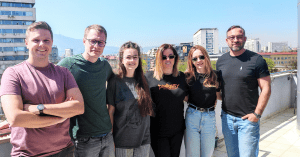 Product-as-a-service development Vs. IT outsourcing
"Big corporations are not our target, but they help us access new technologies. This approach benefits our engineers as they can upskill themselves and gain hands-on experience with large-scale development operations. Then we leverage this experience to support smaller startups. For Beetroot, South Gate Tech, and our engineers, scaleups and growing startups are the ideal customers, because it gives us the feeling that we are a part of something meaningful, contributing to progress and wellbeing. And this is the most rewarding part," Bochev outlines.
The difference between Beetroot and IT outsourcing companies is fundamental. Beetroot is all about providing a product development service and helping startups build and scale impactful tech products by providing them with dedicated teams. Bochev elaborates further: "Normally when startups raise funding, they have to quickly deliver to get the money, and they cannot hire because most of the time, they don't have the time, they don't have HR or Marketing experience. Instead, they are focused on their product marketing. This is where Beetroot comes into place. In contrast with a conventional outsourcing vendor, we act as a proactive tech partner, enabling clients to scale up, deliver their roadmaps, and quickly get to the next stage.
In addition, many of the engineers at Beetroot have previous experience with building products for startups at similar stages and from the same industries, so they can do it quicker and more efficiently than an engineer who is working on such a product for the first time. In the 10-year history of Beetroot, the company has helped a couple of clients grow from a startup to a unicorn and close to a unicorn.
"It's a mindset difference because outsourcing means that companies just need someone to do specific work. In contrast, companies approach Beetroot because they need advice on what to do. So you have the engineering work and then an added layer of consultancy and business knowledge. We also focus more on domain knowledge such as Greentech, Edutech, and Fintech. So that when an Edutech client contacts us with a product need, our engineers can quickly figure out what's working and what's not, based on their previously gained knowledge,," Flodström explains.
What does working in Beetroot feel like?
"To keep Beetroot a very respected yet a family-like environment, we base our workplace culture on the core values of trust, equality, sustainability, transparency, and wholeness. Here you are a professional, but you can also be yourself. Sustainability defines the "how" and "why" of our operation. Beetroot is all about being sustainable as a team where people think long-term in their work and truly take care of themselves, society, and the environment," Flodström continues.
Beetroot has a flat structure and does not follow a strict top-down management approach. The work process is entirely project-based and focused on creating dedicated teams which work in a Scrum and Agile environment. The decision-making is decentralized, and each unit makes its own decision independently. It means that everyone is encouraged to give feedback and be vocal. In addition, since the teams have a long-term relationship with the scale-ups, they become very much integrated into the whole journey, the business problems, and the clients' teams. The engineers also have great flexibility in professional development and are encouraged to learn new technologies and upgrade their stack. The internal exchange of knowledge is highly supported and Beetroot aims to hire engineers who would be willing to teach both their junior teammates and the Beetroot Academy students.
"Our general belief is that every good engineer deserves to choose suitable projects, rather than having projects imposed on them. That is why we also have a different approach to job ads. In addition, our pipeline of projects is also quite particular, as we target clients with disruptive projects instead of more traditional enterprises," Bochev shares.
Beetroot is now looking for engineers with skills in React, Node.js, Dotnet, Java, Python, and mobile development. The company is also taking up blockchain projects and looking for engineers with relevant skills and experience.