To address global sustainability challenges, big investments are necessary to bring to market and propel business solutions that can deliver sustainability impact. What is also true in light of the recent IPCC warnings about the speed of climate change is that startups with triple bottom line results need to grow fast. Through socially responsible investment, venture capital firms have the potential to support an entire generation of early-stage startups launch and scale businesses with sustainable operating models.
The Recursive decided to investigate the extent to which VCs in Central, Eastern and Southeast Europe are concerned with sustainability impact in their operations, as well as their investments. After sharing the story of Sparking Capital's investment in the local recycling and circular economy markets in Romania, we turn to Flashpoint, a technology asset management firm with a portfolio of companies spread across Bulgaria, Romania, Greece, North Macedonia, but also Russia, Israel, Poland, and Western Europe.
Alexander Konoplyasty, Co-founder and General Partner at Flashpoint, takes us to the origins of the company to better understand the core values and experiences that have defined their current mission in the key regions where they operate: enabling young entrepreneurs to realize their ambitions. Alexander tells the investor's perspective with regard to socially responsible investment, by sharing and illustrating Flashpoint's three-stepped approach: at an internal level, in helping other companies develop sustainably, and by investing in startups with social impact (e.g. education and health).
Also, stay tuned for an upcoming deep market analysis on the biggest concerns, milestones, and plans around sustainability investment of top tier VC funds in the region.
The Recursive: Can you introduce us to the journey of Flashpoint?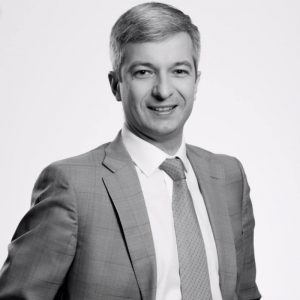 I am Ukrainian-Russian at origin. I have been lucky to get my first job at Morgan Stanley in London, as well as an education in the US. That helped me learn a lot, in a time when Eastern Europe was going through tough geopolitical changes. And similarly for my partner, Michael Szalontay, who is Hungarian, with whom I shared a university dorm room. Today, we are trying to replicate what we learned throughout our careers and in terms of values and principles of how you need to behave, work, and operate.
Also, coming from a family that was not rich, I had to earn everything I have today. Looking at this whole region of 400 million people, I really wish for the younger generations who are fighting for their future, trying to realize their visions and careers, we need to help them. This is our mission at Flashpoint – to bring back some of the capital, value, and best practices that we know ourselves and help people in the region develop.
Our vision is to build the largest asset management company in Eastern Europe which is focusing on technology companies. We want to provide capital and expertise and value to these companies to advance their missions and goals. We started together with Michael from our own personal savings. Today, we have about 400 million dollars of assets under management and are one of the biggest investors in this geography. We are a team of about 30 people and have offices in Budapest, Warsaw, Riga, London, and in Tel Aviv.
What does sustainability mean for Flashpoint?
At Flashpoint, I would split our work on sustainability in three buckets. One bucket is how we operate sustainably at Flashpoint. The second would be how we try to help companies change, become socially responsible. Finally, the third refers to the kind of socially responsible investments we are doing – where we give money to enable outcomes others than economic ones.
So, how do you embed social responsibility in your own operations?
At Flashpoint, we're built on the principles of clear and transparent governance. For us, it's important within building this transparent, corporate structure to make sure that all the people who work inside Flashpoint understand how they can grow. We want to provide a sort of social elevator for the local people to become part of a large international organization.
One of the first employees who joined us as an analyst back in 2012 recently got promoted to partner. This shows that anyone in our organization can work their way up. We are building an open-ended partnership.
How do you help companies build socially responsible businesses?
Socially responsible investment does not only mean investing in green energy and other areas with big sustainability impact. It's not only about the area where companies conduct their operations, but also how they do it and what are the methods.
One aspect related to processes is governance. This is especially important in Eastern Europe where governance has been poor historically. There hasn't been much transparency and good practices around the governance of companies. As an investor, that's what we bring. One of the important things for us is who we work with and whether we are aligned in terms of our goals, because VC investing is a long-term investment.
Giving back is also an important part. We try to instill this mentality into the founders that we're working with. Founders who have exited are giving back capital to other people, to enable them to grow their own companies. So, in a way, we see ourselves as a fabric for enabling this opportunity to circulate capital for younger generations of entrepreneurs.
Also, we're working on partnering with local tech universities to help enrich the community of students with knowledge, but also capital, and help them realize their dreams. We will go into university and alumni networks and finance their projects.
When it comes to capital allocation, to what extent is socially responsible investment embedded in your investment thesis?
We're not focused on verticals and solutions with very long-term duration. That's also where more governmental financing should be involved. We don't have a very long-term capital, we are mostly financed by family offices, by some founders and CEOs of some companies. We cannot wait for 15 to 20 years for returns.
However, we do tackle socially responsible investment through our focus on other areas, such as education. We have been investing in companies that are enabling and providing courses for both kids and adults.
Despite having an average lifespan of 70 to 90 years, people normally only go through formal education in the first around 20 years. I'm a big believer in education spread throughout your lifetime, and I think technology can enable that. It's difficult in the offline world, but digitalization brings a great opportunity. It can help leverage education so that people can find their place in society and the world, by matching their experiences and personalized approach to education with what is right for them. We can get to know ourselves and our natural abilities better through ongoing education.
We have invested probably a third of our capital in these themes.
What other industries are best positioned to enable sustainability?
Healthcare is another topic which we focus on. The number of people who don't have access to good healthcare is a big problem for the region. Technology can make healthcare more accessible, so, for instance, more people can have access to healthcare services via remote access to doctors or monitor themselves via wearable devices. Such an example is our portfolio company Telemedi.co.
There is a lot of potential in the region because there are a lot of strong technical schools. We recently invested in a Macedonian startup called QMENTA, with a woman founder and CEO. They are building a software platform that is AI-based to improve data collection and analysis for research and clinical trials. The traction that they were able to achieve was also fascinating.
Another area we have been looking at from a sustainability perspective is agriculture, as current agricultural methods have a large negative impact on the environment. Technology can bring a lot of value here, too. Unfortunately, it's a very conservative industry. It's very slow to adapt and embrace change. But I see quite a bit of potential from big data.
We have also done a lot in construction such as property in terms of, for instance, automation. If the sites are better planned, if people are making decisions more in advance, they can reduce environmental impact during the construction process. I think there was a significant impact from COVID in the industry. People are rethinking how they should be organizing and executing construction projects.
What do you want to hear in the pitches of startups in terms of sustainability?
For us sustainability goes back to how people utilize the resources of today and of future generations. The projects and the technology we invest in are aimed at increasing efficiency. So, what we are focused on are these efficiency metrics. For the product to become successful in the marketplace, it needs to be producing a lot of value for the resources it uses, the amount of effort spent, and it must be better than current solutions.
A lot of companies being launched are loss-making. Consuming resources, but generating losses, is not efficient, and thus not sustainable. So, for us, it's very important that the company inherently produces economic health. That we don't create and scale a loss-making project, because then we would be wasting resources.
What are the unique selling points of tech startups in our regional ecosystem?
You need a lot of ambition and talent to create something new. In our geography, people are very motivated and hungry to go out and build. People have been very thirsty for education historically. That's why if you look across the region, there are so many technical schools across the region, such as in Sofia, Cluj, or Prague.
This has in turn produced a lot of professional technical talent in the region. And in our world today, developers and engineers are in big demand. I think that's exactly how Central and Eastern Europe differentiate.
How about the challenges that these startups are facing in the region?
Some countries are missing this vision as a government and as a country. Human capital is the most important resource. I think countries need to think more about how they can enable talent, support education, and help the young generations build a career path.
These markets are quite small so justifying investment in only one small country is difficult. As an investor, you need to have a team, certain procedures, and associated costs to build a company that can deploy capital. And for big institutional investors like pension funds, it doesn't make sense to invest in small markets.
There are some large agencies such as the European Investment Fund that could help, but it takes forever to get financed by them. And yet enabling people like us to invest in these local markets is super important.
So, there is a disconnect. You have this infrastructural block: without capital you cannot hire people, you cannot think long term. You cannot rely only on private individuals or founders of companies to enable socially responsible investment.