Bucharest,
Romania ~
"Some people have success because they are lucky. But you can minimize the need for luck by doing the right things," shares Mihai Guran, an entrepreneur turned angel investor.
While the Romanian tech startup ecosystem is evolving at a rapid pace, more people are looking to diversify their investment portfolios. So, I set out to discover from three local entrepreneurs what is the thinking process behind their investments in tech startups.
I picked the brains of Catalin Rusu, managing partner at Rusu+Bortun, an advertising and brand strategy agency, that has a background in communications and business administration. Mihai Guran, a managing partner at Atnnovate, a local consulting company, who is a tech engineer turned sales professional, then entrepreneur and investor. And Dragos Nicolaescu, founder of Visionary Business, a science-based coach with a background in science and psychology.
"We are all investors one way or another, and think about whether we should buy cars or houses. We all have the anxiety of the pandemic, and the war, and are now looking at a recession until, maybe, 2024. We should think carefully about how we invest to get returns and not losses," Dragos Nicolaescu encourages us all.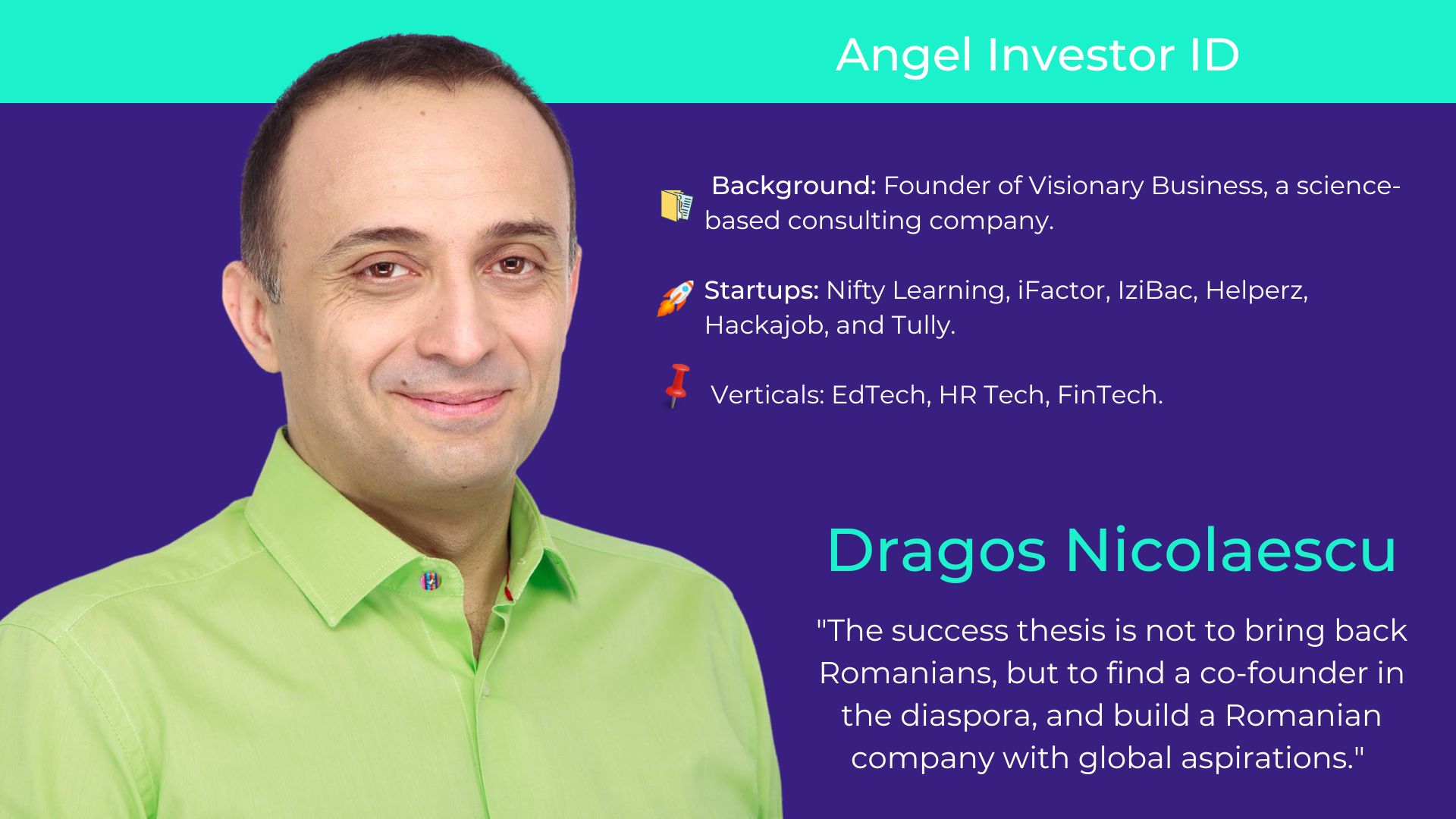 Top 10 angel investing tips from Southeast European investors
#1 Educate yourself
Like with anything, before you begin investing, it's important to discover what suits you best. Figure out whether you want to invest alone through a private company, join an investor's community, or use a crowdfunding platform.
"My problem when I began was to think that I ran businesses before, so I will know how to find other good people to build successful companies. But it's not the same thing. You first have to accept that you need to learn something new, then you will find solutions," Dragos Nicolaescu shares.
#2 Begin with a vertical you are passionate about
Catalin Rusu began his entrepreneurial journey after a decade of sprucing his skills in an advertising agency as a copywriter and creative director. Then, another decade later, "Beyond the need for diversity, I wanted to be at the table with the decision-makers, so I turned to CEO clubs," he shares before investing in his first project, Apollo111, The Recursive Podcast's home base in Bucharest, Romania.
This experience, of being a co-founder without being an executive, was eye-opening to him. So, he decided to pursue other investment opportunities in fields that he is passionate about, like the theater or advertising – he is also an investor in the AdTech startup TPS Engage, now Blindspot, and Tokinomo.
Mihai shares that "I only invest in what I can understand, in tech companies that can offer value to other people or companies looking to become agile and have better control of costs," like Procesio, SmartHuts, machinations.io, RepsMate, VoxiKids, and Soleadify, to name a few.
#3 Get to know the founders before "marrying" them
Be it by going with the due-diligence process of looking into the co-founder's background, to see if they have experience in the field, or by knowing and having worked with them before, all three investors agree on the fact that you should know the core pillars of a company.
Catalin says: "What made me invest were the people, the structure of the investors, and the root of the business". He knew that even if he didn't have to lead, his co-founders were disciplined men, passionate about business, and interested in finances.
"I prefer to have at least one of the founders with deep expertise in that field. Then, I check the dynamics of the team. It's like a marriage. You have to understand the interests of both parties and respect each other for a successful relationship and be aware of the weaknesses to build on the strengths of everybody," Mihai Guran admits.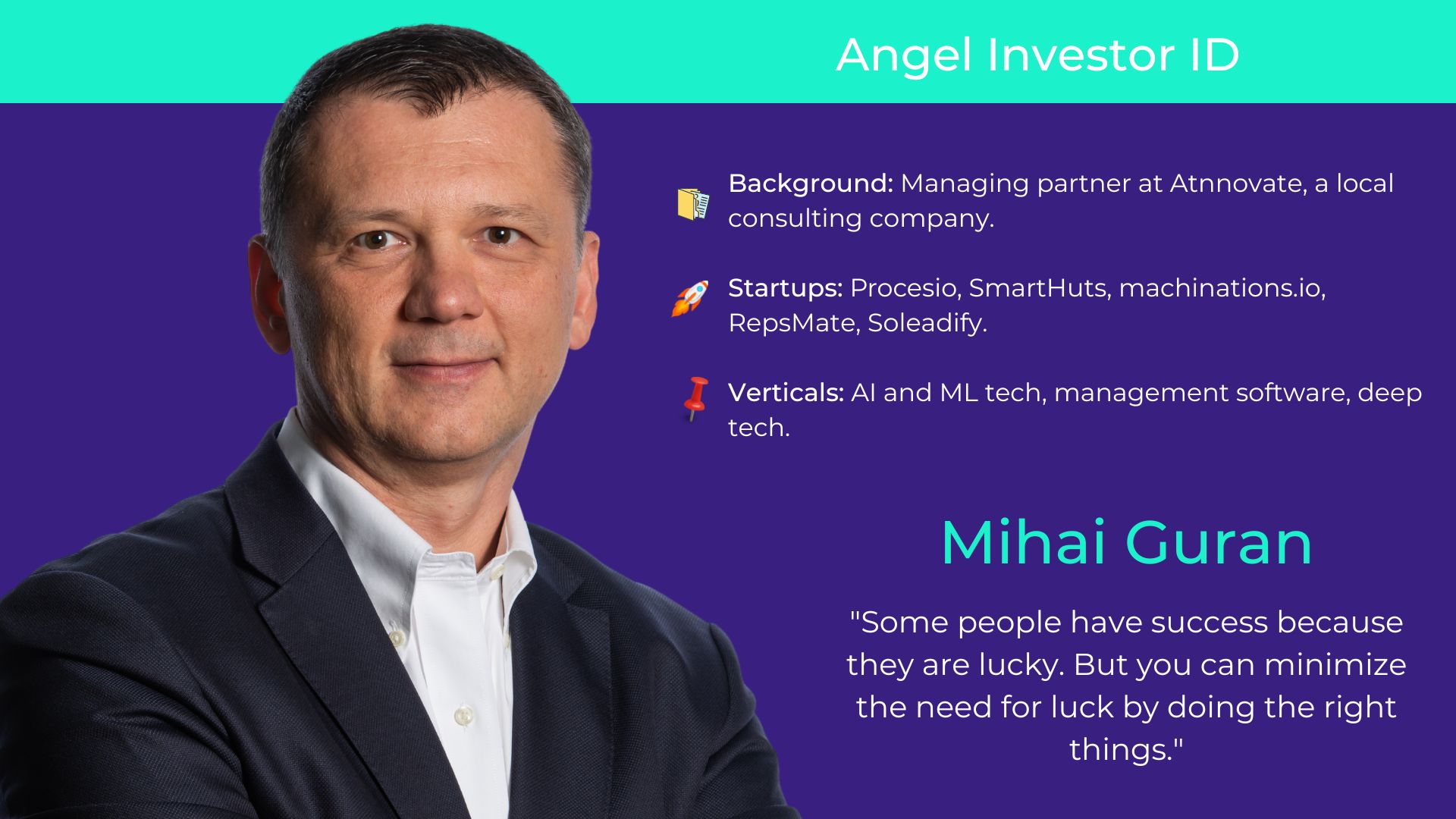 #4 Join the business angels communities
Even though there isn't a dedicated program that teaches entrepreneurs angel investing tips to become successful, all three entrepreneurs joined business angel communities like Tech Angels, Growceanu, T.A.N., or SeedBlink, a tech-specialized venture investment platform. Here, they found other business men and women with similar interests to syndicate with, as well as access to local and international tech startups.
Catalin shares that "What's beautiful about an investor community is that opportunities emerge from a circle of trust," while Mihai adds "I rarely go ahead on my own unless it's something in my area of competence. As angel investors, we call each other when we know somebody has the competence or is interested in a field. And when we go beyond a certain threshold, we go through a special financial vehicle and we syndicate. We also sometimes invest together with VCs."
#5 Develop an investment thesis
No matter if you want to go big or go about your business at a steady pace, investing smaller tickets in a variety of startups and markets, an investment thesis is essential. This way, you know you have studied enough or talked to a few other entrepreneurs in similar positions.
"My investment thesis is that I can't see 20 decks. As an infrequent investor, I look to invest a sizable amount because I like the risk to be appropriate. As my business can only be globally scalable through people and I still don't have the energy to develop an app, I'm looking for projects with an international vision," shares Catalin Rusu about his strategy.
#6 Diversify!
Our angel investing tips list couldn't have skipped over a golden rule in investments: diversify.
Once they have begun with a field they know, most investors seem ready to diversify their portfolio. "I was interested in the fintech area because I want to learn about it, especially in the context of an unclear, cloudy, market. I budget my investments to learn something, not only for the financial part. When something is risky, it should have more benefits," shares Catalin about his investment in the Fintech company iFactor.
While Mihai Guran shares about his journey that "I wanted to get insights from the customer segments. You need to understand them and there is no other better way than to become part of a startup as an investor or as a co-founder."
#7 Invest in scalable solutions
While some investors prefer global companies, others like to keep it local, by investing in tech startups with solutions that are easily scalable internationally.
Mihai shares an interesting view about scaling in different countries and cultures. "As Romanians, even if we have similarities with people around us, markets like Bulgaria, Serbia, and Hungary, to name a few, we usually sell faster by jumping the ocean, tackling the U.K. as a first step toward the U.S. market."
He believes that it's harder to penetrate Southeast Europe due to the language barrier and uncertainty avoidance (UA). He describes UA by comparing entrepreneurs from the U.K., who count on justice when things go astray, to those from Romania, who don't trust the law forces to be on their side all the time.
"I think the success of a tech startup is to sell to the West and employ in the East. This is best for everyone, the costs are smaller, and the sales are five times better. The success thesis is not to bring back Romanians, but to find a co-founder in the diaspora, and build a Romanian company with global aspirations," says Dragos.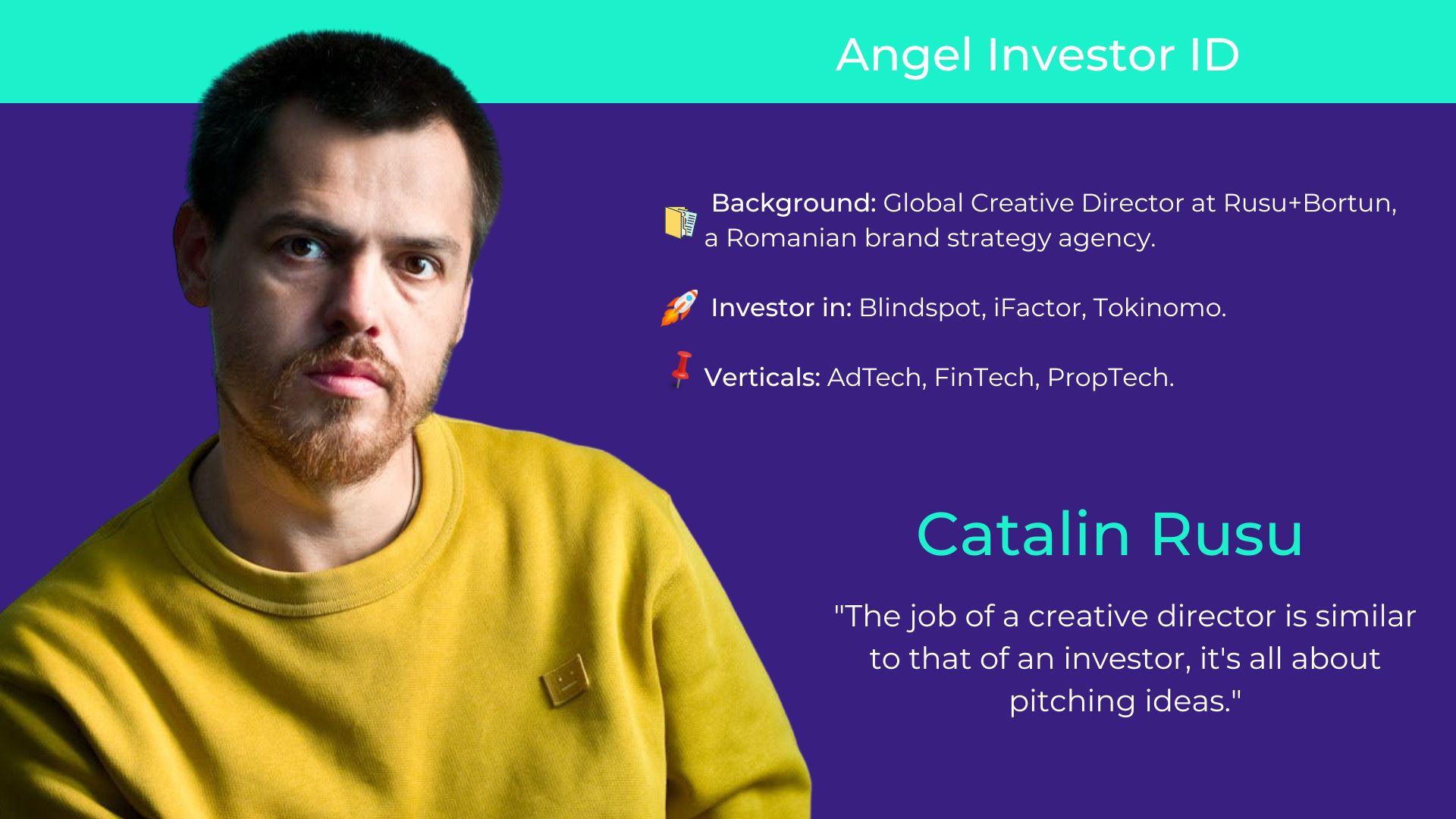 #8 Be aware of the risks
Catalin opens up about the fact that if he would have known the number of additional funds some of his investments required, he might have backed out. But when you join a new project, you have to stick around.
"Some of the startups that I invested in needed additional money. In times of crisis, the first place you go as a founder is to your existing investors and they support you, otherwise, you are out of business. If you believe in them, work with them, and see their struggle, you also see their successes, and you can predict the further journey," Mihai Guran backs this idea up.
"A good lesson is that from the one startup that survives, you need to cover the losses of all the other nine that failed. I invested in companies that died and it took me some time to cope with the losses," Dragos reveals as one of his angel investing tips.
#9 Contribute more than funding
"In some startups, I contribute with my work. Entrepreneurs reach out because of the sales, but we usually end up looking at the whole business landscape, at their strategies and objectives to develop an alignment," Mihai tells me about his collaborations with tech startup founders. He also shares that for startups looking to scale internationally, he advises founders to have a local partner in the country they aspire to enter to facilitate growth.
"If I find a company that I like, I work with them. For example, for 1% of the company, I work with them two hours every two weeks or every month or whatever they need, and I support them," Dragos Nicolaescu shares. He is an investor in tech startups like Nifty Learning, iFactor, IziBac, Helperz (former Sitter), Hackajob, and Tully, to name a few with Romanian DNA.
#10 It's OK to take a step back
And we arrive at the last, yet not least important entry in our playbook of angel investing tips: when needed, you can take a step back.
"I was also interested in a digitization idea in the real estate area. I came close to investing. But although I thought the proposal was valid, it seemed to me that the degree of digitization and scaling of the business was complicated, with a lot of physical, and offline work," reveals Catalin Rusu about taking a step back.
"I never recommend anybody to put a significant part of his savings into only one startup. Markets change, it's like a tango, and your technology can become irrelevant if another player disrupts with a faster and more affordable solution," Mihai adds.
"During the pandemic, I didn't invest. And now I am no longer actively investing in tech startups. I think this is a good moment for me to focus on the U.S. stock exchange market. The years 2020 and 2021 presented a huge rise in stock prices, and now they had a drop," Dragos shares.
Do you have a tip about investing you would like to share with us? Let us know in a comment below so we can create the full angel investor's guide.