The Recursive has successfully closed a €450k

seed round. We're going to use the funding to scale our

independent media coverage

in Romania, Greece, and the Western Balkans, while unlocking new international audiences and expanding our customer offering and business scalability.
Six leading investors and entrepreneurs from the tech community in the region have decided to support us on our growth journey:

Hristo Hristov's investment company HR Capital, Sacha Dragic's family office Hellen's Rock,

as well as business angels Dimitris Kalavros-Gousiou, Vassil Terziev, Pressian Karakostov, and Filippos Zakopoulos. Now, we're a regional media, even on a shareholder level, represented by board members spread across three countries.
For us, this round means mostly an initial validation of our vision. Validation of the need for telling the stories of Southeast Europe's emerging tech leaders. Validation that we have the potential to unite the individual countries in the region and grow globally together as one strong market of 50+ million people. Validation of the need to inspire and educate a generation of people in the Balkans who dream big, create value, and give back. Validation that independent journalism may after all work without clickbait titles, banner ads, site-wide paywalls, negative sensational stories, and all the other things embedded in most media business models that stand in the way of putting the audiences first.
Expanding the space of possibilities for the region
"It is amazing what The Recursive has accomplished only one year post-launch. Their innovation platform acts as a loudspeaker for SEE which often is left outside the scope of the big players - simply because it is not of focus to any major media outlets. We are grateful to be among the supporters of this great project and we are sure it will grow into an indispensable part of our ecosystem"
"We believe that The Recursive has the potential to grow as a leading independent media platform that facilitates partnerships between tech communities of Southeast Europe, and tells their stories to the world."
"As a firm believer of the potential of the wider startup ecosystem in Southeastern Europe and the underline opportunities that will pave the way for a closer collaboration between our ecosystems, I'm honored and excited to support Irina's and Etien's vision to establish the leading independent media asset focused on our industry is SEE."
"Stories are an essential part of the success of an ecosystem - they inspire others to believe in themselves, to dream big, to say "I can do it too". There are a lot of great entrepreneurs in SEE and they need to be able to share their amazing journeys. It's an honor to support the team that will be the megaphone for those innovators who will inspire generations to come."
"I believe that our SEE region is and has been underestimated when it comes to achieving big entrepreneurial successes. I believe that is changing and we need a strong voice to echo the successes, share the failures, spread know-how and weave connections between the different players in our ecosystem. I believe that The Recursive is becoming that voice and I am privileged to be able to support them in their journey."
"The Southeastern European innovation ecosystem has been growing steadily and impressively. With The Recursive, it has a voice of very high quality to support it on this growth journey."
How The Recursive journey started
Our founders Irina Obushtarova and Etien Yovchev launched The Recursive one year ago, back in February 2021. It was the two of them and two then journalist-interns, who started it all. Today, we're a team of 10+ people across Sofia, Bucharest, Skopje, and soon – Athens.
When we started, the region had just a few internationally significant success stories. In 12 months, we witnessed 4 new unicorns, over 20 significant acquisitions (and 1 IPO on NYSE), $2.5B+ invested in local tech companies, and a quickly-increasing number of initiatives to support entrepreneurship and innovation.
In many ways our growth has reflected the growth of the ecosystem. So far, we have attracted over 250, 000 unique visitors. We established The Recursive as a trustworthy media brand, part of the tech community. We went deep into the big topics of the day and looked for quality reporting.
On the commercial side, we helped over 35 customers tell their own stories and grow their brands, including leading VC funds, tech scaleups, and innovation accelerators.
Strengthening our presence in Southeast Europe
In our first year on the market, while covering the whole Southeast Europe area, The Recursive brand grew fast in two countries – Bulgaria and Romania. After successfully building our local teams, partner network, and market presence it's time to replicate the lessons learned in the rest of the region.
Оne of our key priorities for the next 6 months will be to grow in the Greek market – both in terms of hiring local journalists for our editorial team and onboarding first few innovation and employer branding customers. We'd be looking to become an essential part of the Greek tech community and you can expect to see us at local events way more often this year.
Greece's startup and tech ecosystem has seen remarkable progress over the past couple of years and we are excited to be expanding our efforts to boost the country's international visibility.
Same holds true for the Western Balkans. In 2021, we saw the first signs of emergence in this part of Southeast Europe; therefore, now we have a full-time reporter covering the region, coming with years of experience in local tech media.
With Greece and the Western Balkans covered with dedicated on-ground presence, we'd be able to fully live up to our promise to be a truly regional media outlet.
A main goal of ours remains the integration of the entire Southeast Europe region as one united innovation destination. We look forward to being a platform for the creation of many more cross-country synergies and exchanges of knowledge, perspectives and resources.
In trying times like the current, it's more important than ever that we all work together towards one better future.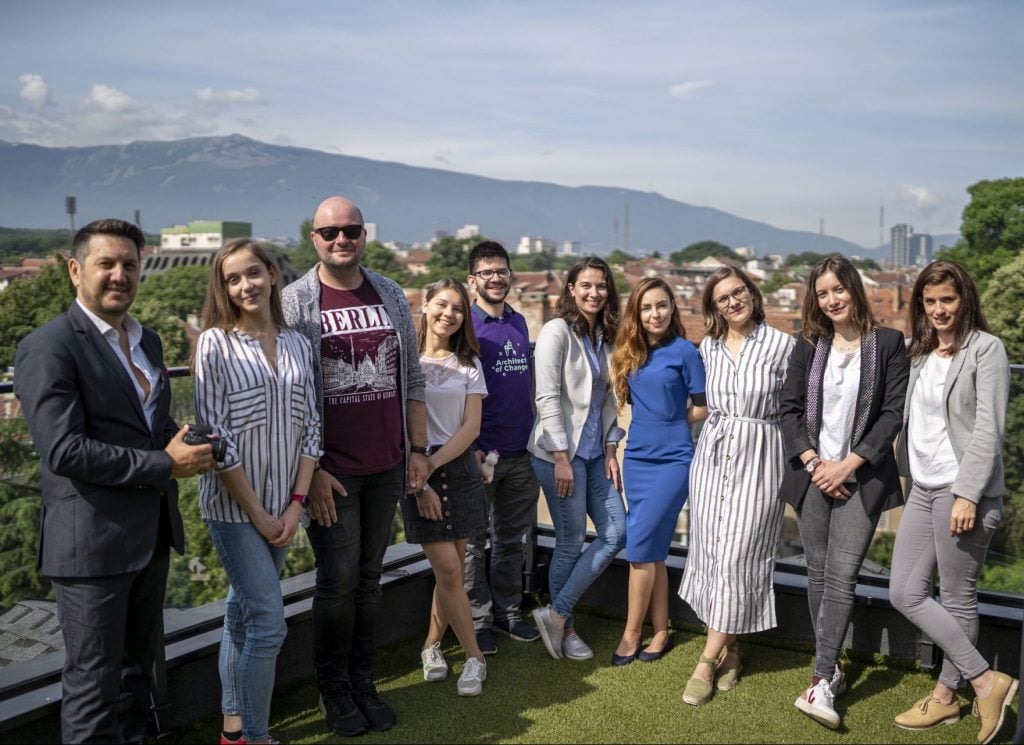 Going beyond the core startup community
In our first year, we were able to attract a diverse and loyal audience in the core startup community – founders, angel investors, VCs, corporate innovators, product managers, and product-minded engineers.
However, if we want to have a real impact on the region we need to go beyond this small niche of progressive first movers and change-makers. Real positive change in Southeast Europe cannot come just from the founders and the VCs, we need to engage with students and young people, with corporates on their digital transformation journey, with the public sector and academia.
Therefore, another big pillar of our growth strategy for the next year will be to work on campaigns aimed at expanding our reach beyond the 'startup bubble'. As a player in the ecosystem, The Recursive follows the usual network effect dynamics – the more people we have on the platform, the more useful it becomes for everyone who's part of our network.
Towards a self-sustainable and scalable business model
This leads us to our final but probably most important point. А scalable, reader-first model for media is yet to be discovered and established. However, it's highly important we search for one. It's the key to multiplying our impact and giving more businesses from the region the opportunity to reach international audiences.
Last year, we launched the MVP beta version of Growth Club: A platform that's all about scaling everything we do – in terms of us being an information source, us trying to bring more awareness to what's happening in Southeast Europe's tech ecosystem, and us serving clients. The long-term vision for it is to become the main PR, communications, and matchmaking platform for all stakeholders in the tech community who want to grow their businesses and connect with partners who can help them do that. With the new funding, we'd be looking to significantly boost user experience and provide more tools supporting the growth of innovative businesses in our region.
—
About HR Capital
HR Capital is an investment company focused on marketplace and commerce digital business. Its portfolio consists of fast-growing tech companies like eBag, Plum, and Healee as well as three startup investment funds – Endeavor Catalyst, Eleven 2.0, and Eleven's new €60M fund. HR Capital's founder Hristo Hristov is a serial entrepreneur, angel investor, and currently a CEO at Darik Radio. Starting all the way back in 2005, he has played a key role in the development of the digital media industry in Bulgaria.
About Hellen's Rock
Hellen's Rock is a single family office managing over €1 billion worth of diversified assets. Its venture capital arm – D Moonshots – partners with innovative doers and thinkers who have the know-how and vision to build the game-changing companies. The Founder, Sacha Dragic, is a serial CEE entrepreneur who gained valuable experience launching a wide range of initiatives before founding the Superbet Group – a European market-leading, multi-billion business, which attracted one of the world's largest private equity funds – the Blackstone Group – to invest €175 million to accelerate Superbet's global business expansion.
About Dimitris Kalavros-Gousiou
Dimitris Kalavros-Gousiou is an entrepreneur and investor who works at the intersection of technology, culture and new media. He is a co-founder and General Partner at Velocity.Partners, a pre-seed and seed Venture Capital Fund active in Greece and SEE. He is also known as the founder and curator of TEDxAthens, the most impactful platform for ideas, dialogue and talks in Greece. Prior to taking on his role at Velocity.Partners, Dimitris co-founded Found.ation, a leading startup acceleration and innovation hub in the Balkans.
About Vassil Terziev
Vassil Terziev is currently a Managing Partner at Eleven Ventures, an early stage VC fund focused on the SEE region. Back in 2002, he co-founded Telerik – a developer tools software company that was later acquired by Progress for $262.5M – the biggest to this date exit in the Bulgarian startup ecosystem. As an active supporter of the Bulgarian innovation ecosystem, Vassil is a Founding Board Member of Endeavor Bulgaria and the Bulgarian Innovation Hub, as well as one of the most active angel investors in the country. He is also co-founder of Telerik Academy, the leading educational initiative for digital technology training in Bulgaria, and Campus X, the biggest incubator for technology startups and scaleups in SEE.
About Pressian Karakostov
Pressian Karakostov is a serial entrepreneur and angel investor. His first company – Phone Arena grew to become one of the top 3 mobile phone websites worldwide reaching 20+ million visits per month. More recently, he founded PubGalaxy, a publisher monetization platform that was one of the fastest-growing tech companies in CEE before getting acquired by Azerion – one of the leading entertainment, media and AdTech companies worldwide.
About Filippos Zakopoulos
Filippos Zakopoulos is a co-founder and Managing Partner at Found.ation, an Athens-based innovation enabling platform for digital transformation and tech-oriented products and services. It operates at the intersection of startups and corporations, aiming to enhance innovation and entrepreneurship and help companies transform and adapt to the new digital reality.