London, Sofia,
Bulgaria, UK ~
"We believe in real love. Not the airbrushed, fairytale version. Real love has no limits, no clauses, no "ifs and buts", no one-size-fits-all templates…"
Not the intro you would expect from a modern-day digital company, would you? Get ready to dive into even more romance-revolutionising and industry-philosophical depths from a classical domain that's not primarily driven by technology – jewellery making.
Meet Nikolay Piriankov – Co-Founder & CEO of Taylor & Hart – a privately held jewellery company headquartered in London, UK. The company designs, manufactures, and retails jewellery online and operates worldwide through an e-commerce retail model. They have received funding from early-stage VC fund LAUNCHub Ventures and from a number of partners in the UK.
With awards from the British Jewellers Association, and recent announcement as a Finalist for two of the Professional Jeweller Awards 2022, Taylor & Hart has gained international recognition and clientele by disrupting a rock-hard industry while keeping it honest with their customers at the front wheel.
Nikolay was born in Bulgaria and grew up in South Africa. At the time the country offered a great environment for nurturing entrepreneurial values as it moved from the old apartheid ways to a more open economy and society. As Nikolay's parents were immigrants, trying to rebuild their lives in a new place, he was exposed to a different way of making a living, one that didn't follow the traditional career paths. From an early age, he's been thinking about new opportunities and grabbing them when they present themselves.
We'll explore how Taylor & Hart have mastered the art of manufacturing love into shape, why company culture is crucial to the business, the importance of keeping a balance between integrity and profit while preserving the value for customers in these special moments. Nikolay shares his insights about the secrets of creating a sustainable and profitable company and breaking some cliches about the rockstar image of entrepreneurship.
Innovation is a mindset
The Taylor & Hart story started in 2012 with a quest. A quest to design a one-of-a-kind ring. The ring was meant for the future bride of a friend of the two founders. After a number of secret meetings, sourcing and sketching, their first bespoke ring was created. From there on, an industry was about to be shaken with their commitment to being disruptive in a space that isn't primarily driven by technology.
"A large part of our team is based in Bulgaria and working on the technology, but we see that innovation is bigger than just the tech team. It's a mindset. A lot of people in our company are driving that, so that's fantastic. One of our favourite things to do in our free time, even to this day, many years later after founding the company, is to talk about business ideas, because they're just so much fun, right? The idea of a diamond wholesale business happens to be one of those we were talking about and decided it was good enough to commit to.
Traditional jewellery companies seem to not really listen to the customer, to not really care about transparency and customer experience. Those things, as a potential customer as I was about to be, felt like absolute hygiene requirements. Like, why are you not listening to me and why am I struggling to get information about pricing and how the industry works? Why are things so vague? It just felt like, this is an industry that really needs disruption. I think we were right about that and it's been a fantastic journey since we started."
Flexible business model for a resilient strategy
What is Taylor & Hart's recipe for a successful business model for a growing company? Creating a lean model by using technology and deep supply chain expertise is the crossing point where they're able to make the exact product their customers want.
"Тhe first thing about our business model is that it's very lean. We don't believe in large stock holding positions and that gives us a lot of flexibility. Connected to that is a very deep and versatile supply chain that allows us to basically put together any product for any customer anywhere in the world. That's very much about listening to the customer first and once we have the information about what kind of ring they want, we're able to put that together.
That's all pulled together through our technology. Our business model is using technology and deep supply chain expertise to create a lean model where we're able to make at a relatively good pace and a very good quality the exact product our customers want. And then not charging an arm and a leg extra for that which is what some bespoke or custom-made companies do because they haven't created the entire supply chain in an efficient way to allow them to be lean with their pricing.
We absolutely believed in a period of investing heavily into our team, into growth, but at the same time, we have always been very sustainable about that. We are now at a place where we understand that the world is in a tricky place and growth at all costs has never been our strategy and would not be our strategy going forward. Taylor & Hart is currently in a sustainable space with regards to our earnings and we see ourselves as not being dependent on venture capital for survival."
Blending digital with a multi-dimensional customer experience
eCommerce sales account for 14.1% of retail purchases worldwide. In 2022, analysts expect there to be 266.7 million digital buyers, while global e-commerce sales are expected to hit $5.5 trillion. Over half of consumers prefer shopping in a physical store, while 43% of global shoppers research products online via social networks.
Retailers are elevating their online shopping experience to build trust and make the customer journey as smooth as possible. When asked what has changed in the customer experience for people transitioning to buying jewellery online, Nikolay presents Taylor & Hart's approach to a customer omnichannel experience.
"I'll take your question and I'll flip it around and ask: why are customers still so slow to be buying online in such small numbers? I think if you look at the penetration of online in other categories it's obvious why people go online. Online is being able to browse while having a glass of wine in your garden. Online is where you have the most options and the ability to browse without feeling pressured to buy. We know that those things matter to customers buying an engagement ring. We know they don't want to go to a store and feel like they have to speak to someone. What we're trying to address now is how to get more people to buy online. The main thing that we've identified as an opportunity is when you look at the customer experience, most customers will research online. Why is there such a big gap between research and buying? Most of that comes from competence. We don't think in this prism in terms of online or in store, we think of the omnichannel experience being the best one for this category.
We understand that jewellery is a very emotionally charged product. Aesthetics are delicate, seeing something on the screen and seeing something in person gives a different experience. We think of ourselves as we're an opportunity to educate, guide, and inspire online with the physical touch points being in person. In-person doesn't have to mean in a store. We are quite innovative in how we think about physical touchpoints. – we are now in an exciting testing stage for the virtual consultation combined with the try-in-home kits. During the pandemic, we invested heavily into virtual consultation and we've seen these concepts work quite well independently.
What we haven't seen, be it through ourselves or through our competitors, is something very logical which is – to combine the two together. Don't just send a box of rings to try at home and then separately have a virtual consultation – make that part of the experience. I got the inspiration from a very interesting wine tasting experience at home. Online is clearly going to be the place where customers start purchasing. We're trying to bridge the gap to make them also complete their purchase online."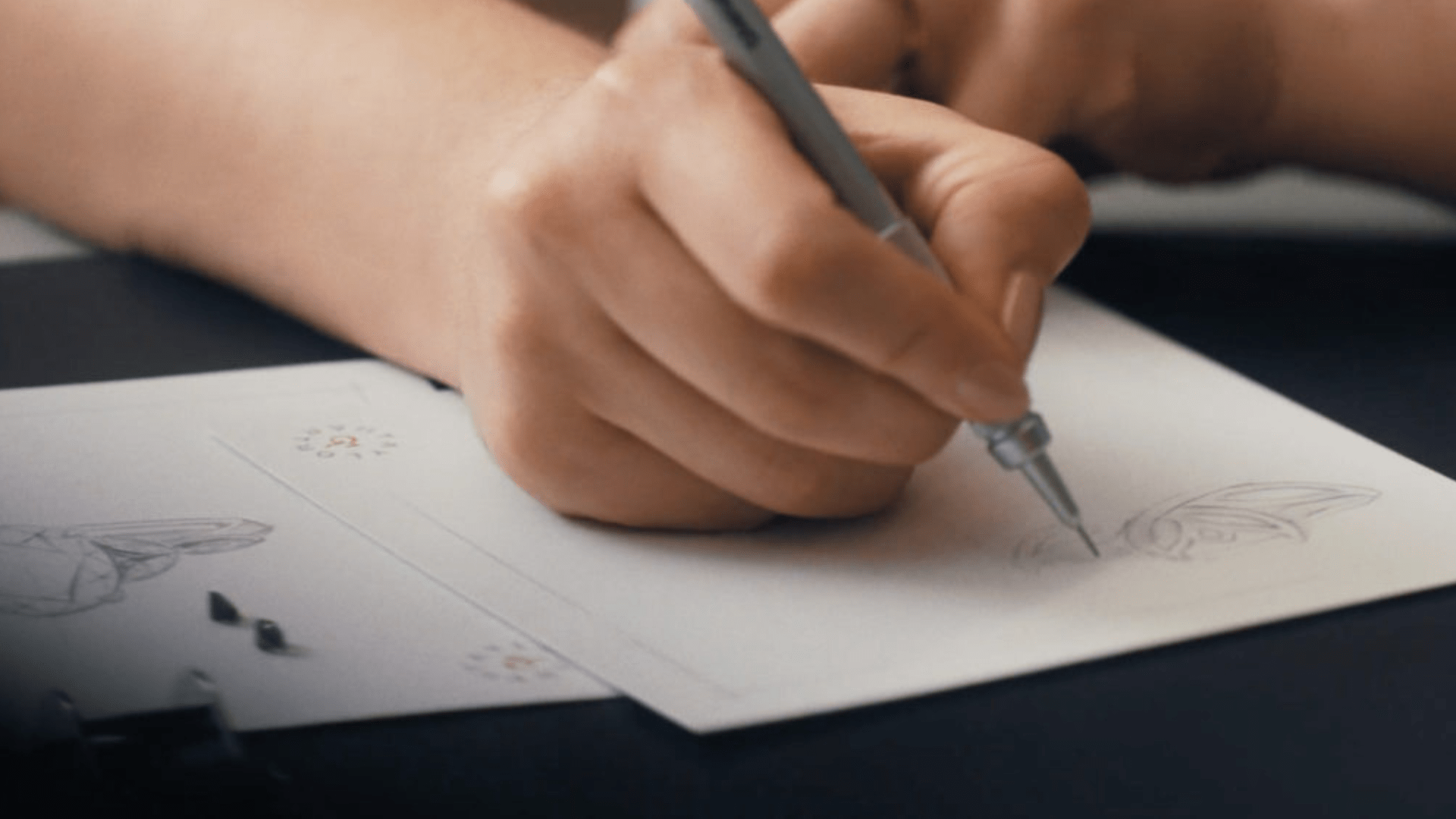 Why transparency is important in creating ethical jewellery
The 2006 movie "Blood Diamond" presents an ugly truth by picturing a not-so-pink image of the jewellery industry. Its title refers to blood diamonds – diamonds that are mined in war zones and sold to finance conflicts, and thereby profit warlords and diamond companies. It grasps a number of issues with the jewellery supply chain: environmental damage, being a method of funding conflicts, and the abuse and exploitation of workers and human rights.
The Kimberley Process System was enacted in the 1990s to help consumers confirm that their diamond purchases are 'clean' and ensure conflict diamonds never get into the supply chain.
Ensuring that their jewellery is ethically made for Taylor & Hart means investing in people and communities. They have a number of initiatives, internal and external with their partners in order to nurture transparency and keep up with the growing customer demand for sustainable business while maintaining a profit. You can learn more about Taylor & Hart's trailblazing all-women team of gemstone sourcers, based in Sri Lanka and lab-grown diamonds and other initiatives here.
"We started with focusing on the provenance of our diamonds and communicating that to our customers, so that they have visibility into where their diamonds came from. That's grown into introducing ethical metal options and into being held accountable publicly – we publish an annual sustainability roadmap, which says what we plan to achieve in the next few years. We can be held backwards accountable to that, which is fantastic because it gives the sense of responsibility to the team that we are sharing that publicly. We have quite a number of initiatives such as metal recycling, producing lab-grown diamonds, joining the fairtrade movement that we are still rolling out over the next 12 to 18 months and where we see ourselves as one of the leaders in ethical manufacturing.
We're also very honest about how hard it is. We don't like to just greenwash and put a bunch of stamps on what we've done. Transparency is about being open about what we've done well but also what are the challenges and we're talking openly about them. For example, it is not at this stage possible to have 100% provenance data on all the diamonds we sell. We are pushing our suppliers to get better at that and while doing so, letting our customers know that if they want that 100% transparency, this is the subsection of diamonds they can choose from and that we cannot be confident in this other section and that they shouldn't consider them if provenance is important to them.
Company culture and team involvement in the sustainability quest
In a few short years, the Taylor & Hart team has gone from two founders to over 28 team members across four countries – UK, Bulgaria, USA, and India. With different roles ranging from design, technology and sales, they're aiming to unite their team across values of transparency, innovation, fairness, teamwork and commitment to excellence.
"We want to be known as a culture that attracts and retains great talent, because everyone who works in this company, it's the place where they go every day and spend most of their time. If that cultural environment is not aligned with your values, it's not a great place to be. At Taylor & Hart, we care a lot about that too and we invest a lot into tracking our employee Net Promoter Score, taking feedback from the team and making this a great place for people to work.
In the future, we'd like to move away from just metal and diamond sourcing and more into all business practices – looking at carbon offsetting, looking at our footprint, looking at sustainable choices throughout the manufacturing and how we work as offices. We've already made little initiatives around that – our energy providers and recycling opportunities in the office. The reason why we do that is because we talk about this regularly in front of the whole company and people take ownership of small initiatives. So it's really coming back to your first question around the awards. This is part of the culture of the company so it's quite easy to live in a place where it's not forced and doesn't feel unnatural. Obviously, profitability and growth are the main goals of any business and we don't want to create an illusion that we are here to operate with sustainability as our only primary goal. What we're trying to do instead is how can we have growth and profitability whilst still being sustainable is the way we frame it."
Challenges, lessons learned and rockstar entrepreneurs
Building a company from the bottom up and having traveled a long road connecting Bulgaria through South Africa to the UK, Nikolay brings a reflective outlook on his bumpy rides and the importance of keeping the right balance.
"The first one would be understanding what it means to transition from a founder to 'a Chief Executive or a Chief Financial position. These are two very different roles, right? Especially for the CEO, I think it's very difficult because as a founder, you might thrive on being involved in everything and really keen on having your finger on the pulse of every operational initiative as well as strategically. However, as a CEO, you have to trust your team, to bring in the right people. It's very difficult in particular for your first company and it's the most relevant to me right now, as I am still going through this challenge. I'm hoping that the lessons I'm learning now will make that transition much faster in my next company.
Another one is more around balance and mental health. I started the company at a time when it was still very much the mentality of treating entrepreneurs like rockstars. There was this culture that made you feel like working 80-hour weeks and the hustle was all part of the journey. I actually think it became very quickly clear that that wasn't sustainable and it's only recently been spoken about more. I've suffered from that in the past. Now I'm in a much, much better place, I have my family and children now, I have my weekends. In those early years, I still would probably have worked very hard but I would have just taken care of myself better outside of work. I think it's important for people who start companies to appreciate that balance and a lot of people go through depression and mental health issues without addressing that."