Athens,
Greece ~
In 2016, Charis Arvanitis, founder and CEO of Spotawheel, wanted to buy a second-hand car for his growing family. He went from dealer to dealer. He even onboarded his uncle to find the perfect car. It wasn't an impossible mission, but the experience left him both frustrated with the process, as well as with an unexpected idea.
"I'm not a car guy. I didn't know how this works or what are the dos and don'ts of this industry," the former McKinsey manager, a global consulting firm, shares with me. What he did was bring in industry experts to build the solution and use transparency to tap into a market of €500B in Europe alone.
One year after the launch, he managed to unionize all the car dealers against the company. But he also got the support he needed to scale the solution. Fast forward to 2022, Spotawheel has received €120M in funding; it is present in Greece, Poland, Germany, and Romania, with plans to enter 10 new markets by 2026.
The Greek CEO of Spotawheel has a background in economics and business administration, while his co-founder, Kiriakos Agadakos, joins with his computer engineering skills. Both have experience in management roles with a focus on strategic growth plans.
In the interview below, Charis, the happy owner of a Ford S-MAX, will take us on a ride through the challenges of launching Spotawheel, a business that aims to reach €200M by the end of the year, while also implementing the three pillars of Spotawheel's culture to build a scalable business model in Europe.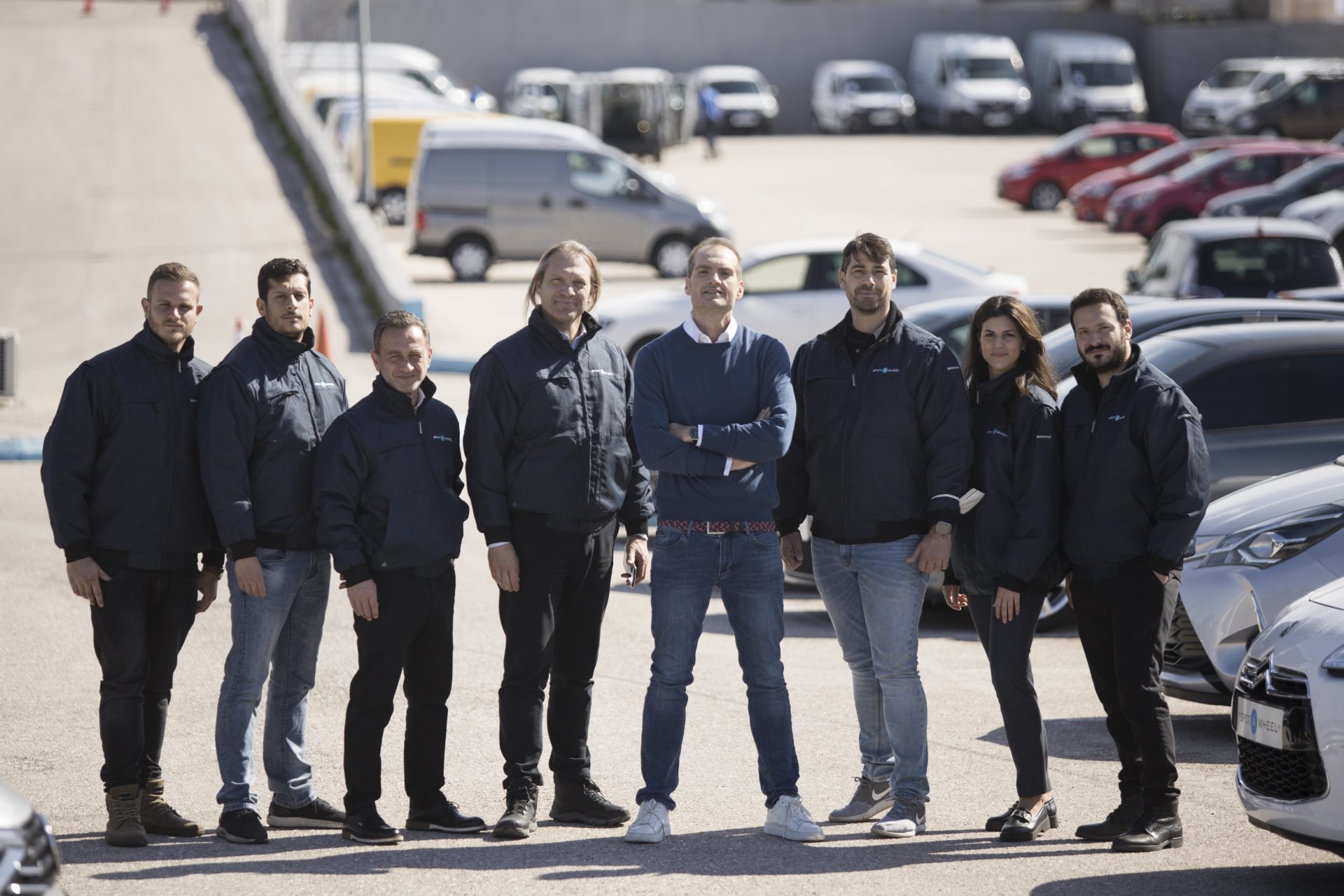 The Recursive: What inspired the launch of Spotawheel?
Charis Arvanitis, founder and CEO: It started in 2015 when we launched our first endeavor, Spotmechanic, an inspection service for used cars to bring ease to how you buy cars.
One year after the launch, we managed to unionize all the dealers against us. Bringing transparency into a shady market is not working for everybody's benefit.
While we were pointing out the issues, we were not solving the actual question, which was "where can I buy a car from?". That is when we decided to create Spotawheel as the answer to the question.
What attracted you most about the development in this market?
It's a huge market, something around €500B in Europe alone. It's one of the most notorious industries with bad practices happening to maximize profits.
It is still a physical transaction process that requires the customer to take a lot of steps and do a lot of research. This makes it difficult to control in terms of how it operates and it has been resisting the online transition.
For me, all of these were opportunities. And it happened because I had to buy a car.
I was going from one kid to three. So I was trying to find a bigger car for the family. And it took me three months. I went to dealers, I sent my uncle to Italy to go see some cars and find the best and safest deal in the used car market. This experience can ruin the whole thing.
Can you tell me more about the Spotawheel solution?
We want to create a marketplace, an e-commerce platform, where you can see a lot of cars and have all the options that will cover all your needs, like financial plans.
It has to be a seamless experience with recommendations that you can access from the comfort of your couch. And if you want to touch it, you can do that as well. We are trying to offer the optimal customer experience across the countries we operate in.
Was there feedback from clients that helped you improve the solution?
A big learning is that what you think is obvious, is not.
People want to believe that they are not going to be the ones who get tricked in the process. They are trying to convince themselves that they have taken the necessary steps to secure themselves against a bad seller.
The biggest learning is that we need to make people understand what is the actual value of what they can get by using this particular car versus going to the market and getting a car out there. We are trying to create a long-lasting relationship with our clients forward, be accountable, and that is why we offer up to five years of warranty.
Why did you decide to scale the solution in Poland and Romania?
This is a region that is growing super fast and it's less controlled, which means more problems for the customer experience. On the operation side, we have Germany, France, Spain, and Italy.
Our model aims at cross-border trading, finding the best cars in Europe, and getting them to the first countries. The problem with this trading before was that small dealers were buying low and selling high. The more they hid, the more they made. So, we aim to be fully transparent.
Doing it at scale, when nobody else does it, requires a lot of funding and focus. Think of Amazon, it is a website with a big assortment, but on the back end, you have huge physical operations, logistics, warehousing, and AI, to name a few. We have a lot of physical operations and a beautiful website that we need to keep improving for our customers. It's a tough business model.
What are the tools that helped you develop the startup so far?
I'm not a car guy. I didn't know how this worked or what were the dos and don'ts of this industry. I just had the idea of how I could solve it on the customer side. But we have always been open to bringing in the industry experts. We need to dig into the operations to understand what is not working and why.
Six years ago, we didn't have the solution ready in our minds. One of the things that helped us scale was that we were open to adjusting and learning. We had to create different branches that work together under a big umbrella.
Launching in a country that was coming out of a crisis, and thinking through a tough situation gave us the firepower to solve things and move to the next country.
When we launched, we were not buying the cars ourselves. We were acting as an intermediate between the seller and the buyer based on a mediation model. But this didn't work at scale, because we didn't have enough cars.
Now that we are buying cars, we started asking: "What would be the inventory risk? How do we negotiate and buy? How do we recondition those cars?". This meant more operations and bigger facilities.
We continue to learn about what moves the needle and what needs to be done to scale healthily. That's what helps us be at the forefront of this market in this region.
What is your priority as a founder and CEO of Spotawheel in the following year?
My priority as a CEO is to keep the team together. A team that is growing like crazy and it's scaling across different geographies.
I want everybody to feel not only proud but a part of the innovation journey. I want to create a layer where everybody can step in and do more, create their soil.
If every single one of us, and we are around 450 people in the company, can come up with new ways to solve a smaller or a bigger problem, there is an endless route forward on how we can innovate. I want these superstars to take the extra mile and help me make the world a better place. These are the values that I aim to reinforce as there is a lot of room to innovate.
How do you divide your time daily to do it all?
I am used to big workloads. What I do first thing each morning is look at my core numbers to make sure that everything works fine. Based on this, I have a big to-do list of what needs to be done and by when.
I reprioritize every day to be ahead of what's important.
Another key thing for me is that whatever I do, I aim to do it right on the first try. It requires a lot of focus but it pays off later. When we are discussing a new project and I am called in to provide input, I try to empower the team from day one on what to do next to not lose time and avoid the back and forth or mediocre results.
This has been what pushed me forward and it is also how my team at Spotawheel operates. Know your numbers, reprioritize daily, and be super focused on what you do. This is what drives us.