Sofia,
Bulgaria ~
While the two sisters Diana Aladzhova (an investor) and Polina Berg (a lawyer) were on their maternity leave, they decided to turn their long-time hobby of making handcrafted gifts into a business. Furthermore, through this venture the two co-founders wanted to bring value to the lives of people with disabilities.
This is how Box to Remember came to life in 2018 as a social enterprise empowering the deaf community in Bulgaria. It aims to expand the number of opportunities for people with hearing disabilities to enter the labor market and do something creative that challenges their imagination.
Box to Remember is an online store that offers handcrafted tailored boxes and gifts for different occasions such as birthdays, weddings, graduations, newborns, etc. "Nowadays, clients want to get hold of products that are made by hand as this creates higher value and specificity", Alazhova and Berg explain. The business works with corporate clients as well, offering them fresh ideas on how to pleasantly surprise their customers or employees.
Turning the hobby into a sustainable business amid the pandemic
The entrepreneurial experience of the co-founders in their respective industries helped them finalize the concept of their enterprise. Handcrafting boxes and gifts was the perfect idea to allow the sisters to get along with their full-time jobs while also giving opportunities to people with disabilities to feel valuable and appreciated. "We believe that the business will mostly gain from employing deaf people as they have the advantage of being creative and deft, mostly resulting from the sign language they communicate in. Deaf people also have the ability to figure out innovative ways to invent things fast and efficiently enough", Diana and Polina share.
In the beginning, the founders co-financed the business on their own with the intention of growing it into a self-sustained venture. As the business was aimed at giving people with disabilities a possibility to earn well and be motivated to grow, the initial profit margins that the co-founders had set were low (around 10%).
Diana and Polina share that when the COVID-19 pandemic hit in March 2020, their profits decreased by almost 60 to 70% and warehouse stock was high. The two sisters came up with "Bebeznaiko" in just 3 months – 18 series of subscription boxes, offering at least 3 games that help young parents keep their babies' development on-track during the pandemic. The combination of love for what they do and skills for adapting to unprecedented situations helped the ladies save their business and continue delivering value to vulnerable communities in Bulgaria.
Creating the leaders of tomorrow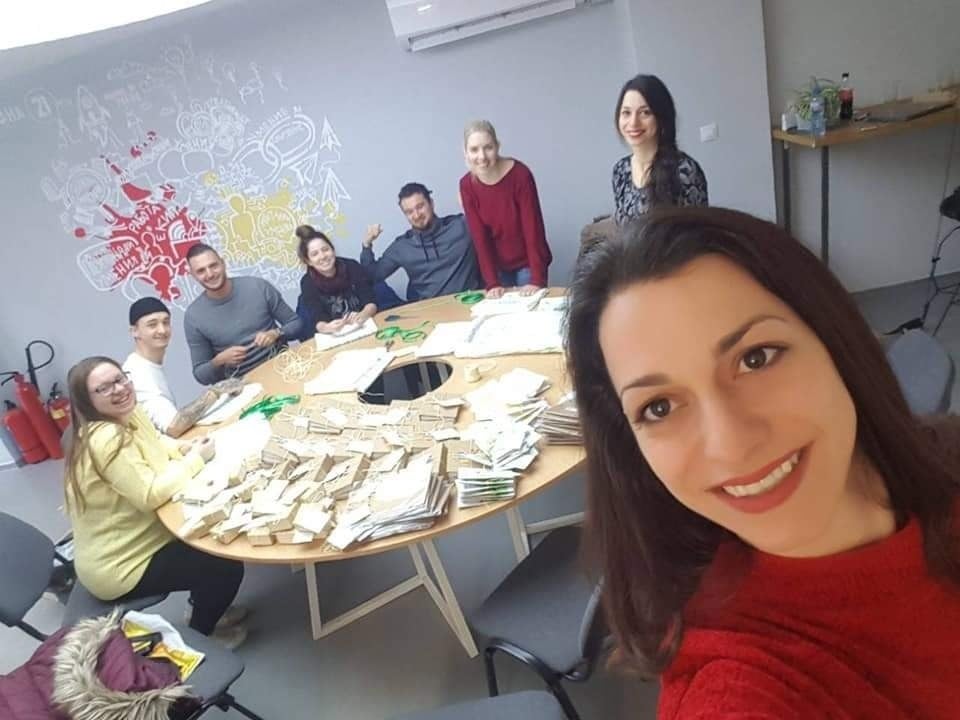 While gift-making was an ad hoc activity in the beginning, it turned into a long-term employment for some of the gift-makers. Yanka Trachuk is already working on a full-time basis for the company and developing her own entrepreneurial potential. Having experienced the harsh reality of being discriminated against on the basis of her disability, Yanka is a passionate advocate for the rights of the deaf community in Bulgaria. "When I found Box to Remember, I myself was on maternity leave and had the need to do something that relieves the stress and make me feel useful", Yanka adds.
Diana and Polina admit that seeing such motivation and persistence made them truly believe in Yanka's potential to help the business reach more people with disabilities and to expand the opportunities it offers to those people so they can advance their individual growth.
Yanka is now the owner of Box to Remember. Diana and Polina transferred the leadership to her, offering her a crucial opportunity to advance her leadership and business skills. This change of leadership is also making a bold statement that deaf people can create value and empower peers better than anyone else.
Yanka's role in helping the team deal with the pandemic hardships was crucial. Now she feels much more confident that she can overcome economic shocks by the power of her imagination and creativity.
Yanka is optimistic and motivated to continue growing the business and give more opportunities to people with disabilities to take control over their lives. She intends to expand employment opportunities to not only deaf people but also to people with motor disabilities.