Sofia,
Bulgaria ~
HeavyFinance, a regulated crowdfunding platform that enables small farmers to easily obtain loans for agricultural machinery, is now officially part of the Bulgarian fintech ecosystem. The first investment project to kickstart the local operations has already been successfully financed and a few more are coming soon.
Since its start in Lithuania in 2020, HeavyFinance has already facilitated over 60 loans of a total value of nearly €3M. In October last year, the company itself received financial backing from one of the top B2B startup accelerators in Europe – Startup Wise Guys. Building upon this early traction, HeavyFinance is now looking at the Bulgarian market as one of its first points of expansion.
"We are happy to enter Bulgaria to provide modern individual solutions for financing farmers while offering a new secure market for investors. The country has favorable natural conditions for agricultural development and progressive legislation for fintech companies, however, better financing is still needed to increase the efficiency of agriculture. We are addressing this need and we are planning to list many more loans from Bulgaria on the platform this year," said Laimonas Noreika, CEO and founder of the company.
Building a local team
From the beginning of 2021, HeavyFinance has started building a team in Sofia. The Bulgarian expansion will be carried out by a team coordinated locally by Filip Mutafis, known for his role in the successful establishment of Paysera in both Bulgaria and Romania, as well as a founding member of the Bulgarian Fintech Association. He will be joined by Nikolay Milenkov, who will be responsible for sales and business development. HeavyFinance also plans to continue hiring employees in Bulgaria and to develop the platform regionally.
The founders of the company Laimonas Noreika and Rytis Darginavičius bring significant experience in both the alternative finance and the heavy machinery industries.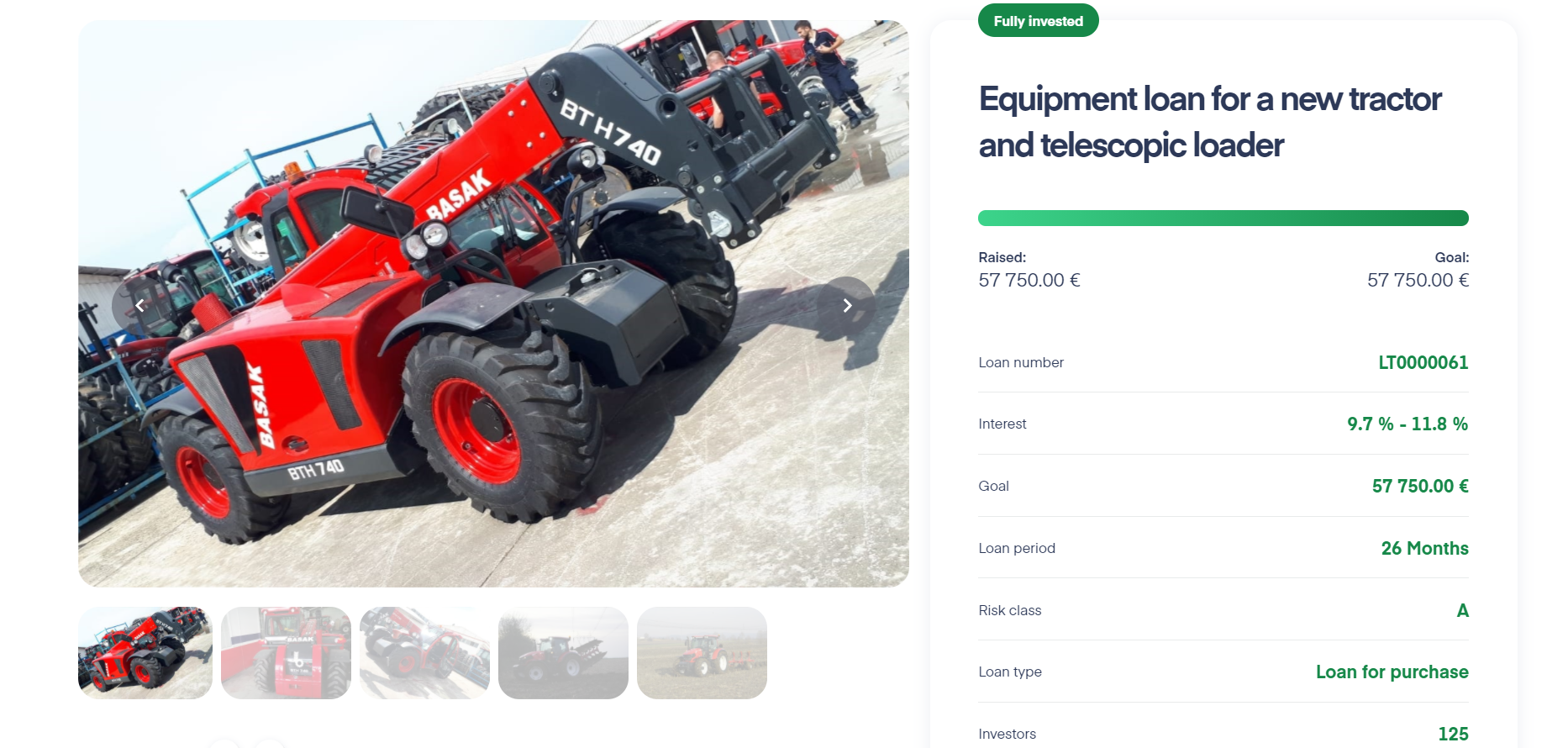 On a journey to transform agricultural financing
According to the Fi-compass report, 19% of Bulgarian farmers find it difficult to get financing to increase working capital. There is a similar trend regarding land loans or heavy equipment loans. At the EU-level, the vast majority of more than 10 million farms in the European Union own less than 50 hectares of arable land, leaving them underserved by traditional financial institutions.
HeavyFinance, through its platform, provides an opportunity for small and medium-sized farmers to obtain a loan to purchase agricultural machinery on attractive terms and a relaxed regime, while investors can get a good return. The loan amount varies from €30K to €300K.
The platform provides retail and professional investors with opportunities to diversify their portfolios by investing in loans secured by agricultural machinery and arable land. So far, the average investor ROI has been 11.72%, with total earnings reaching €57, 487.
What's next
For starters, HeavyFinance will have the goal to popularize the crowdfunding opportunity among Bulgarian farms in need of new machinery or technological fleet expansion. At the same time, given the platform's deep integration with Paysera, it's likely that HeavyFinance will have access to a solid starting base of fintech early adopters. The investment marketplace will remain in English, with the idea to be available to any investor in the EU and around the world.