Bucharest,
Romania ~
The risk takers that we are, we challenged our luck and organized The Recursive's first event in Romania on October 13th, in collaboration with established tech media based in Bucharest, start-up.ro. Gathered cozily at Commons Unirii, we invited founders and other startup community members to an honest conversation around how they can best engage journalists, a sometimes overlooked, yet important stakeholder of their companies, as well as how to tell a good story.
"We don't TECH (Ed.note talk) enough about the media, but this event put the spotlight on the relationship a startup founder should build with a journalist, from the DOs to the DONTs,"

Diana Mereu

, CEO at RASCI, shared with us after attending the event.
The rarely crossed valley between founders and journalists is exactly what we aimed to focus on, as masters of creating bridges. And with this first edition of "Let's TECH about media", we got one step closer to bridging the gap in communication between two communities that need each other to grow together.
Here is just a glimpse at how the first edition of "Let's TECH about media" unfolded, some key best practices on communicating with the media, how to tell a good story as a founder, and what the participants shared as takeaways.

How to work with journalists
The event kicked off with a practical workshop on media communication for founders. Our Elena Vrabie and start-up.ro's Editor In Chief Vlad Andriescu danced around topics such as the role of media vs. PR, how to tell a good story, and how to build and nurture relationships with the media.
#1 What are the perks of media and differences vs. PR
First, the workshop addressed the blurred lines between media and PR. There's this misconception that journalists should promote startups, and that PR and journalism are the same thing. Although they go hand in hand, these are two separate areas, and founders need to know how to tackle each.
In a nutshell, PR should be wrapping up the story and passing it on to journalists who sift it and promote it with their audiences. That said, sometimes, "as journalists, we can also help early-stage founders build the story they don't know they have," Elena adds.
In the end, tech media can help founders with creating awareness in front of customers, investors, employees, and other stakeholders, whether for employer branding, fundraising, or scaling to a new market, provided that it is a solution that can solve important problems of the society.
#2 How to tell a good story
PR is also known as earned media, because you do need to earn it. We get lots of stories every day. Some are important, some are not. The simple existence of a startup is not a story," Vlad shares.
So, what makes up a good story? It helps starting with three key questions before pitching your story to a journalist:
1. If you exchange your company's name with one of your competitors', would you still read it?
2. If you are new on the market, are you joining a trend wave that everybody is talking about? Or creating something that could go viral?
3. Can you pitch the story in under a minute?
"One of the things that we look at, if the answer to the second question is not very solid, think about whether you have a personal interesting story as a founder. Founders can be more interesting than their startups at the beginning; try to use your personal story," Vlad adds.
Also part of the workshop, the team ran through best practices for writing a press release. For instance, make it clear, especially through the title and introduction, why the news is relevant to the audience. Furthermore, clarity is of the utmost importance. Don't overuse tech words unless you want to alienate the audience, or the publication in question is specialized in the respective domain.
"If the journalist doesn't understand what you are saying, maybe they will pass, but if they don't, take 5-10 minutes just to show your product and how it works," Vlad encourages founders. That said, you need to be available to answer follow up questions.
#3 How to build a relationship with the media
In a nutshell, you want to avoid pitching your story right away to a journalist. Instead, journalists advise that you start building a relationship before you have actual news.
"It's like being in a relationship. It's foreplay in the beginning and then you dive deep into requests," Elena jokes.
You need to consider that, especially as the ecosystem develops, journalists receive more and more material to cover. You want to stand out from the crowd. Start by researching the people who are most likely to write about you. Most newsrooms have a dedicated person for specific topics.
"Look for the journalist who writes about your niche because you will raise your chances of them actually being interested in your story," Elena explains.
Two to three months before you launch, start engaging with those journalists, ask for an introduction to them from other friends, comment and share their pieces, ask for feedback, and keep them updated on your progress.
What's more, for optimal results, you don't want to send a press release to be published right away. Journalists also need some time to prepare the news, to think of how to introduce the story to the ecosystem in a bigger article, in a bigger story. Each player than being brought together in a piece can benefit the other and we can grow together.
Take it from a founder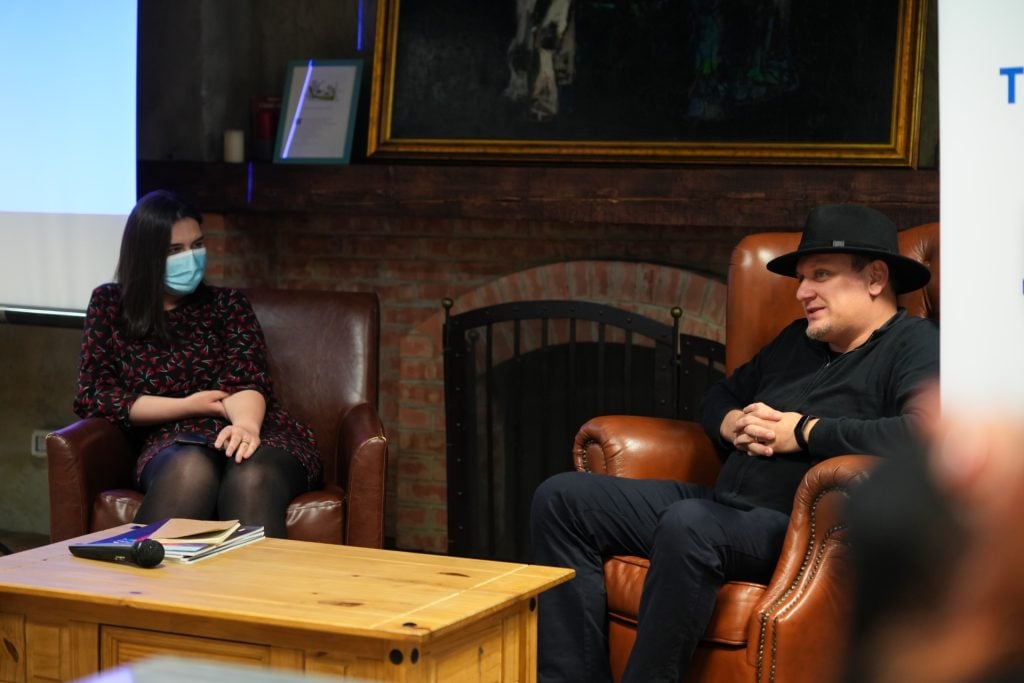 In the second part of the event, we had a journalist-to-founder talk with Cosmin Cosma, led by Oana Cosman, Editor In Chief at Green Start-up, a start-up.ro spinoff project with focus on business sustainability.
With Finqware, Cosmin is helping businesses take advantage of open banking through financial data drive optimization. Finqware has become the first Romanian payment institution authorized by the National Bank of Romania, and one of the most important companies in open banking in CEE. He is also the Advisory Board Chairman of the Unchain Fintech Festival.
A pragmatic person, Cosmin shared his approach to the media throughout the years, why it's important to read the same media as your investors, become the poster face of your company, and strive to make connections and befriend journalists.
"You have to think like in chess. You can't go from one end of the board to the other without small steps in between. And one of the small steps you can take is developing good relationships with the media, so that the journalists know you, become your friends, and start actually answering your messages," Cosmin shares.
At the end, we asked participants for their takeaways from the event. Here is what they said:
"We will definitely create a media kit on our new website. We didn't know how important it was until we attended the 'Let's TECH about media' event." – Alex Poe, Co-founder at Chambr and PlayLearn
"It was simply what any entrepreneur should hear when starting out. The presentation was informal, but professional and it kept me wanting more and more info. The fact that two top agencies came together and made this event available so much value and extraordinary people, inspires me to give more to the community and help others out. Events like this can make one strive for his greater self. Not only they show us that great things are happening and growing in our country too, but they gave me – and for sure they gave to the whole room – the vibe of optimism we all need to get through hard times in startups." – Alexandru Bararu, Founder and CEO of InfoNow.ro.
"Learning to put yourself in the shoes of the journalists before sending out a press release is paramount and can make the difference between being remembered or being forgotten. After all, it's a two-sided relationship and their reputation is on the line, too" – Diana Mereu, CEO at RASCI
"As a Marketing Manager in the Tech space, the most valuable lessons learned at the "Lets Tech about media" were what topics are suitable for being published, storytelling for start-ups, how to foster media relations and how to pitch in a compelling way. These guidelines are key for a start-up to gain coverage and awareness." – Madalina Antohe, Marketing Manager at Stealth Startup
. . .
We are grateful for having had the amazing team at start-up.ro by our side, together with long-time media friend Cosmin Cosma, for all the keen interest shown by those who participated, the support of those who couldn't make it, and all the curious questions we received afterwards.