Oradea,
Romania ~
In the middle of summer's concert season, Oradea became the host of passionate fintech players. The Western part of Romania was the zip code of the first edition of the Unchain Fintech Festival, which presented the perfect melting pot of mature and newbie vessels.
For two days, over 300 people synergized in the same fire air of July, known as "the month of the oven" in the villages of Romania. The goal? To create more bridges in the CEE financial sector.
Unchain Fintech Festival was divided into an exposition area for tech companies looking to present their solutions; a stage to get market updates; a floor for startups to showcase their solutions in front of investors; and a networking space. Conversations flew like drones around business goals: finding yin and yang during turbulent times.
While fintech showed to be one of the fastest growing tech verticals in SEE in 2021, and local players predicted that people will not be going back to traditional ways of banking in 2022, news pieces like that of Klarna's roller coaster drop-in evaluation were still whispered in one corner or another.
Spoiler alert! Fintech specialists made it clear that since the vertical is relatively new, it can only go up. Which left founders trying their luck surfing the tides invigorated at the end of the festival.
All European Fintech roads lead to Oradea
As participants were eager to get to their seats, tent ventilators whisked in the charming host of the event, Alex Panican, Deputy CEO at the LHoFT, Luxembourg House of Financial Technology. He imparted the importance of the place we were in, the Oradea Fortress.
The story is that Oradea has always been a key promoter of diversity and innovation since the time of the Ottoman empire. While the Fortress, a symbol of protection and the ground zero of the event, was renovated with E.U. support of up to €20M. Mihai Jurca, City Manager of Oradea Municipality, elaborated on the idea that together, we are stronger and can keep building legacies.
They were joined on stage by the effervescent Cosmin Cosma, co-founder and CEO of Finqware, a fintech startup developing a tool for open banking, and the Advisory Board Chairman of the Unchain Fintech Festival. He shared that Oradea can be seen as the "Greenwich of Fintech", due to its proximity to Hungary, Slovakia, Moldova, Serbia, Poland, and Ukraine.
Let's also see what other regional ecosystem players plan for the next period.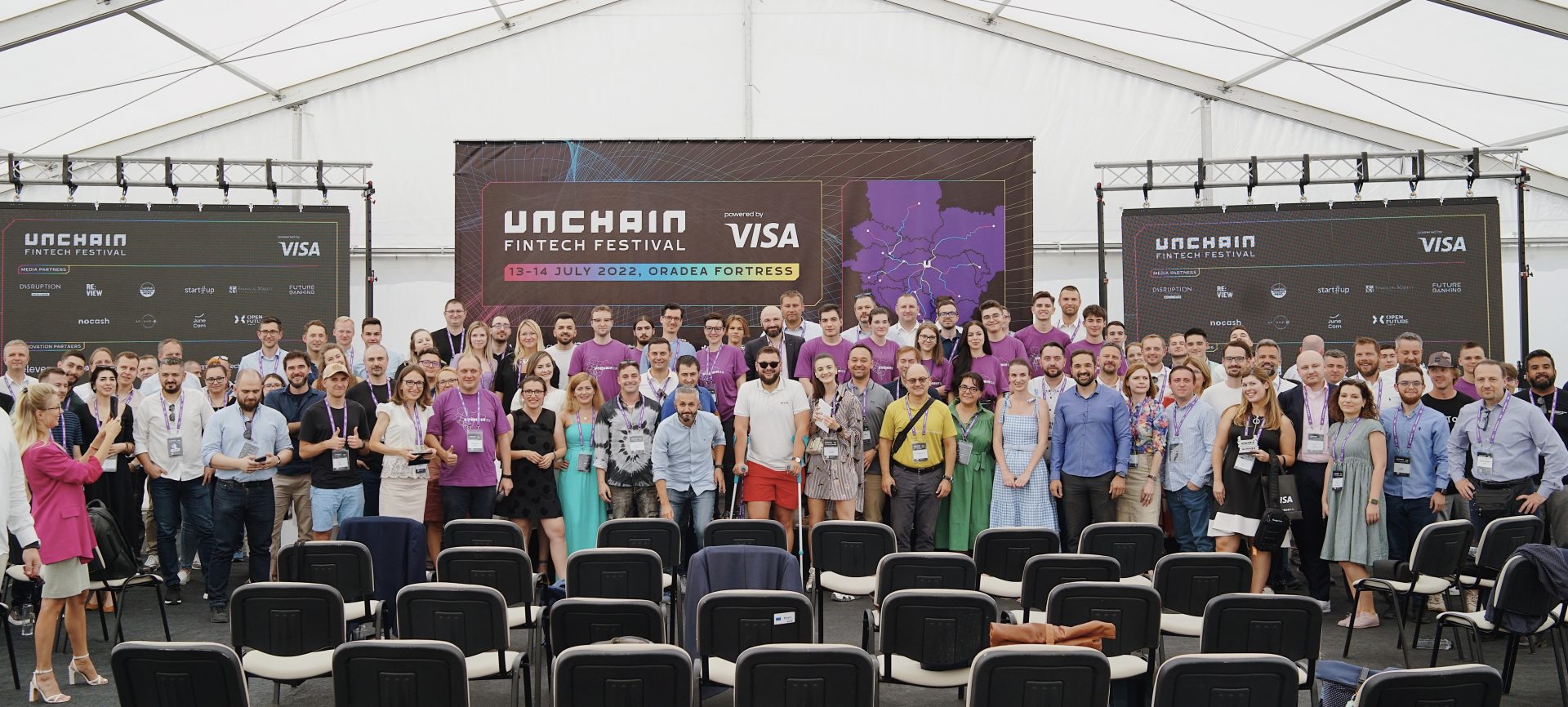 Top 10 keynotes from Unchain Fintech Festival – 2022 edition
#1 Like with anything new brought to the table of discussion, traditionalists' fears need to be put to rest. Banks are and will continue to be important players. Fintech startups do not aim to replace them but to work together to create the financial system of tomorrow.
#2 Building on this, banks offer trust, and entrepreneurs will need to tap into their digital revenue pools to grow at a higher speed.
#3 To do so, banks need upgraded levels of digitalization, which translates into user-friendly mobile banking platforms and apps. Statistics presented show that almost 75% of their budget is spent on maintenance, a great opportunity to collaborate with tech startups instead.
"Payments have evolved from a clunky, hardware-based, legacy set-up to a robust software-first business, and payment facilitation has erupted as one of the dominant business models," Panagiotis Kriaris, Head of Business Development at Unzer, a modular platform for international payment transactions from Austria, explained.
#4 For banks to keep evolving in this competitive market, they need to react to technology and join the wave of change first and fast. They can do this by supporting new regulation adoption.
#5 Elena Unciuleanu, founder and CEO of Reporting Center, a fintech company developing a solution for regulatory reporting, said: "Crises come with new regulations", for which you need the right people, mindset, and tools. She was joined on stage by other regional players like Linardo Martincevic from Croatia, who supported the fast development of new regulations to innovate.
"The digital euro will serve as a supplement to the existing payment instruments, with all the privacy protection systems required for such a modern form of digital money," Linardo Martincevic, CNB Fintech Coordinator at the Croatian National Bank, shared in the Unchain Festival Market Report.
#6 And with new regulations come new solutions and trends. Szymon Stasczak, the Head of CEE Visa Consulting from Poland, shared a few fintech trends for the following year, like financial apps for children, with a higher focus on crypto, as well as cloud security since people want to make safer investments. These have also been supported by some of the 50 startups that pitched their ideas in front of investors, like the Investory app from Cluj, Leaders Tribe and Credia.Store from Bucharest, or Pazar from Croatia, amongst others.
#7 Now, we are led to another trend that we will witness bubbling, digital currencies, or CBDC – Central Bank Digital Currency. Money is also set to evolve. In a panel with Peter Barta, CIO at DeGeThal, a platform for crypto banking, I heard the idea explained the best: aren't we already using money that we don't have when buying with bonuses on cards from different supermarkets?
#8 When it comes to investments, one idea was on everybody's mind: diversification of the companies in a private investor or VC's portfolio. And this was also supported by the winner of this edition, Filmchain, a startup co-founded by two women in tech, which aims to digitize the money flow for creative industries.
#9 The surprise of this edition was the human aspect, the networking around balance and diversity, which was also present at the launch of "The Flavor of Fintech" book, written by Harlan Cockburn. Presented by Andras Rung, founder and CEO of Ergomania, a fintech product design studio from Hungary, the book showcases interviews with fintech leaders from 14 European countries, about how fintech is changing businesses and how society operates.
#10 Lastly, until next year's edition, in June 2023, to move the CEE financial sector to the next level, every player – no matter how big or small, needs to play their part and support the rules of the ecosystem.
What Fintech trends will you be following in the next 12 months?
Want to stay up to date with the content we produce at The Recursive?
Follow us on socials (LinkedIn | Instagram | Facebook | Twitter) + join the newsletter for a weekly dose of innovative leadership resources