Greece, Thessaloniki,
If you are already day-dreaming of your next sunny vacation on a Greek island, it may involve exploring around in a solar-powered rental car. Already known for

EV investments
and
incentives
, Greece is still exploring with mobility innovations. The new prototype of a
solar-powered car developed by Enermech
, a Greek mechanical engineering company, will be ready in summer of 2022.
"The solution targets a high volume market. Sunnyclist is a superior light battery electric vehicle and every individual adult, household or enterprise globally is a potential consumer," Manolis Tsikandilakis, the founder of Enermech, tells The Recursive.
One of the key markets for Sunnyclist will be sustainable and affordable urban transport. Urban drivers can save money up to €1250 from gasoline and €250-1000 from electric charging (compared to a small car with €5/100km consumption). Lower service costs and other prevented expenses can lead to another €750-2000 in savings per year, Manolis explains.
"Another suitable and very interesting market where the Sunnyclist perfectly suits is city-resorts and coast line settlements where the entrance of gasoline vehicles is limited. It can be an ideal solution for leisure, vacation, and touring, as users enjoy a 100% eco-friendly vehicle in natural landscape. It can be used as a rental vehicle or taxi," he adds.
Initially, the car will be available in France, Italy, Spain, and Greece, where weather conditions and the availability of sunshine are suitable for the car's model and can help the product overcome market barriers.
The search for vehicles with energy autonomy, powered by the sun
The car is part of a long-term project of Manolis Tsikandilakis, the founder of Enermech, to develop solar vehicles. His first brainchild was the Sunnyclist Islander, a solar bike with a 180W photovoltaic (PV) ceiling and a 15 Ah 48V battery (which can store solar energy, further improving the autonomy). In the realm of smart urban mobility solutions, the solar-powered bike offers convenience, with a battery that charges in less than a sunny day and no need for charging infrastructure, as well as safety. The sunroof provides additional protection from the weather and the sun.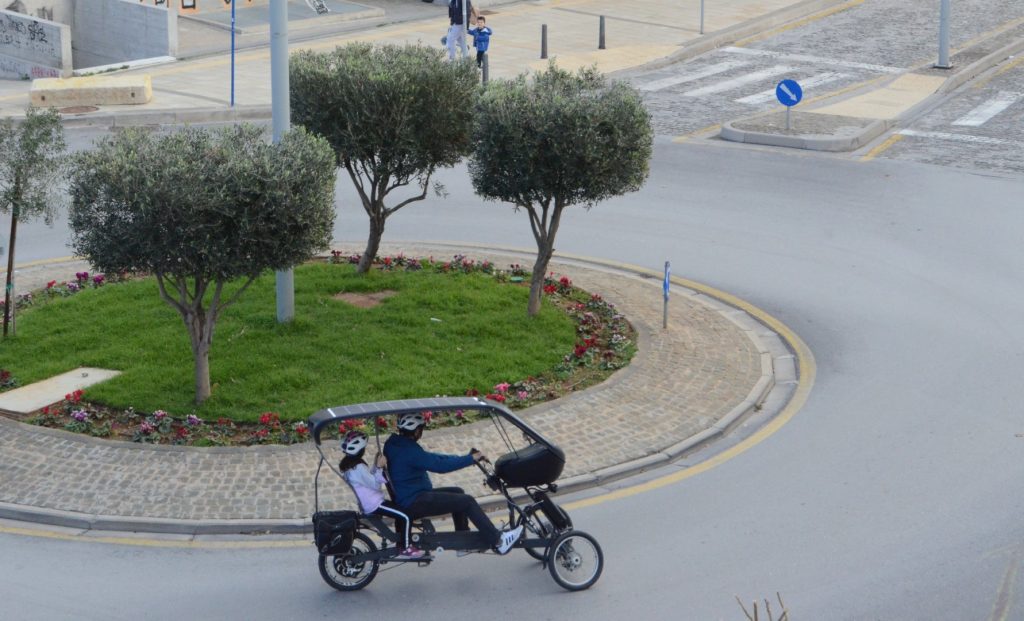 For Enermech, the search for energy-autonomous vehicles continued with the Sunnyclist L7e-C project. A few prototypes later, including a three-wheeled vehicle, the company is getting close to finalizing its latest prototype, a four-wheeled car with a photovoltaic generator of 780W.
Manolis Tsikandilakis further explains the vision behind the vehicle's design:
"The whole design is based on efficiency and goes beyond the stereotypes of motor design. The solar generator is placed at the top of the vehicle and designed to be flat in order to achieve the best efficiency. It can extend to the front of the vehicle when in parking position, to cover all the vehicle's surface, and it retracts when driving for better aerodynamic efficiency. The Sunnyclist's driving range and autonomy are the result of the symmetric contribution of three energy sources (battery, sun, human energy from pedalling), which offers flexibility, cost efficiency, and durability."
To improve autonomy, the car has a smart prototype power management system developed in collaboration with hardware and software development company CommonsLab, which helps users predict and control the energy status of the vehicle. The Sunnyclist comes with a trip computer application developed for Android devices that collect data from the weather and the vehicle's energy consumption.
Enermech also worked with the Technical University of Crete to design a robot aluminium frame that ensures the vehicle's safety.
The project was developed with support from the Region of Crete, and received subsidies under the administration's plan to promote low carbon technologies.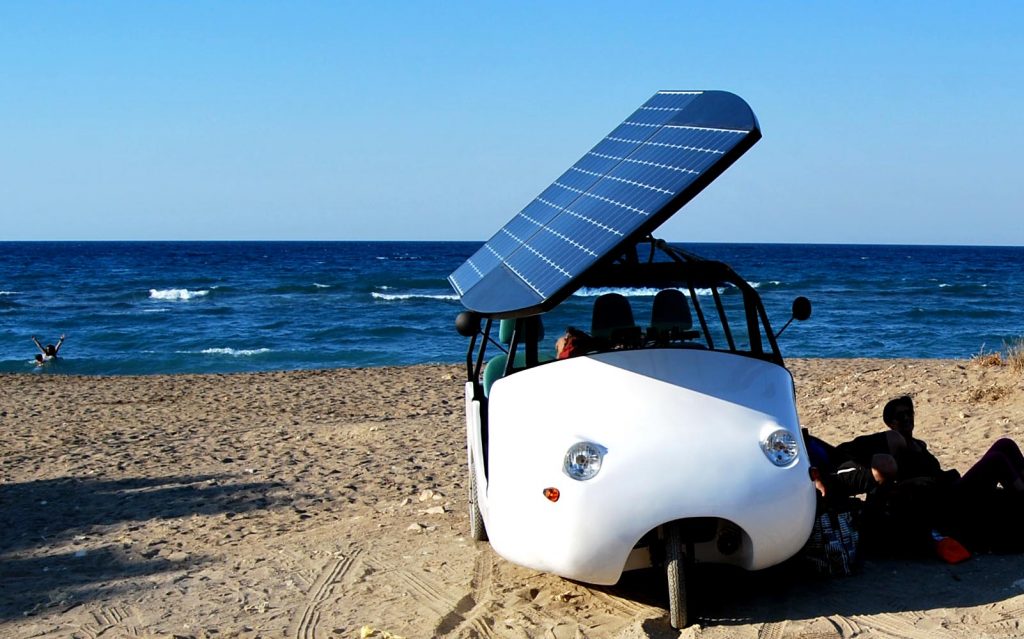 Solar-powered vehicles around the world
While solar-powered vehicles enjoy advantages such as a lower carbon footprint, extended car range, and lower electric battery charging costs, the dream has been around for decades with no concretization.
Drawbacks include the inefficiency of solar PVs in converting sunlight to energy, dependency on weather conditions for optimal running, the difficulty in balancing energy efficiency with the panel's weight, but also slow investment by manufacturers and governments.
However, although we have not mass-produced solar cars yet, elsewhere in the world, solar panel vehicles have been around for a while. Some OEMs offer solar roofs as additional sources of energy for their hybrid or fully electric vehicles. Such examples include Hyundai's Sonata Hybrid and Nissan Leaf.
It's with automotive startups where things start to get interesting. Some seamlessly integrate solar power technology in the electric vehicle, "solar instead of paint" as Sono Motors preaches, while others like Apetera Motors part ways with the usual automobile, playing in a league of their own. And others still are looking to win in the energy efficiency race; Lightyear One, for instance, says their long range solar vehicle consumes two to three times less energy than any other EV on the market.
With new prototypes and viable models developed in various corners of the world, and research avenues pointing to more efficiency in photovoltaic cells and battery technology, the future of solar cars remains promising, if difficult to place on a timeline.