Athens,
Greece ~
From a coal-dependent state, Greece is becoming a renewable energy frontrunner in Southeast Europe.The country is outperforming its neighbours in the SEE when it comes to setting and implementing EU clean energy commitments and installing wind and solar PV capacities. Multi-sectorial and partnership efforts are pushing the country's clean energy transition. In this article, The Recursive looks at the drivers and results of the renaissance in the Greek energy sector.
The government has been reforming the energy sector
When the Mitsotakis administration stepped into office in July 2019, they decided to accelerate the energy transition in Greece.
Until this point the country had been highly dependent on domestic lignite and imported oil, despite its vast potential for solar and wind power. After the financial crisis in 2008 and subsequent disruptions to the economy, the markets for renewable energy projects in Greece slowed down. Greece did not meet its initial 2020 target of 40% renewable energy in the electricity mix.
Mitsotakis's conservative political party, Nea Dimokratia, brought various policies and reforms favorable to green energy. They started by making significant changes to the draft of the National Energy and Climate Plan for 2030 proposed by the former leading party. The final strategy towards meeting 2030 climate and energy targets emphasised a reduction in greenhouse gas emissions, scaling up renewable, phasing out coal-fired power generation, and increasing energy efficiency.
Greece further surprised the United Nations Climate Action Summit in New York, in 2019, when it made a historic pledge: to phase out coal by 2028 by closing all lignite-power plants. This made Greece a pioneer in green energy commitments among Balkan countries. Yet considering that lignite has been a central element to the Greek energy sector for a long time, with a 34% share in the electricity mix in 2018, the task at hand is substantial.
Solar PV and onshore wind energy are getting ramped up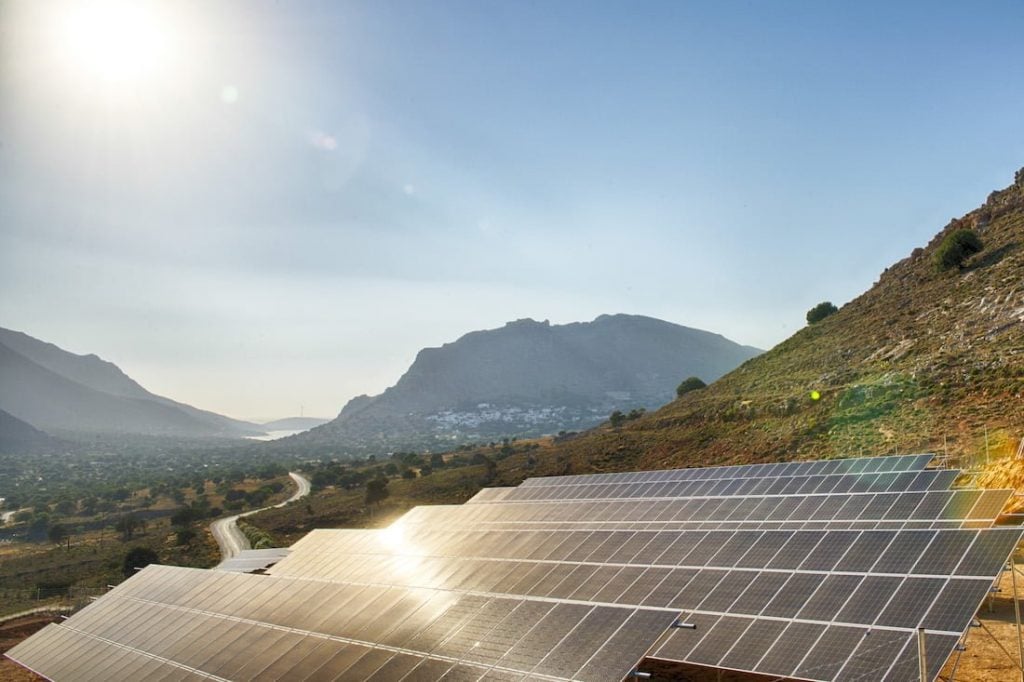 To fill in the gap left in electricity consumption by the removal of coal, renewable energy capacity would need to reach more than 60% of consumption. Currently, the plan is to reach a renewable energy contribution of 35% of the gross final energy consumption by 2030 (without cooling from heat pumps).
The National Energy and Climate Plan proposes solar and wind energy as the main pillars to this transition. As such, between 2020-2030, the total installed wind power capacity is forecasted to grow from 3.6 GW to 7 GW, while solar PV capacity is expected to increase from 3 GW to 7.7 GW.
Prime minister Kyriakos Mitsotakis has further placed green energy at the heart of the Greek government's plan to economically recover from the pandemic. His strategy aims to mobilize more than €10 billion towards the clean energy sector, in a partnership effort between the public and private sectors. Around €6 billion will be generated through EU grants, while private investors will add another €4.4 billion. Finally, the total liquidity for clean energy projects is likely to be topped with additional loans from the EU.
Investments will go into PV arrays, with around €1 billion to be invested in upgrading the national building stock, as well as pumped hydro and battery storage. Electric vehicles and transport infrastructure will be financed with another €450 million. Plans here include upgrading the commercial infrastructure, expanding the national EV charging network, and establishing an electric public transport fleet.
Aside from investing in new capacities and growing its renewable energy mix, Greece must expand the electricity transmission infrastructure and connect its many islands to a renewables-powered grid. Currently, interconnecting and transitioning Greek islands to renewable energy is one of the country's main tasks – one at which, judging by the numerous ongoing projects, Greece is making good progress.
Clean energy projects are booming across Greek islands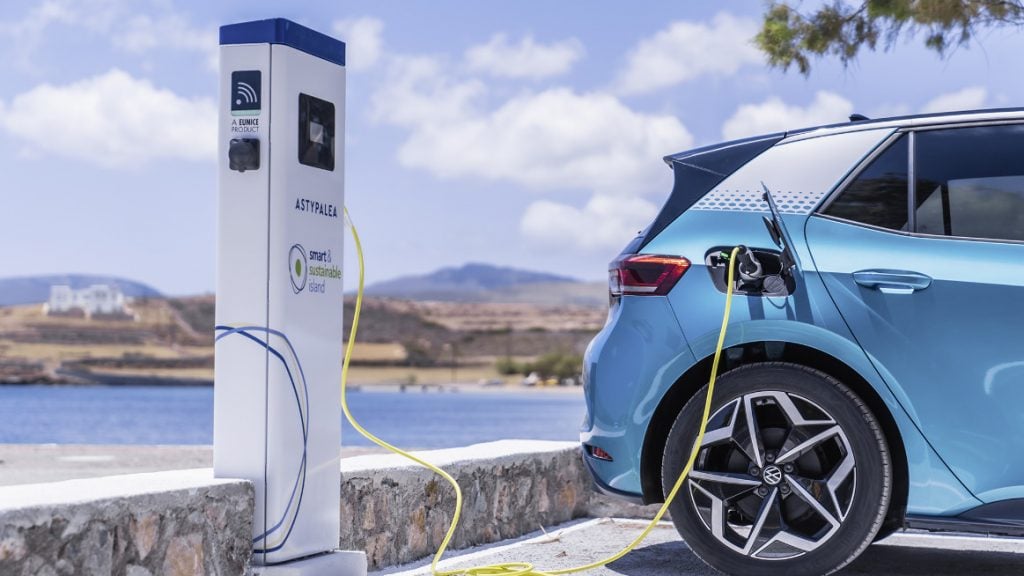 Back in 2018, a small Greek island counting no more than 800 inhabitants became the first island in the Mediterranean to generate most of its electricity from renewables. Before switching to solar and wind energy, Tilos used to get its electricity from a diesel oil power station on a neighboring island.
The green initiative was funded with €11 million through the European Research Project Horizon 2020 competitiveness initiatives and another four million from private investors in Greece. The Eunice Group was the leading private sector member in the consortium, and the designer and operator of the Hybrid Power System S4S Tilos, an energy management system that can combine various renewable energy sources with energy storage.
To the west, other Greek islands have taken up the same challenge. Astypalea has been known so far for its landscapes and local butterflies, but that is quickly changing. The island is set to become a model for smart, emission-free mobility.
Currently, there are about 1.5K vehicles available for the 1.3K locals and 70K yearly tourists – most powered by combustion engines. Through a €10 million project, funded by the Greek government and partly by German automobile giant Volkswagen, the island is transitioning to a purely electric transport system. The first signs of change are already showing: the airport has installed its first EV charging stations and the local police force received the first electric police cars in Greece.
To source the energy needed to charge the electric vehicles fleet, the government plans to install a 3 megawatt-hour solar park and 7 Mwh battery system on Astypalea by 2023. In a second project phase, adding wind turbines could generate more than 80% of the island's power demand by 2026.
Stay tuned for more updates on the clean energy market in Greece in upcoming articles. If you want to read more on the topic of clean energy, check out our stories on Romania's cleantech market and North Macedonia's first private wind park.