Bulgaria, Greece, Romania ~
Decarbonising the economy is a core task in meeting the EU climate goals and reaching net-zero emissions by 2050. As countries make plans to lower dependency on fossil fuels, particularly in the energy sector, they turn to hydrogen because of its versatile applications. Green hydrogen – obtained from renewable sources – is one of the four critical innovations identified by Breakthrough Energy Catalyst, a program founded by Bill Gates to accelerate cleantech deployment.
The world needs to get from 1 billion tons of CO2 emissions to zero – all while meeting basic human needs. Taking on this challenge, Breakthrough Energy Catalyst aims to make the necessary investments that will accelerate the next generation of clean energy technologies. Wind, solar, and lithium-ion batteries have taken too long to become affordable enough to compete with fossil fuel incumbents.
In June 2021, Breakthrough Energy Catalyst partnered with the European Commission to mobilise an investment of up to €820M between 2022-2026 to build large-scale, commercial demonstration projects in green hydrogen, direct air capture, long-duration energy storage, and sustainable aviation fuels.
In this article, The Recursive looks at key green hydrogen objectives and projects in Southeast European markets.
The potential of green hydrogen
Hydrogen, the most abundant element in the universe, is multifaceted. It can serve as an energy carrier, feedstock, and a way to store seasonal renewable electricity. Moreover, green hydrogen can be used to decarbonise the transport sector, especially for heavy-duty vehicles where electric battery technologies are not effective. It also holds strong potential in decarbonising energy-intensive industries such as steel.
However, hydrogen needs a primary source of energy to be produced. Unfortunately, the main sources of hydrogen production today are fossil fuels such as coal and natural gas. This means that the first challenge in utilizing hydrogen is to decarbonise its production. The best way to achieve an emission-free, green hydrogen form is by producing hydrogen from renewable electricity through electrolysis – a process that is still expensive.
Another way is to obtain a low-carbon hydrogen version or blue hydrogen, by using natural gas as a source of energy, while capturing and storing resulting CO2 emissions underground.
While acknowledging the role that low-carbon hydrogen can play, policymakers, investors, and scientists tend to favor green hydrogen for its higher potential to fuel net-zero emission plans. The goal of programs such as Catalyst is to achieve cost-efficient production, transportation, and consumption of green hydrogen and scale up its use in the marketplace.
The European and SEE context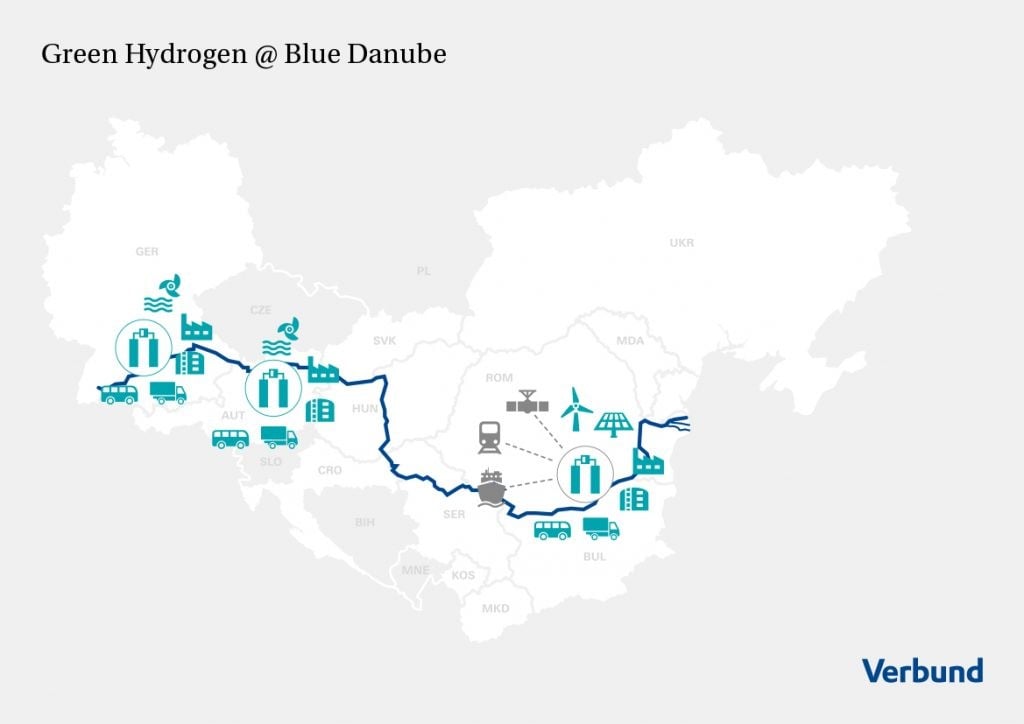 Under the EU Green Deal, member states are setting up targets and plans to reduce greenhouse gas emissions such as carbon and transition to a climate-neutral economy. Hydrogen, in particular, is eyed for its potential to support decarbonisation in different economic sectors and to evolve energy systems.
Aside from its strategy for integrating and exchanging it within energy systems, the European Commission also launched a hydrogen-targeted strategy. It describes the necessary steps to making low-carbon and green hydrogen a key commodity in the energy market. It also proposes the installation of a minimum of 40 GW of renewable hydrogen electrolysers by 2030 in Europe.
Europe is well-positioned to adopt hydrogen technologies. European countries have a vast network of gas pipelines: over 2.2 million km of supply and demand. A good portion of this network could be retrofitted and refocused on transporting hydrogen. Already, 11 European gas transmission system operators are envisaging a European hydrogen pipeline network of 6.800 km by 2030. The EU also has a capacity of underground storage of approximately 1,200 TWh, which could also be adapted to hydrogen use.
In Southeast Europe, one project driving efforts to advance hydrogen adoption is the Green Hydrogen @ Blue Danube, developed by Verbund, Austria's largest producer of renewable energy, within the framework of the Important Projects of European Common Interest (IPCEI). With an estimated electrolysis capacity of 1.5 GW, over 80K tons of green hydrogen per year are to be produced in Southeast Europe every year at competitive prices. These will be exported to Austria and Germany via the Danube through Liquid Organic Hydrogen Carrier (LOHC) technologies, developed by Verbund's partner in the project, Hydrogenious LOHC Technologies.
Green hydrogen projects in Romania
The vast gas pipeline already in place in Romania, coupled with storage infrastructure and renewable energy potential from wind and solar, create great conditions for developing a hydrogen value chain.
According to its National Energy and Climate Plan (NECP), Romania considers hydrogen deployment mainly in the power, gas, and transport sectors. Although the NECP does not include specific objectives or policies and measures for the deployment of hydrogen, Romania is involved in various national and regional projects, including Green Hydrogen @ Blue Danube and the Zero-emission Urban Delivery @ Rainbow UnHycorn. Moreover, its gas transmission system operator Transgaz is also committed to using the existing natural gas transport infrastructure for hydrogen.
State-owned Hidroelectrica, the biggest power producer in Romania has some plans of its own regarding hydrogen. The company takes part in Green Hydrogen @ Blue Danube, intending to produce green hydrogen at scale through electrolysis using a mix of off-grid wind energy and on-grid hydroelectric energy. It will also transport the resulting hydrogen to other countries in the program, such as Austria, Bulgaria, Germany, Slovakia, or Serbia.
Recently, Chimcomplex, a chemical products exporter that operates the assets of Oltchim and Borzesti, announced its intention to develop a hydrogen hub around its portfolio in an attempt to decarbonise its core industrial processes. In an interview for CEE Energy News, Dumitru Coman, the Chief Technical Officer, said the company currently operates two brine electrolysis units, totalling an annual hydrogen production capacity of 5,400 tonnes per year, to which others will be added in the future. The resulting green hydrogen is produced through the electrolysis of water, using renewable, solar PV energy. The project also includes over 2×10 MW photovoltaic park and partially decarbonated high-efficiency cogeneration sources.
Finally, several Romanian associations and companies in the energy sector signed a Memorandum of Understanding to create a technical collaboration framework that guides the use of new technologies to produce energy. The agreement aims to promote and consolidate international cooperation in research, innovation, and new business development. One signing party is the LIBERTY Steel Group, part of the GFG Alliance. In the context of legislative pressure and demand for the decarbonisation of steel, the group stated that transitioning to green hydrogen to produce green steel is key for the company.


Green hydrogen projects in Bulgaria
Bulgaria also considers the use of hydrogen, with a focus on enabling the integration of renewable hydrogen in its energy and mobility systems. The country expects total investments of around €3.45M.
According to its NECP, Bulgaria plans to stimulate the production of hydrogen with renewable-based electricity and excess supply of this electricity. In total, approximately 47 GWh of renewable electricity would be dedicated to producing renewable hydrogen by 2030.
Moreover, the country expects a yearly final hydrogen consumption of 32GWh in the transport industry. To contribute towards that goal, the former Deputy Minister of Transport, Information Technology and Communications announced the planned installation of ten hydrogen vehicle fueling stations by 2025. But currently, none are completed.
As part of the green energy transition, some fossil-fuel projects are being planned to convert to hydrogen. The Varna thermal power plant, for instance, decommissioned and replaced 3 coal units with gas units in 2017. The most recent transformation plan includes the installation of two gas-fired combined cycle power units and capacity for hydrogen with a share of up to 30%. The units are planned for 2025 for 450M.
Similar to Romania, natural gas companies are counting on the minimized capital costs of using the existing gas infrastructure to transport hydrogen and a combination of natural gas and hydrogen. In their 10-year development plan, the state-owned grid operator Bulgartransgaz announced the expansion of its existing gas network to transport hydrogen.
Following the recent elections, Bulgaria's interim government published their proposal for funding the country's green energy transition through the EU's post-Covid recovery plan. €800 million would be mobilized in geothermal energy, hydrogen, and solar roof aid for individual households.
Compared to previous versions of the plan, the financing proposed for the production of green hydrogen has increased by a third. However, the budget allocated to expanding the Martiza Iztok pipeline and transitioning the coal plant to hydrogen has decreased. Overall, €35 million would go towards financing companies producing green hydrogen – 45% to 60% of what firms had proposed. By 2026, Bulgaria should be able to produce 7.8K tonnes of green hydrogen.
Green hydrogen projects in Greece
Elsewhere in Southeast Europe, Greece is laying out ambitious plans to lead in the region's clean energy transition. Currently highly dependent on domestic lignite and imported oil, Greece has announced a pledge to phase out coal by 2028, reduce GHG emissions, and scale-up renewables.
Recently, gas, oil and construction companies partnered with research institutions in Greece and foreign partners to develop a national green hydrogen project – White Dragon. The proposal was submitted to the Greek call for expressions of interest within IPCEI Hydrogen.
The industry group is coordinated by Public Gas Corporation (DEPA) and includes Motor Oil, Mytilineos, Hellenic Petroleum, as well as the Centre for Research and Technology Hellas – CERTH and the National Centre for Scientific Research Demokritos. €8 billion could be invested in the program.
White Dragon would produce renewable hydrogen using solar energy from photovoltaic facilities with a capacity of 1.5 GW. The project is to be located in Western Macedonia, the lignite base of Greece. The resulting green hydrogen would be used in district heating, fueling buses and trucks, and exported via the Trans Adriatic Pipeline.
Two other proposals have been made. One project repurposes sewage sludge to make hydrogen to fuel municipal garbage trucks. The other initiative proposes the retrofitting of a public building to achieve a positive energy balance. In this case, the surplus energy would be used to make hydrogen for an ambulance car. In sum, hydrogen production capacity in Greece is projected to reach 3.9 GW by 2028.
Also part of the project, Hellenic Gas Transmission System Operator (DESFA), intends to build a gas pipeline of 122 km in Western Macedonia that would be adapted to mixing hydrogen with fossil gas.