Sofia,
Bulgaria ~
Around 1% of the world population has been diagnosed with Autism Spectrum Conditions and in the United States alone at least 1 in 54 children is Autistic. Currently, support available for Autistic individuals varies widely and is often insufficient. Technology might accelerate the positive effect and adaptations of existing approaches.
The AI-powered app BeMe, which was founded by a Canadian-Bulgarian team and aims to empower neurodiverse individuals, raised a €750K pre-seed round from Eleven Ventures and angel investors. The Sofia-based venture capital fund is the lead investor in the round and it is joined by angel investors from across Canada, the US, Germany, and Bulgaria.
"BeMe is a project with great potential, a wide audience, and no direct competition – there are no other meaningful solutions on the market so far. The issue is already so widespread around the globe and the number of Autistic individuals is growing, but nobody has aimed to solve it in such a way – by using data, AI, and facilitating a protocol, which helps doctors, caregivers, therapists, and parents. Also, the team is of great importance for us when making an investment. And BeMe has an extremely motivated, strong, and dedicated team, confident in the significance and the success of their solution," points out Valeri Petrov, Partner at Eleven.
Having an outstanding social mission, the venture of the Canadian Sarah Glofcheskie and the Bulgarian Alex Melamed has an even more captivating story. The Recursive met with the co-founders to learn more about how they advance in achieving their vision to build a barrier-free and inclusive world for everyone.
The story of BeMe
BeMe was conceived out of Sarah Glofcheskie's personal experience and need. In 2014 she was living with her daughter Flynn in Berlin, Germany, where she met Alex Melamed as they were both doing their MBAs in the European School of Management and Technology (ESMT).
Around that time, her daughter started going through a period of change. "She developed quite typically and at the age of three was speaking in full sentences, had met all typical developmental milestones, and started learning German. But then in a brief period of a few months, things started to change pretty dramatically – she changed the way she played with toys and the way she communicated. I realized that something was happening but was not sure exactly what," Glofcheskie shares.
So, she decided to go back to Canada, where she could communicate with medical specialists in her native language. However, it did not make any difference. "Flynn was experiencing pain and she could not articulate why she was in pain, but I could clearly see that she was. At that point, I had reached the conclusion that Flynn was likely Autistic on my own. The doctor confirmed that but I was quite shocked when he said that there is nothing that he will do. He did not want to do any additional diagnostics in terms of me reporting the pain. He was dismissing the pain as behavioral and just reassured me that Flynn will get speech therapy later on. I did not accept that," Glofcheskie remembers.
In the years that followed Glofcheskie talked to a lot with Autistic adults and other parents of Autistic children. She resurrected her life sciences background and got deeply into reading about clinical research. At the same time, she leveraged her MBA background to take a business-like approach to the process and look at it objectively, efficiently, and quickly.
"I wanted to understand the truth behind what my daughter was experiencing. I wanted to help her. So I became what I laughingly recall as 'spreadsheet Mom' and started to track anything and everything that I could about my daughter. I had anybody who spent time with her do the same thing," she shares. Glofcheskie looked at medical signs and symptoms, behavioral changes, and the environment surrounding her daughter. She used to do data collection during the week and then spend the weekend putting all of it into spreadsheets and looking for patterns and correlations.
"It was an iterative approach and when we included another program or changed her diet, I was looking for impacts in other areas. Everything was input and output. What was helpful about that approach is that I was able to take this objective data and take it to medical professionals or anyone else that might be working with my daughter," she remarks.
Scaling the impact for families of Autistic children
Right now Flynn is 10 and can pursue and interact with the things that motivate her. "We have a pretty tailored approach to our lives and other families are doing the same thing. But collecting all that data is really not a good use of parents' time. They should be spending time enriching the lives of their children, enjoying their children, and not spending their weekends on spreadsheets," she highlights. That is why Glofcheskie saw the opportunity to leverage the power of technology for data collection and scale the impact for many more families with Autistic children.
Glofcheskie shares that turning her approach into business had been something that she wanted to do for years. But it was difficult for her to make the move to do that because her expenses were high. When she decided to just flip the switch and go for it, she reached out to Melamed. "Knowing him well from the MBA, I was assured that we would complement each other well in terms of our backgrounds, skills, and personalities," she shares.
A tracker, collaborative tool, and data hub for actionable insights
The solution of BeMe, which is currently in the PoC stage, is a tracker that aims to gather holistic medical, behavioral, and environmental inputs. The tracker consists of a number of modules for data input and the data that it collects is both "manual" and "passive/automatic". Therefore, some of the data is gathered through wearable devices and connected systems such as weather systems.
In combination with this tracker, they are also building other elements that help parents of Autistic children solve their main problems. These are a communication module enabling the entire care team to see the full picture and provide collaborative, integrated care, and having a place to store and organize all of the medical and non-medical data that they have gathered. "Parents of Autistic children amass hundreds of documents which can turn into actionable insights only if there is a place where parents can store and share the documents," Glofcheskie explains.
That is why the team of BeMe is creating a hub where not just all of the information that is collected through BeMe can be shared, but also everything else that the family is utilizing so that the users of the app would be able to connect the dots and make that data actionable. "If you have, for example, a teacher who is not communicating with the occupational therapist, or with the babysitter, and the nutritionist, you have this massive missed opportunity for alignment," Glofcheskie shares. The app also offers a telehealth-like solution that acts like a collaboration tool where parents and different parties can share files and information.
On a mission to solve a global issue
By enabling parents not only to take objective data to a medical professional but also to understand that a particular environment can trigger a negative reaction in their children, the app helps parents improve the daily life of their children. "Autistic children tend to have periods when symptoms exacerbate and if parents are able to identify the root cause for these periods, they can make changes in the environment. If parents don't know what to look for and talk to a pediatrician who is not aware of the right clinical research, it could take years before the right support and co-occurring diagnoses are found. And if it is never found, then the child might actually be muted with medications that they don't need to take," Glofcheskie explains. Therefore, the solution of BeMe is powerful for each individual family, but since the app is amassing data across thousands of individuals, the team leverages AI and Machine Learning to look for trends across groups.
"Our main mission is to empower the Autistic child and the Autistic individuals in general. The only way to empower Autistic children is by empowering their parents and caretaker teams, so we are building BeMe by having the target persona of the parent in mind at first," Melamed shares.
The startup journey and business goals of BeMe
"In the short term, the goal is to release our direct-to-consumer (D2C) subscription-based app. In the longer term, we aim to cater our solution to clinicians as well because the real impact can only be achieved if the entire ecosystem is involved", Melamed adds. He explains that clinicians find a lot of value in the BeMe concept and the first couple of advisors on their Advisory Board were actually practicing doctors who wanted to be able to offer better support to patients and parents of Autistic children.
Since Glofcheskie and several other team members have a clinical trial background, and in the future, when their team evolves their big data approach, their vision is to become a go-to source for academic research. "When we get into the big data world and apply AI to it, we hope that we can find aggregate insights and identify certain patterns in other children that can serve as a predictor," Melamed highlights.
Expanding from only two co-founders in January 2021 to a team of seven, BeMe will soon reach 10 employees. The team is very diverse: Glofcheskie and the Program Development Director are based in Toronto, Canada, the Chief Product Officer is in the US, while Melamed as the COO, as well as the CTO, Director of Data & AI, and two developers are based in Sofia, Bulgaria. "Diversity of all kinds is super important to us as a team. Certainly, this means geographically, but also in terms of all the other ways that we can be diverse, including neurodiverse. We want to build the product along with Autistic team members; with the Autistic voice," Glofcheskie shares.
Through conversations with Eleven Ventures, the team of BeMe saw the cultural fit. "It showed that the investors were focused on solving big social problems that have not been addressed yet. They did not lead the conversation by talking about return on investments, exits, and anything of that kind. The way they perceive investors should bring value to startups resonated with what we wanted in an investor. That is why we decided that they will be the first institutional investor we were going to pitch, and it turned out they were the only one," Alex Melamed, co-founder and COO, shares.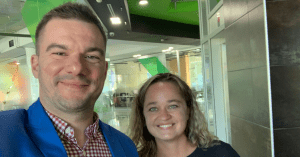 Brave vision for future impact
Thе BeMe team is currently doing a proof-of-concept (PoC) with families and working with them in optimizing the data entry process. Their goal is to provide a seamless data entry experience that will enable the collection of as much data as possible. At the same time, they are also preparing to automate those processes to solve the need for individual onboarding for every user. Working very fast-paced, the team aims for a commercial launch in January or February 2022. BeMe will start by launching in the North American market, mainly Canada and the US, with the goal to quickly expand internationally.
"We are determined to use the pre-seed investment to launch on the App Store around Q1 2022 and around that time we will start raising our seed round. Until then we will be mainly focused on achieving product-market fit and be sure that we are releasing the ideal product for our target persona," Melamed shares.
According to Valeri Petrov healthcare has the reputation of being a very conservative field, which despite its legacy is currently becoming more and more open to new technologies and innovation. "This is slowly but steadily leading to a technological revolution similar to what happened in fintech a couple of years ago. For us, this is a great opportunity to support the boldest aspiring founders who are challenging the traditional methods of how we sustain wellness, treat illness and take care of our health," he concludes.