Sofia,
Bulgaria ~
There are some things that women feel awkward discussing even with their friends. But some of the common issues that are considered "taboo" can lead to long-term effects on the reproductive health of women, especially when it comes to fertility. Maybe it is time to see whether AI can help women ask the right health questions at the right time?
With the increase in awareness, femtech, a catchy term for technology solutions that improve the health and wellbeing of women, is becoming a market with increasingly unmet demand. Forecasted to reach $60B by 2027 from $18B in 2019, femtech is not just a niche. It is a market that serves around 3.8 billion people.
The sectors that fall into the femtech industry range from menstruation and period apps for tracking cycles, birth control, and AI tools for recommending the right hormonal contraceptive, to fertility, sexual wellness, and even breastfeeding. According to reports, worldwide there are around 200 companies in the industry, which in 2019 raised $592M in VC funding and 90% of them are led by women.
Today we talk to WOOM, a Spanish AI fertility startup with an international vision, that closed its latest €2M investment in a round, led by the Bulgarian BrightCap Ventures. Founded in 2016, by Clelia Morales and Laurence Fontinoy, WOOM has been part of many renowned accelerator programs including Google for Startups in Madrid, SeedRocket, Google Campus Residency, and TheVentureCity. Their team of 20 people is connected to the Bulgarian ecosystem, as all of their tech talents are situated in Sofia.
Here is what Clelia Morales told us on the topic of female entrepreneurship and female technology, going into the nitty grits of the femtech vertical to show what is the real potential for growth of this industry.
The rising need for femtech
"For many years women's health has been unattended and even though there has been some significant investigation in the field taking place, from the technical side, it is not until the last five years that we started seeing some products rising on the market," Clelia Morales explains. Having personal challenges with fertility, she and her co-founder Laurence Fontinoy, decided to focus on this niche of women's health and founded WOOM.
"When you go to the doctor and you see all of the mothers who have had kids, you don't realize that it might be a challenge to have kids after 35, because nobody tells you that. And it is not until you have the problem in front of you that you turn to the doctors, which makes you feel lost and guilty. That is why we decided to create a product that would help women understand themselves better and make faster decisions when it comes to conceiving and understanding when is the right time to see a doctor," she shares.
She explains that infertility can derive from many different health problems such as, for example, endometriosis – a condition in which cells similar to those in the endometrium tissue that covers the inside of the uterus, grow outside the uterus. According to Morales, endometriosis takes between 8 to 10 years to diagnose and during that time women often suffer in silence because they assume it is just normal to have abundant periods.
"Also, when we think about menopause, for many this topic is still a taboo. And I feel like as a society and market we have become mature enough to realize that there is a demand for solutions and available knowledge to provide well-being and health support to 50% of the world's population," Morales adds.
The AI app that solves fertility problems
The two female entrepreneurs founded WOOM in 2015 and launched their first product focused on fertility in July 2016. Since the beginning, the mission of the startup has been to create a women's health product with an international scope. In regards to the mechanics of the product and the way in which it provides value to females, Morales explains that every time a woman sets up a data point into the app, there is always some insight in exchange. With this philosophy last year, in 2020, the female co-founders launched their second product which aims to cover all different cycles and stages of women's reproductive life.
Morales walks us through the process. The onboarding process is about providing data about the frequency and the duration of your cycles, as well as sharing your age. Then, as women use the app, it prompts them to share more information about their medical condition, levels of physical activity, and eating habits. Depending on the exact moment of their monthly cycle, the app may also ask about their sexual activity and mood changes to make the most accurate profiling and start delivering tailored content and advice. Thanks to that, users of the app receive recommendations about the type of exercise they should be doing according to the time of the month and their own health condition. WOOM has a community section that allows users to anonymously discuss various topics which are often labeled as "uncomfortable".
In order to provide the most useful content and advice, the WOOM app gathers 100 parameters including income and lifestyle data and biometrics. The data is needed to "feed" the intelligent calendar, which is learning from the data of hundreds of thousands of women to make the most accurate forecast of when is going to be their next period, when is their fertile window and when is their ovulation day. The next thing WOOM does with this data is to provide personalized content for each woman.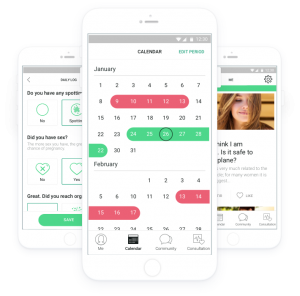 On the radar of investors
Talking from experience, Morales shares that despite the rising investors' interest in the market, the most successful conversations with VCs that they have had so far are the ones with teams that have at least one female partner. The reason for that is because they didn't have to go into the details that they need to go into with a male partner.
Having pitched on three continents – Europe, North, and Latin America, Morales shares that when it comes to investors' attitudes, there are no major differences besides the fact that the market in Latin America is more conservative than the other two. In terms of KPIs, so far WOOM, which functions in two languages – English and Spanish, has attracted 1.5M registered users from nine markets. 200K of them are active at the moment. Morales highlights that the most important KPI for them is having 100K happy users, who got pregnant thanks to using WOOM.
What goes into building a fertility app?
"Both me and Laurance worked in tech and we definitely realized that we can make a great impact in women's health with technology. At the same time we were also well aware that we are not doctors and need a lot of external medical and scientific expertise," Morales remembers. Ever since the beginning she and her co-founder have been working with health specialists such as their medical director who has over 40 years of experience in fertility and was the mastermind behind the algorithms of WOOM. Morales and Fontinoy have also gathered a panel of experts ranging from psychologists, experts in sexual health, gynecologists, and nutritionists that validate all the content on the platform. Having a robust and highly-specialized network of partners is a key part of building a well-functioning health app, according to Morales, and that is why WOOM also works closely with a Spanish scientific university.
"It is important to communicate that we do not substitute the doctor. Instead, we can partner with doctors and help women ask the right questions when they go to the doctor," Morales adds.
Monetizing with impact
When it comes to financials, Morales explains the logic behind the combined B2C and B2B business model of WOOM. "Basically we have three revenue stream areas. The first one comes from awareness campaigns, part of the B2C app, which is rather contextual and has nothing to do with aggressive advertising. We allow businesses to position themselves on our app not by showing ads, but instead by letting them offer useful content to our female users," Morales points out. Their second monetization model is B2B and targets health insurance companies such as MAPFRE in the Dominican Republic, which uses the solution and the content of WOOM under their own brand names for their insurance clients. Their third revenue stream comes from having WOOM as an HR benefit and selling it to businesses to help them retain female talent by providing employees with content related to growing family, parenting, and pregnancy.
"The reason why we are monetizing through B2B and offer WOOM free to users is that the markets that we are in, it is common and likely for customers to pay for a B2C premium product.
In the next 2 years, we will most probably remain B2B, but in the next 5 years, we see a balance of B2B and B2C. I think that the market will evolve and people will see the value of having premium features such as content or opportunities to chat and make consultations with experts," Morales shares.
Past challenges and future goals
One of the biggest challenges for WOOM besides finding the right monetization mix was gathering a professional tech team as an early-stage startup. "As every startup, we faced the difficulty of attracting and inspiring engineers – having limited resources we couldn't compete with corporations from a salary standpoint, so we had to find engineers who are mission-driven and willing to commit to the project," she adds.
Taking a look into the future, WOOM concentrates on developing an R&D line focused on the fertility and digital contraception space and plans to start patenting products and creating scientific papers with the data they have collected so far. Another goal for the team of the femtech startup is to grow their markets by focusing on sales and adapt to the needs of potential business clients.