Bulgaria ~
Gen Zs are nothing else but the architects of our future. This generation of young people is highly driven to build, create, and impact the world we live in. But what drives them? What are the things that trigger their curiosity and passion? And what do they want to change in the world?
In this article, The Recursive meets you with 11 promising early-stage Gen Z startups from Bulgaria. The fields they stepped into are healthcare, sustainability, education, design, and customer services.
Gen Z startups that will lead the Bulgarian tech ecosystem
Founders: Ventsislav Dobrev, Yordan Atanasov, Georgi Vuchkov, Ivo Atanasov
Solution: AngryBuilding offers an easy-to-use condominium management system. The company also offers the following: quick and easy reports on current income and expenses of the condominium, automatic calculation software that eliminates errors, two-way channel for communication between the house manager and the residents, and a mobile application that informs residents about each action/inaction and transaction.
AngryBuilding won an award for "Successful startup" for 2021 from InvestBulgaria Agency.
Founded: 2020
Founders: Teodor Stamenov, Natalia Konova
Solution: AskTheCP offers a software solution to guide doctors during antibiotic prescriptions. The company's solution helps healthcare workers improve the outcome of antibiotic prescription in hospitals, while helping fight antibiotic resistance globally.
The startup represented Bulgaria in the biggest European competition for young entrepreneurs – Gen-E 2022 Estonia. AskTheCP was also part of the accelerator program of Junior Achievement Bulgaria, one of the largest non-profit organizations in Europe that encourages entrepreneurship among young people. They won first place at the Intel AI Innovators Award, at University level.
Founded: –
Founders: Snezhana Miteva, Petar Petrov, Rosen Dinchev
Solution: CreativX offers video production and editing for the needs of content creators such as vloggers, bloggers, small and medium-sized businesses. The project was initiated by the two AUBG alumnis, Petar Petrov and Rosen Dinchev, and Snezhana Miteva, a Cardiff Metropolitan University graduate, in the second season of the Elevate accelerator program. The company's goal is to diversify the IT industry and provide opportunities for graphic designers, digital artists, and video editors.
CreativX was nominated by The Recursive in the category "Young Entrepreneur of the Year" for 2021. You can learn more about the co-founder of CreativX, Snezhana Miteva, here.
Founded: 2020
Founders: Jane Dimitrova, Velin Kerkov
Solution: Foodobox is а mobile app that fights food waste. Food waste is a global issue that affects everyone and Foodobox aims to reduce it to a maximum. They offer customers a "surprise box" with a lower-than-the-regular price. The box contains edible products such as cooked restaurant dishes, unsold bakery goods, products with a close expiration date from supermarkets, and many more. With each box sold, Foodobox tries to reduce the CO2 emissions.
The startup has won several awards for its innovative solution. Some of the awards include the following: first place at a competition organized by Ruse Chamber of Commerce and Industry – BGN 5K (€2.5К), first place at а startup competition, organized by Industrial Association Digital Bulgaria (IAD) – €20K, an award at the "Accelerator Startup Sofia" program of BGN 9.7K (€5К), a funding of €5K from ClimAccelerator Black Sea, and others. The startup was also among the winning teams at the Recursive's competition 2021 #StartupOfTheYear, in the category Young Entrepreneur. You can read more about the startup here.
Founded: 2021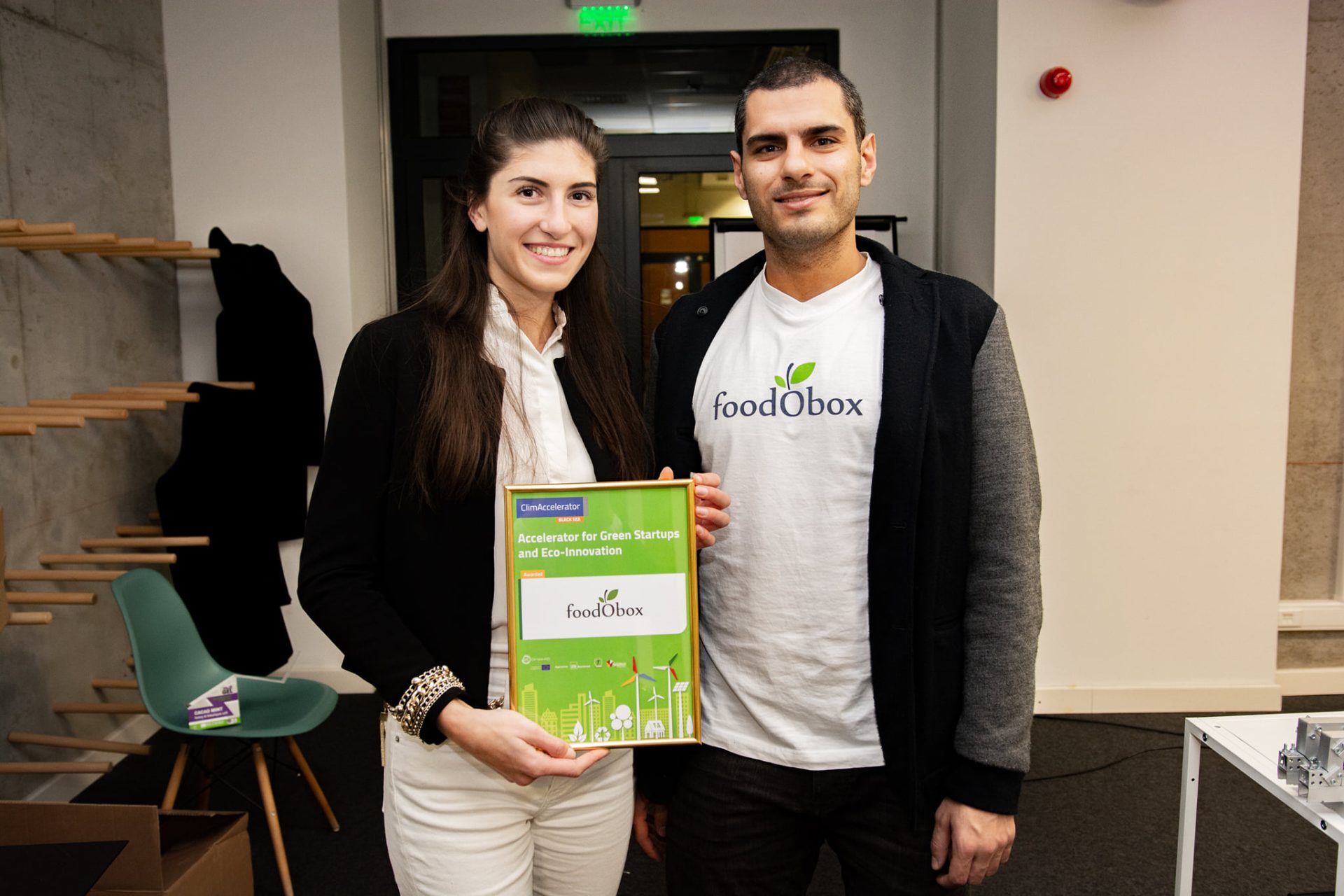 Founders: Karolina Varbanova, Ivan Ivanov
Solution: Labsi is a mobile app that helps people track their medical lab checkup results and get expert advice on their health status. The four key aspects of Labsi are immediate notification of results, easy-to-understand explanations of results, lab-wallet for all medical examinations, first-hand information from experts.
Labsi received special greetings and recognition in the competition "Best youth startup 2022."
Founded: 2022
Founders: Momchil Hristov, Magdalena Linkova, Jordan Tsanev
Solution: MicroCity is the second-place winner of the Teenovator competition. It offers a solution to the shortage of fresh food, and the rising transportation costs. The idea behind the project is to popularize urban farming by growing microgreens in vertical greenhouses. The three teenagers believe that microgreens are the future of agriculture, and aim to put fresh and organic food on the market, grown in an urban atmosphere.
The young entrepreneurs won their first funding of BGN 1K (€500), winning the second place at Teenovator. You can learn more about the project here.
Founded: 2022
Founders: Martin Bozhilov, Kaloyan Doychinov, Yoana Shtinova
Solution: sEDUbg is the winning project of the annual competition of Teenovator, a program for high school graders who are passionate about entrepreneurship. sEDUbg is a platform for students-to-students sharing of interesting school materials. Each student can upload useful learning content that other students may find helpful.
sEDUbg won the first-place award of BGN 2K (€1К) from the Teenovator competition.
Founded: 2022
Founders: Nikol Peeva, Vilislav Slavev
Solution: Unboxd is a Bulgarian resale platform for second-hand clothes and accessories, where sellers receive 100% of the product's price. Each person who wants to resale something that they no longer wear,can upload a picture of the product and set a price. When someone buys the product, the seller receives the total sum of the price. The company's goal is to become a leading e-commerce platform which will contribute to the fashion industry's environmental impact.
The team of Unboxd won first place at Elevate Season 3, an AUBG (American University in Bulgaria) accelerator program, and received funding of $10K. In June 2022, Unboxd won second place at two different startup competitions. At the competition "Best youth startup 2022," organized by the Fund of Funds in Bulgaria (FMFIB), Sofia University "St. Kliment Ohridski," Unboxd won a prize of €25K. And at a startup competition, organized by Industrial Association Digital Bulgaria (IAD), the team won €20K.
Founded: 2022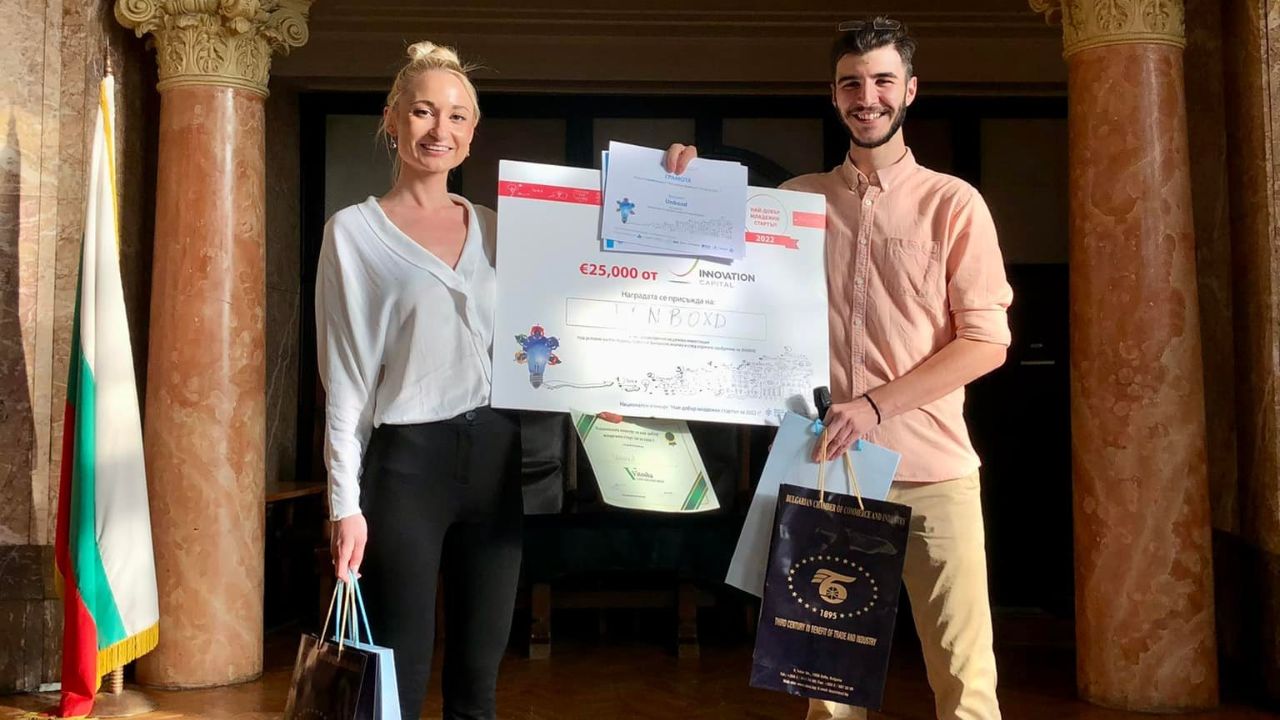 Founders: Albina Tomova, Kristina Uzunova, Sofia Shirokanska, Veronika Yugova, Dimitrina Pashova
Solution: Vendy+ offers vending machines for products that promote health and sex education. The project won first place at Elevate Season 2. The Vendy+ machines offer a 24/7 access to sanitary goods such as tampons, condoms, menstrual pads, pregnancy tests, and others.
They won first place at the Bulgaria Innovation Hackathon 2021 with an award of BGN 10K (€5К), and opportunity of mentorship at the Innovation Starter Accelerator.
Founded: 2020
Founders: Denis Ivanov, Monika Dimitrova
Solution: Vodoraslo is a project that offers a solution to the global problem of air pollution – bioreactors with microalgae to reduce the CO2 emissions.Vodoraslo won funding from the Sofia municipality of BGN 5K (€2.5К). The team used 100% of the funding to build 100 bioreactors, make the product work, and create a pilot event in September 2021. The project also won first place at the competition "Best youth startup 2022," organized by Fund of Funds in Bulgaria (FMFIB).
Founded: 2021

Founders: Kostadin Nedev
Solution: Last but not least in our Gen Z startups list, Youth Inventor is a free-to-use educational platform in the field of engineering, available in different languages. The startup's goal is to encourage kids' creativity, leadership and problem solving skills through the process of learning.
The project won third place and funding in the competition "Best youth startup 2022."
Founded: 2019