What vision for the future drives Bulgarian GenZ entrepreneurs to create, develop, and scale their ventures? Firm sustainability advocates, societal changemakers, and team players, young Bulgarian innovators have a handful of ideas about how to tackle important topics, such as education, business development, and eco-innovation.
"It is our job as entrepreneurs to create value and monetize value through finding the people with the right perception for our product," Ivaylo Iliev, a studentpreneur and creator of an award-winning sustainable mobility project that transforms retro cars into eco-friendly electric vehicles for public use, says.
In this series, The Recursive meets with the Bulgarian Gen Z innovators, showcasing the stories and motivation of young scientists and engineers, business developers, and social entrepreneurs.
The Gen Z future leaders of the Bulgarian economy
CreativX
CreativX is focused on video production, editing, and design outsourcing, striving to answer the needs of content creators, such as vloggers, bloggers, and small and medium-sized businesses. The company aims to outsource the most laborious parts of the video production process for individuals and organizations that do not have a dedicated video department to create engaging content for their channels. The project was initiated by AUBG alumni Rosen Dinchev and Petar Petrov, as well as Snezhana Miteva, a graduate of the Cardiff Metropolitan University. For the team, one of the first steps toward scaling CreativX was its participation in Season 2 of the Elevate accelerator program of the American University in Bulgaria (AUBG), an initiative that is logistically and financially supported by the university, Eleven Ventures as well as AUBG's Provost, donors, and Alumni Association.
Since its establishment in 2020, CreativX has managed to create a rich portfolio of clients, including companies, such as Inverted Digital and justpablo_official, one of the popular social media advertising and entertainment social media brands in Bulgaria. CreativX has also worked with well-known vloggers and freelance content creators, among which is the influencer couple Aleksandra Bogdanska-Petkanova and Daniel Petkanov.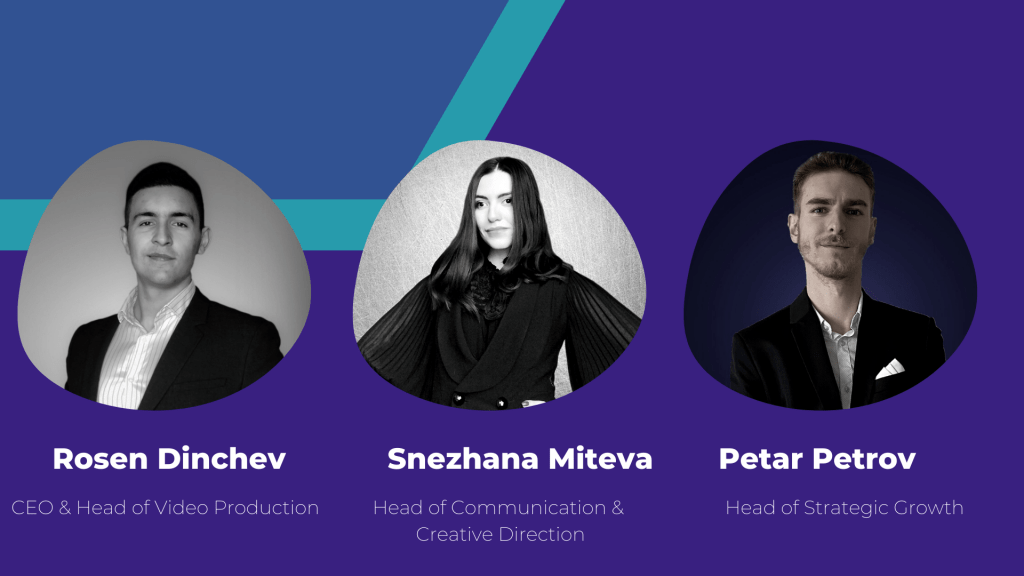 The Recursive: What's the future you want to create through your venture?
We started our company with the idea of being a creative hub for young digital artists who would be able to practice what they love and find meaningful projects to work on and get better along the way. What we aim to do is to provide more and more creative people with the opportunity of applying their skills and hobbies to work in Bulgaria and not have to search for similar opportunities from abroad. We try to achieve this by finding content creators and businesses who are looking to expand their visual identities online, either through the creation of different content or just increasing their posting efficiency and connecting them with students and young artists who have the skills and passion to achieve those goals. Since the job market landscape in Bulgaria is currently overwhelmed by the IT industry, our goal is to diversify that and provide opportunities for graphic designers, digital artists, and video editors to also have a field to shine.
"Third time's the charm"
"Third time's the charm" is a youth entrepreneurship project, winner of the third module of WWF's Panda Labs – "The future of mobility". The project aims to give new life to retro cars by renovating them, electrifying them, and then releasing them to be used as a shared service both for the daily commute of people and for creating a unique experience at weddings, proms, and other celebrations. Ivaylo Iliev, Gen Z innovator, and business and product manager for the team, shared that the idea for the venture came from previous experience of the team: "Two of the members of our team were looking for a retro car to rent so that they could drive a friend of theirs to her prom. Unfortunately, hiring a retro car is both expensive and difficult logistically. In the end, they couldn't find what they were looking for and resorted to the services of a company that offers electric cars for hire. That event helped us see a niche in the market."
As winners in the third module of Panda Labs, the team will get the chance to take part in a masterclass to scale their knowledge in the spheres of business, innovation, and environmental protection, with the help of representatives from the business, science, and non-governmental sectors in Bulgaria. "Third time's the charm" will also be working on developing a prototype of its first retro electric car with the 10K funding it received from Panda Labs.
Panda Labs is a worldwide project of WWF that strives to stimulate the development of innovative local models for solving sustainability problems. The project was launched in Bulgaria for the first time in 2021. So far, WWF Bulgaria has organized and completed 3 themed modules, focusing on solutions fighting pollution, stimulating foodtech innovators, and searching for sustainable mobility technologies and projects. The program is based on lectures from leading sustainability business developers, startup and business ecosystem players, NGO and institutional representatives. It uses a hands-on approach, helping young people aged between 15 and 25 develop their sustainable ideas through mentoring and networking.
What's the future you want to create through your venture?
One of our main goals is to be part of the shift that will help our cities become greener and cleaner. We also want to create something that adds to the aesthetic and cultural value of Sofia. Retro cars are part of our past and they carry the memories of it. Our service would contribute to the circular economy, by giving new life to old vehicles. That way we can minimize the use of new materials and promote electric cars. We want our cars to be lent out both for more frequent use to other companies that also believe in a greener future and are looking for an aesthetic solution for their employees, and for people who'd want to experience the combined glamour of the past and the future every now and then. We also want to popularize the use of shared services in Bulgaria. This would not only be economically beneficial for people but would also minimize the air and noise pollution in our city. Promoting shared services makes the need for a personal vehicle for everyday commute in the city redundant.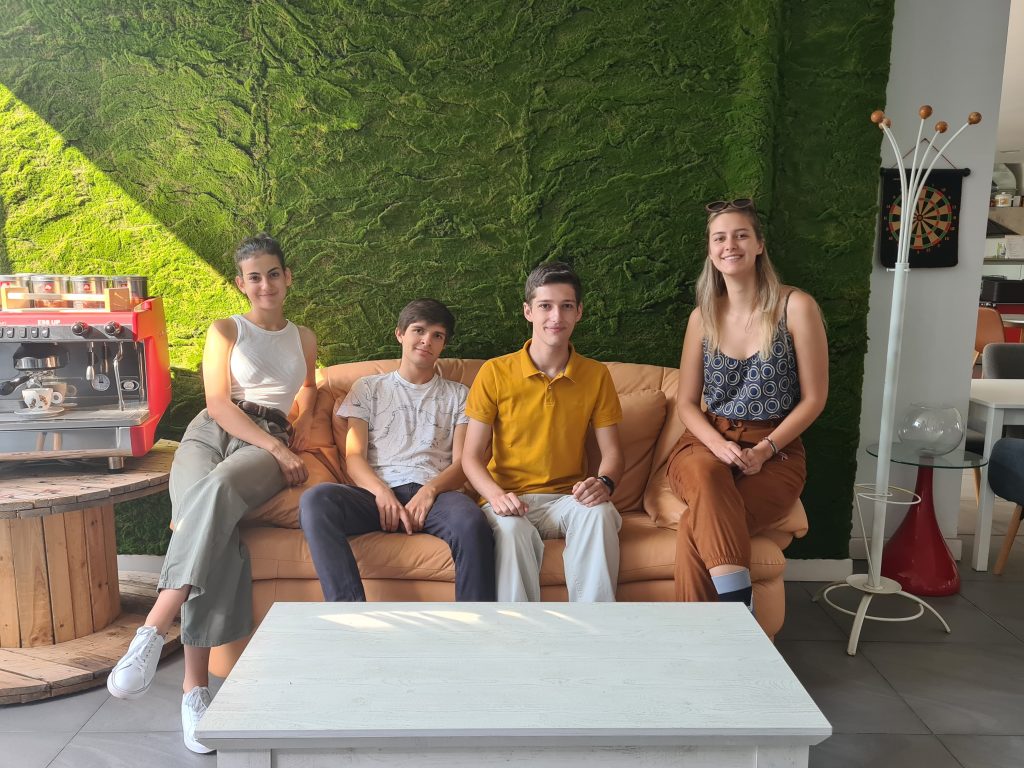 UniFruit
UniFruit is a Gen Z project, aiming to develop the technology for bringing back to the Earth satellites who have completed their space mission. UniFruit's idea strives to tackle the issue of excessive debris pollution in space, as well as make space tourism safer by eliminating the objects that could pose a danger to tourists. The team behind UniFruit is represented by high school students Slavi Rezashki, Viktor Mitrev, Anna Dimova, and Konstantin Gospodinov. They competed with 26 other teams during Teenovator's startup hackathon weekend by developing and presenting their idea in front of a jury of investors. In the end, UniFruit was outlined as the project with the most innovative idea. At the moment the project is in a temporary pause, but the team hopes to have the opportunity to resume it soon and partner with space companies for its development in the future.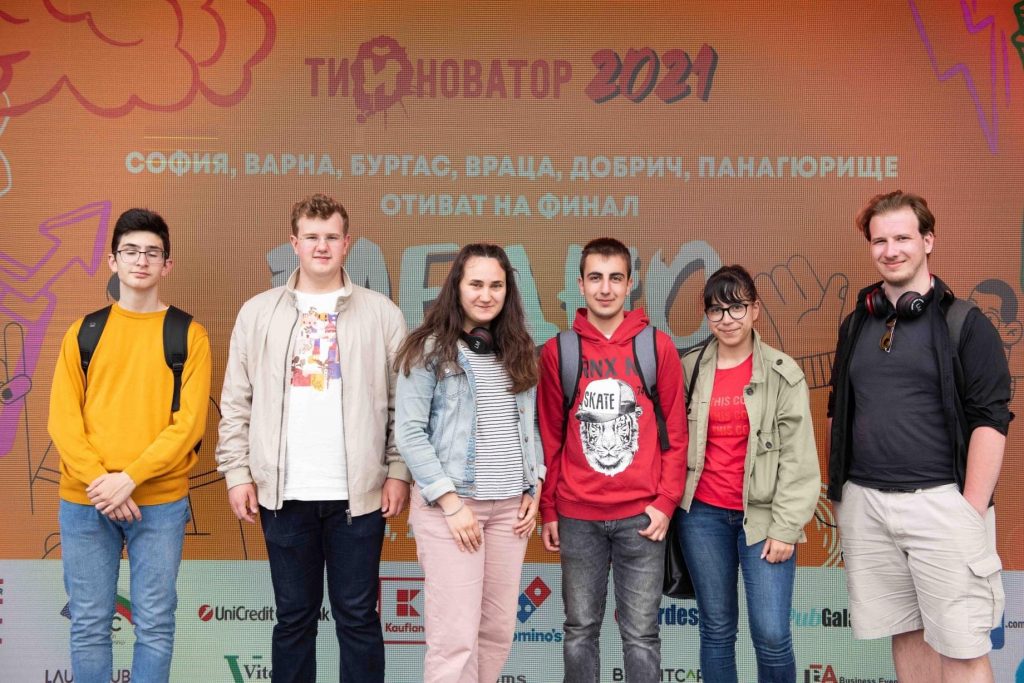 The Recursive: What's the future you want to create through your venture?
Slavi Rezashki, co-creator of UniFruit: A lot of people know that the world is facing immense environmental problems. With our idea, we are trying to address a problem that doesn't seem to hurt anybody. At the same time, it is as important as plastic pollution. Space tourism is gaining popularity making space junk a real threat.
Viktor Mitrev, marketing specialist and co-creator of UniFruit:
Our project – "UniFruit is inseparable from space exploration. The only difference is that we won't be at the helm of the whole operation. We would take care of the garbage that has been left behind from the groundbreaking discoveries. An important task that is often overlooked.
That means all the dead satellites and parts that are left orbiting close to the Earth.
Konstantin Gospodinov, Physics Engineer and co-creator of UniFruit:
The future we want to create is one where I know how important it is to have a problem of this magnitude, but most importantly, we would love to establish a future without debris to better see and admire our beloved planet.
Teenovator is a program that connects 10th and 11th graders and mentors from the business and startup ecosystem to enable the students to develop and scale their business ideas. For the three years since its start in Bulgaria, the initiative has had a total of 500 participants, with 400 of them completing the whole program.