Sofia,
Bulgaria ~
They are only 17. But unlike most teenagers, it's not where to spend Saturday night that keeps them awake at night. Momchil, Magdalena, and Jordan ponder about global problems such as the loss of arable land around the world, the surging global demand for food, the rising transportation costs, and the shortage of fresh food on our tables.
At a point where they wanted to do something meaningful, the three friends signed up for the teen entrepreneurship competition Teenovator. And ended up with a second place winning project – MicroCity. The three high school students want to cultivate microgreens in vertical greenhouses in an urban atmosphere. At the final competition, the team prepared microgreens tasting like sunflower seed, unabi, mustard seed, radish, and mung bean. The competition gave the young entrepreneurs a chance to present their innovative idea and realize it.
Making students passionate about entrepreneurship
Teenovator is a program organized for 10th and 11th high school graders who are passionate about entrepreneurship. The project aims to stimulate the creativity of Bulgarian students, to develop their entrepreneurship skills, and to gain a number of other valuable skills. Mentors with experience in various fields, from different startups and companies in Bulgaria, help the students in this journey to find their passion in the field and turn it into a successful business plan.
The final competition of the program took place in Sofia Tech Park on May 13-15. The participants presented their innovative ideas in front of a jury of investors from LAUNCHub Ventures, Vitosha Venture Partners, and NV3 fund.
The other two winning projects besides MicroCity, wereSedu.bg, a platform for creating learning content from students to students, and Chessler, a board chess game with cards.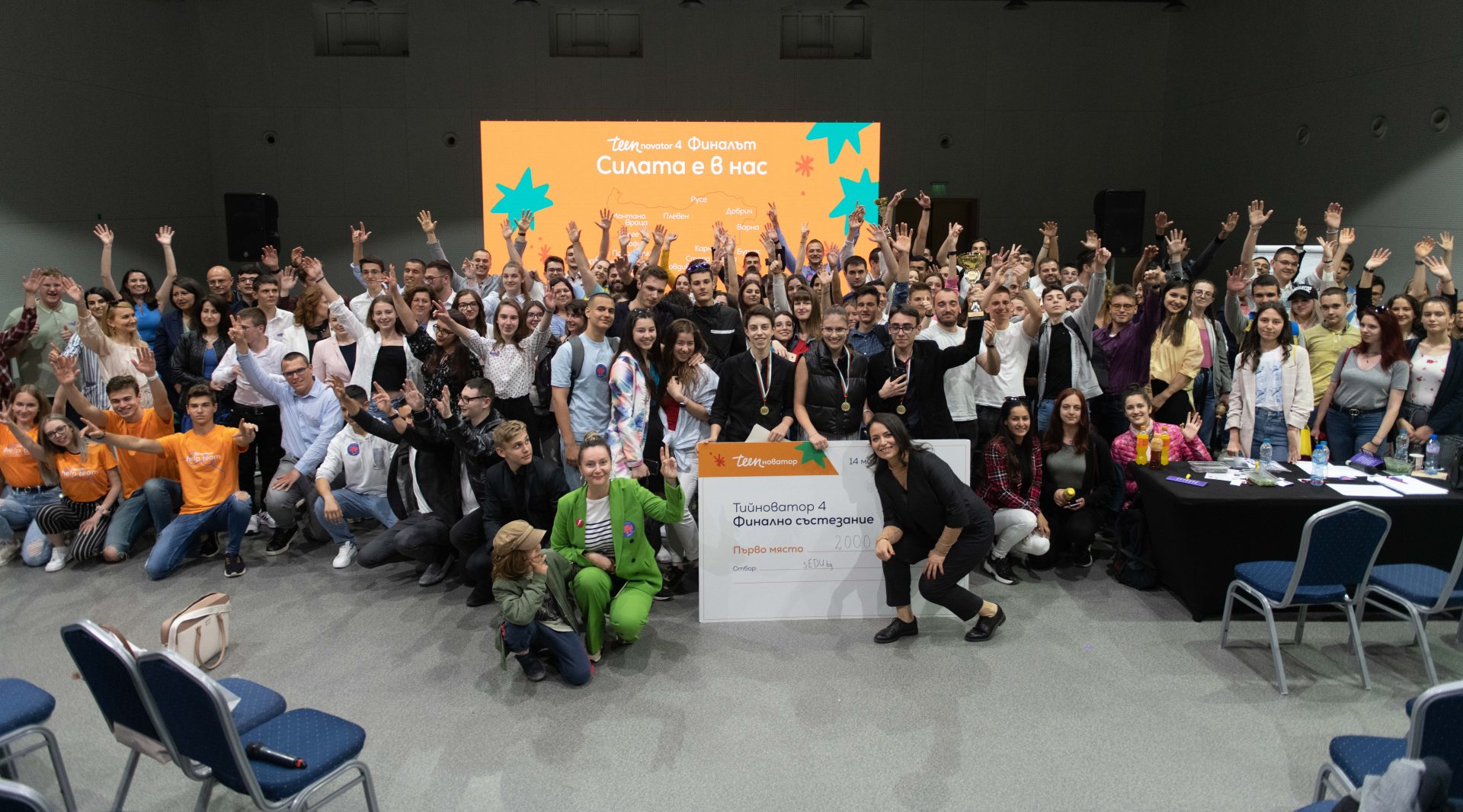 The Recursive talked to Momchil Hristov, Magdalena Linkova, and Jordan Tsanev, the founders of MicroCity, to learn more about how urban farming and microgreens can help the world eat healthier and more sustainably for the environment. .
The Recursive: What is the main problem you are trying to solve with your product? How did you come up with the idea?
Momchil: The idea came from a discussion I had with my father. We were arguing about what would be the most beneficial thing to invest in, in terms of agriculture. When we were on the topic, my father asked me if I had seen how people grow their own plants in the basement. I hadn't heard of that by then so I looked it up on the internet. While doing so, I found very interesting plants called "microgreens." They are plants, could be almost any type of vegetable, but in a very early stage of development. I found it very interesting. And when we were discussing our ideas, all of us agreed on the microgreens as it sounded innovative. Initially, our idea was to turn people's basements into small farms. Later, we decided that not many people would agree on that. So, we switched to a different approach. We will do urban farming in a different way. We want this to happen with vertical greenhouses that are mobile and can be put in close proximity to supermarkets, for example, so that our production reaches them immediately after harvest. The problems we want to solve are: There is loss of arable land worldwide. The cost of transportation worldwide is growing. And not enough fresh food can be produced in the winter season. We want to emphasize the importance of urban farming. It is so easy for us to have fresh and organic food without any transportation costs. We truly believe this is the future of agriculture.
Jordan: It is also important to underline that we are doing vertical farming. It is the most space efficient way.
Momchil: One vertical greenhouse in an urban atmosphere can produce as much as 2.5 decares of land per year.
Tell me more about the work process through the academic year.
Magdalena: The whole program was 9 months. We had two mentors – Ivan Yosifov and Kriasimira Maslarova. Actually, we owe our success to them. We got lucky and got the best mentors, with much experience which they gave us. We were meeting once a week online, unfortunately. Every Tuesday, for two hours, or for whatever length of time necessary. We were giving ideas and sharing our progress so far. And they were sharing opinions and giving advice on what we could do better. They pushed us to be more innovative and active. Our mentors helped us a lot and shared with us a valuable experience we simply couldn't have had.
How do you see the future of MicroCity? Do you plan on looking for additional investment?
Momchil: First, we will get the money we earned from Teenovator and we will realize our idea in smaller size, because the greenhouses we want are much more expensive. To prove that our idea works, we have to start with a small farm. Then, we could look for an investment, having proof that the idea is worthy and it works.
How do you plan on making money out of your product?
Momchil: First, we want to distribute the general idea about urban farming and our product. In the beginning, it is not about earning money. It is more about showing the people that this is a necessity and our product is a product that will lead the future of agriculture. After that, we want to connect with stores and supermarkets where we could sell our product and, eventually, earn from it.
Magdalena: Actually we have a product that we offer to different restaurants but our goal is to reach big supermarkets so that the product is available to all people.
Jordan: I liked the idea in the beginning simply because it is something green, something healthy. I am a person who likes to know what food I am eating. And I believe that it is of great importance that everyone should have the opportunity to get this product.
Magdalena: The product is very interesting. It has an interesting shape and color. Not many people have seen microgreens but I believe that it will be liked on the market. We have brought some microgreens at school and our classmates were very impressed that such a small plant could have the taste of a radish, for example. I think that such a product has a place on the market.
What are the key lessons you took from your mentors and your work together?
Momchil: Listen. Listen to everything the people around you tell you. Especially when it comes to a product you want to sell to them.
Jordan: And also, always check whatever you have heard. Another important thing you can get from the program is what people you want to work with in the future and what characteristics they should have. You understand that there are serious people, such as Momchil and Magdalena, but there are frivolous people as well. You should be careful who you start working with. In the beginning, we were five but when it comes to responsibilities, some people refuse to deal with them and just vanish.
Since you are in the top three finalists, what follows?
Momchil: To create and equip our small farm. At the moment we get our prize, we will start.
Magdalena: That's exactly what we told each other on the podium when they were giving us the medals. Momchil bent down and told me: "And now the action starts." He was right. Until now we were developing our idea. Now, we have to start realizing it. The hard work starts now.
Momchil: We have the plan in our heads but it constantly changes. We have another presentation of our project and then we start making our farm and distributing our product. The first thing is to show our product to the people. Because they don't know what a microgreen is.
Where do you plan on making the farm?
Momchil: This is still under discussion. We have several locations but we have to check which one is most convenient to all of us. All the locations are in Sofia. This is the main idea.
During your participation in Teenovator, you have met a lot of people. Who are the ones that motivated you the most and why?
Magdalena: There was another team with our mentors except ours. And, actually, they influenced me the most. They were strong competitors. We were competing constantly and that motivated us. It wasn't a toxic competition. We were pushing each other. This was exactly what we needed – not to lay down and to do our best.
What is the most important lesson you took from the program?
Momchil: You can't make it on your own.