Iasi,
Romania ~
FameUp, the start-up with a mobile platform for micro-influencers based in Romania, has just raised a seed round of €2.5M. Early Game Ventures Investment Fund, together with UiPath founder, Daniel Dines, and Marian Dinu, the Country Managing Partner at DLA Piper, were the key investors. The DLA Piper team provided legal assistance with the transaction. This follows an increased interest from Romanian investors in influencer marketplace opportunities, as influencer numbers continue to grow.
Empowering anyone with social media followers to monetize their efforts
Essentially, FameUp opens the way for anyone with social media followers to earn money based on their effectiveness in engaging and creating connections with their digital community. Currently only available for Instagram users (soon also for Facebook and Tik-Tok) FameUp offers a platform for micro-influencers (anyone with more than 500 followers) to connect with brands and get access to promotion contracts, normally only reserved for celebrities.
By allowing anyone to earn a substantial income based on their services, the startup joins other gig economy players, such as Glovo, Airbnb, and Uber, says Ionut Patrascoiu, CEO and founder of FameUp. At the same time, this model also benefits small firms, such as family businesses, with limited promotion budgets, that nonetheless would like to partner with influencers relevant to their brands.
"Through FameUp, a cafe or a restaurant, a hair salon, or a travel agency can be promoted on social networks with only 200-300 RON or even without money, offering in return products or services: a cappuccino or a manicure for a post made by a local influencer," Ionut Patrascoiu explains.
The idea behind FameUP occurred to Ionut during his discussion with his mentor, Daniel Dines, who is now also an investor in the startup. After having launched earlier this year, the startup was now ready to scale up investment with a venture capital investment fund, Early Games Ventures (EGV). The fund has been an active financier in the region, having invested in Bunnyshell, a Romanian cloud infrastructure startup, Extasy, an event tech startup, and Questo, an app for gamified city exploration to name a few.
Cristian Munteanu, Managing partner at EGV considers FameUp a great opportunity not only due to the market momentum, but also due to their growth hacking strategy. In the following months, EGV will be helping FameUp build a strong and skillful team, and develop its product to increase the mechanisms for networking and growth.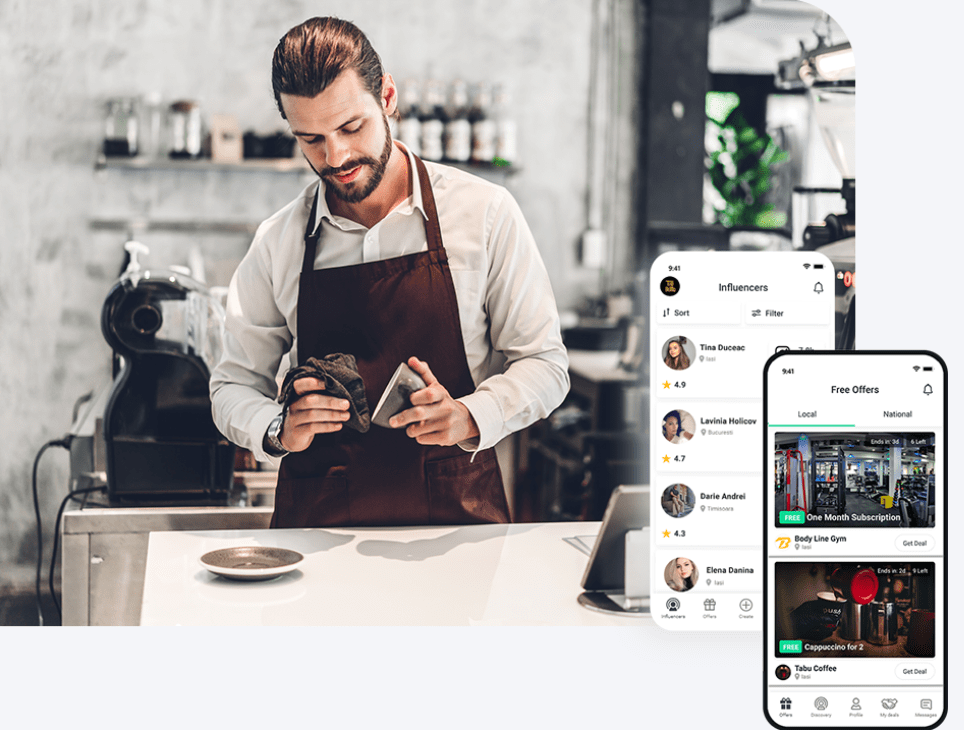 Spiking interest in influencer marketplace opportunities
Earlier in the year, The Recursive wrote about the latest trends in digital advertising, in a discussion with Mihai Bocai, the co-founder of ProductLead. Back then, Mihai talked about the trend in decentralization towards local publishers and micro-communities. It is more and more difficult to reach an ethnically-targeted audience with an effective message on large social media networks.
Against these challenges, local influencer ads platforms such as MOCAPP help businesses reach their customers more effectively by partnering with influencers. Since their founding by Florin Grozea in 2017, the MOCAPP platform has managed to gather over 700 influencers from 7 countries, empowering them to monetize their content. In 2018, the startup raised a seed round of €185K in equity on Seedblink.
Another platform that leverages influencers' popularity in the local community is Dedic. The platform allows fans to get personalised video messages from their favorite celebrities.
Overall, the influencer marketing market is estimated to reach €20 billion by 2025. The surge in influencer digital marketing seems to be one of the trends that are set to shape martech innovation.
More recently, micro-influencers have been deemed among the shapers of brand advertising. These are social media users with less than 5,000 followers, whose frequent posts spark attention in the platform – although they do not usually see themselves as influencers.
Having a smaller audience allows micro-influencers to respond to comments more frequently, build deeper connections with their followers, and provide more authentic recommendations. They usually attract 60% more attention than very popular influencers. For FameUp, this is an obvious unexplored opportunity for digital brand advertisers.