Sofia,
Bulgaria ~
As the recently published Intergovernmental Panel on Climate Change's Sixth Assessment Report further confirmed: unless we make tangible changes in our consumption habits and lifestyles as a society, our planet is on a path of warming up well above 1.5 degrees Celcius in the next 20 years. With an ever-increasing number of consumers with more purchasing power around the world, can the answer to sustainability hide behind upgrading our spending habits?
Today The Recursive meets with one UK fintech startup, co-founded by a young Bulgarian entrepreneur, that aims to do just that: unlock the power of money and transform it into a force for good. Novus, which currently operates in a beta version, is a challenger banking app that generates positive impact from everyday payments and lifestyle choices and rewards customers for developing sustainable behaviors with real-time impact points which can be tracked, saved, and spent via the app.
Imagine the cumulative impact that can be achieved if, when paying for groceries, part of our money goes to sharing with people in need, or when paying for transport, we automatically pay for planting trees. Hristian Nedyalkov, co-founder and CEO of Novus, talks with our team about how innovations in banking can be used to generate positive outcomes for the planet and why should businesses concentrate on cultivating sustainable habits and rewarding consumers for their sustainable choices.
From Investment Banking to Impact Banking
From an early age, Nedyalkov has been a national Maths competitor, which helped him learn how to think critically and creatively as well as how to focus on problem-solving. His passion for numbers led him to pursue education in the Finance field. Before completing his Master of Science in Finance and Private Equity from the London School of Economics and Political Science in 2017, Nedyalkov had already gained professional experience in investment banking. He worked for Citi, BlueCrest Capital Management, and the Hong Kong HSBC.
After finishing his studies, he managed to gain hands-on experience in the Private Equity industry by joining the team of the international fund Partners Group. For the three years Nedyalkov worked at the leading Swiss fund, he was able to better grasp how business development works, what it takes to scale a new venture, and how businesses can create value not only for investors but for society as a whole. This led him to start considering how he himself can begin channeling his skills and knowledge into creating more tangible impact for people and the planet by using finance.
Connecting conscious consumers and ethical brands
The app helps conscious businesses engage their audiences by promoting their products through in-app stories, videos, and photos. Additionally, it drives loyalty through increased customer retention and cashback rewards and provides brands with more customer insights for data-driven marketing.
Ultimately, the in-app marketplace aims to inspire, enable and reward people to make more sustainable choices in every aspect of their lives, Therefore, the goal of Novus is to further expand its network of brand partners to cover all lifestyle verticals – from food, fashion, and beauty, to travel, mobility and fitness. In order to ensure that all brands on the marketplace are indeed contributing to a more sustainable planet and society, Novus is requiring that they have a number of verifications and certifications of their sustainability practices. Some of these include B Corp Certificate, FairTrade, and Cruelty-free Certificates which ensure correspondingly that farmers in developing countries have proper remuneration and working conditions, and that products were not tested on animals.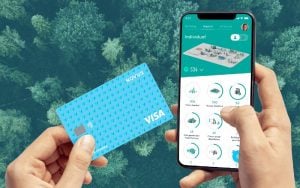 What's next for the conscious consumer fintech
This year, Novus managed to secure an FCA regulatory approval and gained the right to operate as an Electronic Money Directive (EMD) as well as a Payment Services Directive (PSD) Agent. So far more than 25 000 people have signed up for the waitlist for the Novus app and the startup has already secured a partnership with Visa while still doing validations through its beta version.
As of now, Novus is partnering with 10 NGOs and supports causes ranging from protection for endangered sea turtles, restoring forests and oceans, bringing clean and safe drinking water to deprived communities, to making books and menstrual products more available to people around the world. In terms of businesses and brands, the app is partnering with international ethical brands including Birdsong, Second Cup Coffee, MoonCup, Eco Pandas, Votch, and Lone Design Club.
The immediate goal ahead of Novus is to officially launch by the end of this year and become a sustainable alternative to traditional banks. In the process of preparation for the soft launch, Novus is expanding its team in Sofia, Bulgaria. The fintech startup plans to become the Super App for sustainable banking and provide peer-to-peer instant payments, effortless money management features, sustainable investment offerings, and ethical lending products, whilst connecting its community to projects and brands that further amplify its positive impact. Upon the official launch, Novus will start off with an eco debit card and mobile banking app that will allow users to send, receive and request money in a transparent way, as well as to receive real-time spending notifications, set their budgets, and start building their sustainable habits by using all the impact features of the platform.
Are sustainability and impact the future of banking?
Nedyalkov says that sustainable banking goes beyond just simply not funding businesses that are prioritizing profits over the planet and environment. Instead, he believes that banks can act like a financial economy middleman that teaches people about the power that they hold with every penny and show them how they can use their money to achieve positive outcomes. "One interesting statistic is that in the UK less than 2% of the total deposits are really deemed sustainable, whereas, we have around 50% of the people who want to be more conscious and want to associate with sustainable brands so that their money can be put into good use," Nedyalkov highlights. He shares that even though it is important for this gap to be closed, it is even more important for the rest 50% of people to start believing that sustainability is "the cool and intelligent way forward".
"It is not only about showing the customer how significant is their carbon footprint, but also going a step further and letting them know what are the actionable steps that they can take to reduce that footprint," he says. Therefore, he shares that in addition to educating people about carbon offsetting, businesses would achieve a better impact if they focus on helping and incentivizing consumers to change their lifestyles and help them adjust to a lifestyle that is more sustainable.