Bucharest,
Romania ~
• A few months ago, we announced the launch of Rubik Garage, an equity-free accelerator for CEE startups organized by Rubik Hub and North-East RDA, the Romanian startup hub headquartered in Piatra Neamt, and its partners.
• Nearly four months of intensive growth later, Rubik Garage is preparing for the Demo Day on September 6th, an invite-only event hosted in Bucharest.
• On Demo Day, the 22 participating startups will pitch their solution and growth potential in front of investors and the rest of the community, as well as showcase their solutions at the Startup Alley.
Were it not for programs such as Rubik Hub's accelerator, startups in Central and Eastern Europe would have a longer and more difficult journey to launch and grow global businesses. One only needs to look at the accelerated growth of the regional startup ecosystem once startup programs, together with early-stage venture capital funds, began to emerge.
Rubik Garage not only builds on this momentum, but leverages the strong effects of partnerships with other ecosystem builders, joining forces with local investors ROCA X and SeedBlink, as well as out-of-region accelerators – Silicon Valley-based Global Kinetics and Estonian Startup Wise Guys.
With this program, Piatra Neamt-based Rubik Hub expanded its scope regionally, opening its doors to the whole Central and Eastern Europe, and inviting startups on a journey of intensive learning and assisted growth.
"When we visited Rubik Hub for the first event of the accelerator, we were very impressed. Firstly, it was the public-private partnership that turned out in such a fruitful way in Piatra Neamt. It is a wonderful example of going from zero to hero, which is what all of us startup founders are after," says Boryana Levterova, co-founder of Infinity Toy Box, and participant in the program.
True to their preference for partnerships, Rubik Hub is holding the Demo Day and Startup Alley as part of a large-scale event, "Future of Romania", organized by the Ministry of Research, Innovation and Digitization, together with North-East Regional Development Agency, Rubik Hub, ROStartup, World Bank, European Commission, and the Polytechnic University of Bucharest.
The event will host an invite-only audience of important players in the Romanian startup ecosystem, such as founders, investors, and representatives of public authorities, academia, and startup communities.
If you want to attend the event in person, in Bucharest, Romania, make sure you request an invitation here. The venue will be announced when you receive confirmation. For those who cannot join in person, the event will be streamed live, so don't forget to register here.
Below, we share all you need to know about how the accelerator phase went, what to expect on Demo Day, and what comes next.
Inside the Rubik Garage Accelerator 2022 cohort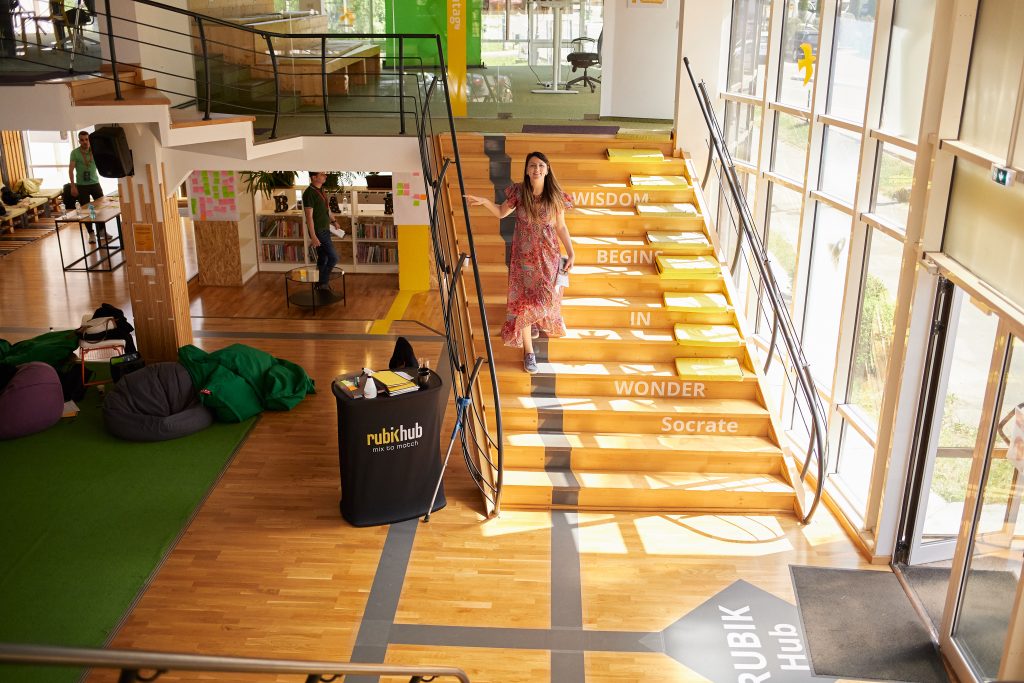 Out of the 120 startup applications received, only 22 were selected to join the accelerator phase of the Rubik Garage program. These are SMSO, Bloomcoding, Volvero, Infinity Toy Box, Lightpass, TULIPR, Chambr, DriverUp, iCamin, platerQ, FREYA Recruiting, Rastel.io, Pocket IP, Palmo, Nelma, Silverbacks, Sales Times, stock.estate, Carbony, Foodobox, APASS, and Alertto.
The program was successful in its mission to gather together founders from across the CEE, and with different backgrounds. The 2022 batch has founders from 10 countries – The Netherlands, Italy, Bulgaria, Ukraine, UK, North Macedonia, Germany, Spain, Estonia, Moldova, and Romania. A third of the startups have female founders.
"The Rubik Hub team has been very helpful in connecting us with people who can help us overcome our challenges: advisors, other startups, etc. What is also helpful is that the startups come from different countries and industries, so everyone brings a lot of different perspectives," adds Boryana Levterova.
Startups were selected based on their success so far, as well as their potential for future growth. In total, during 2022, they raised a total of over €1M and committed €1.8M from investors, bootstrapped over €8.8K, achieved a revenue figure of €676K, and created over 130 jobs. Now, they are looking to raise a total of €10.5M starting with the Rubik Garage Demo Day.
So, what unfolded behind the curtains during the four months of acceleration? Intense work, with sessions facilitated by mentors, experts, and investors, which can be summarized as:
22 deep-dive workshops with industry experts

Ove

r 160 ho

urs of intensive work supported by the Rubik Hub team through 1:1 sessions and group meetings

Over 150 hours of 1:1 tailored sessions with mentors and investors in the Rubik Hub community through 125 intros facilitated by Rubik Hub

4 AMA (ask me anything) sessions with experienced entrepreneurs and investors from the US

80 hours of tailored feedback through Meet the investors' sessions
"Among the most useful workshops was the one on legal, go-to-market strategy and pricing strategy, as well as hearing the perspective of VCs. I find it useful that the program stretches over a few months, so we have time to turn things into practice," Boryana Levterova reflects.
Participants also received a startup support package inclusive of $15,000 credits and other perks from partners (Notion, AWS, Miro, Hubspot, Twilio, SendGrid), and benefitted from the House of Startups Bursaries program to live and work in Piatra Neamt, Romania during the accelerator.
What to expect on Demo Day
On the 6th of September, the 2022 cohort of Rubik Garage will be in the spotlight. After the accelerator phase, the 22 startups in the program will have the opportunity to shine, by demonstrating their results and potential for growth in front of investors and the overall startup community. Additionally, a Startup Alley will be organized for founders to showcase their solutions to participants.
At the end of the day, the most outstanding startups will be awarded by the four members of the jury: Alexandru Bogdan, CEO of ROCA X (Romania), Răzvan Suta, Program Managing Director & Business Development Lead at Startup Wise Guys (Estonia), Alina Georgescu, Investment Manager at Catalyst (Romania), and Mircea Ghiță, Investment Manager at SeedBlink (Romania).
The event during which Demo Day takes place will also host the official launch of two reports regarding the Romanian entrepreneurial ecosystem – Starting Up Romania and Scaling up Romania, prepared by the joint public-private initiative ROStartup. The extensive reports are the result of a variety of activities undertaken by the World Bank, together with the European Commission, North-East RDA, Rubik Hub, and relevant representatives of the startup ecosystem in Romania.
A customized acceleration experience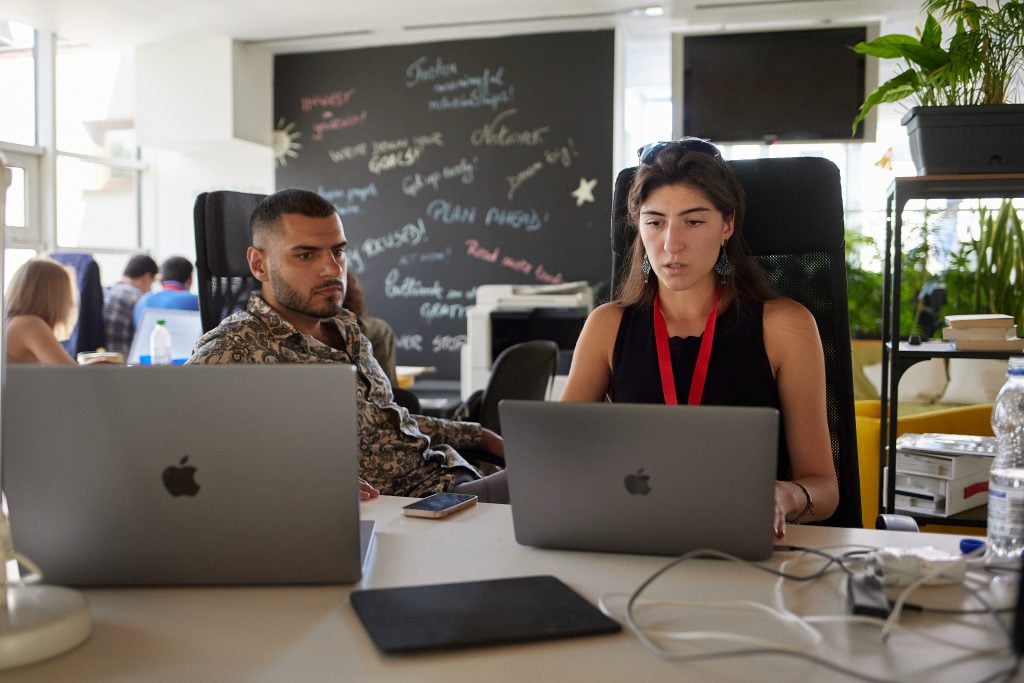 "The bootcamp gave us the motivation and the energy we needed to work ceaselessly for the entire duration of the program and to boost our key metrics. We also appreciated how the Rubik Hub's team worked hard to make the experience as relevant as possible for each startup and connect us with the right mentors and investors," Gabriela Constantinescu, co-founder of Chambr, shared as a highlight of the accelerator.
Indeed, Rubik Garage was designed to create a personalized acceleration experience. Everything started with a Founders' Bootcamp – three days of getting-to-know-each-other games and workshops, which culminated with a pitching session in front of Rubik Hub's community of mentors.
Then, workshops were tailored to founders' needs, covering topics such as go-to-market strategy, pricing, sales, pitching, and raising investment. They were delivered by mentors and industry experts from the community. To encourage peer-to-peer learning, founders worked in small groups and shared best practices. As they were preparing for Demo Day, founders received direct feedback from investors on perfecting their pitches.
But Rubik Garage was created to be more than an accelerator. It was designed as a three-phase program: workshops, Demo Day, and follow-up investment program.
After Demo Day, the most promising and committed startups will be selected to go to the next stage, and receive customized support in raising investment. For the next 6 months, Rubik Hub will offer exclusive sessions of private pitching to investors, tailored support, feedback on pitching, data room, and workshops for investment readiness.
"This is a great batch of founders that are very appealing for the angel investors and VC funds who are looking to invest in Romanian and CEE startups. We have built a unique support package with the help of the Rubik Hub startup community and our strategic partners. As in the last 2 batches, we focused on offering a tailored experience for the founders in the Rubik Garage accelerator, and provide them solutions and access to experts based on their needs.
Still, this is just the beginning of their journey. We will continue our mission to support the founders' growth and raise investment in the following 6 to 12 months, after the Demo Day. On top of this, we also prepared some exciting new startup programs that will be announced at the Demo Day", says Valentin Toc, Rubik Garage program manager.
Pre-applications to Rubik Garage Accelerator 2023 are now open
If you want to grow your startup through strategic and friendly guidance, you can already pre-apply to Rubik Garage CEE Accelerator 2023 and join the successful startups that started in a garage.
"If you want to open doors, then Rubik Hub has the keys. For us, the biggest value was making ourselves known in the Romanian ecosystem. Through Rubik Hub, we made the connections to enable that," Emil Chichioi, co-founder Bloomcoding and participant in the program.