Piatra Neamt,
Romania ~
• Rubik Hub, the startup hub headquartered in Piatra Neamt, Romania, is launching an equity-free accelerator for CEE startups, together with its partners – Romanian VC funds ROCA X and SeedBlink, the Global Kinetics accelerator from Silicon Valley, and the Startup Wise Guys accelerator from Estonia.
• Rubik Garage is targeting regional startups with an innovative product or business model that have a minimum viable product and/or an experienced team, and are looking for their first investment round.
• Startups can win grants and other perks from a pool of money of over €100K. Applications are open until May 1st, 2022, end of the day.
Explaining the context for launching the program, Valentin Iulian Țoc, Accelerator Manager at Rubik Garage, specifies their goal of reducing the risk of failure that appears at this stage and maximizing entrepreneurs' chances of success. As there is no one-size-fits-all magical recipe, the accelerator will focus on providing a customized acceleration experience, building the right context for startup founders to grow in the region and scale internationally.
Asked what prompted Rubik Hub to organize a regional accelerator, Valentin further shares with The Recursive:
"A startup founder can grow in a sustainable and healthy way if they grow with other like-minded founders. #WeAreInThisTogether, and we know that expertise and multiple perspectives from founders with different backgrounds can accelerate their growth. We will focus a lot on peer-to-peer learning.

We are looking for startups willing to scale and launch on other markets and our strategic partners are looking to invest in startups with regional coverage. The founders can immerse in other startup ecosystems and have connections there, so it will be easier for them to scale. It is about learning and connecting with players from several ecosystems: founders, mentors, and investors."
Am I fit for the program?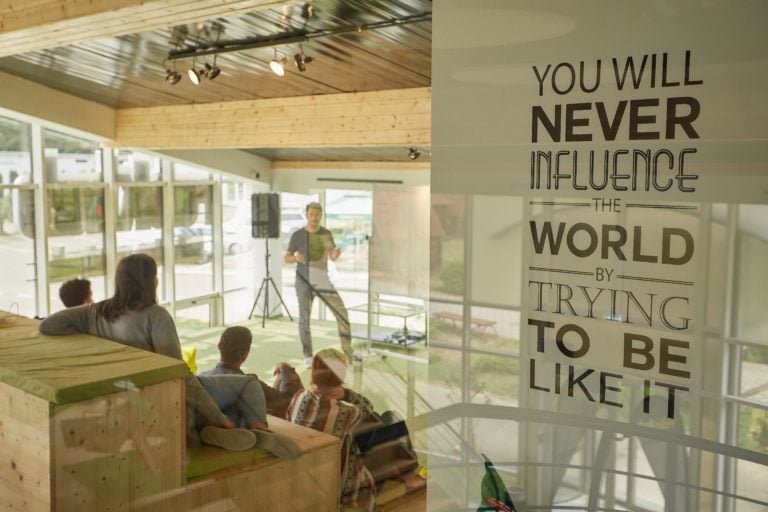 Rubik Garage is designed for early-stage tech startups across CEE, which have a minimum viable product or an experienced team, and are looking to reach their first paying customer, raise a first investment round, or scale internationally.
The program organizers are seeking startups across the medtech, edtech, climate tech, smart cities, social impact, fintech, automation, and tourism verticals, and using technologies such as SaaS, IoT, AI, VR, AR, big data, and blockchain. Even so, any startup that believes in its potential for impact is encouraged to apply.
What matters most is that the startup is set on solving a real problem, and has the right team to do so, Valentin Iulian Țoc adds:
"Access to finance and resources becomes easy when the founders have the right mindset, when they are eager to learn and grow, and when they act with passion, following an intrinsic motivation. This is who we are looking for at Rubik Garage."
Startups selected in the program will be announced on May 6th. The jury consists of members from across all the organizing parties.
Is the accelerator a fit for my goals?
The international umbrella under which the accelerator is organized brings exclusive benefits for participants, including access to the collective know-how and network of over 50 startup investors and accelerators in Europe and the US.
Through international partnerships, Rubik Hub brings into the regional startup ecosystem new investors and mentors.
"From the early days of Rubik Hub, we have focused on building a community of local and global mentors who are willing to support early-stage startup founders. We have now more than 150 mentors and more than 50 investors in our network. We believe in the power of the community and a strong #GiveBeforeYouGet mindset, so all the mentors and founders benefit from the relationship created in our programs.

We always tell the founders: You are not alone!

We know that the start is difficult, and the community could be the exact thing that they need when they build and validate their MVP. I believe that people with the same values should work together. And this is what our network is about," Valentin shares with The Recursive.
Founders will benefit from 60 hours of live, interactive, and practical workshops held in English, as well as from live sessions with investors and other key stakeholders in the startup ecosystems in Romania, Europe, and the US. This includes key players from Silicon Valley, such as Jeff Wallace, president of Global Kinetics, and Kal Deutsch and Paul Kallmes, partners of the Silicon Valley in Your Pocket accelerator; with Romanian investors Alexandru Bogdan, CEO of ROCA X, and Andrei Dudoiu, Managing Partner of SeedBlink, as well as with Razvan Suta, Program Director at Estonia-based accelerator Startup Wise Guys.
As Andrei Dudoiu, Managing Partner SeedBlink shared, investors such as SeedBlink will be bringing their investment expertise to assist founders in structuring and developing a solid roadmap for their high-growth journey, in order to multiply their impact and gain resilience.
"For the entire startup ecosystem to grow in a sustainable way, we need this kind of acceleration programs in Romania, and VCs working together in helping founders to achieve their dreams. We support Rubik Garage in offering the first validation for startups through accessing a community of experts, mentors, and investors, and helping founders in developing their entrepreneurial skills and giving them access to financing," shares

Alexandru Bogdan

, CEO, ROCA X.
Finally, startups in the program have the chance to win prizes, grants, tailored support, and other perks, from a total pool of over €100K.
What does Rubik Hub do?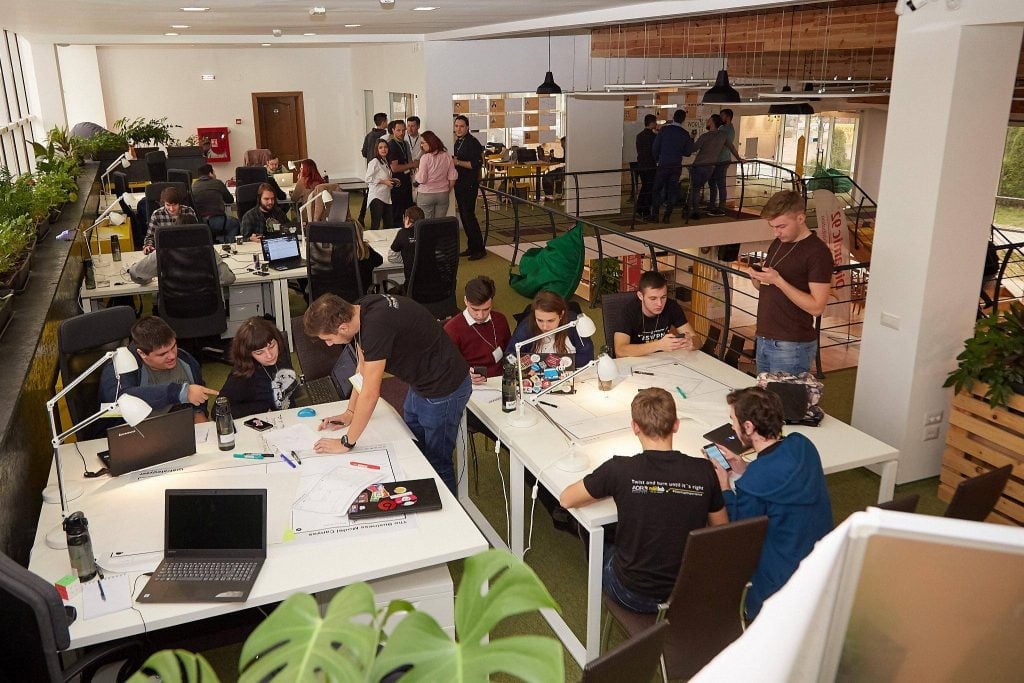 Rubik Hub brings five years of experience and expertise in bringing startup communities together in Romania. They are formally part of the North-East Regional Development Agency, a non-governmental organization that works on programs to stimulate the economic, social, and cultural development of the North-East region of the country.
Across its programs, Rubik Hub aims to help founders solve different challenges and evolve along the startup journey, joining them from self-discovery to raising the first seed investment. Rubik Garage is part of the team's mission to inspire, educate, and accelerate startups from 0 to 1 and create global successful businesses.
From its 1200 square meter co-working space surrounded by forests and mountains, Rubik Hub has interacted with more than 250 startups, including medtech startup XVision, which uses AI on MRAs to set diagnostics, and automated contouring software for radiotherapy, Synaptiq.
"The Rubik Hub team offered us a wide range of information and connections relevant to our fund-raising process. During the entire process of raising funds, they supported us not only with insightful feedback for our pitch deck but also with much-needed operational support, by connecting us with investors in their network and beyond," shares Stefan Iarca, founder of

XVision

.
What can I expect in the program?

Rubik Garage is organized as a hybrid acceleration program and comprises three phases. Similar to any other programs of Rubik Hub, it is free-of-charge.
First, the Accelerator Phase, taking place between May 18th and July 22nd, will take participants through two intensive months, with over 60 hours of practical workshops with experts and 1:1 sessions from mentors and investors. These will cover a wide range of topics, from developing sustainable business models to sales and go-to-market strategies. It will start with a Founders' Bootcamp and a launch event held at the Rubik Hup co-working space in Piatra Neamt.
Up next, the Demo Day will invite founders to pitch in front of over 100 investors, VC funds, partners, and mentors.
In the last phase, the founders of the most promising startup will receive a pack of benefits aimed to help them prepare to raise investment and scale internationally. Through strategic international partnerships, Rubik Garage offers the founders access to mentors and investors from across Europe and USA. These bring a wide range of expertise around business particularities, as well as relevant contacts in the country in which founders wish to expand. Tickets or booths at global startup conferences and exploratory trips are also included in the package, all according to the needs or the objectives of the startups selected.
Finally, for another 6-18 months following the end of the program, the Rubik Hub team will continue to assist founders on their journey towards raising an investment round, connecting them with investment experts through workshops, match-making sessions, pitching sessions, and other tailored support.