Bucharest,
Romania ~
Ciprian Cazacu is the CEO and co-founder of easySales, the SaaS e-commerce solution startup, launched in 2019. He founded the company along with his brother, the developer Iulian Cazacu. The project has just closed the first round of investing through SeedBlink, reaching their €350K aim in record time, 48 hours.
According to their SeedBlink page, their revenue in 2020 was €150K, and their goal is to reach €340K by the end of 2021. The startup began with 160 paying customers in 2020 and has 500 in 2021. The company is planning to expand its services to Bulgaria and Hungary.
The startup has recently opened an office in Ruse, Bulgaria. Pavel Penchev has taken the role of Country Manager and he is also an easySales shareholder. He will bring his own e-commerce team, there are currently five people, the Romanian startup will not hire new people directly for Bulgaria.
The Recursive reached out to them to discover how they came up with the solution, what made their funding campaign stand out, and what is next for e-commerce in the SEE region.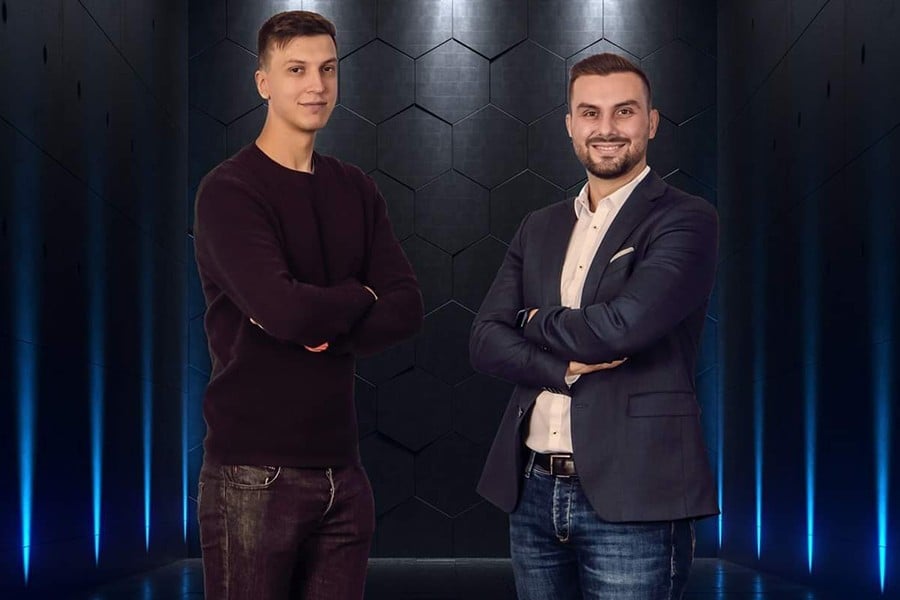 What happened between the launch of the company in 2017 and the launch of the easySales solution in 2019?
We began by applying for governmental funds through the program Start-Up Nation. We had an initial idea that we didn't end up putting into practice. We needed to find a solution not to give the money back to the government and to keep the employees.
My brother had some experience in e-commerce making websites. We quickly decided to make a website and find our place on the market. Our first client came to us, saying he doesn't want a website but rather looking for somebody to put his products on the eMAG marketplace. Our second client came with the same requirements, then the third.
That was the moment I told my brother this was something interesting, "I believe we have an opportunity here. Let's see what we can do with it. Let's look at what solutions are there outside of Romania because here there are none". In May 2019 we had an MVP product that we took to the GPeC SUMMIT (the most important e-commerce and digital marketing event in Eastern Europe).
You raised €350K in 48 hours. What do you think made people invest in such a short amount of time?
Having a great campaign before the listing was a big plus. We engaged with people around us, even our clients, former employees, partners, and colleagues from other jobs. It was a nice surprise to see a lot of people that we didn't imagine would invest.
What is your aim with this funding for the next few years?
We plan to be better known in Romania and also to start the international scale-up, for example in Bulgaria, Hungary, and possibly Poland. It would be too expensive to reach Western Europe. To sustain this extension, we will probably look for another investment round in 2023.
We are getting ready to complete the training and integration in Bulgaria for next month's marketing phase. We will probably do it the same way for Hungary this fall, but marketing and the selling process for this country will begin next year. We are hiring and growing very fast to bring the results that we promised we would deliver.
How has the pandemic changed the development of your startup?
It pushed e-commerce. At the beginning of the pandemic, we didn't have many clients. It also helped our clients boost their sales. In one day, with our services, anybody can sell products on multiple selling channels. We also lost something during the pandemic – the possibility of networking. We are not that popular on the market.
What is the status of Romanian e-commerce in 2021 and what are some of the growth drivers?
It is growing. We are seeing that it's not growing as fast as last year, but it's still growing. The market is the growth driver. Before the pandemic, few people ordered online. Now, most people have placed at least one order and they are happy.
What is the success of an e-commerce business going forward in your opinion?
It is important to keep your clients happy. We see a lot of businesses that are growing or that are stable, but also some that are closing. The big difference is the service they provide. A little surprise, a fast delivery, a nice product. This will make them order again and bring new clients.
What about the merchants, what services, consulting, or tech solutions do they need?
We try to provide everything they ask for. We developed a community to ease communication between them and to keep up with their needs. Most of the time, we see merchants following the same process. They do not see the opportunity or how they can be efficient. For example, they have to expand their offer or reach out to other markets.
We offer automated transitions to reach other countries. We encourage and consult with them not to be so conservative, but innovative, to look for other solutions and possibilities that they might have missed. We can help by offering best practices that we see at other sellers that are performing on our platform to be productive.
Have you seen people more open to your suggestions after the pandemic?
Yes. People are thinking of selling online, but they are not convinced of taking those steps. It's a new thing, with a lot of information, and new rules. But now we see a shift, many merchants selling on different marketplaces want to have their digital marketplace. We are in the middle, between the sellers and the markets.
Are you planning on offering extra tech solutions?
We want to integrate other marketplaces and offer different software solutions to help clients be more efficient. We are also looking for the integration of a Business Intelligence solution to have everything in one place. This will aid with decision-making in growing a business.
What e-commerce trends have you seen developing this year?
I think e-commerce will have accelerated growth because more components are coming. We see trends like efficient transportation systems and delivery options, like drones. There will also be more automation machines in storage houses, and vending machines everywhere. I see automation coming into everything in daily life.
Step by step, country by country, the integration available in Romania will also be accessible in Bulgaria and Hungary. We aim to democratize e-commerce and to have the possibility of selling everywhere and from everywhere.