Cluj,
Romania ~
• Cluj-based OxidOS has raised €1.2M in a seed round led by Romanian VC Early Game Ventures.
• The tech startup offers a secure operating system and tools for embedded software development in the automotive industry.
• This news comes after the software startup just launched its solution a few months ago and will be used to keep developing its product.
OxidOS is working on offering a solution for getting safer cars out on the road faster. Their software is set to aid professionals with development costs and certification time reductions, to lower 100x security issues on the automotive market.
Their first seed round was joined by RCB Investors, SevenX Ventures, and supported by Romanian Angel Investors Malin-Iulian Stefanescu, Marius-Adrian Istrate, Razvan Rughinis, and Marian Dinu.
The OxidOS tech product is based on a modern development language, named Rust. The new capital will be used to grow the product into the first viable solution for automotive electronic control units or ECUs.
"OxidOS is the company that will bring change to the automotive industry. Through its investment thesis – Infrastructure for Innovation – EGV takes on the role of capitalizing on such innovative, deep tech companies, with the potential to reshape entire industries and global markets," Dan Calugareanu, a partner in Early Game Ventures, reveals in the official press release.
The speedy path to safer cars out on the road
OxidOS was launched this year by two teams working in both Cluj and Romania. The company has five co-founders, Bogdan Genis as CTO, Vlad Radulescu in charge of certification, Ioana Culic leading the R&D department, Daniel Rosner keeping everybody together, and Alexandru Radovici in the CEO seat.
Alexandru Radovici has a background in software engineering with a focus on embedded systems and IoT, and keeps a teaching role at the University Politehnica in Bucharest. Bogdan Genis has over 15 years of experience in automotive development, joined by another vertical veteran, Vlad Radulescu. Meanwhile, Ioana Culic has a vast experience in the Tock embedded operating system, and Daniel Rosner has a knack for organizing scalable enterprises and projects like Innovation Labs.
"We are in a moment when the entire automotive industry is going through a paradigm shift. We want not only to be part of this revolution but to make a serious contribution to it. OxidOS will reduce the time needed to develop software for car components to half and will massively address the security problems encountered by car manufacturers," Alexandru Radovici, co-founder and CEO of OxidOS, reveals.
Modern cars have more than 100 microcontrollers and the numbers will rise with streets being taken over by hybrid or electric vehicles. All these microcontrollers need personalized software, so the global automotive software market is expected to reach over €40B in the next five years.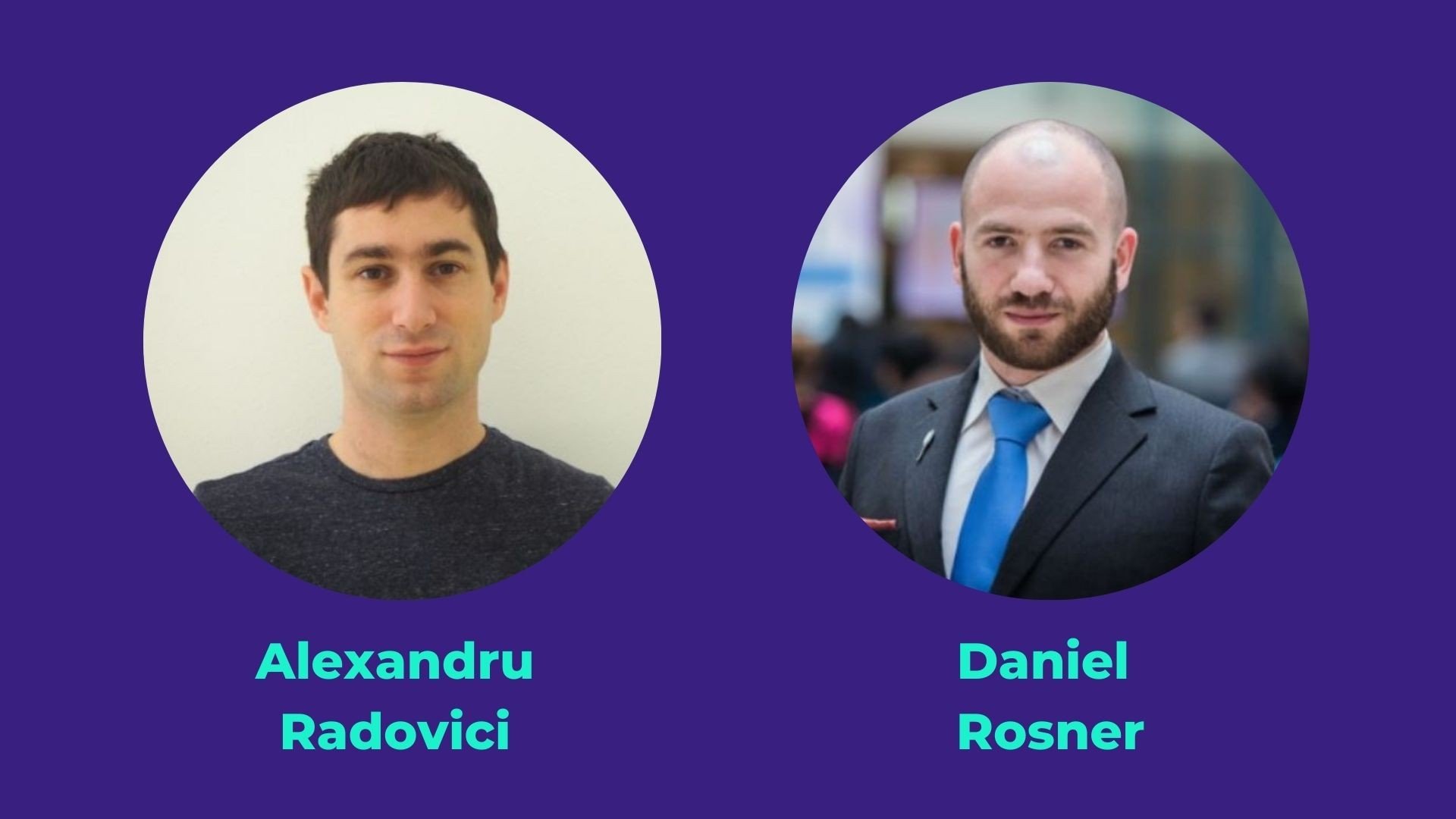 In the interview below, Alexandru Radovici and Daniel Rosner will walk us through what it is that they are building, current challenges in the automotive market, and their priorities for this funding round.
How did the idea of OxidOS first come to your mind?
Alexandru Radovici: Bogdan Genis, our CTO, and I have known each other for more than 15 years. We kept in touch and two years ago we met to catch up. One topic we discussed was how long it takes to develop and certify software for the automotive industry due to outdated tools and 50-year-old technology.
We talked about the fact that there isn't a viable solution on the market, and that this can be fixed by using one of the Rust-based projects that we are contributing to. Rust does exactly what current retrofitting tools do.
We are looking more or less at a similar model to Red Hat's business model. They took Linux and made it professional. We want to take Rust and do the same thing for the automotive industry.
How did you co-found the Romanian OxidOS deep tech startup?
Alexandru Radovici: It's a good business decision to be in Romania. It's easier to get talent at a more affordable price than in Germany, while there is also a strong tech pool with experience in software, hardware, and automotive.
"We are Cluj-based because the city is an automotive hub, and we wanted to be at the center of it all." – Daniel Rosner
Daniel Rosner: A part of our team is in Cluj, and Bogdan, our CTO, leads it; he has a lot of experience working in automotive as a software development provider. The other part of our team is in Bucharest, and it is led by Alex and Ioana, who have a lot of experience in software development, especially in Rust.
What inspired the name?
Daniel Rosner: Since we are using Rust as a programming language, and as "rust" has "oxide" as a synonym, we came up with "OxidOS", where "OS" comes from "Operating System".
How does your solution work and what challenges do you aim to solve on the market?
Alexandru Radovici: We aim to cut the time to market in half, safely. Failure is not an option. It currently takes about two years for a typical automotive software project from writing the first line of code to getting into the car due to retrofitted verifications and paperwork. This is something that will reduce to a year with our approach.
Daniel Rosner: Modern cars have a lot of issues and challenges with current electronic control units. As context, everything from the headlights, to the engine block, airbags, and braking system, to name a few, runs on an electronic control unit.
Usually, all of these components have a separate MCU, a microcontroller. In a modern car, you don't have one big processor, like in your laptop, you have anywhere up to 100 different electronic control units. That is 100 different microcontrollers, each running different software, each in charge of a specific part of the automotive.
And you do want to have everything separated for safety reasons. For example, if your infotainment system blocks, you don't want your braking to malfunction, so everything works independently.
What's more, we will have more and more software-defined functionalities. For example, the European Union will impose more safety regulations. Now, if you brake hard, you need your taillights to also blink and let the driver behind you know. A few years ago this was optional, but now it will become mandatory. In the current context, we see a steep increase in the software demand for the automotive industry.
What attracted you to this vertical?
"I want to buy a car that I know it's safe" – Alexandru Radovici
Alexandru Radovici: The cars that you buy today are fairly safe, but the problem is when these cars are connected to the internet and each other.
The security leaks and hacks that we have seen in the past five years will be a walk in the park compared to what we will see in the following years. Of course, unless manufacturers change the technology and focus on security, these will lead to dangerous contexts.
What lessons did you learn building your solution so far?
Alexandru Radovici: There is no silver bullet. Even new technology has issues, and we already see some of them. Before, we didn't know how the automotive industry works, but now we do, and this is the biggest lesson learned.
What we are trying to do is to build a modern standard for the automotive industry that can be extended to general transportation – trains, and planes as well. Currently, automotive manufacturers have no control because they outsource a lot. Imagine you have 10 or 15 different operating systems working in your car.
The other problem is that you will see a lot of electric vehicles, but not in the way people expect them. Of course, we will have Porsche, BWM, Renault or Volkswagen, and other big manufacturers. But these will be for outside the city. Inside the city, we will have small cars built by home appliance manufacturers, like Arctic.
And these companies won't have the budget to buy software at the same rates that the big ones do. So, either they rent it, buy it as a service, or buy it off the shelf. That's where we want to be.
We will sell them the ECU control software in a box and just use it. We will handle updates and security.
What's the target with this funding round, what are the priorities?
Alexandru Radovici: The target for this money is to have the operating system fully certified so that anybody can audit it, and we can sell it to the industry. Even though we are a startup, we need to work like a corporation. That's the short answer.
In the end, Daniel shared that "If anybody wants to see our solution demoed, we will be at the Embedded World conference, the largest conference for embedded systems, in March 2023," for vertical aficionados.