Bucharest,
Romania ~
Vodafone Romania is using internet infrastructure and AI technology to give a voice to the country's forests in a fight against illegal logging. "If we can listen to the forest, we can protect it for ourselves and our children," states a documentary of the company.
Illegal deforestation is a real challenge around the world and a threat to the sustainability of the ecosystem. Forests are the hearts of biodiversity. They are also hyper-effective in sequestering carbon dioxide emissions. Increasing forests by the size of the U.S. would cut carbon dioxide emissions by 25%. In Romania, there are over 7 million hectares of forests, yet also numerous reports of illegal logging by activists.
The Smart Forest initiative aims to digitize Romania's forests. It places cleantech at the heart of solving a pressing challenge in the country: protecting virgin forests for future generations.
Rainforest Connection, a US-based non-profit organization, joins Vodafone on this project. Their acoustic monitoring technology has already benefited countries in Latin America, South Africa, and Asia.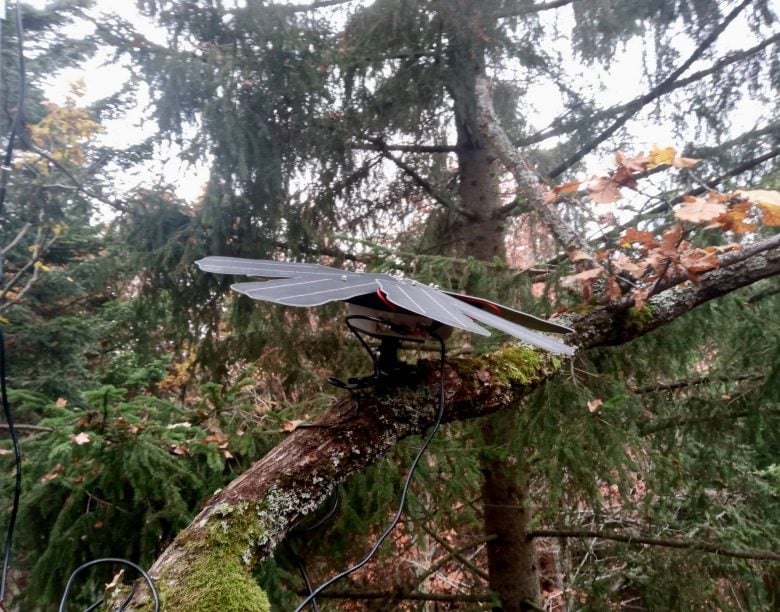 The proposed solution consists of gadgets that monitor activity in the forests and alert rangers of potentially dangerous activities, such as illegal logging. These "forest guardians" use acoustic monitoring sensors and AI technology to identify sounds from human interventions, such as using chainsaws and trucks. Information is then encrypted and transmitted through Vodafone's internet infrastructure to a dedicated app, installed on the rangers' smartphones.
Given that each guardian covers 3 square km, the density of installation is fairly low. The gadgets have solar panels and are installed in the tree canopy to ensure they can recharge autonomously. Achieving good coverage and high autonomy will help the project reduce the cost of investment and encourage scaling.
The Recursive talked to Catalin Buliga, Chief Technology Officer at Vodafone Romania, about the initiative, as well as the importance of technology in addressing sustainability challenges, such as protecting our forests.
What role can technology play in protecting Romania's forests?
As Vodafone Romania's Smart Forest project showed, technology can play an enormous role in preventing illegal logging. What makes our solution unique on the market and thus complementary to the other existing applications is that it sends phone alarms to the rangers and forest administrators at the first sound of a chainsaw. This allows them to immediately take action and check the respective logging action. Therefore, it allows authorities and those entities in charge of ensuring forest protection to intervene before the damage actually takes place.
How many "forest guardians" are needed in a given area? How many have been installed in the Smart Forest project so far?
For the Zabala Forest, this first project that we have implemented with support from our NGO partners Rainforest Connection and Agent Green, we needed 10 digital forest guardians. However, the number of gadgets required depends on the forest area to be covered, the landscape specifics, and other particular factors. A single device has a coverage radius of 1 km and can prevent deforestation in an area of over 3 square kilometers.
How do you plan to expand the Smart Forest initiative?
Following the public announcement of the project, we have received several requests from the public and private sectors, including NGOs. The feedback we got was positive and encouraging. We are hoping to take this solution to each and every corner of the Romanian forests.
Aside from preventing illegal logging, do you see other potential uses for this technology placed in the forests?
From a technology perspective, the solution combines sound detection and sound matching algorithms using artificial intelligence. We have been focused on detecting the sound produced by a chainsaw to prevent illegal logging. However, other specific sounds, like the ones needed to monitor and protect biodiversity, can be developed and added to this platform.
Beyond specific sound detection, the digital guardian can also embed other sensors, like temperature monitoring sensors, to detect and prevent wood fires. For instance, our colleagues at Vodafone Portugal approached us for a wood fire prevention scenario. In Portugal, wood fires are the main challenge regarding forests.