Sofia,
Bulgaria ~
After the convenience and accessibility of 24/7 shopping that was introduced to consumers with the spread of vending machines, the sector is moving one step forward by entering the micro-markets segment. According to research, the global vending machines market is expected to reach $146.6B by 2027, and micro markets are already found to enjoy higher popularity than stand-alone vending machines.
Micro markets are non-attended shopping spaces that are positioned at the intersection between self-service retail and dining and labor-saving point-of-sale. Unlike the vending machine model, micro markets have open shelves, often temperature-controlled areas, and allow for consumers to choose from a wider variety of products.
The main advantage of micro markets is the cashless self-checkout. Usually, users are given a number of choices of paying with a credit card, mobile wallets, or prepaid cards from their employers.
To explore the micro market players in the local ecosystem, The Recursive met with Ivaylo Nikolov, co-founder of HealthInBox. HealthInBox operates a system of healthy vending machines and micro-markets that provide 24/7 access to food options by accepting mobile payments and credit cards.
The opportunity for 24/7 health convenience stores
Around a year ago, Ivaylo Nikolov met with the fitness trainer and entrepreneurs Lazar Angelov and together they came up with the idea of a vending machine for healthy food. Before starting HealthInBox, Nikolov was running a business with vending machines for office supplies, so he already had significant experience in the market, while Angelov has a significant network of followers and is knowledgeable in the sector for healthy foods and fitness.
First, they entered the coworking spaces niche where the need for convenient and healthy food was bigger and the chance that the tenants of these spaces would turn into early-adopters was the highest. Ever since the beginning, the HealthInBox vending machines enjoyed wide adoption and positive feedback but the two co-founders identified some opportunity areas for improvements.
"We noticed that people who are not dedicated to eating healthy, are usually not acquainted with the products offered in the vending machines. That is why they are not willing to buy them without having a closer look at them. It didn't take us long to come up with an immediate answer to that problem – open the vending machines," Nikolov explains.
After doing some research and seeing that such models were already being adopted abroad, Nikolov and Angelov decided to give this opportunity a try and replace some of their vending machines with micro markets.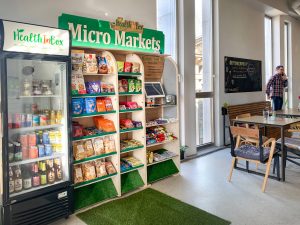 Customizable, scalable, and secure
Just as in Bulgaria, micro markets worldwide tend to be positioned in working environments like office buildings and coworking spaces. Besides the availability of studies that state the correlation between healthy eating habits and increased productivity in the workplace, healthy micro markets are often used by employers as part of the employee's benefits package.
According to Nikolov, micro-markets can almost be thought of as Lego houses as they are very customizable and can easily be made bigger with add-on elements. In addition, even though from a security point of view, micro markets are operating on an honors system, they are safe from theft.
There are a couple of ways to secure micro-markets from stealing such as video surveillance, digital locks, and digital shelves. HealthInBox micro markets are being watched with high-resolution security cameras. Nikolov shares that he checks to see whether the inventor and the sales match with the video recordings.
The vision of HealthInBox
So far, Heath in Box focuses on coworking spaces but the vision of the founders is that in the following years their micro-markets will be widely adopted in each building and institution. Nikolov shares that currently, some of the bigger challenges that lie on the road for adoption at a large scale, is that not all Bulgarian users are willing to pay contactless.
Two of the long-term goals of HealthInBox include transforming the logistics with EV and developing an application, combining all the functionalities of the hardware and the software to integrate them in one place. With the vision to make HealthInBox the last mile solution for many working communities, providing a frictionless consumer experience will remain the key goal of the two co-founders.
What is happening in the micro-markets industry in Europe?
Currently, the biggest player in the European market is the American company 365 Retail Markets that is active in most of the Western European countries such as Italy, Switzerland, Spain, and Germany. The company combines a MicroMarket solution, vending machines, mobile and contactless payments to create a point-of-service platform.
Another player is the unmanned and automated Finnish Selfly Store created by the paper manufacturer company Stora Enso. Selfly Store creates an open retail experience and uses IoT technologies to allow users to buy from its Intelligent Cabinet independently using contactless payments. You wonder how it works? Customers open the cooler with fresh produce with their credit cards or mobile wallets, they collect as many products as they want, and the transaction happens automatically.