The reassuring sound of the coffee machine bounces off the walls of the room, bringing in expectations for warm espresso and interesting conversations. With its cozy kitchen corners and vast social spaces, Campus X is the tech journalist's haven. You can catch up with the latest news and you can deepen your knowledge, while casually chatting with founders and VCs over coffee.
Campus X is one of the biggest co-working spaces in Bulgaria with the largest concentration of successful tech startups on its territory. Established in 2018 in Sofia, it is the official residence of over 60 companies, VCs, NGOs, and service providers. The Recursive team spent one day working from the space to find out how an environment where starting companies can grow and succeed is built.
"The goal of Campus X is to power companies' success by leveraging a knowledge-sharing mentality and creating synergies between companies. We have created an environment where startups have access to our community of partners, investors, and fellow companies. With this, we strive to help emerging tech leaders replicate the good practices and development models while bringing in an innovative element in the ecosystem we have created."
The give-back mentality
Campus X emerged as a spin-off project of three of the four founders of the software company Telerik. Vassil Terziev, Svetozar Georgiev, and Boyko Iaramov started the venture 4 years after Telerik was acquired by multinational software corporation Progress for the record-breaking sum of $262.5M. In the meantime, the founders continued developing the TechEd organization Telerik Academy they had branched out of the software company. The Academy became an integral part of Campus X – as a source of tech specialists and opportunities for bridging the gap between emerging tech companies and young programming talents.
Moreover, Campus X served as a breeding ground to several other companies, established by ex-Telerik employees.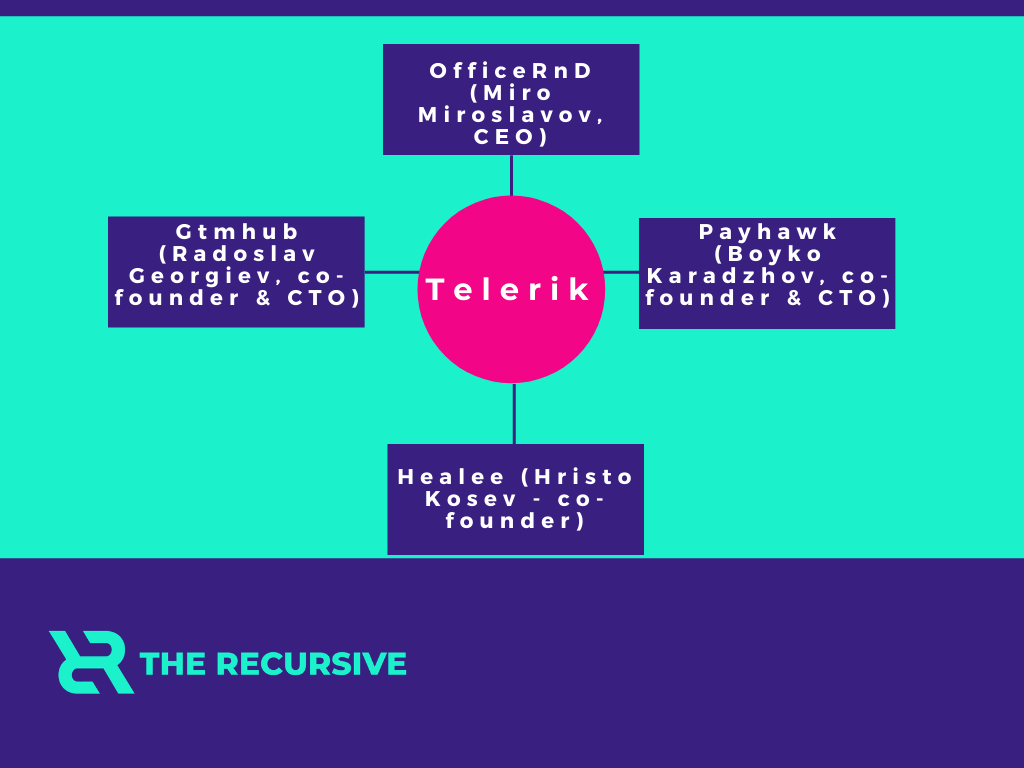 "In reality, this is a core value in the Campus X community. We say quite openly to everyone who comes to us that we want absolute openness and that what you know, what you do well—you should share it with others. In reality, we are not competitors, and together we will succeed more easily. If you are good at something, you will help someone else, and that person will be better at something else and will help you. This way, we all become better than if we relied only on ourselves. Things start to build up from there."
The building blocks of a modern co-working space
Currently, Campus X's four buildings house around 900 employees in its office spaces.
According to research conducted by the Bulgarian coworking management software company OfficeRnD, also situated at Campus X, a co-working space essentially is a community of like-minded professionals, working in a shared, public environment.
There seems not to be a singular opinion about the essential elements of an environment in which startups are stimulated to network and develop. But what the recursive innovation has shown is that technological novelties are interconnected and dependent on each other. And the word "ecosystem" is playing a significant role in the building process of a company at any stage.
Victor Hwang, a contributing writer at Forbes, explains business ecosystems' importance by stressing on the dynamic interactions between the parties involved. "It's about how people meet, talk, trust, share, collaborate, team, experiment, and grow together. When an ecosystem thrives, it means that the people have developed patterns of behavior – or culture – that streamlines the flow of ideas, talent, and capital throughout a system."
The tech factory
The community manager of Campus X Maria Racheva says that their space mindset is characterized by four main pillars:
Hub – depicting the office infrastructure and the flexible service model. This pillar is more about what Campus X offers.
Talent – due to the proximity of Telerik Academy and the presence of HR consulting company BICA Services, Campus X has accessible channels to tech talents.
Capital – with Eleven and LAUNCHub Ventures on board, the co-working has access to pre-seed, seed, and Series A funding. What is more, Campus X is the office space of several angel investors, such as Vassil Terziev, Boyko Iaramov, and Svetozar Georgiev.
Community – One of the main filters when it comes to selecting and accepting companies to Campus X is their openness to share their good practices. This results in a strong support network where startup employees interact with one another across companies, industries, and fields.
Racheva says that employees from different companies are stimulated to interact with one another from day 1. This may happen through formal onboarding and assistance on behalf of the Campus X team, free consultations with the community partners, online cross-company meetings of different groups of specialists (the HR seminars, organized by BICA for the Campus X community being one example), and even Slack channels for the co-working members. The fact that employees are working in one place does not mean that they will automatically talk to each other. This is why the efforts of the Campus X team during the onboarding process have one ultimate goal: to disrupt the barrier between people through coherent communication and community-building efforts.
"Campus X felt like home from my very first day at work exactly a month ago. I had a very warm welcome from the Campus team even though we first met online for my onboarding. It feels great being around positive, intelligent, and ambitious young people and I am happy to be part of this close-knit community."
The power of a community
During our meetings with startup founders and entrepreneurs from the Bulgarian ecosystem on the territory of Campus X, we often asked: "Why did you choose Campus X as a place to build your venture in?" We received a unanimous response: "Because of the community."
However, the pandemic did take a toll on co-working spaces. According to data from the 2020 Global Coworking Growth Study, in 2020 the coworking market grew at around half the rate, compared to 2019 and 2018. Traces from this slowdown can be seen on the premises of the coworking spaces in Sofia. While the halls and corridors of Campus X might be not as crowded as before, the trend towards switching to flexible spaces is becoming increasingly noticeable.
The infrastructure and capacity of the flexible co-working and its rich history are certainly a precondition for its positioning as a micro-entrepreneurial ecosystem. However, the most important elements of Campus X are the give-back mentality, facilitated by the Campus X team and the variety of players, located in one place. They are part of a community, where they can interact and exchange ideas, bringing added value to the Bulgarian ecosystem as a whole.