Sofia,
Bulgaria ~
Bootstrappers, dynamics-loving and self-driven innovators who thrive in the unknown – this is how the co-founder of LimeChain, the Bulgarian development and consulting startup for blockchain and distributed ledger technology (DLT) solutions, George Spasov, describes his team.
"I like to tell the story of LimeChain to every candidate who comes for an interview," says Spasov. "For us, innovation has always come in the first place, and ever since the beginning, we were very passionate about working on cutting-edge projects. The hunger for more innovation – that was the thing that inspired us to build the company and as such it has become part of the DNA of LimeChain," Spasov illustrates.
Founded in 2017, by the tech professionals Nick Todorov, Chris Veselinov, George Spasov, and Vladislav Ivanov, LimeChain started with the vision to become an innovation-centric business, which is different from the traditional IT support companies in Bulgaria and differentiates with a culture that is fulfilling for the young local talents. Having a background in corporations and startups, the four co-founders of LimeChain wanted to build a company that combines all the best from the two worlds and leaves the bad behind.
For the past four years, the blockchain enterprise has managed to grow a team of over 50 members, finish more than 100 projects, and reach a YoY of 100% without any external investments.
"We caught the first peak of blockchain technology in 2017, so we could have easily grown our team to 20 people in less than half a year. Instead, we grew the company slowly. And it was by design, not because we couldn't afford it, but because we wanted to build a strong core culture first," Spasov points out.
What does innovation-first culture feel like?
Spasov shares that he often thinks of his team as sailors because they stumble across challenges every day and often go into the unknown to fulfill their desire for innovation. "Imagine the feeling that sailors have when they discover a new piece of land. The process of innovation is a process of struggle, of trying to solve something, while creating something new in the meanwhile. It happens when you decide to overcome that struggle and allow yourself to think outside the box. And there is no template for that process," he says.
Therefore, in LimeChain innovation is perceived both as a feeling and a mindset, characterized by the sense of dynamics and pride of becoming the first one to arrive "at a new piece of land" just like a sailor. In the startup, innovation happens on all levels – from writing the code to designing systems. "One example of innovation is solving complex code challenges by using completely out-of-the-box methods. For instance, we solved a tough math problem by switching the main programming language of the codebase to a more suitable one," Spasov explains. Teams move fast and make fast decisions on a daily basis, they experiment and are ready to take action at any given moment when they encounter problems.
What projects does LimeChain work on?
LimeChain is the first company to become the core developer for one of the most popular blockchain networks, Hedera Hashgraph, and built one of the first smart contracts frameworks over Ethereum. They are recognized as an expert on blockchain issues by the European Commission and work with it for the creation of a Single EU blockchain-based identity. Currently, the team is actively working on 14 different projects which include DeFi product development, token offering, crypto wallets development, blockchain consulting, and smart contract development.
Their main three services are the development of decentralized applications (dapps), the development of blockchain and blockchain-like networks, and consulting enterprise clients on how blockchain can help them solve problems and optimize processes. The enterprise clients of LimeChain include big international names such as Procter & Gamble, Raiffеisen Bank, and Propy. P&G, for example, wanted to see whether it can use blockchain to fix and resolve the claims and requests of its subcontractors. With PwC, LimeChain works on a PoC project for the creation of a cross-border EU-wide tax and trade decentralized network that would prove the origin of imports and determine whether they should be subject to taxes.
The dapps that the LimeChain team develops are applications based on smart contracts such as DeFi apps and NFTs. One of their first projects was a dapp that allows people to save their ideas on the blockchain so that they can "patent" them and prove their authenticity. Right now LimeChain is working with AllianceBlock, a company building the first globally compliant decentralized capital market, whom they provide with various DeFi tools. Another active dapps project of the startup is Universe XYZ, which aims to enable the monetization of digital.
When it comes to the development of blockchain and blockchain-like networks, LimeChain is partnering closely with Hedera Hashgraph for the creation of a whole new network with large computation powers. They also work with some of the biggest infrastructure projects, such as The Graph in Ethereum. The Graph observes the network and aggregates events in order to give the information in a ready-to-use form to developers. Polkadot, one of the most famous blockchain companies in the world, also partners with LimeChain to obtain different tools for its network to ease the work of its developers. Together with AllianceBlock, the Bulgarian startup also partnered on a network-like project for the development of a bridge between two blockchain networks.
Creating a team of "sailors" and blockchain experts
Spasov shares that there are some motivators – contribution, significance, and variety, that make people a true fit in LimeChain and allow them to naturally embrace the company spirit and culture. The first one refers to the fact that by working on impactful projects employees feel like they are contributing with something meaningful for society and for their own personal development. They also feel significant and proud of themselves that they have managed to overcome the struggle and find a solution to a problem. And lastly, they are motivated by the diversity of their work lives. LimeChain works with a variety of new technologies and methods that teams utilize to solve problems.
In terms of talent onboarding, Spasov explains that LimeChain has a couple of training paths for new employees to ensure that everyone on the team is equipped with the skills needed for a specific project. "We often joke around with the HR department that LimeChain is an educational institution. This is because the people who come to us do not come with a developed skill set. We don't believe in the so-called 'tech as religion' maxima according to which people should be recruited based on specific tech stack or programming language," Spasov shares.
This is because everything they do is connected to using very new technology which very few people have learned beforehand. Therefore, the tech stack is not a priority for the company when it comes to hiring new talent. Since the projects of LimeChain require developers to use technology that is completely different from the technology used for the development of centralized systems, the main quality they are looking for in candidates is for them to be able to think in a decentralized way. "Every employee goes through the training path and starts from ground zero, so it doesn't make sense to look for a particular tech stack. However, there are some languages that we use more frequently in our projects such as JavaScript, Golang, and Java," Spasov shares. LimeChain is also looking for people who wish to develop into architects and designers of systems. According to Spasov, in order to become successful system architects, developers should be able to simplify things, break them down to first principles and rebuild them again but in a decentralized way.
LimeChain upholds investing in talent and besides upskilling their employees through the training paths, the company encourages internal knowledge. The co-founder shares that it is always valuable for employees to hear the fresh perspective of a colleague from a different team because it changes their mindset and makes them think more critically.

A lean, flat and open structure
The physical Sofia-based team of LimeChian is located in the Tetrix Business Center. There the teams work in an open space without any divisions in offices. Just like the office atmosphere, the structure and the internal processes of the company follow the same open and flat structure. Departments are loosely defined, and instead, the company is built into two segments. The first one is the Development-Delivery segment consisting of blockchain engineers who are fluidly divided according to projects. This is the bigger part of LimeChain's team, which is supported by the other segment consisting of the HR, marketing, business development and sales, and finance departments.
Vertically, the company is organized in three levels – project-based teams, team managers, and the founding team. The engineering teams take the responsibility for the entire implementation of a project, from the development to the delivery, and work rather independently with control over the decision-making processes around their projects. The team managers have a lean and supportive role as enablers. They oversee the project teams and make sure that developers have everything they need to innovate.
A tech team with a focus on the human element
To build deeper connections in the team and boost the company spirit, Limechain organizes monthly team buildings and a couple of big company-wide team buildings every year. In order to maintain a good personal and professional relationship with the remote international team, LimeChain holds regular scrum sessions where members share what progress they have made on their projects. And the Sofia-based team gatherers in the office every Wednesday for the weekly Breakfast in the office.
It is natural that a daily work that is skilled with innovation, dynamics, and excitement causes some stress. In order to help with that, the founders try to mentor their employees on various ways of handling stress. Every LimeChain-er has a dedicated monthly 1:1 time with one of the founders for a non-formal and friendly talk that is not related to work.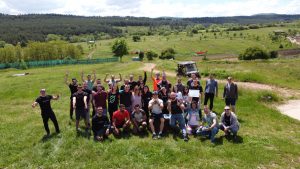 What comes next for LimeChain
In the following months, the startup will aim to grow its team by around 20% to meet the demand from clients without compromising the quality of its work. In the long term, the goal of LimeChain is to develop its own product in partnership with partners and clients. Spasov shares that they also plan to build a chain of new companies around LimeChain such as a blockchain academy for training local and international talent.
Launching in October, LimeAcademy will be LimeChain's own academy for blockchain developers which will start with 2 seasons in Bulgaria and then expand internationally. "We have proven the effectiveness of our training processes with our current employees who can now contribute towards every blockchain project. LimeAcademy will also be done in partnership with some of the best blockchain companies worldwide which will help our local talent realize in cutting edge tech companies," Spasov adds.