Sofia,
Bulgaria ~
How about a transition from virtual pitching to pitching on the beach? On the 19th of June the acceleration program of Innovation Capital, XLRadar21 held its Demo Day at the Bulgarian seaside and awarded seven early-stage startups with a total of €280K.
XL Radar 21 was looking for pre-revenue ideas from cities all around Bulgaria. With over 100 applications for the program, only 24 teams were selected to participate in the accelerator and less than a half of these reached the final demo day.
Each of the seven winners received a total of €40K, out of which €25K was equity investment and the rest €15K were in the form of in-kind services for acceleration such as software development, legal services, and digital marketing.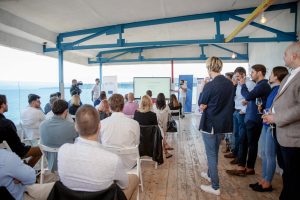 Combining local ecosystem and VC communities
Angel Angelov, a Managing Partner at Innovation Capital, shares that during the country-wide startup roadshow, the team of XL Radar met with over 150 representatives of the local startup ecosystems. The Demo Day itself gathered the Bulgarian VC community, as the jury included investors and investment managers from Innovation Capital, Vitosha Venture Partners, Eleven, СЕО Angels Club, Impetus Capital, Sofia Angel Ventures, Ayana Capital, Silverline, and Neo Gravity. After the pitches and the Q&As, the jury selected the winners of the program in real-time by using the electronic voting system of one of Innovation Capital's portfolio companies, Real Vote.
Up until now, the venture capital fund has invested over €5.5M in more than 60 companies. This is an intriguing statistic that refers to the recently released report of Invest Europe, which ranks Bulgaria among the top three countries in Europe for SME private equity-backed job creation in 2019.
Who are the winners:
Healthyco

– a mobile app and web application for digital pathology and diagnosing oncological illnesses. It allows patients from Eastern Europe to consult with both local and foreign professionals and receive a medical opinion in a written or video form.
DoggoCollar

– a tech collar for dogs that tracks location and important vital signs to let owners know where their dogs are and how they feel.
Closer 2 U – a 3D-printed baby bottle that follows the actual shape of a mother's nipple.
Bum Bam

– an online platform for co-working spaces that build upon the traditional model in the coworking industry by giving new opportunities for open-air work as well as new income for private hosts.
8% (Pharma Works)

– a solution for patients needing a specific treatment as well as for big pharma companies. It combines data-driven research and real-world evidence to help its users with tech and medical know-how.
Unity Pass

– a platform for the secure sale of e-tickets that aims to offer a safe and convenient experience for high-demand events.
Make My Cargo

– B2B marketplace for organizing air and maritime transport and logistics.