Athens, Bucharest, Sofia,
Bulgaria, Greece, Romania ~
As startups in Southeast Europe start to rise to global success thanks to technology, the innovation ecosystems are also starting to mature. Governments in the region have come to realize the potential of innovation-based technology to accelerate the growth of their economies. In the past year, most of them have been actively promoting initiatives to attract capital and international talent, while also adapting their legal frames to make it easier for local businesses to use the government's services.
The Recursive is taking a look at the progress made in each country to introduce services that aid both entrepreneurs and digital nomads. Curious to know which one stands out?
Let's do a short overview of the latest digital initiatives that help SEE countries position on the startup-friendly map.
The purpose is to attract new knowledge and create jobs for the local economy, making it easier for international business people to open startups in the country. Bulgaria is one country checking this off their to-do list along with Romania.
"Step by step, Bulgaria is becoming a more startup-friendly country. We are happy to share that in the upcoming weeks we will have the official procedure – a fast track to attract entrepreneurs from countries outside the EU called Startup Visa,"
Ivan Vasilev
, board member of BESCO, the Bulgarian Startup Association, an NGO that connects players of the local ecosystem, shared with The Recursive.
Croatia has a Residence Investor Program which allows entrepreneurs to stay up to 5 years. Greece has an Investment Residence Permit, or a Golden Visa, for entrepreneurs which is viable for two years, can be extended, and they can receive business aid. North Macedonia has an Entrepreneur Visa Program which requires a minimum investment of €400K and hiring 10 locals, and Serbia has a Residence Permit for Foreign Entrepreneurs which requires a minimum investment of €500K and hiring 4 locals.
This policy aims to bring a fresh wave of talent and make it possible for freelancers to work for a longer period in a specific country. Romania is on its way to getting the draft law approved.
"Romania, with fast and relatively cheap internet, is on
the third position in the top of the countries recommended for foreigners for remote work, after Canada and Great Britain
. Staff mobility is on an unprecedented scale. Serious plans for implementation of the Digital Nomad Visa will be able to position Romania at the forefront of member states that rely on the financial resources of their economies, allowing future digital nomads to set up new companies in our country, or to join large companies, thus making contact with the local market",
Barna Tanczos
, Interim Minister of Research, Innovation, and Digitalization in Romania shared with The Recursive.
In North Macedonia, there have also been legal changes in motion to introduce a visa for digital nomads.
"The process of online application for this visa will be simple, fast, and without administrative obstacles. As part of the initiative, it is planned to develop a Program for digital nomads by Startup Macedonia, through which all those digital nomads that are interested can also participate and share their expertise in the startup ecosystem, will mentor local entrepreneurs, and will contribute with their skills, knowledge, and network of contacts, as well as their access to new markets," says

Nina Nikolich
, co-founder of Startup Macedonia, an umbrella ecosystem organization in North Macedonia.
This is an important step that makes it easier for both citizens and businesses to communicate and get documents from public institutions remotely, saving time and money. North Macedonia takes the lead here. But Bulgaria has also moved forward to make the issuance of e-identity quicker.
"Last month the Council of Ministers voted that all citizens from Bulgaria or abroad can use governmental services using private schemes for e-identity and it's a matter of a month or two to be implemented nationwide",
Ivan Vasilev
, board member of BESCO, told The Recursive.
Having digital signatures in place can fast-track payments and contracts through the system, no matter where you live. They also lower costs and save a lot of trees along the way.
All the countries have approved these, with some restrictions when it comes to agreements like wills, court documents, land titles, contract termination, or financial agreements, which need paper communication. Nevertheless, online payments have been given a green light when dealing with the state, due to the pandemic.
As for blockchain signatures, they still need to be reviewed on a case-by-case basis. But it is allowed for simple electronic signatures, like a scanned signature attached to a document.
Discover how countries compare in the infographic below.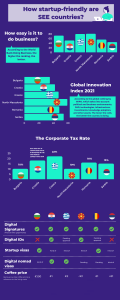 Infographic was done by
Sources: Doing Business; Global Innovation Index; digital signatures – Bulgaria, Croatia, Greece, North Macedonia, Romania, Serbia; startup visas – Bulgaria, Croatia, Greece, North Macedonia, Romania, Serbia; digital nomads visas – Bulgaria, Croatia, Greece, North Macedonia, Romania, Serbia; digital IDs – Croatia, Greece, North Macedonia, Romania.