Bucharest,
Romania ~
Banca Transilvania (BT), Romania's largest bank in terms of assets (€28.6B), serves over 3.6 million customers, as of June 2022.
As nowadays, clients of banking services expect reliability, convenience, and personalization more than ever, digital transformation has been the main priority for BT since 2016. Creating a seamless multi-channel customer experience was the big goal. However, existing legacy systems and siloed data remained a challenge for some time.
To address this obstacle, BT started developing an internal platform, BT ONE, with the technology of Romanian no-code startup FLOWX.AI at the core. The foundation for fast, unified, and scalable development of new products.
Among other key results, since the start of the partnership, the bank has been able to significantly reduce customer onboarding time for both individuals and SMEs.
The Recursive reached out to Dan Avram, Chief Product Owner at Banca Transilvania so we learn more about the way BT is using no-code to increase the speed of digitalization.
What does it take for one of the largest banks in CEE to get unstuck from legacy tech which often prevents banks from doing any real fintech innovation? How are the newly unlocked capabilities helping BT better serve customers and improve operational efficiency? What was the added value of FLOWX.AI's microservices architecture? Keep on reading.
The Recursive: What was the reason behind the creation of the BT ONE platform and what's your vision with it?
Dan Avram: Our customers are increasingly expecting more convenience, accessibility, personalization, and reliability across the distribution channel network. BT is a bank anchored in the reality of making customers happier, no matter which channel it adopts.
Therefore, BT has launched in 2016 a digital transformation program to improve the customer satisfaction through a seamless and meaningful experience for BT clients across all channels.
BT has an extensive network with more than 500 physical units where more than 100.000 customers visit us daily. The employees from our units used to work with several applications to serve the clients and any simple interaction with a client took longer than expected. Seamless multi-channel integration to better serve clients and gain a competitive advantage was one of our priorities.
At that time, we used a monolithic application to onboard and manage the clients' data and we were aware that we should improve the onboarding experience not only through the digital channel but also in the physical office. The key challenge was to achieve a true seamless integration with existing legacy applications and systems and bank processes operating in silos.
With that objective in mind, Banca Transilvania and FLOWX.AI joined their forces in 2020 to find a way in which we can leverage technology to build a platform as the basis for our unified, scalable digital in-branch experience platform.
When the product vision was set, we took into consideration the following:
Developing a faster, simple, scalable, intuitive, and easy to use app. even for a new employee
Integrating the new platform seamlessly with other bank back-office applications so that tellers would not switch between multiple applications.
Having a simple, intuitive, and easy-to-use interface that would minimize the chance of errors.
A scalable platform that could be further developed to address other business needs.
Our vision related to BT ONE has been built across three verticals:
– A warm welcome starts with the context. First, we want to establish the context behind our customers so that we can provide relevant and personalized information.
– High-quality interaction with clients – address the need, not the task.
– Doing client onboarding as a sign-up experience in a mobile app.
– Having a unified front-end application for tellers to speed up servicing process of our customers
– The application has to be robust, have a scalable architecture, and easy to be integrated with all legacy systems of BT to deliver a smooth and seamless experience.
– Single source of truth for all BT systems.
– Collecting a minimum set of data.
– Collecting information once and using it more often.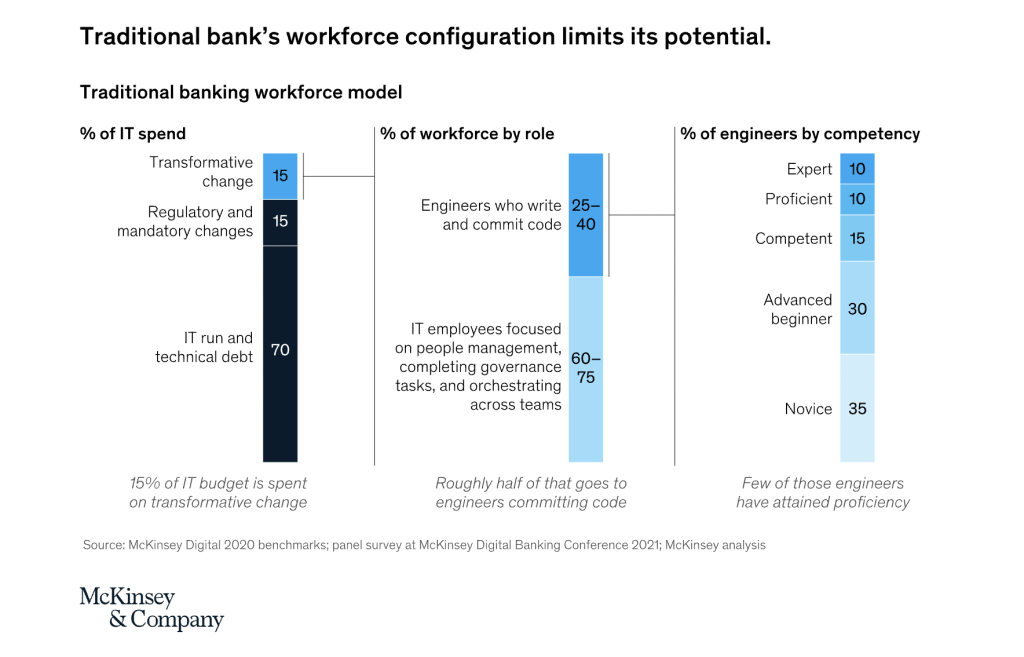 Traditionally, only 15% of the IT budgets of banks are spent on transformative change.
What are the biggest customer and employee pain points you are addressing and will be addressing with BT's improved digital solutions?
We believe users are at the core of all types of design. We research to understand our user base and their context, we discover the actors, map their journeys, and understand their pain points, and then we design intuitive journeys that meet their needs. We consider that the customer's experience as a whole is important whether offline or online.
While the remote channels are increasingly important for basic transactional banking and continue to grow in usage, there is still a need for branches, which provide personal contact and advice for specialized services. The branch is the focal point for complex transactions that create a unique customer experience. We need to adjust our processes and IT infrastructure to be flexible enough and able to adapt.
We started by simplifying the interaction of our staff with the internal systems. We wanted to quickly launch a new system to support a flow that was critical for the bank–client onboarding and take the pressure off the branch employees.
From the end user's point of view, we discovered that the major pain point is the process overhead in their day-by-day activity, forcing him/her to switch between multiple apps without any guidance throughout the process.
We decided that the center of the plan should focus on creating a self-explanatory, easy experience, a tool that will help tellers to onboard new clients. BT ONE represents the best way to cover the teller's needs: efficiency, a guiding hand, time saved by automated tasks, fast and easy-to-use apps, and finally added value to the end customer.
Why did you choose to collaborate with FLOWX.AI and how did their team help with BT's digital transformation journey?
FLOWX.AI is the core tool for developing the BT ONE platform. The platform enables us to develop new functionalities fast and constantly.
Why FlowX.AI? First of all, because of the microservices architecture and the sustainability brought by FLOWX.AI. It offers huge flexibility by bringing in our code, which enables us to scale the application in whatever direction we consider. The platform offers us the freedom to build products without the captivity of a specific technology.

The FLOWX.AI architecture.
Using FLOWX.AI ensures that our digital transformation journey is not disruptive. We have simply deployed the product over our current infrastructure and focused on core revival. We have deployed FLOWX.AI, which integrates easily with both legacy systems and new APIs, while the old application has been running. Moreover, focusing on modernizing legacy systems without having the pressure of doing it all at once and as our final step, we simply decommission the old systems.
At this point, we already have the confirmation that there is consistency over the systems and there are no risks as if it would have been in a rip-and-replace approach.
In terms of development, we are working with FLOWX.AI integrators that help us with the implementation phase but, the FLOWX.AI team offers support every step down the road, usually on the new functionalities or debugging sessions. FLOWX.AI brings high speed in development, which has positioned our technical teams to deliver major functionalities every couple of weeks.
One highlight of the initial implementation on top of FLOWX.AI was the enablement of RPA solutions where we did not have exposed APIs. They helped us in speeding up the integration with a public systems interface and managed to deliver a seamless onboarding experience to our clients. FLOWX.AI together with the RPA solution had improved our employees' experience by leveraging the intersection of the no-code – full-code and enterprise automation paradigms.
Concluding, we have right now a key digital orchestrator that turns our technology from a constraint into a business asset.


FLOWX.AI's solution for onboarding and origination provides a seamless omnichannel experience.
What are the biggest milestones you have been able to achieve so far with the BT ONE platform?
We started with an MVP. Over only 12 weeks of discovery and 16 weeks of development, we deployed to production two journeys in onboarding and product origination for two types of new individuals and legal entities clients. These journeys enable a better interaction between tellers and customers while increasing the satisfaction of both sides involved in the process.
For instance, we managed to decrease the enrollment time both for individuals (from ~20 minutes to 5 minutes) and SME customers (from 35 minutes to 15 minutes) with product activation embedded.
After the MVP, in about one year, we have developed and released in production more than 10 new major functionalities. I will mention some of them below:
Customer 360 – with more than 50.000 identified customers per day
Packages activation – on average a package that consists of 4-5 banking products is activated in less than 3 minutes (individuals and SMEs)
Optimized overall electronic file operations that allow us to significantly reduce the onboarding time and so forth.
The development of BT ONE will continue until the old monolith system is completely decommissioned.
Where are you today in your digital transformation journey and what is next? What would success look like to you in the long term?
To date, the bank has kept up with the digitalization accelerated by the COVID-19 pandemic. We were able to launch multiple digitized journeys covering online onboarding, client data update, loan origination, online credit card, etc.
Going forward, true success would mean capitalizing on the digitalized journeys by offering customers a "one-stop shop" experience.
.
.
.
Demystifying the tech jargon in this article
What is no-code/ low-code?
Low-code platforms are intended for developers and enable them to work faster. No-code platforms are aimed at business users, empowering them to build applications with a drag-and-drop approach.
What is IT orchestration?
IT orchestration is the logic of automated configuration, integration, and management of IT workflows, systems, and applications within an organization.
Orchestration vs. Automation?
Unlike automation (used to optimize repeatable single tasks), orchestration can help you connect, coordinate, and streamline a process with multiple steps across many different systems.