Get ready for a growing wave of emerging technologies developed and scaled with the ultimate goal of solving a social or environmental challenge. Deep tech lays one of the most promising pathways towards mitigating climate change. And this creates an encouraging synergy: startups from the climate tech landscape that are deploying deep tech technologies to enable a zero carbon economy.
To help investors in search of climate technologies with exponential growth and impact potential, as well as bring visibility to the new generations of entrepreneurs and innovations sprouting in the Balkans, The Recursive is launching a mapping of regional startups working at the intersection of deep tech and climate tech in SEE.
First, let's take a step back and lay a foundation for our upcoming mapping. What do specialists include under the deep tech umbrella? According to a research by two think thanks in the field, global organization with a global challenge for deep tech startups, Hello Tomorrow, and the Boston Consulting Group (BCG), deep tech in a business context is characterized by three attributes: the potential for big impact, a long time to reach market-ready maturity, and a substantial amount of capital needed. Their underlying intellectual property (IP) is either well protected or difficult to reproduce, conferring a competitive advantage.
The research cited further introduces seven key areas where deep tech innovations and investments are concentrated: advanced materials, biotechnology, photonics and electronics, drones and robotics, artificial intelligence, blockchain, and quantum computing, which will also guide our mapping.
In the list below, see which are the climate tech startups deploying deep tech in Southeast Europe (with either regional headquarters or teams).
* Climate tech landscape: Advanced materials *
Generally, advanced materials refer to new materials and changes in existing materials that yield a superior performance. In the case of climate tech applications, we are looking at materials that can improve the ecological footprint of products.
Name: LAM'ON
, based in Sofia, Bulgaria
Founded date: 2017
Founders: Angela Ivanova, Gergana Stancheva
Solution: LAM'ON offers a compostable laminating film as an alternative to the traditional, polluting plastic film used in the printing industry, as well as a corn-based packaging foil.
Funding: They funded the prototyping phase with a grant from Climate-KIC and an award from the Chivas Venture competition. At the beginning of 2020, they attracted two business angels to help them reach a market-ready stage.
Name: DiFOLD
, based in Sofia, Bulgaria
Founded date: 2018
Founders: Radina Popova, Petar Zaharinov
Solution: The company produces a reusable and collapsible origami bottle through a proprietary design technology, aimed to encourage the circular economy.
Funding: They bootstrapped, had a small angel funding in 2020, and raised $190K in pre-orders through their crowdfunding campaigns.
Name: Coffe-Eco
, based in Patra, Greece
Founded date: 2016
Founders: Dr.-Ing Alexis Pantziaros, Marios Vlachogiannis
Solution: Through a proprietary extraction process, they are converting coffee grounds waste into ingredients that food and cosmetic companies can use in their products, thus saving valuable resources. They are also testing the production of a raw material for bioplastic products and of an alternative material for the furniture industry.
Funding: They sustained the company's development from awards at startup competitions and are now looking into raising capital and getting more clients.
Name: Biomyc, based in Sofia, Bulgaria
Founded date: 2018
Founder: Atanas Enev
Solution: The eco-design company partners with companies that build mushroom technology – a bio composite material developed from mushroom and agricultural waste, and 3D printing for quick prototyping, and incorporates them into sustainable product design, helping bring to life products based on ecological materials.
Funding: They received funding from Climate KIC, bootstrapped and then became self-sustaining.
Name: Sevarex, based in Bulgaria
Founded date: 2021
Founders: Dobromir Mashev, Alexander Sabev
Solution: They have an online store that offers eco friendly materials for construction and renovation such as clay plasters, coatings for wood, and interior paint oil, imported from abroad. They also have a proprietary product – natural insulation made of straws.
Funding: Recently, the company won a grant from ClimAccelerator Black Sea.
* Climate tech landscape: Biotechnology *
Biotechnology uses existing biological processes or develops new ones to create products for various sectors, from pharmaceuticals to agriculture and construction. Climate tech startups that leverage biotechnology are present in the agriculture and food industries, among others.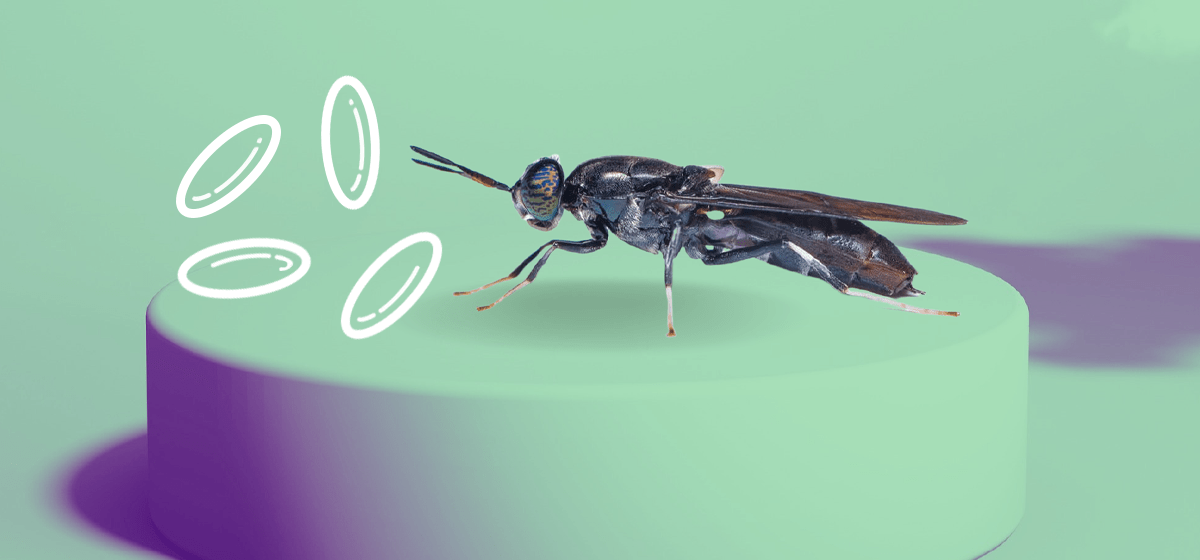 Name: Better Origin
, based in Cambridge, UK, with Greek founders and investors
Founded date: 2019
Founders: Fotis Fotiadis, Miha Pipan
Solution: They offer insect mini-farms that convert local food waste into high-quality animal feed in the form of insect larvae.
Funding: In April 2022, they raised their most recent round of $16M, led by British VC Balderton Greek VC Metavallon and Germany-based Fly Venture. Total funding is estimated at $19.8M according to Dealroom.
Name: Nasekomo
, based in Sofia, Bulgaria
Founded date: 2017
Founders: Marc Bolard, Xavier Marcenac
Solution: Nasekomo uses the black soldier fly in its larvae form to feed on organic agro-industry waste, and in turn create animal proteins. These are the basis of Nasekomo's products with low environmental impact: animal farming feed, fertilizers, and pet food..
Funding: Most recently, the company received a ~€325K grant from Innovation Norway to scale their production. Counting the grant, the company's total funding reaches over €5M.
Name: Manna Food Solutions
, based in Bucharest, Romania
Founded date: 2018
Founders: Madalina Ilie
Solution: They have developed a technology that helps them make nutritious cooked food in the form of food tablets, suitable for situations such as humanitarian emergencies and space travel, but also for special dietary requirements. They are also building a 3D food printer designed as a vending machine.
Funding: So far, they used their own resources to fund the research and first products.
Name: Cupffee
, based in Plovdiv, Bulgaria
Founded date: 2014
Founders: Miroslav Zapryanov
Solution: As the name suggests, they have developed a patented coffee cup made of natural, cereal-based materials, which can be eaten or composted safely.
Funding: They started with bootstrapping, then attracted the support of angel investors and received a bank loan to invest in production and reach full automation.
* Climate tech landscape: Photonics and Electronics *
In photonics, the goal is to generate and harness the properties of photons. Light can be used, for instance, to generate electricity through photovoltaic technology (solar cells), a key application for climate tech startups. Similarly, the field of electronics harnesses the properties of electrons, producing energy in the form of electricity. A key direction in the clean energy transition is the move towards renewable electricity from fossil fuels like oil and gas.
Name: ElevenEs
, based in Subotica, Serbia
Founded date: 2021
CEO: Nemanja Mikac
Solution: They produce battery cells using proprietary LFP technology (a type of lithium-ion battery using lithium iron phosphate), which secures safe batteries that last longer and are more affordable.
Funding: In 2021, ElevenEs received an investment from EIT InnoEnergy to build a battery gigafactory.
Name: Watto Stations
, based in Bucharest, Romania
Founded date: 2019
Founders: Daniel Pintilie
Solution: Watto Stations is building and operating an integrated ultra-fast charging network for personal electric cars and large commercial vehicles. They are integrating high-powered charging equipment with solar production and large storage batteries.
Funding: In 2020, Watto Stations raised an undisclosed amount from InnovX-BCR.
Name: Rimac Group,
based in Zagreb, Croatia
Founded date: 2011
Founders: Mate Rimac
Solution: Rimac Group brings together advanced hypercars and high-performance electrification technologies for the world's largest OEMs, helping drive the transition to electrical automotive.
Funding: In July 2021, Rimac Automobili joined forces with Porsche AG, including Volswagen's Bugatti brand, to create a hypercar manufacturer. In April 2022, they received an investment of €120 million from Investindustrial.
Name: Econic One,
based in Varna, Bulgaria
Founded date: 2014
Founders: Galin Bonev, Vladimir Davchev
Solution: They build and offer e-bikes using a custom built electric system and assembling the battery in-house using Samsung battery cells. The bikes can also be locked and tracked via smart features.
Funding: In their latest Series A round, the company raised $2.62 million, according to Pitchbook.
Name: Strawberry Energy
, based in Belgrade, Serbia
Founded date: 2011
Founders: Miloš Milisavljević
Solution: They develop smart furniture for urban spaces, using solar panels to create electrical energy, as well as IoT technologies to help citizens connect and charge their devices throughout the city.
Funding: After a seed investment from Eleven Ventures in 2015, they raised €455K in a crowdfunding campaign in 2018. Their total funding so far seats at €568.8K.
Name: Playground Energy
, based in Sofia, Bulgaria
Founded date: 2012
Founders: Hristo Alexiev
Solution: They develop and manufacture smart equipment for playgrounds, which harvests kinetic and solar energy from children's play and turns it into power for lights, sound, and bluetooth connectivity.
Funding: So far, they raised up to ~$233K, according to Dealroom.
Name: Fuergy, based in Slovakia
Founded date: 2018
Founders: Branislav Safarik, Radoslav Stompf, Rastislav Kuba, Vladimir Miskovsky, Branislav Kopun, Tomas Demcak
Solution: Fuergy provides solutions that enable energy optimization, lower utility bills, and improve green energy production. One of these solutions – brAIn- is a smart battery solution that uses AI to learn about energy consumption and forecast weather conditions. The IoT functionality helps manage the consumption of energy-intensive technologies such as air conditioning.
Name: Ecocapsule, based in Bratislava, Slovakia
Founded date: 2014
Founders: Sona Pohlova, Tomas Zacek
Solution: Ecocapsule offers self-sustainable and practical micro-units. These use solar and wind energy and are as such self-sufficient in terms of energy production. They can be designed according to customer preferences and stationed in remote places, that don't have access to infrastructure.
Funding: So far, they have raised an equity crowdfunding round.
* Climate tech landscape: Drones and robotics *
Robotics is concerned with developing machines that can perform tasks in an automated fashion, and thus increase efficiency. Drones are a subcategory of robots, usually designed with mobility in mind, which is why they are predominantly used in transportation, mapping, and inspection of assets. Artificial intelligence will be covered in a separate section.
Name: Perceptual Robotics
, based in Bristol, UK, with Greek founders and team
Founded date: 2016
Founders: Kostas Karachalios, Dimitris Nikolaidis, Kevin Lind
Solution: The company uses drones, advanced robotics, as well as machine learning to deliver fully autonomous inspections of large-scale wind turbine infrastructure, thus helping drive the transition to renewable energy.
Funding: Their most recent investment was in September 2021, when they attracted €1.87M from. So far, the company has received €2.9M in funding.
Name: SeaClear, based in Delft, Netherlands, with a team of Romanian researchers
Launch date: 2020
Manager of the project: Lucian Busoiu
Solution: SeaClear is a research project developing autonomous robots for underwater litter collection. The system has three core components: an underwater inspection robot, a clamping system that collects the waste, and an aerial drone.
Funding: The project received €5M in funding from Horizon 2020. They plan to launch the solution in 2023.
* Climate tech landscape: Artificial intelligence *
Artificial intelligence is the built-in ability of computers or robots to perform tasks usually performed by humans. Further on, machine learning refers to the ability of computers to learn from data, identify patterns, and make decisions without being explicitly programmed. In the field of climate tech, AI and ML can help identify patterns in data, and make predictions and recommendations that lead to, for instance, resource savings.
Name: Recycllux,
based in Brussels, Belgium, with Romanian team
Founded date: 2020
Founders: Alexandra Cernian
Solution: Recycllux is building a solution that uses Earth observation data and AI to identify plastic litter in natural waters, as well as blockchain technology to connect plastic producers to collectors and encourage recycling.
Funding: So far, the team has been bootstrapping to get to an MVP stage and are targeting external funding.
Name: PolyMore
, based in Timisoara, Romania
Founded date: 2020
Founders: Iohana Macesanu, Cristian Pogan
Solution: The company is developing a computer vision product that can detect the level of contamination in the plastic waste collected from manufacturing companies, helping improve the waste sorting process.
Funding: The startup received some external funding from winning different competitions, including the Social Impact Award in 2021.
Name: NRGI.ai
, based in Dublin, Ireland, with Romanian founders and team
Founded date: 2021
Founders: Andrei Ilas, Florin Grosu, Vlad Iliescu
Solution: They are building an AI algorithm that can forecast energy prices and make recommendations to both electricity consumers and suppliers, helping reduce costs and increase energy efficiency.
Funding: The company closed a €250K pre-seed round in April 2022.
Name: Augmenta
, based in Greece, with headquarters in Paris, France
Founded date: 2017
Founders: George Varvarelis
Solution: The company's technology uses edge computing, multispectral computer vision, and AI to achieve an accurate perception of the farming environment and automate tasks, such as fertilizer applications. This helps farmers reduce chemical inputs and increase their yield.
Funding: In March 2021, the firm closed a $8M Series A round, bringing total funding to $11.1M.
* Climate tech landscape: Big data and IoT*
Big data and the Internet of Things (IoT), while not among the seven areas of deep technology identified above, represent two areas marked by technological and scientific progress. Big data refers to technologies that are dealing with the increasing amount of data in a way that provides valuable insights and helps decision-making. IoT describes the embedding of physical objects with sensors, software, and other technologies to connect and exchange data with other devices over the internet.
Synergies with climate tech can be seen in areas where data and connectivity help optimize the use of resources, such as agriculture or water management.
Name: MClimate
, based in Sofia, Bulgaria
Founded date: 2015
Founders: Blagovest Dimitrov, Lyubomir Yanchev
Solution: The company designs and manufactures IoT devices and offers plug-and-play solutions to make buildings smart, focusing on energy efficiency, air quality and water loss. prevention.
Funding: The company has raised a total of €1.5M, so far. Recently, they received a grant from EBRD's Green Innovation Program.
Name: Develiot
, based in Sofia, Bulgaria
Founded date: 2019
Founders: Miroslav Gechev, Petar Ivanov
Solution: Develiot offers end-to-end solutions, encompassing IoT and optimal data sensing, transmission, visualization, and analytics to improve access to clean water and air.
Latest: Recently, the company rejoined Telelink Business Services, after they operated as a separate corporate spin-off for a while.
Name: SatGeo
, based in Sofia, Bulgaria
Founded date: 2021
Founders: Bilyana Nikolova
Solution: SatGeo develops technology based on satellite imagery that helps in the early detection and prevention of accidents along water supply networks, reducing water loss.
Funding: In June 2021, the startup won the first joint Demo Day of Innovation Starter Accelerator and Sofiyska Voda, part of the water, waste, and energy management company Veolia.
Name: Apiary Book
, based in London, UK, with Romanian founders and team
Founded date: 2018
Founders: Bogdan Iordache
Solution: They use various technologies, including machine learning, sensors, and IoT to provide a solution for the complete management, monitoring, and analyzing of bee colonies data and environmental factors that affect the bees.
Funding: So far, the company has raised €245K from a crowdfunding campaign on Seedblink and early stage VC funding, according to Dealroom.
Name: Pollenity
, based in Sofia, Bulgaria
Founded date: 2015
Founders: Sergey Petrov
Solution: Pollenity offers IoT solutions and digital technologies to help beekeepers create smart beehives that can monitor essential data and offer insight into colony dynamics.
Funding: The startup was funded with support from the Horizon 2020 program of the European Union.
Name: AgriCloud
, based in Bucharest, Romania
Founded date: 2018
Founders: Marcel Ionescu
Solution: AgriCloud uses IoT technology and high-resolution satellite imagery analysis to help farmers monitor crops, vineyards, orchards and animal farms, and thus reduce food production losses and costs.
Funding: They started with bootstrapping and support from Orange Fab. They will be looking for a funding round towards the end of 2022, according to an interview by the founder for Business Magazin.
Name: OGOR,
based in Bucharest, Romania
Founded date: 2019
Founders: Dafina Maria Jeaca, Andrei Duhnea
Solution: With satellite-based field monitoring, GPS tracking, and weather forecasting, OGOR helps farmers manage, prioritize and improve their work.
Funding: They launched the business with a grant from Copernicus Incubation. They also won in the Best Product category at Innovation Labs in 2020.
Name: Nextfarm,
a project by Rodbun Grup, based in
Vadeni, Romania
Founded date: The project was launched in 2018 and the company was founded in 2002.
Founder Rodbun Grup: Daniel Muntean
Solution: They have developed technological tools including algorithms to help interpret satellite data to bring predictability and valuable information to farmers and help them increase agricultural production.
Funding: Recently, Daniel Dines acquired a 10% in RodBun, according to Ziarul Financiar.
Name: Dtwise, based in Greece
Founded date: 2015
Founders: Athanassios Panagoulas, Spyros Tzovairis
Solution: They offer commercial and industrial businesses data management solutions for customized energy efficiency, smartification, and AI solutions. The Legacy Equipment Smartification solution brings reliability and predictability to refrigerators, lifts, or escalators with automated tracking of electrical measurement patterns.
Funding: They raised a seed round of undisclosed amount from Uni.Fund in 2019.
For more examples of IoT, AI, and data analytics technology use in agriculture, you can check out 50 Romanian agritech startups digitizing farms in Romania.