Skopje,
North Macedonia ~
For the first time companies and startups, coming from North Macedonia will have the opportunity to take part in the Accelerate2030 program, and to develop and scale solutions for the Sustainable Development Goals (SDGs). The three-month program is supported by two accelerators in the country – Seavus Accelerator and Business Impact Lab. The selected startups and companies will get the opportunity to work with experts and mentors.
Accelerate2030 is the world's largest program, supporting entrepreneurs from developing and emerging markets to scale their solutions for the Sustainable Development Goals (SDGs). It gathers the strengths, expertise, and reach of the global Impact Hub network, United Nation Organizations, corporates, investors, and expert partners to strengthen the capacity of impact-driven entrepreneurs from emerging markets to scale their innovations.
Building a sustainable future
"The Macedonian startup ecosystem has many entrepreneurs, who are creating an impact through their work and there is a lot of interest in Accelerate2030 that can help them in scaling their business and impact. Even though some of them may not be aware of how big of an impact they have and don't know that they are covering some of UNs SDGs, we can see a big global shift, where investors prefer to invest in startups that are creating impact rather than startups with no impact in society at all," Angela Mitrinovska, National Program Coordinator tells The Recursive.
According to Natasha Markovska, UNDP SDG's consultant, when it comes to building a sustainable future, businesses will have a decisive role, since the private sector will be the one that will invest the most in all of these actions.
"Our work should be dedicated to creating an enabling environment for getting the businesses and private sector on board. To help and support their actions, because this is a decisive role, without which we won't be able to do it," Markovska said during the "Activating SDGs through Businesses with Purpose" event.
"But they need to have an enabling environment, in terms of regulations, administrative and legal support, and also acceptance, and adaptation to the new reality", she added.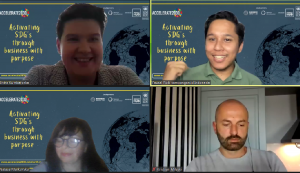 Entrepreneurship advice
Muhammad Fauzal Rizki, CEO and co-founder of Sampangan, an Indonesia-based circular technology company that converts waste into sustainable materials, participated in the 2019 edition of Accelerate2030.
His advice to companies and startups from North Macedonia is that while getting into this type of entrepreneurship might seem difficult at the beginning, it will be worth it.
"We have to be resourceful, choosing the road of entrepreneurship. To be honest, I would not recommend it, because it is very hard. But then, the key is just to be consistent and resilient, and to survive long enough until one day the opportunity opens up for you. For me, that was when I was introduced to the Impact Hub network and when I joined Accelerate2030 in 2019," Rizki explained.
When he joined the program he didn't have any expectations about how far his company would get. The program has two segments, a national scale-ready program, and then a global scaling program, which is hosted in Geneva.
"At the beginning, I didn't even know what SDGs were, because I just wanted to make sure that my father's technology doesn't go to waste and it is implemented at least in Indonesia, and best-case scenario – in the world, so it will give prosperity to my family. – This was the initial motivation. Along the way, we realized that it is not just a business since apparently, we can create prosperity both on the economic side and our way of thinking that everything that we do needs to be environmentally sustainable, like less carbon footprint, energy efficiency, etc," Rizki said.
Who can apply
According to Kristijan Milevski, Partnerships and Fundraising Lead at the Business Impact Hub, companies from any industry can apply for the Accelerate2030 program.
"The program is open for any industry, it doesn't matter what industry the companies are working in. What is more important is the impact, what problem you are solving and how you can solve it. We will also have mentors and experts that will help with the business modeling. The program is open to companies with impact on the SDGs, who are in a growth stage and have potential to scale, led by a motivated and skillful team," Mileski said.
According to Mitrinovska, through programs like this not only will the startup ecosystem in the country grow, but will also help position it as a regional startup hub, and make an impact on a global level.
The Accelerate2030 program is being implemented in 25+ countries worldwide, and the Macedonian startups' applications for this year's edition close on June 10.