Bucharest,
Romania ~
"I joined Bitpanda with a straightforward mission of building a high-performing growth organization and taking the company to the mass market, which I did for the first year. Then, the market sentiment changed dramatically for the worse," Irina Scarlat, former Chief Growth Officer of Bitpanda, the Austrian unicorn and investment platform with a goal to democratize access to stocks, cryptocurrencies, and precious metals, tells me.
Bitpanda has had a challenging summer in the context of the cryptocurrency market's downturn. The company said it cut its team with over 700 people, to prioritize safety, compliance, user experience, education, and community, back in June 2022. Following a period of high growth, marked by fast changes, the former Chief Growth Officer decided to take an active career break.
Irina Scarlat has been in the tech industry right off the bat after graduating from The Academy of Economic Studies in Bucharest, specializing in International Economics in Business in 2009, and in International Project Management in 2011.
The 35-year-old product marketer's tech career led her through different projects, from local How to Web, to international ones, like Uber, Revolut, and Bitpanda, who betted on Bucharest's talent pool with a €10M investment at the beginning of the year.
In the interview below, she will take us on a journey through the digital world, explaining what she thinks of both blockchain and crypto, how one is set to change the world, why it's important to keep learning, and how 2023 will most probably be about going back to the basics of marketing, which she thinks it's "long overdue".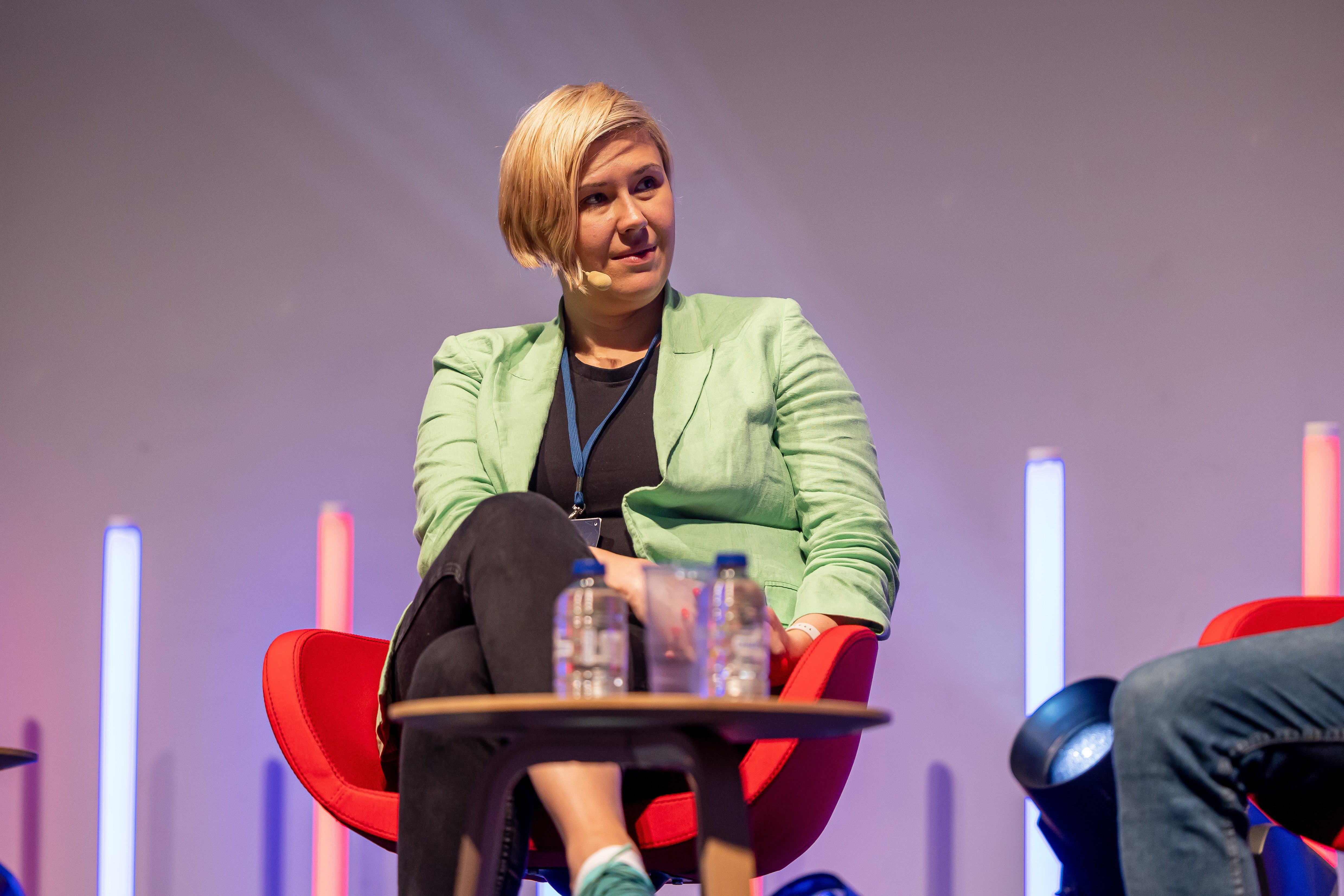 The Recursive: Why did you join Bitpanda, and why are you departing now?
Irina Scarlat: I'm happy I chose to join Bitpanda when I did. I met so many incredible people and learned a lot of things.
When I joined, during the first interview, I told the guys "Hey, if we are to build a crypto trading platform for the crypto community, I am not the person to do it, because I lack the passion for the industry. If the objective is to build an investment platform that enables people to invest, irrespective of their budget, and their risk appetite, in a wide range of digital assets, then this is something that I love to do because it's connected to solving deeper problems of financial education for the mass market. It's a challenge that I'd be willing to take."
Then, the LUNA crash followed. It was a weird summer. The market sentiment is still in a downward spiral, which puts us in a position to reconsider our strategy. We had to restructure and scale down operations and as Chief Growth Officer, I was tasked with communicating both internal and external communication.
The priority for Bitpanda is to weather the storm and make sure that it's financially sustainable. To do that, the best strategy for the company is to shift back its focus to the community. Unfortunately, I am not the right person to do this and I think both myself and the company deserve better.
Why isn't crypto for you?
I think that blockchain technology is disruptive and has the potential to change the future. However, we are far from mass adoption and understanding.
Unfortunately, too many people are attracted by the opportunity to get rich fast, given the high volatility of crypto assets. A lot of them ultimately end up losing their money.
There's a generalized lack of financial education and Bitpanda, as a company that's doing things the right way, has started on the path of actually educating the market. I have a lot of trust that my colleagues will succeed in doing so, even if I am not the person to lead the company through this new growth stage.
Why are crypto projects addressing only small, niche communities?
The problem faced by companies with mass market ambition in the industry is that right now they are mostly used by early adopters and innovators, people with a high-risk appetite. The early majority are pragmatists, people that need to understand and know what's in it for them.
As long as we are not able to provide an answer to that question and speak in a language that mass-market customers do understand and relate to, crypto is not going to go into the mass market.
What happened with FTX was a major setback for the entire industry. It shattered people's confidence in the crypto world. And while there are shady actors on the market, there are also companies that do things right.
Bitpanda shines as an example here, due to its unparalleled focus on regulatory compliance. It's important to communicate with transparency and authenticity to get the message across to the mass market, but the message will land with difficulty in the aftermath of FTX.
What makes you change gears after 2-3 years with a project?
I have been working in tech for the past 15 years. The years of hyper-growth in tech companies are like dog years, they are demanding and intense.
Unlike established companies, where you normally see longer tenures, the average tenure in high-growth tech is about two years. This is because the company changes significantly fast and people rarely scale as fast as companies do.
I feel I can bring my biggest contribution after the early stages when the company has reached product-market fit and is ready to scale and do it fast. There are plenty of problems to solve at this stage that I am passionate about tackling, but I am not the one to work in a more established environment.
There are three things that I'm looking for in a project: building new things, learning, and having an impact.
As a nerd or a serial learner, to put it the politically correct way, I need to see a steep learning curve for myself and I want to grow together with the company. I am also a builder – I love to build teams, processes, and strategies, execute fast and iterate rapidly. I am attracted to challenging problems. And, ultimately, I want to have an impact and make a dent in the Universe – not only for myself and my team but also for the customers of the product I am working on.
In the end, life's too short to do something you're not passionate about, as Steve Jobs put it. People are quite uncomfortable and resistant to change, but I learned to embrace the uncertainty that comes along and only be in a place for as long as I'm happy and I feel I can contribute.
If you were to hire a Chief Growth Officer for a company, what traits would you look out for in candidates?
It depends on the industry, but first and foremost, I would hire an executive that has done it before, because their learning curve is going to be much steeper.
I like to work with people that are missionaries, and genuinely believe in the mission they are working to achieve. I'm always looking for that combination between passion and drive. If you don't have grit, it doesn't matter how good you are.
And last, but not least, I would hire a problem solver. An analytical person, somebody that isn't afraid to make mistakes and that looks at challenges as opportunities to grow.
You are known to take career breaks, I believe this is your second, after going through a period of high growth, what can you tell us about this experience?
A lot of people are still terrified of having blank spaces in their CVs. I think it's important to give yourself space if you can afford to take career breaks.
Hyper-growth brings a lot of change, so you need a period to cool down to deliver your best in the next role.
I am going to make an analogy with relationships. After you finish a long relationship, you are not jumping into another one the next day.
I use these breaks to reflect on myself, who I am, what I want from a role, what I bring to the table, and what I expect. This helps me make sure that I am making the right decision with the next step.
I will be taking an active break and working with a couple of founders. But there are a couple of things that are priorities: traveling and learning. Traveling helps me disconnect from work and reconnect with my family. It helps me recharge. On the learning side, I will focus on the executive education program that I am in.
What are you learning?
I am always learning new things about product marketing and growth, which are my core areas of expertise. I am also interested in leadership topics since you can't be a great executive if you aren't a great leader.
I am currently enrolled in the Stanford LEAD Executive Education program, which has proven to be more intense than I was initially estimating. Right now, I am doing two courses, one on disruption and the other one on business model analysis and design.
I have a mischievous goal, a business idea that I want to test, and I am taking the academic route to build the business model first. It's in the early stages of doing market research and customer discovery.
What's holding you back from taking this leap into tech entrepreneurship?
I have lost the idealism. When you are fresh out of university, it's like "Oh! I have a damn good idea, and I will make it work somehow!". Now, I know what it takes. I understand the process of getting to product market fit, as well as the need to have a sound business model and good unit economics.
I am working on the foundation, putting the assumptions that I need to test, and doing it gradually. If it works on paper, it's not a guarantee it's going to work in real life. But if it doesn't work on paper, it will not work.
Are you also flirting with the idea of investing?
Yes. I am looking into angel investing opportunities, but at a very small scale for now. I have been working with founders and I think angel investing would be the next step; however, it's a bit passive for me. I see investing more as an opportunity for retirement later on.
If I look at my profile, and my willingness to still build, I think that for now, the options are either to start my company or join a tech company that I believe in and build together with them.
In your "Goodbye Bitpanda" post, you mentioned that health tech, edtech, and the new mom economy are on your radar. What excites you about these tech verticals?
As a classic Millennial, I am a tech-savvy, functional pragmatist. I expect convenience. So, the problem I aim to solve is to make things convenient for people, bringing everything to the tap of a button.
I am also impact-driven. I think that there are some industries where innovation is lagging, and there is a lot of disruptive potential in education and healthcare.
As for the new mom economy, it goes beyond the millennial parents with children below one year. One million millennial women become mothers every year and they are looking for hassle-free experiences. The industry is prone to disruption and this can be seen in the numbers: in 2021 alone, parent-tech startups have raised more than $1.3 billion in VC funding, more than the previous four years combined, with the pandemic also surfacing major problems for parents.
You became a mother three years ago, how has this shifted the way you look at a tech job and its responsibilities moving on now from Bitpanda?
I don't think becoming a mother radically shifted how I look at a role. You need to understand that you have 24 hours per day. And if you invest one hour in doing a specific thing, that's the cost of opportunity for doing something else because your time doesn't scale.
What was hard for me was accepting help and understanding that I can't have it all.
I'm not going to cook quinoa muffins for my kids. I cannot be just my kid's mom. And that's a choice that works for me.
It was also about setting priorities straight. Contrary to popular belief, the family doesn't always come first. Of course, if the kid is sick, I will prioritize him. But there are times when work will be a priority and this means I will lose some moments in my kid's life. I think this is hard to accept and internalize for a lot of working mothers.
What's your view on work-life balance: myth or fact? How do you set boundaries?
I don't believe in a clear-cut definition of work-life balance and no recipe works for everyone. For me, prioritization is key – I would say the boundaries are quite flexible, but I set clear priorities and milestones that I want to achieve in every area of my life.
I will never say I close the laptop every day at 6 PM. I am fluid with my boundaries, sometimes I work 60-hour weeks, and other times I work 20-hour weeks. But I have my building blocks.
For example, I have breakfast every single morning with my kid. I try to put him to bed at night. There is one day per week when I don't touch anything work-related because I need to recharge. And, while I know my work schedule is intense, I always take one holiday per quarter where I travel with my family and recharge – it's my way of working in sprints.
From your vast experience as a product marketer in tech, what marketing trend will be on the rise in 2023?
I don't believe in trends. I don't think TikTok is on the rise, let's all do TikTok.
Marketing is not about fooling a customer into buying your product or service. It's not about positioning your product or your company other than what you are. It's about taking your products or services to the market and bringing them in front of your customers who choose them or ignore them based on the merits of the product, not based on your marketing.
No matter how good your marketing campaign will be, if your product sucks, nobody's going to use it.
Facing recession, I think it's time to stay away from the superficial stuff. And it's time to ask yourself: is your product an antibiotic or a vitamin? Focus on a clear niche and offer a much-needed "antibiotic", instead of stretching your services to offer optional "vitamins" to a wide variety of customers
Let's get back to product marketing, solving real problems for our users, and being authentic and transparent because real value sells. It's going to be a return to the basics and I think it's long overdue.
What's the value of social media in your opinion?
I am a firm advocate of using technology because it makes our lives better, versus using it for the sake of it. Social media has the intrinsic value of connecting people. Excessive use of social media creates addiction and brings no value other than giving you ADHD-like symptoms. So, it's about striking the right balance.