Romania ~
What are the top deals and total investments in the Romanian startup landscape? At what stage do local startups usually receive funding and what are the average investment amounts with which Romanian VCs fuel the growth of startups? Answers to such questions are included in a comprehensive report prepared by Bogdan Iordache – the founder of the How to Web Conference and also a venture investor and startup advisor. The Romanian Venture Report 2020 is an analysis of the venture capital investment market for the period 2017-2020, which is conducted by filtering and tagging all VC transaction announcements in Romania, and it also includes some qualitative information to add more substance to the presented numerical data.
Growth in unpredictable times
According to the venture transaction analysis, funding activities in Romania in 2020 were not negatively affected by the uncertain situation around the pandemic. Iordache's report highlights that there have been 59 VC announcements with a total investment volume of €30.4m, which compared to the previous year marks a 6% increase in investment volume and a 51% increase in the number of transactions. And looking back, this steady growth trend is reiterated as the report shows that the investment volume and transactions increase with each coming year, which is a sign of both better startups and more available capital on the local market.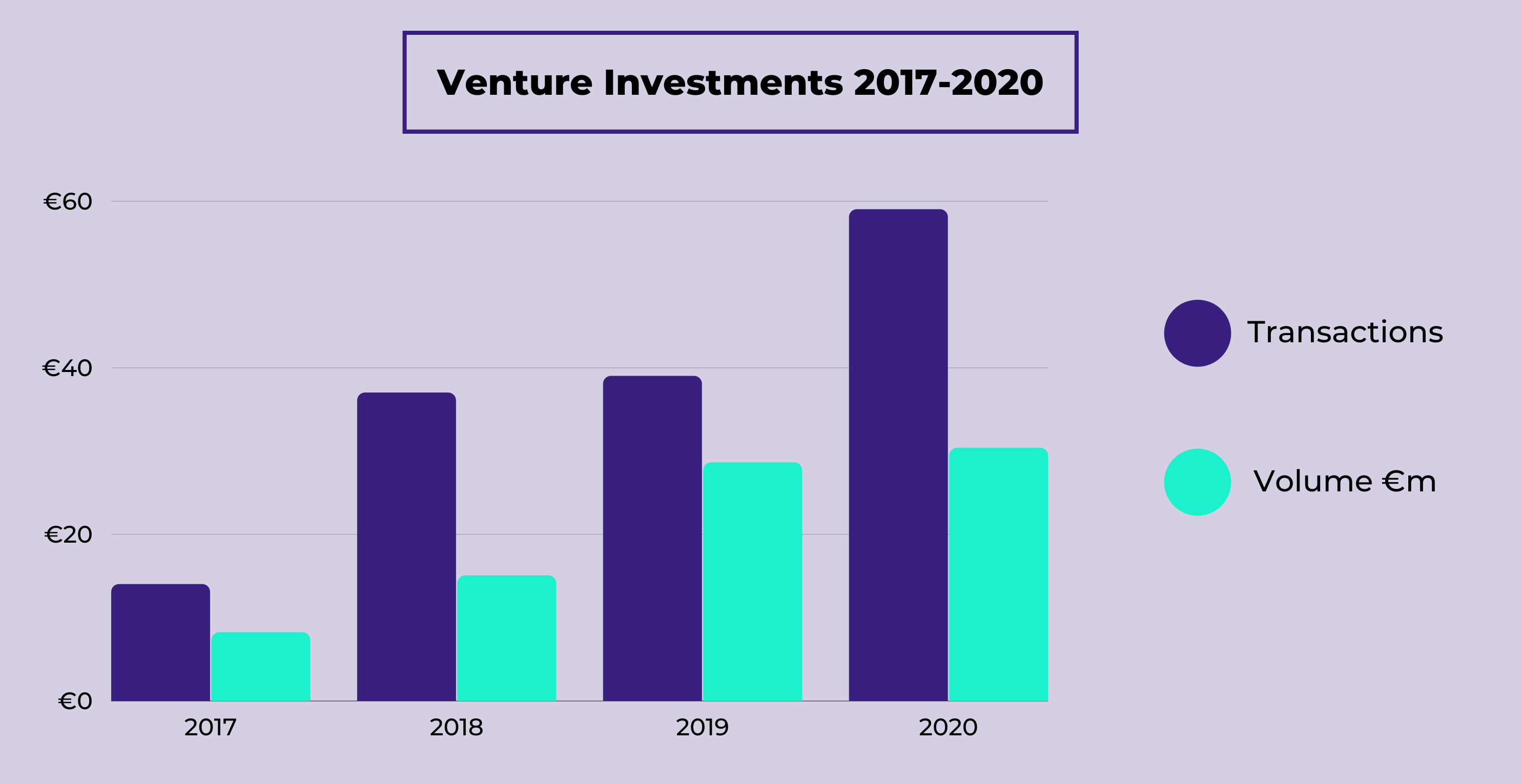 Seed funds and business angels change the game
Both the volume and the number of investments in new startups has increased – a total of 39 new startups raised money in 2020 compared to 18 in 2019, and the same trend goes back to 2017. The reason for this growth of interest in new startups can be explained by the proliferation of seed-stage funds and active angel investors. In 2020 most of the capital, near €22m out of the total €30m, has been invested in seed rounds and the average 1st investment funding per startup was €357k.

Who were the big players?
In 2020, 35% of all the capital raised went to three startups – TypingDNA, which received a €6.2m Series A investment, led by the Google AI-focused fund Gradient Ventures, Deepstash, which raised €3m in a round led by the European seed fund Connect Ventures, and Soleadify, which raised €1.35m from GapMinder and Day One Capital through Seedblink.
TypingDNA

provides biometric authentication AI solutions that are based on the way people type on their keyboards. The technology that it uses, which is also known as typing biometrics, helps businesses to authenticate clients, detect and prevent fraud.

Soleadify

develops a database that uses ML to track businesses in different industries for sales and marketing purposes. By creating and constantly updating company profiles, the startup offers prospecting, market research, customer segmentation, and industry monitoring solutions.
Deepstash

offers a curated content platform where people can connect around ideas, articles, videos, and podcasts. The goal of the startup is to provide an alternative to the information overload that we are all experiencing with traditional social media.