These are dark days for Ukraine and the rest of Europe. Major cities in Ukraine are under missile attacks following Russia's large-scale invasion started on February 24, at 5 a.m. The Ukrainian President Volodymyr Zelenskyy had declared martial law. The invasion has prompted residents in Kyiv and other cities to flee for safety.
These are also days of solidarity. Numerous professionals and organizations in the region have jumped to support the communities in Ukraine. In an effort to bring visibility to the support available, The Recursive shares some of these initiatives, as well as what to do to help.
How the tech community is mobilizing efforts
The majority of actions are now focused on evacuating and relocating professionals and their families to neighboring countries. This is mostly happening by car and bus, as the airspace is now closed.
In Bulgaria, the entire tech community is alert and looking for solutions. Tech leaders are already working out a plan to support the people from Ukraine in need of relocation, and the Bulgarian government has announced open doors for people who want to seek asylum in Bulgaria.
Max Gurvits, Managing Partner at Vitosha Venture Partners shares more: "The biggest effort until now has been to make a list of people who would be willing and able to be picked up in Western Ukraine. I'm helping with that. I've done a lot of work in Ukraine, I've been there dozens of times, I know hundreds, and by extension, thousands of people there, including startup founders."
"We are still discussing how many people we can bring. Hopefully, we will soon know all the details: how many buses can go to Ukraine, where, and when. At the other end, we will be providing accommodation. We already have some hotels who donated rooms. There will also be workspaces and offices. Hopefully it will be temporary and people will be able to go home but if it is not the case we will need to adapt," Max adds.
Yet as of this morning, Ukraine is mobilizing men of for military duty. The scale of recruitment drive is not publicly available.
"The biggest challenge right now is getting people to leave Ukraine, as internal transportation is very difficult, and men of fighting age are no longer allowed to leave. So, we're probably expecting mostly women and children, or men who were already outside Ukraine somewhere when this started, and have nowhere to go," Max tells us.
"Many companies have been moving their staff out of Ukraine or to Lviv. Others won't leave their family behind and stay put despite the imminent threat," Anna Radulovski, Bulgarian Founder & CEO of WomenTech Network, further shares. Anna and her team are now starting a campaign to share parts of the proceeds for the WomenTech Global Conference to Crisis Relief Funds.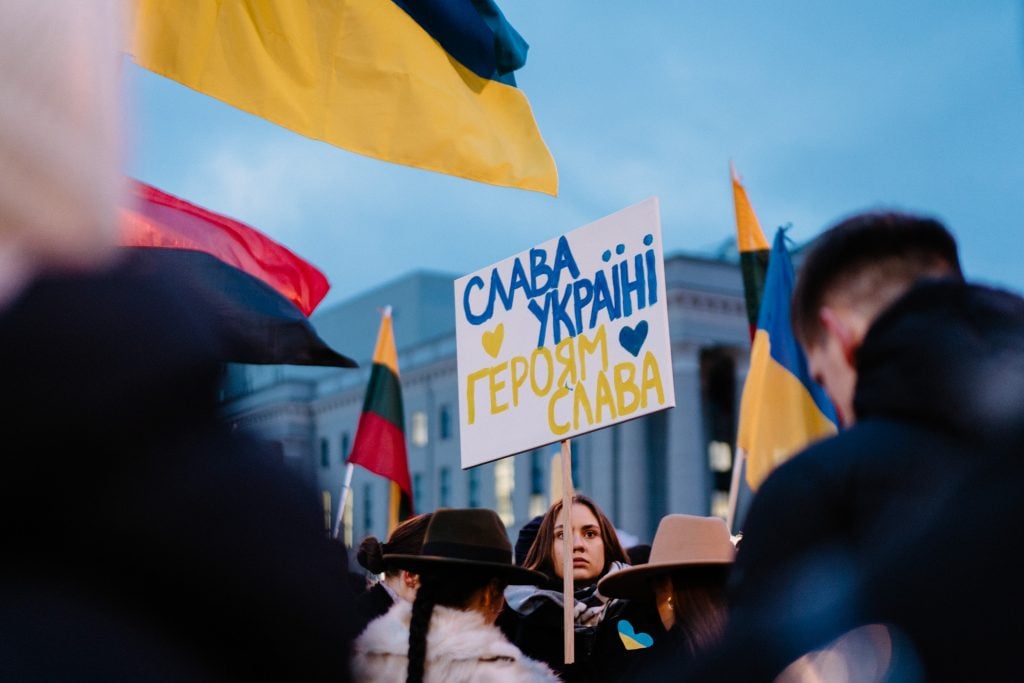 The tech community in Romania is also organizing to support the Ukrainian people. The Code for Romania Association announced working on a series of digital to provide qualitative information, as well as help manage the critical needs of refugees:
• A Roof: a solution for identifying accommodation spaces that will help the refugees who arrive in Romania and need help immediately; people who can provide rooms or buildings for refugees can register on the platform;
• Dopomoha: information and support platform for people who will ask for help from Romania; with the help of a decision-tree, anyone will be able to find out in a few minutes what procedures they need to follow in order to obtain asylum, accommodation or other resources available to them in their situation; the information will be available in Romanian, Ukrainian and Russian;
• Who's Who: a solution that is currently being adapted to the conditions of the new crisis, the war, in order to have a clearer picture of the roles of institutional actors in this emergency situation;
• Resource and Volunteer Management: the resource management solution already used by the Department of Emergency Situations in Romania (DSU); it allows the management of the stocks of available resources, as well as the status of the volunteers organized on distinct specializations.
"We're deeply solidary with Ukraine's hardship and want to offer support to anybody we can. If there are people who need to relocate in Bucharest or other regions in Romania, we will gather our efforts to make this easier for them. These are times to stay united and use our resources for the better and therefore this is also an open call to our network to join forces and act together. Contact us at [email protected]howtoweb.co, if you want to join this initiative or need help!," Alexandru Agatinei, CEO of Romanian entrepreneurship & innovation conference How To Web, further shares.
At the same time, some global companies with teams in Ukraine have been preparing for such a scenario and are now activating their contingency plans, making the safety and well-being of team members and their families their top priority:
"Part of our R&D team is located in Ukraine; so, as soon as we realized that the conflict might escalate, we created a contingency plan, a 'combat mode' scenario. We reached out to nearby business partners and let them know that if the situation gets any worse, we will get our team members out of the conflict zone and send them their way. Given the gravity of the situation, everybody was highly receptive and supportive. As I'm typing this, the team is already halfway from Constanta (Romania), where our partners and other team members will take care of them," Boaz Peled, Co-founder and CEO of First Airborne, a wind park operator with Romanian capital, tells us.
"While we had hoped these days would never come, we have planned for this, and are in close contact with our Ukrainian colleagues. Some have chosen to stay and some are seeking to relocate. Whichever they choose, we are providing logistical and financial assistance to support them at this time," Daniel Dines, CEO and founder of UiPath shares on his professional network.
Going forward, tech companies with local teams are committed to keep their employees safe and tend to their needs:
"Talent is what motivated us to open a studio in Kyiv and no matter the challenges we may face along the way, we will do everything in our power to keep our talented people and teams safe.
During the current situation, our top priority is to ensure the safety of our employees and their loved ones as well as providing professional emotional support for anyone that requires it. For those in need we provide the necessary financial and accommodation means to find refuge in Romania or Poland. We put our faith in our teammates and offer support for them to make informed decisions in their personal and their families' best interest,"
shares
Matthew Manolovits
, General Manager of Amber Ukraine, a Romanian game development and studio services agency.
Finally, numerous tech leaders took to professional network to share their solidarity with Ukrainian people.
"We are in constant contact with the Bulgarian authorities, Bulgarian companies with employees residing in Ukraine and Ukrainian companies represented in Bulgaria from our sector to help them evacuate their employees and their families. If you need support, you can reach us at [email protected]aibest.org," AIBEST, the Association for Innovation, Business Excellence, Services and Technology in Bulgaria, shares on their LinkedIn page.
"My thoughts are with everyone in Ukraine who is in danger right now. The aggression has to stop – innocent people and families are in danger and fear for life as it appears we did not learn anything for 80 years. Our team is working with the authorities to coordinate the relocation and evacuation to Bulgaria of our friends and colleagues who are in danger in Ukraine!," Kamen Bochev, CEO at South Gate Tech, further shares in his network.
What you can do to help

Each of us can provide support. The Recursive gathered key advice from the business community on how we can reach out a helping hand in these times of terror for the Ukrainian community:
If you have any contacts in Ukraine, reach out to them to ensure they are safe and getting support;

If you have a team in Ukraine, make sure to offer them your full support in getting to safety, as well as longer-term support (financial, relocation) to cope with the situation;

If you are hiring, consider that this could be a fast way to support professionals in the country who will be looking to relocate;

If you have partners or clients in Ukraine, reach out to see how you can help them now and in the longer-term;

Support Ukrainian business by purchasing their products and services;

Consider making a donation to an organization that you trust, which supports the Ukrainian ecosystem.
. . .
"Any business that has operations in the conflict zone can assist their team members in one way or another. First of all, assure them that their job safety remains untouched – it might not sound as much right now, but it is one less stress factor.
Second of all, let them know they have somewhere to go to if needed – some of them might not have any relatives or friends outside their country. And lastly, move fast – even if you don't know exactly what the next steps are, there is still time to plan after they are out of the conflict zone," Boaz Peled concludes.