Bucharest,
Romania ~
The launch of the Romanian chapter of Endeavor was celebrated last week at The Bucharest Diplomatic Club, in a buzzing, uptown atmosphere. 200+ guests from the local innovation ecosystem, as well as the regional and international Endeavor branches attended – a turnout that speaks to the appetite of tech startup players to meet, collaborate, and pay it forward.
A similar mindset prompted Mihnea Craciun, the Managing Director of Endeavor Romania, to leave a banking career and find ways to help entrepreneurs from inside the ecosystem. When given the opportunity to facilitate the partnership between EBRD and Endeavor in the local market, his maverick persona pushed him to embark on the new journey of leading the newly formed Endeavor Romania.
Prior to joining the team, Mihnea worked his way into progressively higher responsibility roles at ING and EBRD, where he shaped his financial acumen, but also negotiation, persuasion, and organizational skills. Today, he puts his skillset to use in a non-profit organization that aims to become a passport into the global innovation ecosystem for Romanian entrepreneurs. In his efforts to connect the local ecosystem of entrepreneurs, community builders, and investors, he is both energized by and energizing the emerging network with a passion for change making and dreaming big.
In this interview, we learn what really drives him and what his aspirations are for the Romanian startup ecosystem. We also get to know what Endeavor Romania does, who it targets, and how it will be measuring its impact in the local market.
The Recursive: What prompted you to switch from a successful career in banking to entrepreneurship?
Mihnea Craciun: As a banker, I had been working a lot with entrepreneurs and have always been inspired and energized by their capacity to dream and then work hard to make dreams real. Naturally, I also wanted to help. But, sometimes, a bank may not yet be the right partner for an entrepreneur, due to reasons like sector, size, or stage of a business. So, even if we did quite a lot of work for entrepreneurs, as a banker, I felt I did not always possess the right tools to help.
On the other hand, after spending 20 years in finance, I thought that my capacity to understand people and businesses make the right connections, and provide advice could be useful to young founders. However, for this to happen:
I had to shed my banker suit and get closer to becoming an entrepreneur myself. This was utterly exciting: I had always wanted to test my ability to change, even re-invent and use my "maverick" drive which, at times, was difficult to manifest in a regulated environment like a bank.
So, I launched myself into starting something entrepreneurial and totally unscripted.
Why Endeavor? And how?
The "why" is straightforward. Endeavor was the channel through which my desire to help entrepreneurs found its most natural manifestation. Endeavor is a worldwide community designed to support entrepreneurs get access to knowledge, markets, and money. It includes more than 2,000 entrepreneurs coming from over 40 countries and is supported by a network of over 4,000 mentors and over 500 investment funds.
In fact, the organization searches continuously for high-impact founders who want to grow their businesses, change and enrich ecosystems by building goods and providing services to improve the lives of millions of people.
Endeavor is based on the "pay if forward" pledge, and as a not-for-profit entity, is itself supported by the kindness of thousands of entities, individuals, or corporations. This leads to a "multiplier effect": the capacity to inspire others to dream big, grow faster, and share the knowledge forward – thereby compounding individual impact.
Endeavor is a catalyst of goodwill, underpinned by solid expertise in scaling up growth, coming from ambitious entrepreneurs and providers of finance.
The "how" is a totally serendipitous encounter. Endeavor came to Romania in 2019, in a partnership with the European Bank for Reconstruction and Development (EBRD) for whom I was working then as the deputy country head. The EBRD was looking to increase its support for entrepreneurs, and Endeavor was a school of entrepreneurs providing a filter for quality. Equally, Endeavor needed a solid partner on the ground, like the EBRD, in a country where its name and work were unknown. The project to make this partnership successful was entrusted to me.
We were fortunate that Dedeman and Globalworth joined the EBRD partnership and that several local entities such as Autonom, Arobs, Banca Transilvania, Centrico Selir, and RTPR joined the project too as board members. During the process of working to set up Endeavor's Romanian chapter, it dawned on me that Endeavor could be the perfect conduit to make myself helpful. So, fast forward 2 years (the pandemic delayed the launch), in 2021, I began my entrepreneurial journey with the support of our new, locally formed board.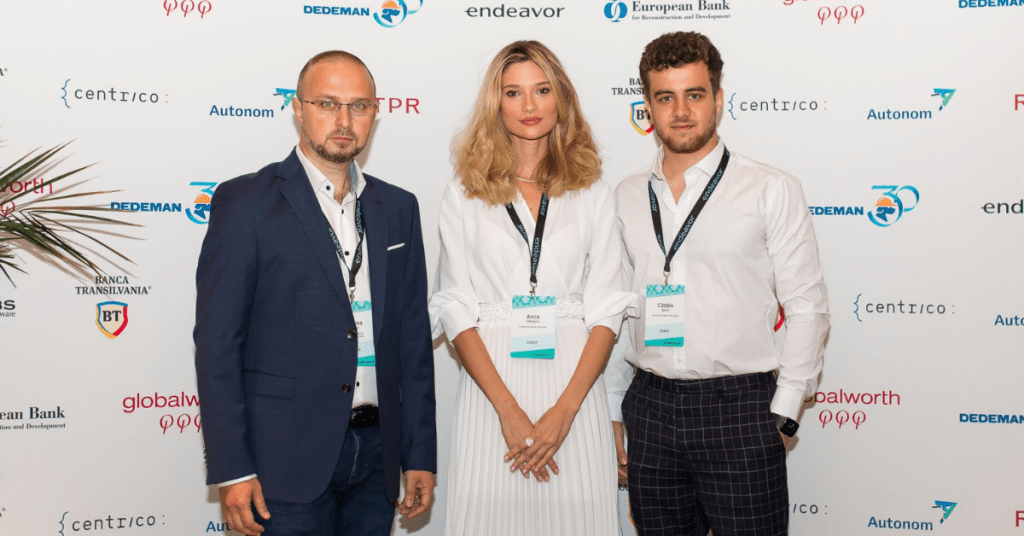 How can Endeavor help unlock the next stage in the development of the Romanian tech startup ecosystem?
Even if Romania has a vibrant entrepreneurial community, the tech entrepreneurial support ecosystem is relatively new. While it is extremely dynamic, it needs to connect more and better to the global market. This is doable in several ways, two of which I think are critical: by having more Romanian companies expand globally and building bridges between the Romanian ecosystem and the world, and second, by using the experience achieved in this process to support other Romanian founders. Endeavor is the facilitator of these two streams.
For Romanian founders, it provides a passport into the global innovation ecosystem, by allowing them to have access to knowledge from like-minded founders around the world. Additional value is brought by the experience of Endeavor's mentor network and access to global finance. This allows Romanian founders to access larger pools of resources and scale up faster, which are amazing competitive advantages in a technology-driven global economy. As this is a two-way street, Endeavor also enhances the visibility of the local ecosystem by connecting it with large international players.
How are partnerships in the local and global startup ecosystem helping Endeavor Romania towards achieving its goals?
Partnerships are essential for the development of any startup, and I think I can compare Endeavor Romania with a startup between Seed and Series A stages.
Our partnership policy has two levels. The first is the natural partnership we have with our board of directors, which supported our activity from its outset. In this respect, we continuously aim to attract entrepreneurial companies and corporates with an innovative DNA, as well as visionary business leaders who understand and resonate with Endeavor's credos of dreaming big and paying it forward.
The second one is driven by common local or regional objectives: for example, this year we partnered with both Techsylvania and How to Web tech conferences, trying to support the development of Romanian startups with concrete actions such as access to knowledge and technical expertise. Also, we are a partner in EY's Entrepreneur of the Year project, where we focus on finding the upcoming role models in Romanian startup or scaleup universe.
Ultimately, these partnerships are aimed at raising the quality, speed, and capacity of the local ecosystem to produce great companies in the years to come: we offer our network of global expertise and experience where our partners can connect to and benefit from. In turn, we get access to their networks and are able to leverage on their strengths. Finally, our entrepreneurs benefit from getting the best out of both worlds – it's a win all across.
In 2021, you added the first Endeavor Romania entrepreneur to the network – FintechOS; half through 2022, you already added the second one – DRUID. Is it reasonable to expect a third addition by the end of 2022?
When we started, one of the criteria we set for selection was the amount of money the startups had raised until that time. Based on this, FintechOS and DRUID were both top players. I'm happy that both are now Endeavor Entrepreneurs and can fully benefit from the network and we're working constantly on serving them in their scaleup journeys. The amount of money raised remains one of our top criteria, but in the interim, we've also added a few others, such as the turnover and speed of development for each of the startups we engage with.
As to what is next, as I was saying earlier, the local ecosystem is dynamic, but early. There are several amazing companies we are already working with and we are opening up our global network to them even if they are not yet officially selected as Endeavor Entrepreneurs. We think this will help them grow faster, while it will also prepare them better for Endeavor's official selection process, which is flexible enough that, if needed, could be brought forward, or extended.
The most important thing for us is to deliver good value to all the amazing entrepreneurs that we engage with, even if their businesses may be too early for Endeavor. For the Romanian founders, every connection to a global entrepreneur in their line of work or any investment fund with expertise in their sector is valuable, if it gives them a possibility to test their ideas, share knowledge, learn, distill, and apply the lessons or advice received in the process.
What does joining a global village such as Endeavor require of aspiring startups in terms of company stage, resources, team, mindset? What is a checklist of items Endeavor is looking for in a high-impact startup?
The beauty of Endeavor is we're usually not prescriptive. On the other hand, Endeavor's 25 years of experience in working with startups has allowed us to develop some predictive patterns based on which we assess our candidate companies. Some of them, such as the amount raised from investors, or the speed with which money is converted into sales, I've mentioned already. One other important thing is the ability of founders to grow their business at least 10x from the selection point forward – this speaks both about their leadership capacity and about the scalability of their business. Last, but not least, the question we ask ourselves is "Is the business at an inflection point?", in other words, is the company at the beginning of a trajectory of a hockey stick growth pattern? It is already common knowledge that timing is one of the most important elements in scaling up a business, so we want to be sure that the Endeavor experience can benefit them when it's most needed, i.e. when they are ready to turbocharge growth, so our support to them is most efficient.
If I were to emphasize one more prerequisite, I would single out the mindset.
We've noticed in many cases the most difficult barriers that founders encounter are not created by concrete obstacles, but by their perception about them.
Some of the changes in mindset will come naturally with the growing up of the ecosystem, with more Romanian startups making it (or breaking it) onto the global stage, or with more knowledge from inspiring founders and their teams brought back into the local ecosystem. But some cultural and strategic elements, such as the ability to change and develop, to transition from managing small teams to leading a fast-growing, well-governed company, to plan and act globally, need early nurturing. We find these as particularly relevant to Romanian founders.
How will Endeavor assist in the process of bringing international scaleup opportunities for Romanian startups?
One of the most important services we provide for our entrepreneurs is related to access to markets. In this process, we leverage on our mentor network, but also on our local staff of over 500, present in 41 markets across the world. The support consists of delivering market knowledge in key access points, introductions to potential clients, suppliers or partners in specific regions or connections with the most important providers of finance in those places. This is important, especially in tech and particularly in B2B, given that the early success of Romanian startups on the local market may be less relevant, and not guaranteed on other larger or more sophisticated markets. One of the things we've seen in practice is that Romania is usually a market easily coverable, due to its size. At the same time, as to the typology of clients, a startup selling to a multinational in Romania does not guarantee the same level of engagement with the mother company or other subsidiaries within the group – i.e. the route to scalability is usually affected by the entry point.
Mapping the scaling journey and focusing on the right entry points are paramount for any company expanding out of a market the size of Romania.
The local support ecosystem is improving its capacity to provide such services, so Endeavor's presence in key selling markets could be a great complement for the Romania founders.
In turn, what can Romanian entrepreneurs uniquely bring to the Endeavor Global network?
Great engineering skills and frugality. While I think I need not say much about the first one, the second deserves more attention and a lot of praise. Growing up in a local ecosystem where founders had access to fewer financial resources allowed them, in time, to become capable of doing more, much more in fact, with less. We have several examples of Romanian startups, competing head-to-head in the global market with much better funded peer companies. These days such a quality is in high demand in the VC world, where the abundance of funding during the last decade led to a lot of money often invested out of FOMO, and without much to account for in growth terms. Romanian startups, due to a tighter funding environment, have been naturally able to focus resources and build better products with less funding and I think this is a major lesson we can teach the world.
How does Endeavor Catalyst, your co-investment vehicle, work, and what advantages can Romanian entrepreneurs expect?
Apart from including a large community of investment funds, Endeavor has its own VC fund, called Endeavor Catalyst (Ed.note no relation to Catalyst Romania fund). Established 10 years ago, it has recently closed its fourth fund. Endeavor Catalyst is the main element of sustainability of the network, as part of its profits are shared within the organization. It is a rules-based fund, investing minority stakes based on 3 criteria: 1) the investee needs to be a selected Endeavor Entrepreneur; 2) the investee is raising a funding round of over $5m; 3) the round is led by an institutional investor (i.e. a registered VC fund). Endeavor Catalyst has invested in over 250 Endeavor Entrepreneurs so far. We are thrilled that one of them is FintechOS.
An investment from Endeavor Catalyst represents more skin in the game for us, and it helps companies get more visibility in the global setting. Additionally, through dedicated teams, we support our investees throughout all facets of their growth journeys, such as sales, marketing, distribution, and also in areas such as corporate governance, HR, design leadership or pitch preparation in view of raising further rounds, leveraging on our large partner funds network.
The fund also represents an interesting investment opportunity for Romanian investors, as it allows them to invest in a global player, which, at its turn, invests alongside large funds from across the world. This is an important value proposition for the local market where such instruments are not yet available. Given that the investments of the fund are filtered through Endeavor's selection process, but are also validated by the market, Endeavor Catalyst is a one-of-a-kind type of fund.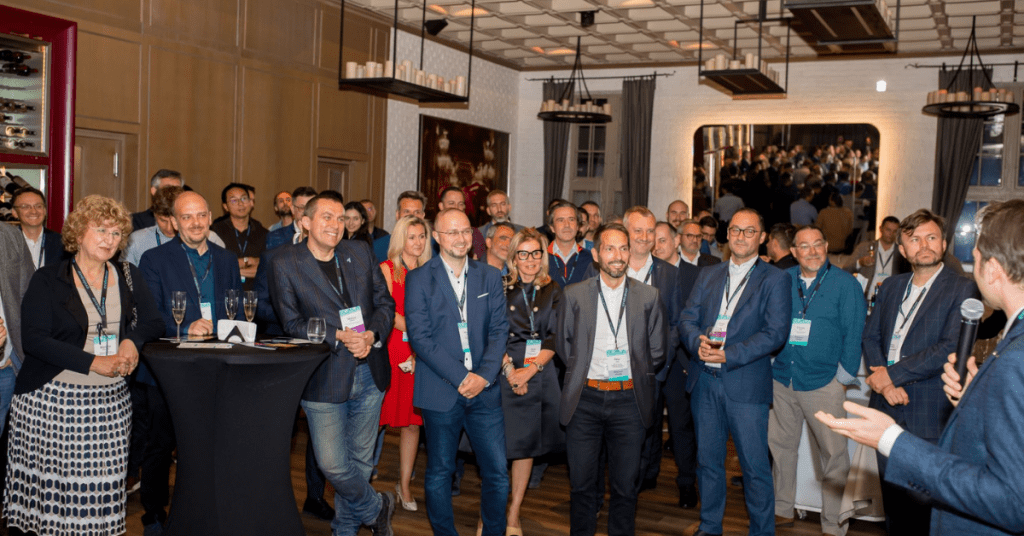 What are your impressions after the first Endeavor Romania community event?
On September 20, we organized our first Romanian community event in Bucharest. We were impressed by the turnout and the positive energy coming from our guests – Endeavor Entrepreneurs, board members, mentors, candidate companies and prominent members of the entrepreneurial ecosystem – all of which are humbling us. At the same time, this is also a huge motivator for our small local team, a testament of the fact that our mission in Romania is beginning to take shape. We want to make the Endeavor experience as rewarding as possible for all members of our community by allowing them to plug into our global network with enthusiasm and curiosity. We plan to make such an event a recurring tradition and to enrich it further with more content, substance, and networking opportunities for the participants.
How will you be measuring your success moving forward? What are Endeavor Romania's objectives until the end of the year?
There are three layers of success that we are looking at. Having more Endeavor Entrepreneurs from Romania selected in our network is obviously very important, but, given the early stage of the local support ecosystem, it is equally important to offer the chance to as many Romanian founders as possible to connect with the global resources of Endeavor. The impact of Endeavor consists in the power of its network and the ability of Romanian entrepreneurs to use it for their development. A few of our local candidate companies have already witnessed the magic of Endeavor this summer where they were invited into one of our global events which also included an Investors' Roadshow. In the long run, we will also be counting our success based on how many of these selected entrepreneurs provide, in turn, their support for other Endeavor candidates, in other words, by the scale of the pay if forward effect.
The second key focus point for us is to create a Romanian community around the Endeavor values and fully affiliated to our global community. In this respect, apart from our board members, we have attracted over 25 mentors in Endeavor Romania, who are to help Romanian founders develop further, as well as work with various other Endeavor entrepreneurs and communities across the globe. This enhances the visibility and expertise of our local Romanian network.
Finally, the thord objective for us is to be a catalyst for the Romanian diaspora, who can be both Endeavor candidates and mentors in the global community. In fact, we plan to focus on supporting the Romanian diaspora entrepreneurs, as much as we support the ones growing their businesses from Romania. Our target is to gather a large community of Romanian founders, senior business leaders, and C-level executives in large corporations or investment funds who are part of the Romanian diaspora. Apart from their experience, a lot of these people are keen to support the development of the local entrepreneurial ecosystem, so we want to be a bridge for them in reconnecting with their roots and bringing their expertise, advice, and investments into Romania.
I would like to invite you to help us paint a picture of the future of the tech startup ecosystem in Romania. What is one thing that will change for the better, and what is one thing that we already have and should keep with us moving forward?
I think a lot of changes in the local ecosystem are already visible.
We now have local VC funds having invested for the first time and looking to raise their second funds, while expecting to make meaningful exits soon.
We have more support than ever from IFIs such as the EIB/EIF and EBRD, investing or providing grants to local startups.
We have a large variety of crowdfunding support entities, catalyzing, and channeling financial resources into early-stage companies.
We have several acceleration programs providing support at the base of the ecosystem and we have stronger local business angel communities sharing pipelines and looking to team up and support young companies springing up.
We have more and more CVC vehicles investing in tech and deploying growth capital and technical expertise.
We have the first properly organized family offices reinvesting resources in the local ecosystem.
And we have our first unicorn.
All this did not exist 5 years ago – the speed of development has been amazing.