The first sanitary disposable pad hit the market in the late 1880s, whereas the tampon was invented in the early 1930s by doctor and entrepreneur Earle Haas. While these were revolutions during their time, innovations regarding feminine hygiene products haven't stopped there. This is good news considering women spend seven accumulated years of their lives in need of such products.
Today, innovators in the space are tackling challenges such as period poverty and the waste resulting from disposable feminine hygiene products. Some of the innovations hitting the market in recent years include sustainable period products such as reusable pads, sustainable period underwear, menstrual cups, and organic tampons.
Anouk Ragot, the co-founder of sustainable period underwear brand Libréa, based in Romania, describes the revolution brought by feminine hygiene innovations:
"We empower women and new generations. We give them an alternative to traditional period products, which is meant to help them feel good, comfortable, and ultimately free, in a healthy and sustainable way.

Usually, we don't really feel like ourselves during that period. In Romanian, we actually use a word – "pe stop" – that means we are literally

stopping from what we are doing to manage it all. It doesn't have to be like that.

After trying the menstrual panties, one customer told us that if she can change this part of her life – the habits that she learned from her mother – then she is more confident that she can change pretty much anything else."
Why we need sustainable period products
Two big issues in the world of feminine hygiene are period poverty and the environmental impact of products and packaging, which affects the FMCG sector at large, Anouk explains.
Period poverty refers to the lack of access to feminine hygiene products and facilities, waste management, and education. It affects 500 million people worldwide.
In Romania, 1 million girls and women of reproductive age are affected by period poverty due to lack of access to information and the products they need in order to manage this important part of their lives safely and with dignity.
One factor is cost. Worldwide, the average woman spends $10 per month on period products. For a woman with two daughters, it can lead to $50 a month. And this does not include period medications, such as acne treatments and painkillers.
The second issue concerns the environmental impact of feminine hygiene products. We use on average 25 absorbents per cycle, leading to a consumption of ~12,000 pads during our lifetime, the big majority of which end up in landfills … and stay there for hundreds of years.
This is where sustainable period products come into play. The first modern menstrual cups as we know them today were invented in the late 1930s.
And then the first period underwear hit the US market seven years ago, with a huge success amongst women who decided to feel free, Anouk shares. Previously a niche product, the global period underwear market is anticipated to grow at 15.8% CAGR between 2020 and 2030.
Startups innovating feminine hygiene care
Case study: Libréa, Romania – The sustainable period underwear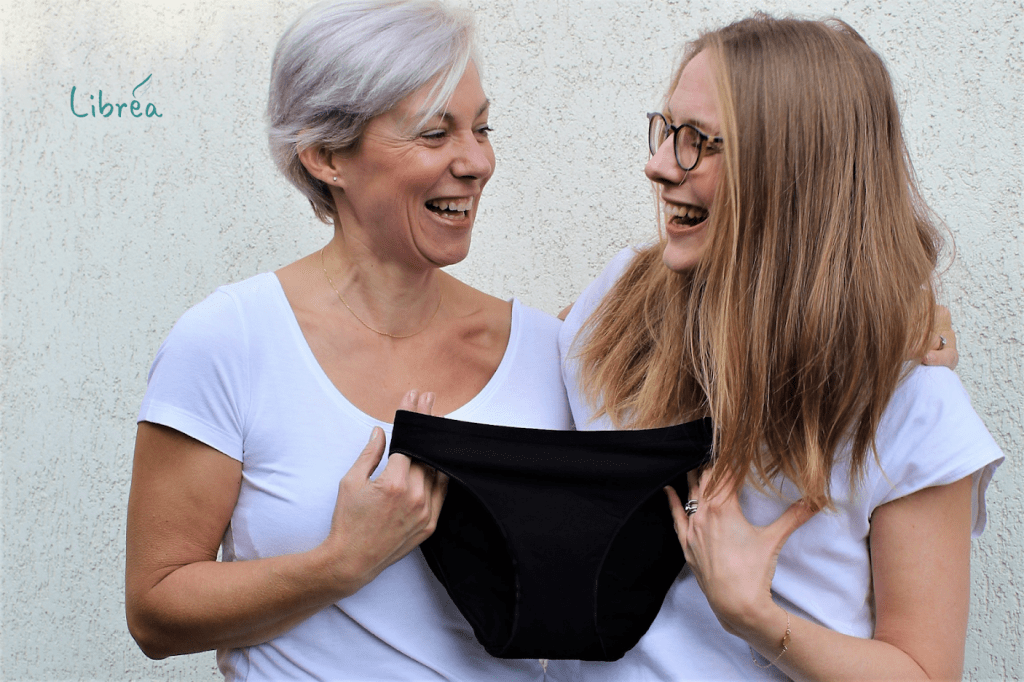 When Anouk met her co-founder Laurence Monier Blondiaux the schools had been mostly closed for a year and half due to COVID.
"Our activities slowed down and were put on-hold as we concentrated on helping our young kids and families. This accelerated our desire to engage and act concretely to improve women's day-to-day," she says.
Anouk first tried sustainable period underwear in France, to take care of herself before Christmas. It was love at first wear:
"The first time I tried it I thought this was a revolution. Laurence also had experience with it through her daughter; at 11 years old, you don't want to get through puberty with plastic-made solutions which are not easy-to-use and not very glamorous."
The Libréa menstrual panties are an all-in-one solution. The magic comes from a four-layer-sewed complex made of a cotton special layer with a drainage role, an absorbent layer, a waterproof layer, and an outer layer made of bamboo fiber.
"Comfort was on our top 3 priorities, along with reliability and affordability. 60% of our survey respondents told us that they are adapting their schedules during the menstrual period. They don't practice sports, or they avoid going to the beach, because their care routine is too complicated or they don't feel well. We are challenging that."
Another important factor in designing the product was sustainability. First, you can reuse it for up to three years. Then, the founders wanted to design the product locally to encourage economic activity and reduce some of the waste, including from transportation. The materials are sourced regionally, from Romania, Turkey, Italy, or Belgium.
On why they chose Romania for Libréa's headquarters, Anouk tells us it is a very good place to start a brand. There are fewer barriers in Romania versus France to putting an idea into practice. Things happen quickly and simply.
"We have invested only our own capital so far. We decided to go with the minimum viable product (MVP) mindset, to start with the essentials, move fast, and improve our product along the way. Then you need to always challenge yourself to improve," Anouk shares.
Keeping customers close is another key aspect of the business, enabling them to capture the true feedback and improve on the right, smart topics:
"Last week, a customer told me she had problems with the product. We discussed and I understood that the issue was the size. So, I sent her another size to see if this solves the problem, and it did.
That's why we don't have a lot of stock. We are almost in a "make-to-order" model. If we notice a slight improvement that we can make in the design, then we don't want to be stuck with a lot of products made in the old way. We are doing everything ourselves, and we can modify and adapt with agility."
Since launching in October 2021, Libréa sold ~500 menstrual panties and has a 20% customer return rate. As the company grows, the founders are planning to develop new variations of the sustainable period underwear, as well as attract external investment and add new distribution channels like pharmacy and retail."