Romania ~
•Product documentation platform Archbee announced raising a $3M seed round led by Global Founders Capital and Credo Ventures, a few months after their $1M pre-seed round.
•Founded in Romania in 2019, Archbee recently graduated from the S'21 batch of Y Combinator, on of the most prominent startup programs in the world.
•With the new funds, the startup will further develop and improve its product.
At the backbone of Archbee, there is a seasoned team with competencies in software engineering, marketing, and sales. Dragos has 10+ years of experience in software development and consultancy in the field. The team further includes founding senior backend engineer Petre Sosa, founding senior front-end engineer Daniel Stefan, and growth marketer Claudiu Dascalescu.
"The new funds are put to work to test new acquisition channels and deliver the #1 documentation platform for technical teams, both internal and customer-facing use cases. We are also hiring; great talent is always welcomed in a startup, so we have open positions for developers, marketing, and sales,"

co-founder

Dragos Bulugean

tells The Recursive.
Archbee's product documentation solution and use cases
A key step in Archbee's journey was the participation in Y Combinator last year.
"YC is the startup accelerator that invested in companies like Stripe, Airbnb, Dropbox, Twitch, or Reddit. Having access to experienced people in starting and running new companies is definitely valuable. Having the YC background gave us some clarity and confidence, and also it's something that users appreciate. I think the perception is more important for the users than for the team; so, it's definitely something that helps you grow as a founder, as a team, and as a product," Dragos tells us.
Archbee is on a mission to offer solutions that improve product documentation for technical internal teams and customers.
Since not having good documentation (especially for a complex product) can lead to poor customer activation, documents are critical pieces for asynchronous communication for businesses.
Archbee believes in the power of asynchronous communication tools such as Slack or Confluence, and sees an opportunity in offering similar benefits to product teams and customers.
The company aims to differentiate their solution in the market by delivering better usability, speed, and focusing on the needs of technical communities. As such, the product includes numerous technical features and user-friendly formats.
One use case is onboarding new team members by helping the team communicate asynchronously through the interactive knowledge base platform. Better employee onboarding can help the company save resources, speed up the onboarding process, and reduce time to productivity.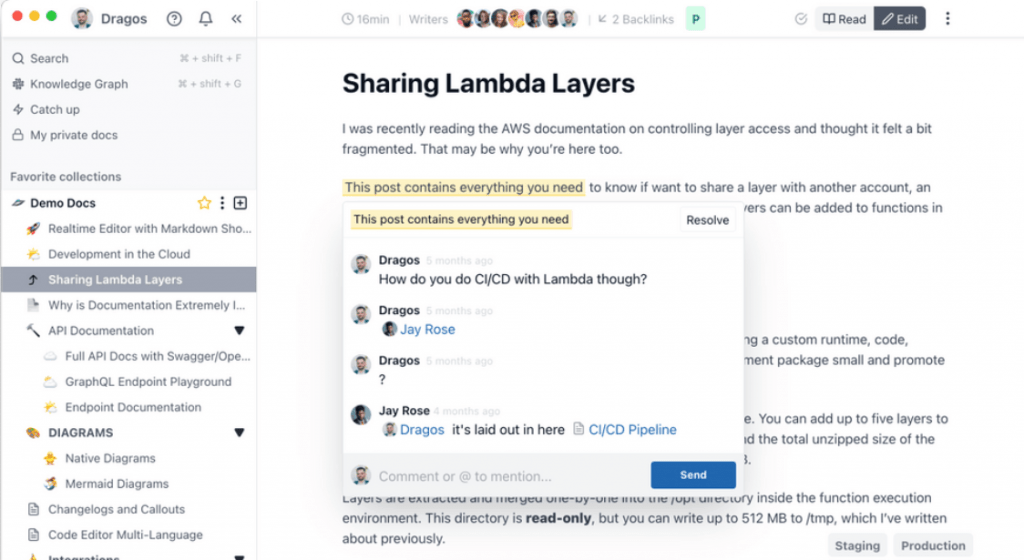 And since knowledge can be expressed through many more formats than text, the product also offers customer blocks such as checklists, tables, callouts, images and video, Mermaid.js, Swagger/Open API, GraphQL, and changelog, among others.
Going forward, the company aims to further improve the solution, by ensuring documents stay relevant, with up to date information, and by allowing users to design documentation workflows tailored to their needs and existing tooling.