Belgrade,
Serbia ~
In times when most of the urban population doesn't have a balcony, let alone direct sunlight for more than just a couple of hours per day, traditional gardening which requires lots of horticulture knowledge, ideal climate, time, patience, and space sounds like an activity we can't afford. Addressing this trend, we have witnessed the accelerated growth of the market for indoor urban farming and gardening technologies which in 2020 was valued at $14.5B and is projected to reach some $24.8B in the next 4 years.
As a response to rapid urbanization and advanced technological development that neglects the need for daily connection with nature, the Serbian couple Aleksandar and Anja Varnicic founded UrbiGo – a connected smart device for urban indoor gardening. They recognized that the hectic urban lifestyle of millennials is making them increasingly distanced from nature and took up the task to bridge this gap by combining the latest technology with nature. By developing their automated indoor gardening device which uses image processing and AI algorithms, they are getting people excited about nurturing indoor greenery and removing the guesswork out of gardening.
Achieving environmental impact with technology
Having a background in environmental engineering, Anja Varnicic shares that she has always kept her mind open to different disciplines and that she entered Environmental Sciences with one wish on her mind – to find a way how nature can coexist with the urban population. After graduating and realizing that the academic path ahead of her was going to be more theoretical than practical, she switched her focus to marketing and environmental NGO initiatives. On the other hand, her husband's background is in entrepreneurship and technical engineering, and during a local startup competition, they were introduced to the idea of smart indoor gardening and to the social impact and business logic associated with such ventures.
Launching serial production with limited sources
One thing led to another, and in 2018 the Varnicic family participated in the Prague-based deep tech StartupYard Seed Accelerator which funded the €30K seed round of UrbiGo, and later the team raised €80K in the form of a grant from Serbia Innovation Fund which they used to develop and manufacture the actual device. Aleksandar and Anja Varnicic share that three years ago UrbiGo looked very different from what it is now – first, it was a smart wall garden, then a smart shelf, and at the end a nano garden that could actually fit in every urban home or office. "The main rule was to not fall in love with the idea but the problem potential customers have and truly understand what type of solution we can provide," highlights Varnicic. In the beginning, the team iterated all product versions without building the actual products, and instead relied on renders and potential customers as well as many customer development calls. Thus, the team was able to complete and launch the local production of the device with limited funds. Varnicic shares that from a business point of view their goal was to lower production cost and create a healthy margin, which allowed them to sell their first batch of 110 devices in only two weeks with €150 invested in marketing.
Fast forward to today, apart from herbs, UrbiGo supports mini veggies and flowers, and Anja shares that customers like to experiment and discover good results with even pines and watermelons. When users plant seeds in the UrbiGo capsule and connect the device to their phones, the app prompts them to select the type of plant they will be growing. By collecting data from the device and using image processing technology, UrbiGo creates an algorithm for every plant and offers AI-driven information such as how much light and water the plant needs in every stage of growth. The device uses LED lights to replace natural sunlight and capsules to replace soil and can notify users when it is time to take care of their plants. Through the app, users are also able to nurture their plants remotely and set the device on a self-watering mode for up to two weeks and post pictures to engage with the community of millennial urban gardeners.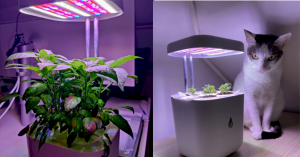 Frictions and opportunities for urban tech gardening
The greatest challenge for Anja and Aleksandar so far was to figure out how to create a device that engages people in the long run and to find the exact features that would make users hooked on gardening. When it comes to current challenges, the founders explain that despite the high interest for their product from British and German e-commerce chains and individual buyers, as of now they are limited by the logistical and legal constraints connected to entering the EU market as a startup from a non-EU state.
The future goals of UrbiGo are to reach €50K in revenue by boosting up its local and regional sales activities, iterate on customer feedback to improve its product, and attract an investment that will allow it to expand to the EU market. The long-term vision of the team is to develop new plant algorithms for more plant species, collect and process the data about plant health, light, temperature, and watering needs in different growth stages. By doing that, the technology of UrbiGo will be able to find various applications in agriculture and horticulture and it could be offered to other companies that want to build their own smart gardening systems. Anja Varnicic notes that as climate changes, people will have to adapt and find new ways to mimic nature and plant algorithms such as the ones used in UrbiGo which would ultimately provide the startup with an opportunity to increase its adoption rate at a larger scale.