Berlin,
Germany ~
Bulgarian co-founded Plan A, the B2B carbon accounting platform and one of the pioneers in its market, continues its accelerated growth, raising €8.6 million in a Series A round, after previously grabbing €2.6M seed money. The round was led by European VC firm HV capital and Netherlands-based Keen Venture Partners, while existing investors doubled down on their previous investments. The new funds will fuel the platform's development, as well as their portfolio and the team expansion across international markets.
Leveraging science to deliver a win-win for both planet and business
Earlier this year, Lubomila Jordanova, co-founder and CEO of Plan A, shared her insights on how companies can avoid greenwashing, an easy trap for businesses looking to improve their carbon footprint without the right understanding, plan, and tools in place. Out of our conversation, one key message spoke about Plan A's vision: the need to follow science to calculate emissions with accuracy.
Founded in 2017 in Berlin, Plan A builds science-based digital tools that assist companies with implementing automated carbon accounting, decarbonizing their businesses, as well as, more recently, managing ESG standards and reporting progress. The company's SaaS platform uses machine learning to first collect, process, and analyze carbon emissions and ESG data. Then, it assists companies with personalized reduction and improvement plans, as well as reporting needs in accordance with frameworks such as the Corporate Standard of the Greenhouse Gas Protocol.
Plan A's solution is uniquely positioned to benefit both the planet and companies on their climate impact goals, announced Briehan Burke, Principal at Keen Venture Partners.
Launching an ESG tool to address upcoming regulations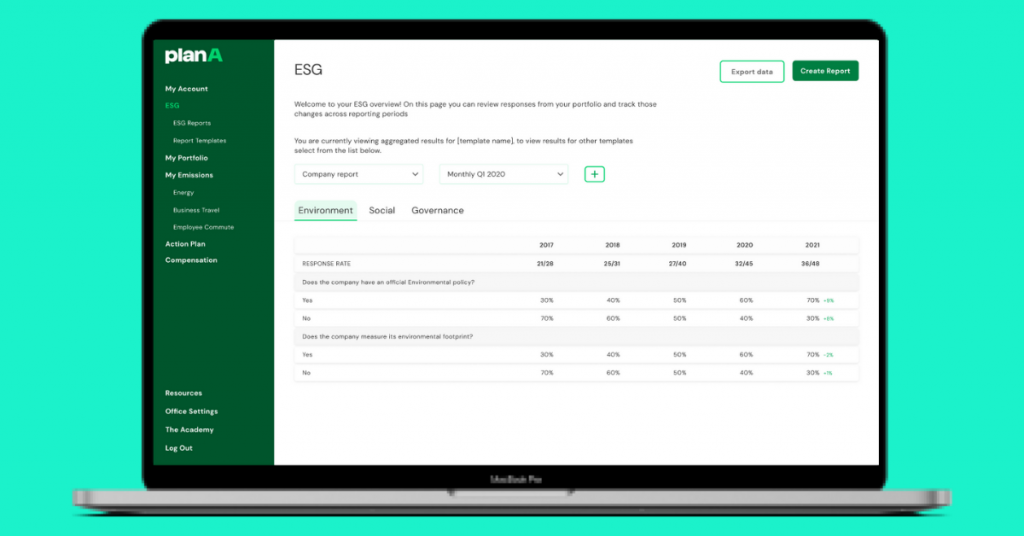 Along a company's journey towards decarbonization, ESG reporting, particularly, raises a lot of concern. Despite increasing requirements from customers, governments, and potential financiers for companies to comply with ESG standards, the reporting landscape is both very complex and lacking standardization, leaving companies with a difficult challenge ahead.
To tackle this challenge successfully, Plan A encourages companies to take a stepped approach, starting with collecting data as soon as possible, educating the management team on the topic, and then setting an agenda to improve metrics.
Recently, the company launched a new reporting module as part of their offering that can automate ESG reporting in the different formats available in the market. The tool is aimed at companies and financial institutions looking to optimize their ESG reporting process, according to existing and upcoming regulations.
As part of its product development efforts, Plan A is also deepening its SaaS platform's calculation and machine learning capabilities, as well as extending its tools for decarbonization Scope 3 calculations to other industries.
Reaching towards global expansion
Plan A already counts in their portfolio international companies such as BMW, Société Générale, JOKR, Apax, and the European Union, as they use the software for carbon accounting and ESG measurement and improvement.
The new capital will help the company continue its international expansion strategy, with the goal of becoming a fully global company by 2024. They will open new offices in Paris and Munich by the end of the year, as well as grow existing local teams.
"I am incredibly happy to bring HV Capital and Keen Venture Partners onboard the Plan A journey, given their stellar track record. Since the launch of Plan A, we have worked hard on making corporate sustainability a must-have attribute for any business, which wasn't a given some years ago. Now that the awareness is high and the regulatory system defined, we are firm that our advanced and automated software can support any business to quickly achieve tangible results on decarbonization and reporting that go beyond simple carbon compensation," announced the co-founder of Plan A Lubomila Jordanova.